In the summer of 2015, Rashod Stanley's hard work had finally paid off. After five years of working for minimum wage at Taco Bell, Stanley, then 21, had saved up enough money to open a storefront for his "The Trenches" fashion line. Out of a small room in a gray brick building in Atlanta's Bankhead neighborhood, Stanley sold hoodies, T-shirts, joggers and book bags branded with his signature logo — a capital T with two stems, not unlike the symbol for Pi.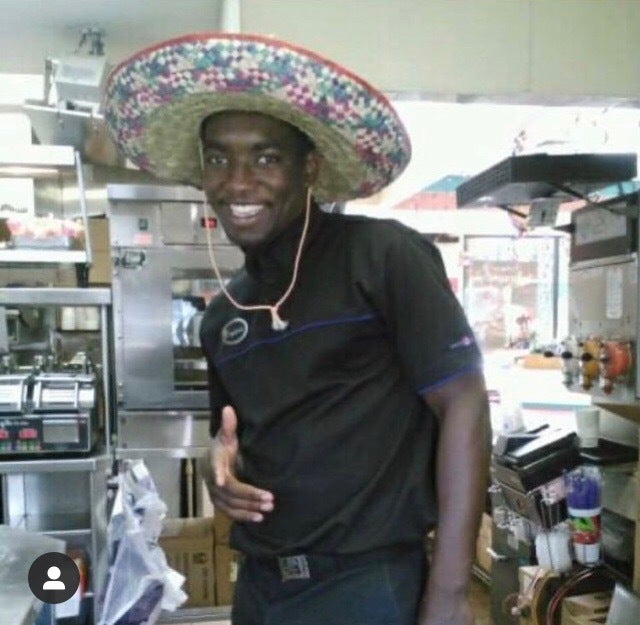 "Everything from beginning to end, as far as the business is concerned, he did it himself," Rashod's mother, Renita Stanley, tells me. "I didn't have to help him with any of it." The store, she says, was popular amongst teenagers in the neighborhood. But it wasn't too long after his grand opening that Stanley would lament the difficulties of getting a small business off the ground, and despite steady sales, Stanley, according to his mother, was struggling to keep the lights on.  
Not even open for a full year, Stanley was forced to close the store. It wasn't long afterward that he found himself in trouble with the law. Over a three-day period, Stanley and some others stole cigarettes and cigarette lighters from gas stations in four different counties in Atlanta. "It was very stupid," says his mother. "They didn't have any weapons, it was an unarmed robbery."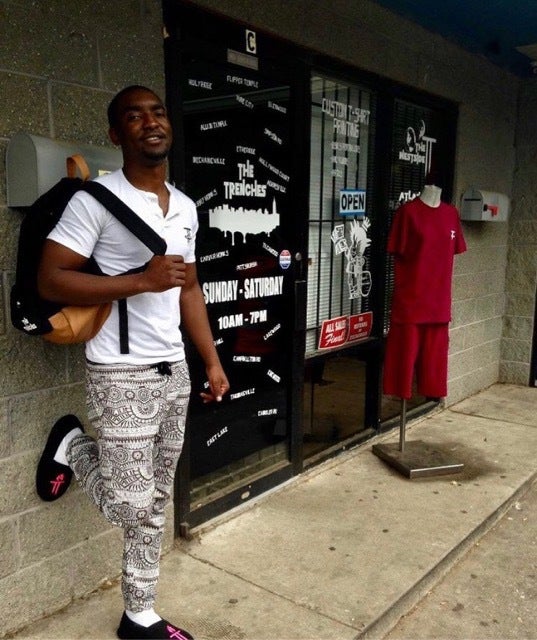 In February 2016, Stanley was sentenced to eight years in prison for aggravated assault and unarmed robbery. As a result, The Trenches was put on pause. 
It was only a few months, though, before Stanley asked his mother to send him books on how to operate a business. By the end of that year, with help from his mother and father, both of whom are web developers, The Trenches had a website. "My husband got this site up and running, got it exactly how he [Rashod] wanted it," says Mrs. Stanley. "[Rashod] already had a social media, but I took that on once he got incarcerated."
From inside the sky blue walls of Calhoun State Prison, Stanley — who, his mother says, has no formal seamstress training other than watching his grandmother when he was younger, and using nothing more than a paperclip with a sharpened edge and some dental floss — began to wreak havoc on state-issued prison uniforms. "He would send me different sketches," Mrs. Stanley tells me. "I have so many drawings and sketches of things that he would like to work on for women, men and children." 
Once Stanley finalized his sketches, he began gathering materials. "He would use the pillowcases, the sheets, even the actual mattress," says Mrs. Stanley. "He took the zipper off of the gym bag and put it on a jacket to make a hoodie that zips up in the front." For Stanley, prison had become a laboratory.
According to Faye Taxman, a professor of criminology at George Mason University, there's an interesting history of people who attempt to cultivate a business while incarcerated. "People who work in prisons, they're not allowed to make a profit," says Taxman. "They're not allowed to benefit. There's plenty of states where if a prisoner is working, all the money goes to the state." In that way, she says, it's all embedded in this whole notion that you're being punished, and therefore, you can't have the same rights as people on the outside.
Nonetheless, Justin Paperny, who was formerly incarcerated and is now a prison coach, tells me that he always advises his clients to have an eye toward the future and what they plan to do once they're free. He stipulates that prison policy actually allows the "writing of a book or manuscript or blog." But how an incarcerated person interprets that policy and what they decide to write within that manuscript — as long as it doesn't interfere with their work time — provides a bit of flexibility on this issue. "The manuscript is simply a tool to enable someone to write a business plan and negotiate with partners while writing and following policy," Paperny explains. 
Such was the case for one of Paperny's former clients, Jonathan Shokrian, the founder and CEO of underwear brand MeUndies. In 2014, Shokrian was sentenced to 12 months and one day in federal prison following a guilty plea for a 2008 Clean Air Act violation. But even while incarcerated, Shokrian continued to help devise the marketing strategy for MeUndies. In fact, it was while Shokrian was incarcerated that he, along with a fellow inmate, hatched the viral marketing plan that would put his brand on the map. The idea was to match Marshawn Lynch's fines for grabbing his crotch during the Super Bowl by donating to his Fam 1st Family Foundation, which is dedicated to mentoring children on the importance of education, literacy and self-esteem. "I also have a client now who oversees an Amazon business that does a million dollars a month in sales," says Paperny.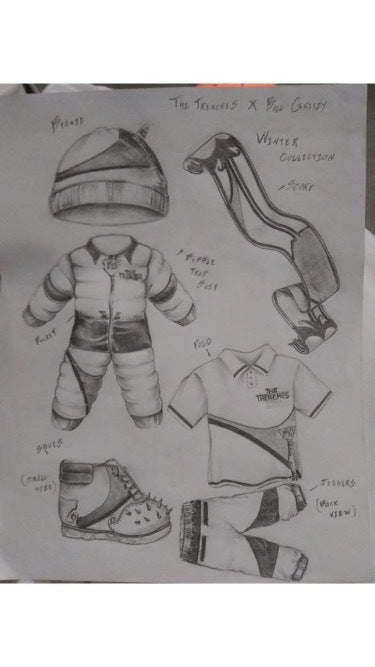 Clearly, then, Stanley is far from the first person to build a business from behind bars. But what sets him apart is the way in which he used his circumstance to generate buzz around his fashion line. In a matter of months, Stanley had put together an entire season's worth of clothes. In 2018, photos of Stanley donning his signature The Trenches embroidered jumpsuits began to appear on his personal Instagram account.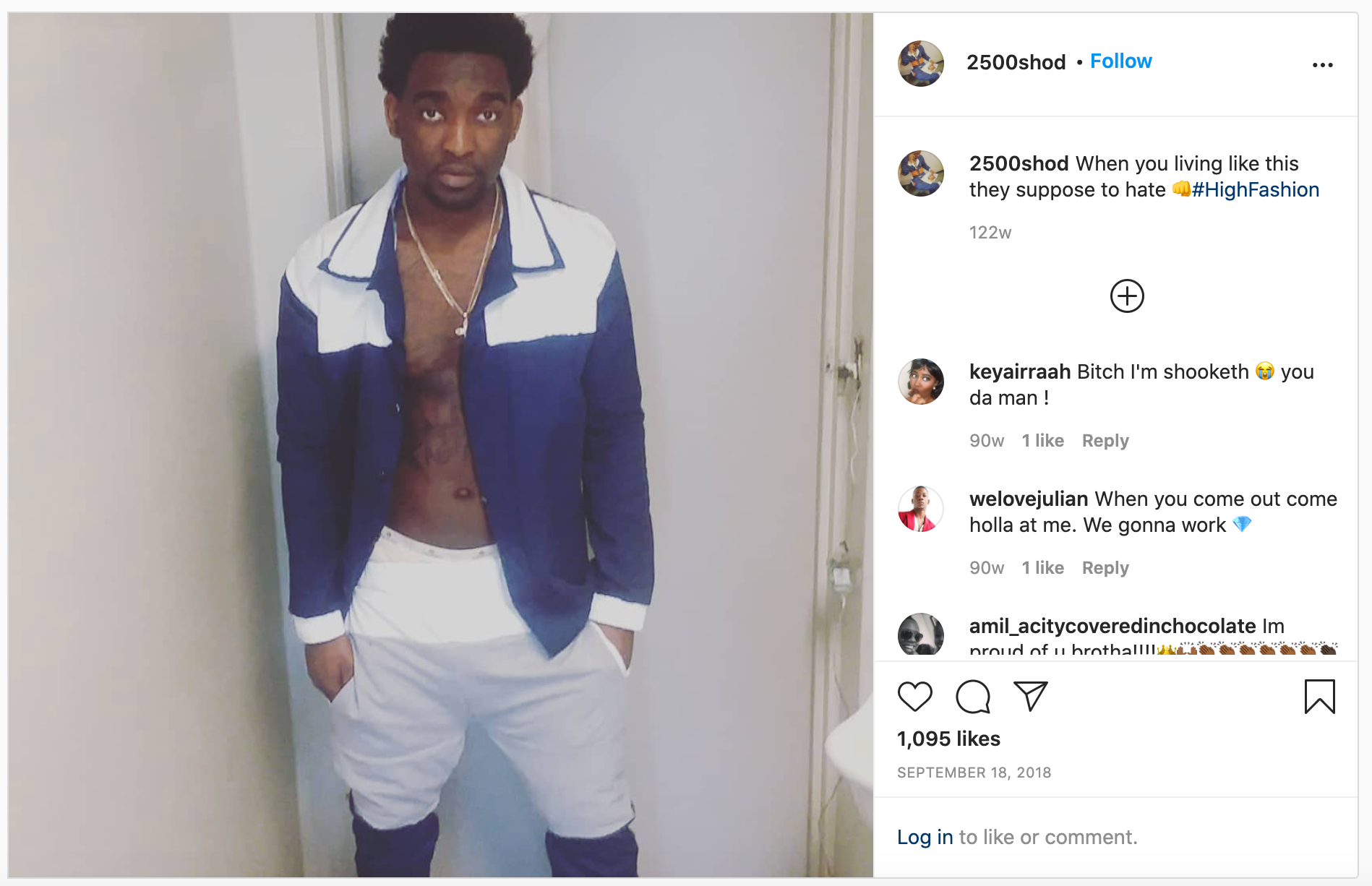 "Someone would take a video and send it to me," Mrs. Stanley recalls. "Then I'd just post it online." In April 2019, after months of tirelessly sewing bits of material together — most of which were adorned with pleather, pulled from mats and pillows from cell bunks — Stanley had gone viral. Garnering nearly 250,000 views on Instagram, Stanley's post was quickly picked up and promoted by World Star Hip Hop.
"This is when everything surfaced with him making things out of the prison mats and things of that nature," says Mrs. Stanley. But Stanley's ingenuity wasn't without consequence, and during the same period, he received his first disciplinary report for the destruction of state property. He was sent to solitary confinement for 30 days. 
Not surprisingly, it was the severity of the punishment that would put Stanley and his brand on the map. "I would say, after he went to solitary confinement, the business had really started to pick up," says Mrs. Stanley. "I mean, we would have sales, but not something to the extent that I would quit my job and this is what I'm doing full-time." On November 5, 2019, after he'd been released from solitary and with help from his mother, Stanley registered The Trenches with the U.S. Patent and Trademark Office. 
The next time Stanley went viral was in March of last year. Using a white towel as a red carpet and a white bed sheet with the words "The Trenches" cast as a backdrop, Stanley and a few fellow inmates recorded themselves stunting his latest designs beneath the dulled spray of fluorescent lights. This was Stanley's first-ever fashion show. "It was all his wanting to just get his brand out there and to become known as a fashion designer," says Mrs. Stanley. 
But the campaign to promote his brand — which was viewed on Instagram half a million times and close to a million on TikTok — was perhaps too great a success. Only a few days after the post went viral, Stanley was issued his second disciplinary report, and according to his mother, he was once again put in solitary confinement. Only this time, he'd be there for nine months. 
It was clear at this point that the state of Georgia was no longer interested in rehabilitation for Stanley. It's an approach that's not unfamiliar to Taxman, who tells me, "For essentially the last 50 years, we played a game where, to a large extent, punishment means incarceration, which means taking away people's liberties." As a society, Taxman continues, "We've vacillated between whether we're punishing someone or we're trying to help someone become drug- or crime-free." And in a state like Georgia, where prison itself is a business, the balance typically tips toward punishment rather than on programming and rehabilitation. "The systems are designed to basically warehouse people," says Taxman.
The decision to place Stanley in solitary confinement for promoting his fashion brand using an illegal cell phone comes from what Taxman refers to as "unbounded discretion." "If this was part of another incident in the prison, they were likely just finding ways to lock people down and to basically show the power of the guards or the correctional officers and also the administrators," says Taxman. 
That other incident, according to both Mrs. Stanley and a fellow inmate at Calhoun State who's serving time alongside Stanley, is a crackdown due to gang wars. "My son would make clothing for these gang members," says Mrs. Stanley. "So once the fighting broke out, the warden went back, looked at the cameras and saw that people were walking around in regular clothing and probably wondered, 'Where did they get this clothing from?'" she says. 
Either way, here was an inmate designing custom streetwear and helping run a small business successfully from behind bars, effectively demonstrating his rehabilitation and ability to support himself without turning to crime once free — everything, in short, that society supposedly asks of its prisoners. Nine months in solitary confinement — thrown in a hermetically sealed box with solid metal doors and metal shields over the windows — for an infraction involving an unlawful cell phone is surely a wildly disproportionate response.
"Nine months is a huge amount of time," says Taxman. In fact, research indicates that after just a single month of solitary confinement, the part of a person's brain related to learning, memory and spatial awareness begins to atrophy. Deprived of regular human interaction, according to the American Psychological Association, prisoners in solitary confinement suffer from mental health problems including anxiety, panic, insomnia, paranoia, aggression and depression. "The national movement is that people shouldn't be in solitary for longer than seven days if possible, unless of course they're acting out," says Taxman.
Still, even a bathroom-sized cell isn't likely to stop Stanley from building on his current success. "Right now he has about 10 plus designs that we're working with the manufacturer on, getting these items made," says Mrs. Stanley. "Though he's in solitary confinement and I'm not able to speak with him, he's still able to write, so he sends me sketches."  
And as you might expect from someone with Stanley's drive, he's keeping busy envisioning plenty more new The Trenches apparel, too. "I get a letter from him every other day," says Mrs. Stanley. "He's the one giving me pep talks."