Editor's Note: This article was first published on July 14, 2017.
It's a tale as old as porn itself: Girl needs pool cleaned. Or lawn mowed. Or sink fixed. Or pizza delivered. Boy shows up to clean pool, mow lawn, fix sink or deliver pizza. But the manual labor quickly becomes that of another kind — namely, fucking. One of the most infamous examples is Big Sausage Pizza, a porn franchise that ran from 2003 to 2006 and that served as the subject of an Eater article that examined the "history of porn's most persistent narrative cliché" — that of the pizza delivery boy whose sausage pizza is almost entirely an extra-large euphemism.
We would argue, though, that the pizza delivery boy is just one of the many minimum-wage archetypes on which porn was built. Three other similarly clichéd gigs: the aforementioned gardener, plumber and pool boy. All of which got us thinking — why? What is it about menial labor and blue-collar work that gets porn all hot and bothered? For answers, we sought out porn performers Kayden Kross and Ryan Driller; porn director, editor and screenwriter Ivan, who also co-owns the PUBA Pornstar Network; and Dr. Chauntelle Tibbals, a sociologist and author of Exposure: A Sociologist Explores Sex, Society and Adult Entertainment. And for good measure, we asked a pizza delivery guy and handyman what he believes makes his professions so incredibly desirable.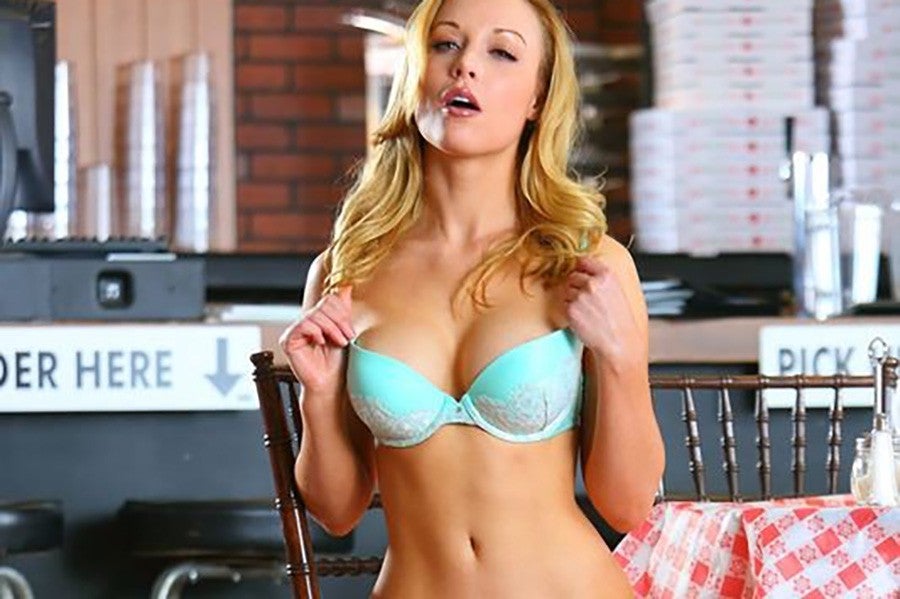 Kayden Kross: "Porn deals with a lot of fantasy scenarios in which everyday interactions take unexpected sexual turns. For most of us, our everyday interactions with strangers often involve service people. And the service people you're most likely to end up alone with are the ones who make house calls — hence, the pizza boy, the plumber and the gardener.
"The low-wage factor I think is about something else. Namely, pornographers have understood for a long time that a viewer wants to believe that the random guy unexpectedly hooking up with the beautiful woman could just as easily have been him. He often imagines himself in the actor's place. For this reason, the character isn't supposed to be a man who's as unattainable as the woman. He doesn't have to be particularly attractive, successful or witty. In the fantasy, the deal is sealed by virtue of the fact that the two of them are alone in the room, and she's as wildly drawn to him as he is to her.
"Personally, I like scenarios that have more story to them or take a little more risk. The problem then isn't so much creativity, but a lack of budget. We can't afford to spend multiple days capturing all of the footage we'd need to tell an in-depth story leading up to a scene, and we don't have the option of using public settings. Nor can we build large sets and pay a lot for extras to stand in the background. And even if we did do all of those things, most of our viewers would fast-forward straight to the sex anyway."
Ivan: "It's fantasy — in the vein of movies like Fast Times at Ridgemont Highand the delivery guy played by Judge Reinhold as well as Private Lessonsfrom the early 1980s. In Private Lessons, the kid looks 14, and he's taking a bath with an older woman, who was his housekeeper. Growing up that was my spank material. So as a director, you let your own childhood fantasies run wild. I don't know if these fantasies are the same for younger audiences, but for people my age who grew up in the 1980s, they were definitely ours.
"Plus, they're easy — you only need a pool cleaner, a pizza box and some creativity. Speaking of which, I did once do a series about handywomen called Big Butt Handywomen. It was reversed: Handywomen would show up to fix a guy's TV or fix their plumbing."
Chauntelle Tibbals: "Riley Reid, one of today's biggest stars, recently did a scene where she's the pizza delivery person leading into a gang bang. It's called "Pizza That Ass." It was released as a web exclusive on her site. (And, of course, it was immediately pirated everywhere else, too.) This scene shows the classic trope, but in a contemporary iteration — pizza lady, web-only scene, modern distribution, etc.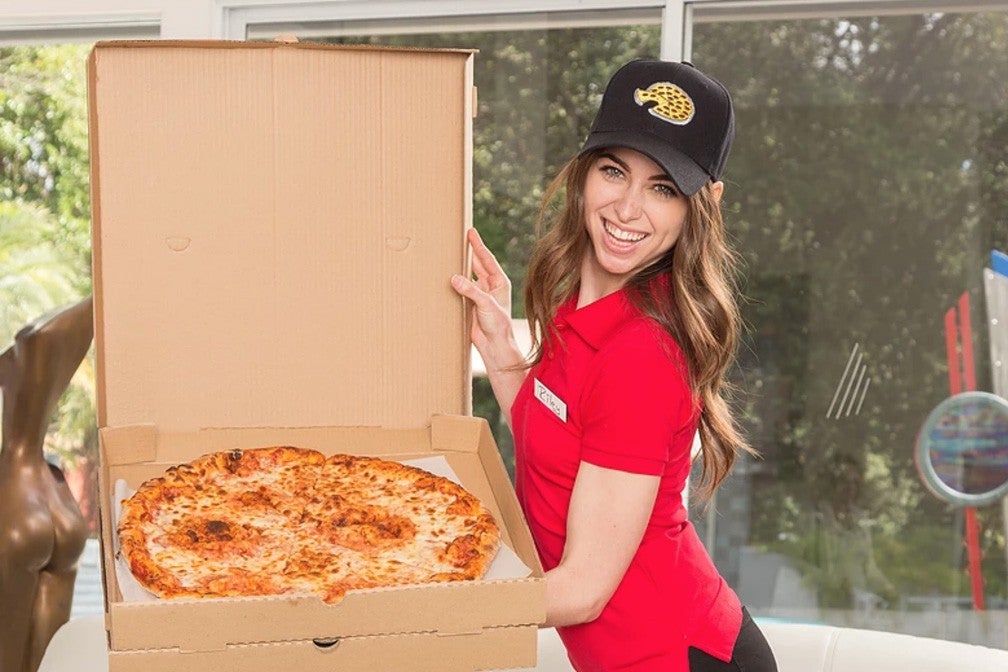 "That said, I'm not sure I'd agree that the 'pizza boy trope' (or fill in random worker or anonymous solicitor visiting the home, not all of which are low wage) is the most popular scenario produced in porn. I would agree, though, that this idea is one of the most popular imaginations of adult content. It's like the bow-chica-bow-wow of 'porn funk' music: It's certainly been seen over time (or during specific eras) in porn production, but it's not as prevalent as the general public's ideas about porn think it is."
Ryan Driller: "I've played the plumber zero times in nearly 10 years in the business and about 800 scenes. I've played the pool boy three times. I've played the gardener once. But I've been the neighbor or the friend's husband at least 100 times each. Same for Wall Street Guy, the Boss at a nondescript job and the Hollywood Actor — if I'm even getting a job title at all. Neither of which really matters — the job or the title that goes with it. The viewer only cares about the fantasy of the seduction and the accompanying visuals.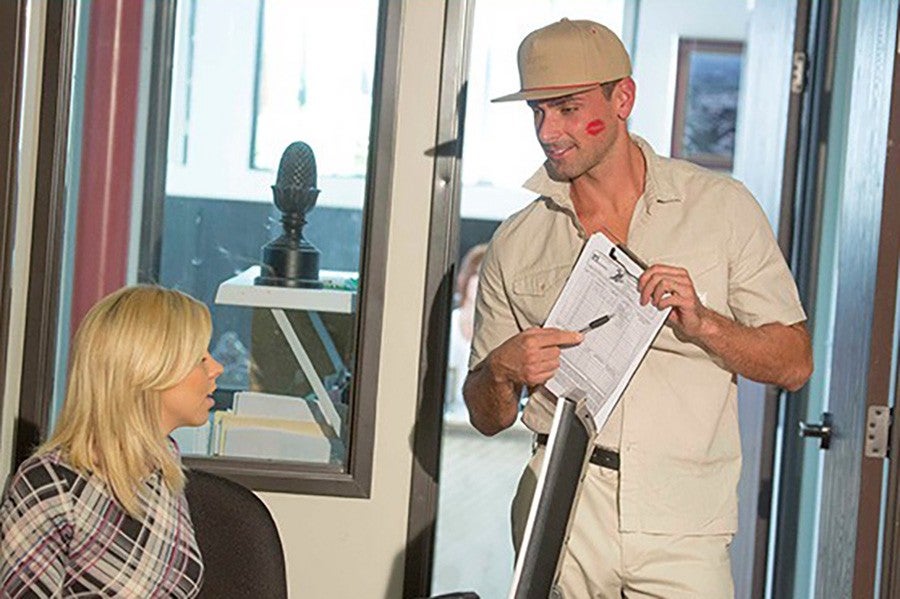 "Not to mention, for the most part, internet scenes are moving away from profession-based scenes and into situational ones. And so, a 'new' genre is constantly taking center stage for the most popular scenes and fetishes — for example, MILF, no-dialogue sensual, schoolgirl and incest — and the characters that reflect them."
Steve, former pizza delivery guy and handyman: "I used to deliver for Postmates, too, and one time this girl came to the door that I was really attracted to. We were both smiling a lot, and because I had her number, I sent her a text afterward, saying, 'I'm probably violating some sort of conduct for Postmates but I wanted to let you know that you're really cute.'
"She texted me back, 'Don't worry, I'm not going to say anything, but thank you, that's really sweet.'
"I followed up with, 'I must ask, do you have a boyfriend?'
"But I never got a response.
"Another time, when I used to deliver pizza back in New Jersey, I made a delivery to a sorority party at Montclair State University. One of the girls gave me her number and told me to come back when I was done working, which I did. From there, we partied all night and ended up hooking up. It's not exactly two strangers meeting at the door and immediately getting it on, but it's fairly close.
"When it comes to my adult viewing, though, I typically watch realtor porn. That's where the realtor walks the person through the house and then has sex with them. There's something about the casting process and the way it's poorly done; it resembles a homemade video. I like that. And, actually, when I think about it, the plotline isn't all the different from the pizza guy, pool boy or gardener fantasies: It's still a stranger coming into someone else's house."