Ralphie Cifaretto did a lot of fucked up shit on The Sopranos. Tony's capo beat the shit out of one of the girls at the Bada Bing, he fucked over Paulie Walnuts and his volatile temperament pissed off Tony Soprano on a near-daily basis. But the final straw for Tony came after Ralphie torched the stables that housed his horse, Pie-O-My, because Ralphie didn't want to pay her vet bills and he could collect the insurance money.
Tony loved that horse. Much like the ducks that had previously nested in his swimming pool, Pie-O-My touched that hidden bit of tenderness in the mob boss' heart. So it's no wonder that when Tony discovered what Ralphie had done, he strangled him to death in his own kitchen.
But that was just TV. In real life, Pie-O-My was played by a horse named Goldee and she's still alive almost 20 years after Pie-O-My was killed on The Sopranos. I discovered this fact when the aptly named account @pieomyisalive popped up in my Twitter feed not long ago. 
After scrolling through the backlog of horse photos and Sopranos memes, I noticed where the account said it was located — Hudson Valley, New York, which also happens to be where I live. Of course, being so close to Goldee, I had to pay her a visit. So I made arrangements with her owner, grabbed the closest thing I owned to Napoleon's hat and drove over to meet her in person.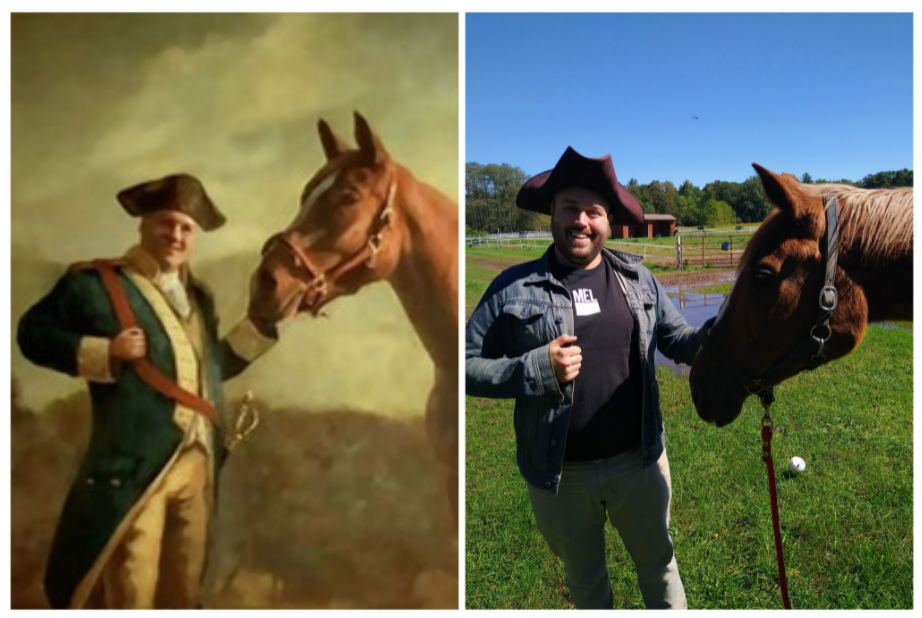 When I arrived, I was shocked to learn that Pie-O-My — aka Goldee — was living less than 10 minutes from where I grew up, just down the street from a place my mom used to take me and my brother for ice cream. There, Goldee resides on a beautiful, 10-acre clearing that consists of just a few fences and an old barn that's currently being restored. She's been here for less than three months, having moved from rented stables in New Jersey over the summer. In time, she'll be joined by her owner, Kimberly Martin, who plans to build a farmhouse on the property.
Martin has a degree in equine reproduction from Colorado State University. When she was a child, she'd follow her neighbor to her riding lessons and watch from the sidelines. Eventually, her mother gave her $10 for a riding lesson, and she fell in love. "My mom didn't have a lot of money, so I cleaned stalls and groomed horses, that's how I was able to get lessons," she tells me.
After college, she began caring for horses full-time. "I actually bred Goldee," she says of the foal who would go on to be Pie-O-My. "I owned her mother and father, and Goldee was the first horse I bred and kept for myself. She never was my favorite horse to ride, though. She can be a stubborn redhead."
Prior to The Sopranos, Martin had provided horses for the movie Fisher King, and when she heard they were looking for a horse for HBO, she sent in pictures of Goldee. In the show, the footage of the actual horse race was of a different horse, so when they were casting a horse for the stable scenes, they needed a close match. Goldee, in addition to having a great temperament, looked the part, though they did have to make some adjustments. "The horse in the race had only three socks, so we had to paint one of her socks with henna," Martin explains. 
As for Pie-O-My's co-stars, she says, "James Gandolfini was really polite, and he wasn't afraid of her at all. He even played with her on set. I have a bunch of pictures of her with him."
Just before the pandemic, she got to relive some of her Sopranos memories when she brought Goldee to SopranosCon, where she sold Pie-O-My T-shirts and had people pose for pictures with her. In particular, she says that everyone wanted to recreate the famous painting with Tony and Pie-O-My. I, of course, did this too: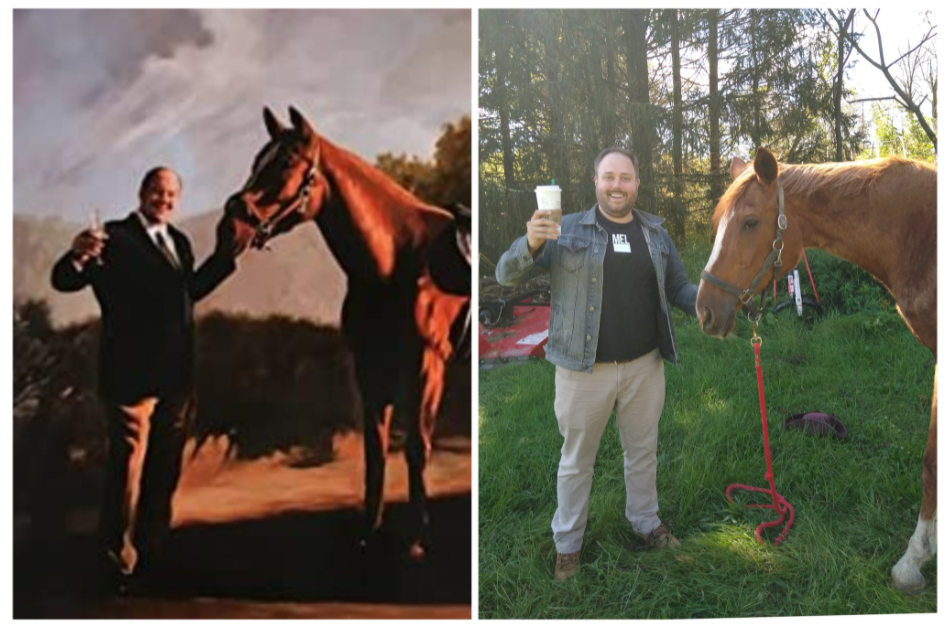 She also sells Pie-O-My T-shirts online and offers fans the opportunity to go "Glamping with Pie-O-My" if you reach out to her on Facebook. "We have glamping here on weekends, so you can stay in a tent and grill and sit around the fire pit," she explains. These kinds of ventures have become especially important since the pandemic hit and the event company Martin worked for shut down. "Hay is expensive," she laments, "and we have to pay for a thousand bails of hay during this time of year. So I try to think of ways to raise money to care for my horses. Usually I pay for everything, but it's been hard under COVID. I've used my life savings to take care of these horses."
In addition to Goldee, Martin has nine other horses, all of which are rescues. Goldee spends most of her time with her best friend Candy, a small, 30-year-old pony. "Goldee really likes to take care of Candy — she protects her," Martin tells me. However, Goldee does not get along with the male horses on the farm. "She'll beat up the boys if they bother her," Martin explains, so she lets the male and female horses go out on the grass separately. 
Carrots and apples are Goldee's favorite treats and she also loves to eat clovers, but she's currently on a special diet due to the fact that she has Cushing's disease, which causes her to have trouble keeping on weight and regulating her body temperature. It's a common ailment for horses, particularly when they get older, and while some horses can live into their 40s, Martin says that at 23, Goldee is getting up there in equine years. Fortunately, the new farm is Goldee's forever home now, so it makes Martin feel really optimistic about her future.
Before I bid Goldee goodbye, Martin allowed me to brush her a bit. It crossed my mind to ask about riding her, too, but I abandoned the idea when Martin explained that — thanks to her age and her Cushing's — Goldee's riding days are long behind her. So I bit my tongue and let go of the fantasy I had of sitting atop Tony Soprano's horse. After all, if I ever hurt Goldee in any way, I'm pretty sure that Martin would do me what Tony did to Ralphie.