Thanks to the internet, we know that most Muppets are lefties, lobsters taste with their feet and the state sport of Maryland is jousting. And whether they're Beyoncé or Music à la Coque (which translates to "Music at the Hull," you perv), we're also keenly aware of when our favorite singers, bands and DJs are scheduled to perform in local arenas, theaters, clubs and even driveways. 
But that wasn't always true: Before all the knowledge and pornography of the world was accessible by Wi-Fi, musical artists and their fans had to rely on more primitive modes of technology for such data. Thirty-five years ago, the punk rockers, hardcore kids and metalheads of New York City (and its outlying suburbs) counted on the operators of one answering machine to provide the most current information about area shows. 
To hear it, they dialed 212-OPEC-SID. 
After getting connected, blaring into their phone receivers was the sort of thorny, aggressive male voice one might expect on the other end of such a hotline founded in mid-1980s New York. He rifled through lineups of bands with violence in their names; cover charges of minuscule value compared to those of today; and dates, showtimes and venues that housed approaching performances.
"Sunday the 26th! Enrage, Lament, Burn, Vision and Quicksand at City Gardens! Uhh, the number: 609-392-8887!" says a stretch of likely the only available online recording of the hotline. Taped in the early 1990s, this three-minute assault goes on: "Yuppicide, Go, Dog Tired, Bugout Society all at Carol's Place, uhh, Island Park, Long Island! 3 p.m. matinee! The number: 516-432-9016!"
Local gigs back then were listed in the now-folded Village Voice, available for a dollar on Wednesdays around New York City. Flyers were also handed out at shows and posted at clubs and on lampposts, printed by acts with microscopic promotional budgets. Besides that, there was the old word-of-mouth method. But the hotline — colloquially called just "OPEC SID" — helped fill in the gaps. It gave prospective showgoers who couldn't easily get their hands on flyers or the Voice all the information they wanted, and then some. "It was a really cool way to find out what was going on," says Brooklynite Michael Scondotto, 46, who dove headfirst into New York's underground heavy music community in 1988. "It was definitely important."
OPEC SID was the brainchild of a group of anarchists who, for a few years beginning in about 1985, gathered in nightclubs, members' apartments or street corners in the long-lost, seedy downtown Manhattan of its time. They'd often get together before Sunday matinee hardcore shows at the legendary club CBGB because, chances were, all the members would be headed over there. These anarchists didn't discuss new ways to cultivate mass chaos or how to carry out government coups, though. Composed of local radio and fanzine staff, their focus was on publicizing the underground punk, hardcore and metal scene in New York, New Jersey and Connecticut. They called themselves "The Alternative Press and Radio Council," or "the APRC" for short. 
"We would have enormously contentious meetings," says APRC member Jim Testa, 67, a New Jersey–based writer who's published the fanzine Jersey Beat since 1982. "We were all anarchists, so [when it came to] What are we gonna do?, everybody would have a different idea. It's amazing we got anything done, but we did manage to finance OPEC SID, and we did manage to put this one record out."
That record, Mutiny on the Bowery, was a compilation LP of local bands, with recordings taken from the CBGB soundboard during two shows in 1986. The APRC also published a newsletter titled Alternative Info and organized a handful of fundraiser concerts with popular acts like Murphy's Law. According to a blog post by one of that newsletter's editors, another fanzine publisher named Harry Baggs, there was "controversy" and "punk politics" surrounding the landing spot of proceeds from these efforts. Testa says the APRC saw very little money from record and ticket sales, and continually reinvested whatever it earned back into the organization. In all likelihood, such donations paid for the answering machine used to power the OPEC SID hotline — a gadget that for 10 years sat in the Lower East Side apartment of another APRC member, Glenn. 
Now 63, Glenn asked me to refer to him by first name out of professional concerns. In the early 1980s, he was a member of a punk rock group, and one of his bandmates suggested he attend an APRC meeting. He recalls that during the second or third session he took part in, APRC regulars began spitting out ideas on how to boost the local music scene. "We should start a record label!" one person may have said, to the delight of everyone in attendance. But another would then ask, "Okay, who has some money?" and the room tumbled into silence. The same result came when someone else said, quite ambitiously, "We should get the city to give us a building to hold shows in!" Finally, one attendee said, "We should have a free concert hotline!"
"And people looked at each other, and it was like, 'Hey, we can do THAT!'" Glenn recalls. "Then somebody says, 'Okay, we have to have a machine that will be somewhere; who has a fixed address?' Silence." Excuses soon filled the space: I'm in a squat. I live with my girlfriend. My parents are about to kick me out. I'm in a college dorm. Glenn, who had a day job and an apartment on Seventh Street between First and Second Avenue in Downtown Manhattan, stepped up: He'd keep the answering machine in his home.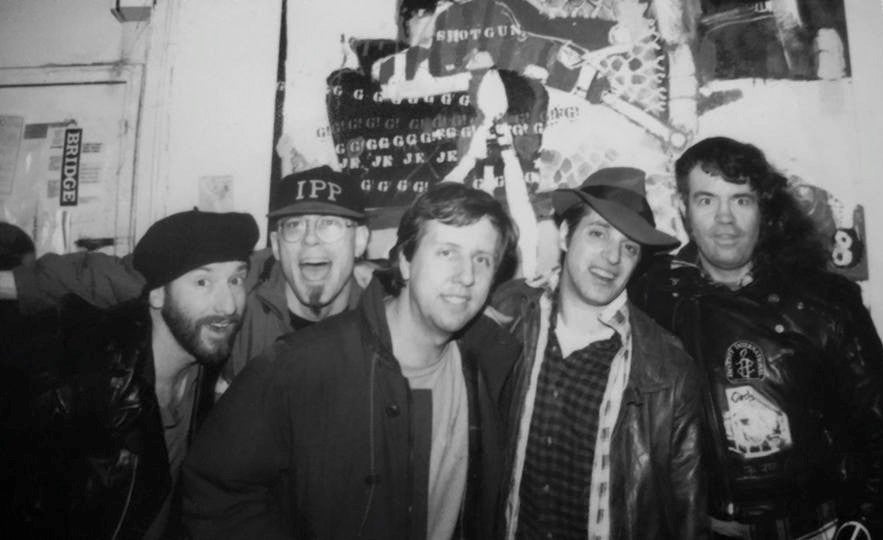 Programming it remotely — which, believe it or not, could actually be done in the mid-1980s! — and narrating the bulletins would be Donny the Punk. Born Robert Martin, and who later went by the name Stephen Donaldson, Donny the Punk wasn't only ingrained in the local music community, he was also a political activist. Identifying as bisexual, Donny the Punk was best known for his advocacy work on behalf of the LGBTQ community. He also put forth efforts to end prison rape, sparked by brutal sexual assaults he endured while incarcerated in Washington, D.C., after he was arrested during a "pray-in" at the White House to protest the Nixon-ordered bombing of Cambodia in 1973. Twenty-three years later, he succumbed to AIDS, dying at the age of 49. 
But sometime in about the year 1985, Donny the Punk, identified by Testa and others as the chief organizer of the APRC, stood in Glenn's apartment and set up the answering machine for the group's concert hotline. He would program the phone by dialing its phone number from any landline and punching in a passcode to access the outgoing message. For the new hotline, the phone company randomly issued the number 212-673-2743. Using the letters associated with each number on the phone dial after the area code, someone in the APRC generated the acronym that stuck: OPEC SID. 
Word about the service spread far and wide. "In the wild of New Jersey, there was no way to find out about [shows]," says Mike Lupica, 48, who's not to be confused with the sportswriter of the same name. He says he grew up at about the midway point between Philadelphia and New York, and got into punk and hardcore while attending high school. Fanzines were published infrequently; his neighborhood supermarket didn't have the Village Voice. Referring to OPEC SID, he says, "As a way of keeping up with the live music culture of New York City, it kind of became a critical outlet in just knowing [about shows] 40 miles north of where I was living." Lupica stops short of saying the phone line "changed his life," but admits there's "a breadcrumb trail that goes all the way back to OPEC SID," which aided in his music obsession and in turn led to a career in radio that began in college. 
"OPEC SID was an amazing resource," says Freddy Alva, 50, who booked shows at the New York club ABC No Rio, and attended performances in the city four or five times a week during the late 1980s and early 1990s. He called the hotline multiple times a week and, while working at the beloved but now closed See Hear Fanzines store, gave Glenn flyers promoting the gigs he organized. Looking back, Alva appreciates that Glenn announced shows indiscriminately of artist popularity, venue size or nuanced subgenre. Glenn helped anyone who took the time to ask for it. "He was very neutral; he didn't focus on one scene," Alva says. 
Scondotto utilized the hotline not only to learn about upcoming shows, but to promote the gigs of his first hardcore bands. Just in his mid-teens, he'd leave messages on the machine after Glenn's rant concluded. To his amazement, they'd later turn up during the hotline's announcements. "I remember it was a cool badge of honor to have your band's name said on OPEC SID," he says. 
However, Scondotto's regard for the service didn't stop him from using it as a conduit for a prank he played on a friend of his named Joe. "We booked a fake show at his house, and OPEC SID announced the show," Scondotto recalls. After leaving an imaginary lineup, Scondotto read his buddy's home address, naming the faux concert venue "Joe's Hole in the Wall." Referring to Glenn, Scondotto says, laughing, "I think I remember him saying, 'I don't know about that one.'"
That wasn't the only time the integrity of OPEC SID was compromised due to era-bound technology handicaps. About a year or two into OPEC SID's existence, a phantom phone hacker struck, somehow cracking the answering machine's passcode and recording over the messages. But he didn't leave the tape blank or give shoutouts to friends and family — instead, he created three minutes' worth of phony shows with extraordinarily whacky lineups. "His announcements were hilarious," remembers Glenn. "The phone hacker was brilliant."
In what is likely the lone surviving record of the phone hacker's tomfoolery — once uploaded to Jersey Beat's website by Testa and later re-posted in a blog by Lupica — he announces one show's cover charge, venue and lineup, featuring Michael Jackson. His co-headliner? GG Allin, the punk rock cult figure best known for extreme live performances where he'd eat his own feces, self-mutilate and threaten to commit suicide (back then, Michael Jackson was regarded as far more wholesome). Among other outlandish events, the hacker also said hardcore kings Agnostic Front would take part in a Monday night poetry reading, while, later that month, so would hardcore punk icon Henry Rollins, alongside the Doors' Jim Morrison, who'd been dead for more than a decade.
Though the APRC found this mid-1980s version of an internet troll amusing, he was also disrupting their mission, so after the hacker did his dirty work a few times, Donny the Punk showed up at Glenn's apartment to reprogram the answering machine onsite, hoping that would thwart the hacker's efforts. Donny changed the password and immediately the hacker cracked the code and started a new recording. "Obviously, my phone was tapped," says Glenn.
Donny asked Glenn if he'd be open to hosting a new answering machine that couldn't be programmed remotely, and take over as the voice of OPEC SID. Glenn agreed, and walked a few blocks to a Radio Shack to buy a new answering machine. He hooked it up and recorded his first announcement. "Then, immediately, you hear an incoming message, and it's like, Click, click, click. Shit! And he hangs up," Glenn says. The hacker had been defeated, and Glenn remains stumped as to how — or why — the hacker pulled off the ruse in the first place. "I still haven't figured it out till this day," he says.
Glenn kept OPEC SID going, updating the answering machine twice a week, he says, until 1995. Sometimes, he'd encounter people from the scene on the street who'd address him as OPEC SID. "They'd say, 'Hey! OPEC SID, how you doin'!?'" Glenn recounts. But once he'd started his own business, Glenn tethered the OPEC SID number to a needed fax machine instead of hooking up a third phone line in his apartment. "At that point, interest had been waning and the scene had been changing anyway," Glenn says. "Also, the internet was coming around by that time, and people could find out about stuff by email, so the need for it wasn't as much."
Toward the end of the OPEC SID run, on a few occasions — as it happens, including the one recording of it we have online — Glenn opened the announcements asking callers for donations. Over nearly a decade he'd paid monthly fees of $8 or $10 for the second phone line, and bought a couple replacement tapes each year as they wore out. (Those mini-cassettes only contained three minutes' worth of tape, which is why Glenn speaks so fast and sounds so 1980s–New York edgy.) Some people in the scene did send him a few bucks, but even though the OPEC SID hotline put him in the red all those years, Glenn says he was happy to bear the responsibility for it, keeping it operational long after the APRC fizzled in the late 1980s. 
"I've always been a volunteer," he says. "Nobody else was going to do it if I didn't do it, and it was a good thing on the planet that should have been done. It was nice to play a little part in an esoteric but important part of our culture."
"It's something you hear, and it just brings you back to that moment in time," adds Scondotto, who sometimes had to call the speeding OPEC SID a second time to catch information he might have missed. Lupica, upon reflection, says OPEC SID is "almost charming now, thinking how innocent it was to use this dying technology of a cassette-based answering machine to actually spread information about this thriving subculture."
A quarter century after its dissolvement, Glenn can still recite the words he uttered to open the OPEC SID announcements upward of a thousand times — and as quickly as he could back in the day. Emoting them into his cell phone, Glenn says, lightning fast: 
"Hi this is OPEC SID, the upcoming show service of the Alternative Press and Radio Council. Our mailing address is 151 First Avenue, Box A as in 'anarchy,' New York, New York, one triple-o three. If you have additions or corrections, please leave them at the end of the message; include the area code and phone number of the club; be sure to include the date, time and price of the show, and be sure your information is up-to-date and accurate."
Today, when we want up-to-date and accurate information about the musicians we want to see, we subscribe to individual email newsletters and like artist Facebook pages. They flood our inboxes and punch up notification numbers with broad swaths of data. But somehow it can't compare to the days when a single answering machine told us everything about the bands and nearby venues we wanted to know about, in three minutes or less.