For a few days in early January, a strange envelope sat in the office of Sacred Heart Parish School Principal Theresa Sparks. Inside was a collection of sexy photos of Crystal Jackson, a 44-year-old computer engineer and popular OnlyFans model whose three boys, ages 8, 10 and 12, went to her school. 
A petite brunette with a rosy-cheeked smile, Crystal posed in various states of undress in the bedroom and kitchen of her modest home. Though none of the photos were particularly risque — she was alone and mostly clothed — they'd been lifted off her OnlyFans, where she moonlights under the code name "Mrs. Poindexter." 
According to Jackson, her OnlyFans account wasn't news to Sparks, who had known that she and her 49-year-old husband Chris had been making such content for months. A dad at the school who subscribed to her page had leaked the news to his famously acrimonious wife, and the Jacksons had been receiving threats and harassment from other parents ever since. The principal had discussed the issue with her and Chris before, but after hearing rumors that Jackson's line of work made her "unfit" to handle kids' yearbook pics, she relieved her of her "second grade room mother" role, officializing the misconception that OnlyFans modeling is noncompatible with responsible parenting or the home life of a proper Catholic woman. 
This was a shock to the couple, whose content is only barely more revealing than lingerie ads on Instagram or Facebook. Compared to much of what's on OnlyFans, hers isn't explicit, and as her profile bio aptly warns, there's "no porn here." (Chris is never pictured; he's either behind the camera or working on their marketing plan). Jackson is always dressed in modest mom clothes or lingerie and her raciest content is bra-less photos, just a relatively wholesome mom having exactly the sort of married, monogamous fun the Catholic church purports to applaud.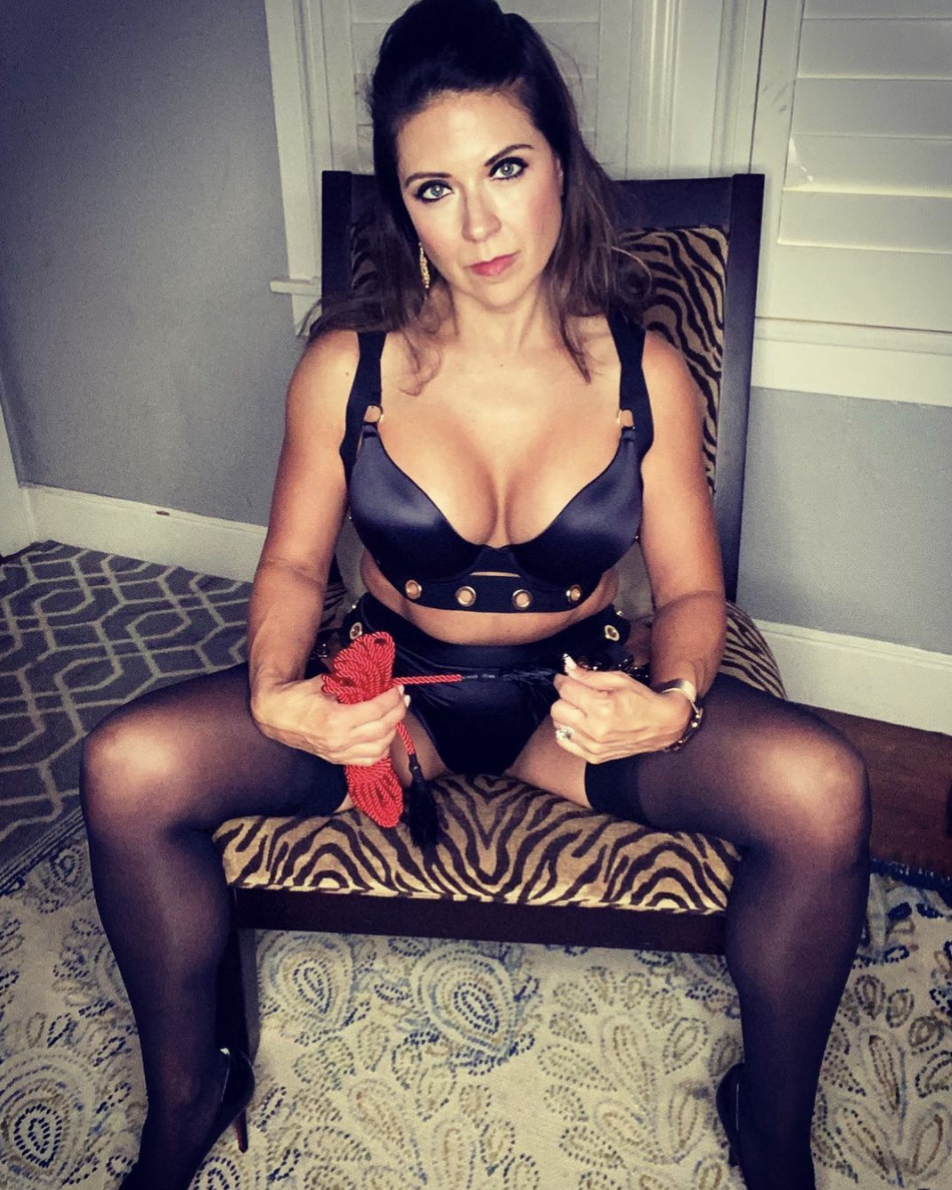 In fact, that very same Catholic church had approved of her OnlyFans page earlier in the year. At a meeting with the diocese and a diocese attorney to discuss their photos, the church decided Jackson's sex life was "not a school issue or a Catholic issue." It wasn't until the aforementioned nosy mom badgered Sparks by sending Jackson's nudes to her that she finally caved. 
On a Sunday night before school, she wrote Jackson and Chris an email. "Your apparent quest for high-profile controversy in support of your adult website is in direct conflict with what we hope to impart to our students and is directly opposed to the policies laid out in our Parent/Student Handbook," she explained. "We therefore require that you find another school for your children and have no further association with ours." 
And just like that, their kids were expelled. "It was truly shocking," says Chris. "They were willing to punish not just us, but our kids for it. I can't get my head around that."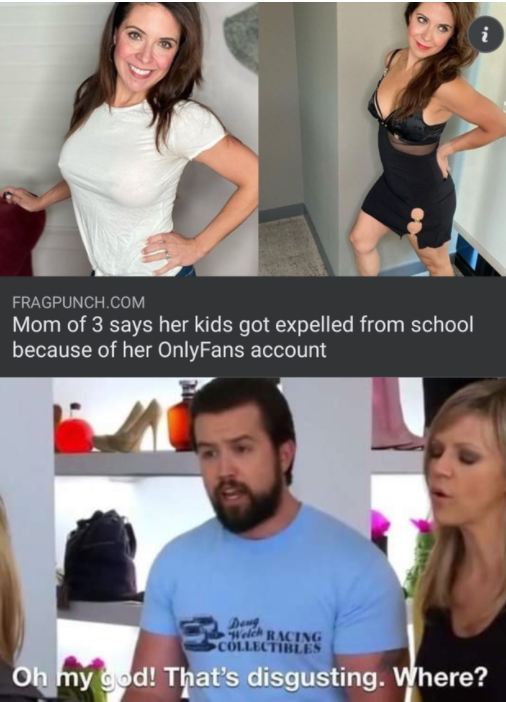 Like many parents with OnlyFans pages — and sex workers in general — Jackson and Chris worried something like this might happen. Thanks to the pair's smart marketing work — hot housewife seeking horny dads — her page had gotten incredibly popular since she started making content in September 2019, and by the time her kids were expelled, she was in the site's top 0.01 percent and raking in over $150,000 a month. With more than 35,000 active subscribers and millions of fans across multiple social media platforms, it would have been impossible for some horny dad in their small Catholic community not to find her eventually; it just happened to be the wrong horny dad. 
In some ways, Jackson's situation is the worst nightmare for online content creators and sex workers who have to balance a stigmatized profession with the realities of parenting (though, Jackson doesn't identify as a sex worker). Last year, an auto mechanic was "let go" after her co-workers watched — then judged — her content, and an EMT was doxed and outed by New York Post reporters. OnlyFans was her third job — like many Americans, she was just trying to make ends meet. 
Often, the situation is much more dire for sex worker parents who provide certain in-person services. As Vice pointed out in 2016, there are no legal protections for people who exchange sex for cash, leaving them vulnerable to firing, eviction and discrimination. In some cases, sex workers' jobs have been used against them to separate them from their children in custody battles, and there's a long list of kid- and school-related activities and requirements that some sex worker parents can't participate in because doing so could out them and put their families at risk.
Thus, most parents don't take the decision to sell adult content lightly. "Everything is at stake — your family, property, savings, assets, future career options, relationship with others, financial and social support," says Jet-Setting Jasmine, a clinical therapist, porn performer, OnlyFans creator, fetish trainer and mother of three. "It's very difficult to secure a mortgage or a business loan if you're a sex worker, and many banks will seize our funds if they learn we sell NSFW content for living."
Because of this, there's a misconception that sex work isn't a safe or "moral" profession for parents with young children, and that they're somehow "unfit" to raise kids. And while that's rarely the case — sex workers make no better or worse parents than anyone else — this has created a morbid fascination with their home lives, particularly around how they tell their children what they do, what happens when they find out, and most incredulously, how they can "possibly balance all that sex when the kids are around!" 
No two sex workers are alike, so answers may vary. But if you're Jasmine and her husband King Noire, you tell them what they need to know in an age-appropriate way when they're mature enough to understand and ask questions. "I've never hid my decision to be a sex worker from my children," Jasmine tells me. "I know my children well, and I'm able to assess what they're ready to discuss." 
Her daughters were 10 and 6 when she first dropped the hint. "I remember purchasing a home pole to practice with," she says. "They were like, 'Mommmm, what is that for?' I was able to honestly say that I'm using this to practice, get in shape and hopefully start teaching classes and having parties for other ladies." Later, her older daughter, a gymnast, told her she'd need to tighten her core harder if she wanted to pull herself up on the pole.
That daughter grew up to be Mani Lynn, the 20-year-old president of the sex-positive education brand Porn and Parenting. As Jasmine expected, Mani Lynn was neither scandalized nor traumatized by learning what her parents did, and while it took her some time to get as comfortable talking about sex as her parents were, she says she appreciated their honesty. "I was open to it because I saw that it made my mom happy and that there was food on the table and a roof over our head," Mani Lynn tells me. 
It wasn't a point of tension for Mani Lynn when she was growing up, either. While she experienced some mild bullying in high school after her friends found Jasmine's Instagram account and circulated the news, it was short-lived. "I was able to quickly assist in addressing it by making a message on my Instagram to anyone under 18 who was following me and trying to shame my children," says Jasmine. "I explained what shame is and how our family doesn't hold any for my decisions to be a therapist and sex worker."
Meanwhile, Jasmine says her slightly more conservative 16-year-old prefers a "less is more" approach when it comes to talking about her parents' work. That's also fine — though she and King Noire are open books, it's not always dinner-table conversation. 
Jackson and Chris have devised their own methods for informing their kids about what they do and protecting them from potential shamers. Right now, they're a little young to grasp exactly what happened at Sacred Heart, but the Jacksons plan to be as transparent as necessary as they mature. "We'll arm them with what to say as they get older," says Jackson. "The best thing to do is just to own it: 'Yeah, my mom's an internet model. So what?'"
"It's like the movie American Pie," Chris adds. "Stifler's mom was the original MILF. No one hates Stifler. No one teases Stifler. Everyone just wants to go to his house." 
So far, Jackson's kids haven't been bullied or ostracized over her OnlyFans account, but they were curious why they had to change schools. So splitting the difference between being honest and overwhelming, she and Chris told them that "mommy is a big model online" and that "some of the other mommies don't like that." To illustrate, they used The Real Housewives as an example of the chaotic adult cattiness that can occasionally change a family's routines. "They thought that was funny," says Jackson. "We asked if they had any questions, and they were basically like, 'Okay, cool, can we go back to Minecraft?'"
If her kids turn out anything like Mani Lynn, they might also grow to appreciate the fringe benefits of having parents in this line of work. For many parents, sex work or content creation offers a flexible schedule with high income potential, both of which can make home life feel more stable, help them plan for the future and make it easier to spend more quality time together. As Chris reminds me, they made $350,000 last week following the media flurry they unleashed around their story — not bad for a college fund. 
Likewise, some children of sex workers grow up with a level of openness around sex and sexuality that isn't always present in other households. Because Mani Lynn had been raised without stigmas or fears around sex — and because her parents took the time to equip her with knowledge to make informed decisions about her own sexuality — she felt better prepared to not only enter that phase of her own life, but to help others do the same. Jasmine admits that their family is "somewhat cutting-edge" in this regard, but that hasn't stopped other parents and teens from coming to them for advice, particularly around sex, gender and other topics they felt uncomfortable discussing with their own families. 
The other burning question bystanders have is how sex workers and content creators are able to work while their kids are around. For that, Jackson has a simple answer: "We don't." Because they work online and mostly post pared-down photos and videos, they only spend between 10 minutes to three hours on content each week. This makes it easy to take photos and videos while their boys are at school, swim practice or a friend's. If she absolutely needs to interface with fans while she's home, it's no more intrusive than shooting off a few DMs on her phone from bed while they're in the other room. (Other models spend significantly more time creating content, but she and Chris have gamed it so they're not doing extra work). 
Meanwhile, Jasmine and King Noire often rely on help from Mani Lynn, both grandmas and the blissful privacy of long walks when they have to shoot something at home (an occasional necessity during the pandemic). If they need to work, they, like most other sex workers, find someone who's available to watch their kids. As Jasmine points out, this is the same decision-making process any working parent undertakes when they're forced to balance their job with childcare; the fact that they're sex workers makes no difference. 
Similarly, she says sex work isn't just about having sex. "A lot of our work includes webinars, workshops and speaking engagements with no explicit content necessary, so we're fortunate to be able to do a great deal of our work during normal business hours," says Jasmine. "No need to alter our family's day-to-day function." 
Jackson and Jasmine's experiences aren't universal, of course. In some places, the stigma against sex work is so strong — and the laws against it are so strict — that it's better to compartmentalize parenting and work, eschewing honesty for privacy in the hopes that it'll keep their families safe. But in those cases, it's not always sex work itself that's inherently unsafe for parents and their children; it's the way it's criminalized, stigmatized and misunderstood. 
Put another way, it's a privilege to be honest with your kids about your work, and it's one that sites like OnlyFans have given some sex worker parents the ability to do. And as the stigma around sex work continues to fade and we enter an age where everyone and their hot Catholic mom runs an OnlyFans for side cash, it's likely a world is dawning where telling your kid you're a sex worker or finding another parent's porn channel is mundane. "There shouldn't be anything stopping you from opening your knowledge to your children and allowing them to be in the loop," says Mani Lynn. "Kids need to be able to trust you, and trust me, we see everything anyways."
As for Jackson and Chris' kids, they're now in public school, taking classes over Zoom (a welcome change, especially for the middle one who "hated" Catholic school). And while Jackson prays for the woman who outed her and, according to People, "hopes she finds some peace within herself," she and Chris are okay with how everything shook out, too. "We always wondered if we should send our kids to such a judgmental school," she says. "It's kind of known that the kids who go there come out assholes."