Officer Deon Joseph, a 45-year-old veteran of the LAPD, is driving down Seventh Street in Downtown L.A. when a flash of red light catches his eye. It's an ambulance parked on the curb in front of a long string of tents and improvised tarp shelters, which break up the muddy gray of the sidewalks with faded splashes of red, lime green and baby blue.
A few people have emerged from their tents wondering about the commotion. It doesn't take long for their faces to shift into knowing stares — the same look on Joseph's face as he steps out of his black-and-white LAPD cruiser. Around him, paramedics and patrol officers move silently as they pull out a stretcher and move it toward a body on the ground.
It's the figure of an older black man, maybe in his 40s or 50s. I can see the whites of his eyes as he quivers on the concrete, speaking only in short, guttural gasps. Foamy blood runs down his chin. A hypodermic needle is stuck in his left bicep, twitching along to his ragged breaths.
L.A.'s Skid Row has for decades held a reputation as a hub for the poor, disenfranchised, jobless and junkies, and these days, the 1-square-mile area holds a huge number of homeless services and temporary shelters. Recent years have seen the homeless population in L.A. County rise to more than 55,000, but tiny Skid Row is home to about 4,600 homeless people. Nearly a third of homeless people here report they suffer from severe mental illness or drug addiction.
There are, of course, good days here. This is when you'll stumble across a long band of people singing and playing instruments and flaunting brilliant low-ride bicycles as part of a rowdy parade through the streets. Or NBA legend Charles Oakley will host a cookout, drawing hundreds of people with free food. On other nights you might even see a performance from Skid Row's theater troupe.
On a bad day, though, Skid Row is defined by death, whether it's that of an anonymous elderly woman in a back alley or a young man inside of a homeless shelter, where he was supposed to be safe. A bad day looks like the woman who spent all afternoon in the branches of a ficus tree at Sixth and San Pedro, sticking it with used hypodermic needles as if it were a pincushion, or the graying old man who had his tent set ablaze over a drug debt.
And today, there's the man having drug-induced seizures on the sidewalk. Seeing yet another life fade away in real time, Joseph shakes his head. "This is the kind of moment that motivates me to keep trying to find those who prey on the vulnerable," he says as we walk back to his car and the paramedics takes over.
The predators in this case are a number of different L.A. gangs that run a lucrative drug industry here, using sidewalk tents and low-income apartments as hubs, even forcing people to pay a "tax" for the right to set up on certain blocks, running prostitution rings and using the homeless as drug mules. Joseph is prone to bringing up the metaphor of the wolf and the sheep when he assesses Skid Row, arguing that his fight is a moral one.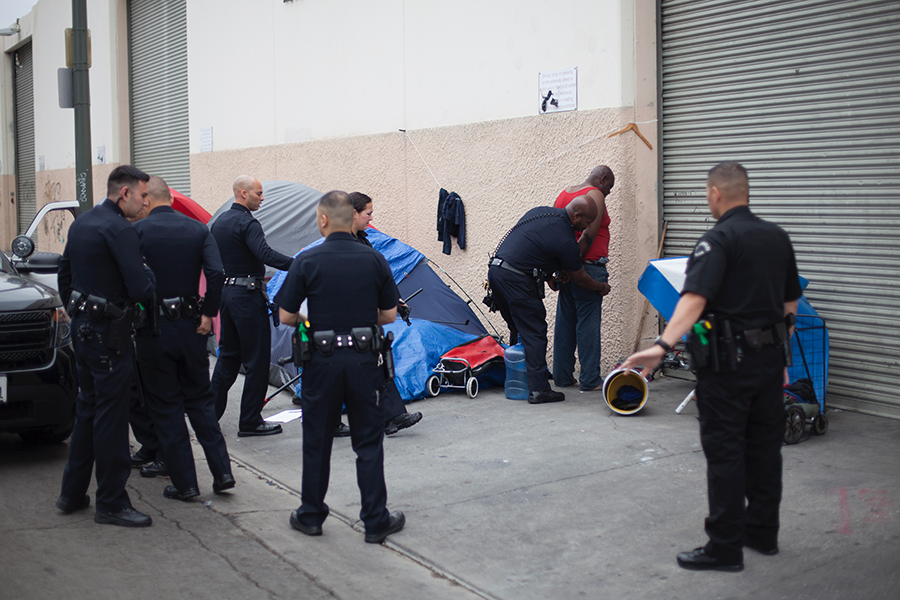 Real life, though, is rarely so black-and-white. I'd argue that sometimes the sheep become wolves in a desperate bid to tilt the scales in their favor, to belabor the metaphor. I've spent the last five years reporting on homelessness, crime and Skid Row, and long held a deep skepticism for how much LAPD's policing of the community was helping the poor. Still, I've never seen any cop get the kind of positive attention that Joseph receives, and I've never heard an officer so earnestly describe the plight of the disenfranchised.
"I don't care if you're a drug addict, if you've been homeless for 30 years or 30 days, if you're a prostitute, if you have a rap sheet," Joseph says. "I understand people are imperfect, because I am, too. But you have a right to be protected from crime, and I'm going to fight for these people because the predators are running things right now."
Joseph's loudest critics view the LAPD as the agent of harassment, playing favorites with some people while throwing the book at others. A number of homeless residents have alleged in recent years that city-mandated cleanups and LAPD patrols have trashed their personal property, including medications and identification documents. Some say they've been targeted by LAPD for drug use or other minor crimes that burden them with fines or jail time. Others, in private conversations and Facebook threads, call Joseph a sort of race traitor, a black man in authority who chooses to police a disproportionately black-and-brown community of poor people.
Yet, cruising along in a patrol vehicle in Skid Row earns Joseph plenty of grins and waves, and he usually responds in kind. At one stop, a 53-year-old man named Bam asks for a broom, pointing to a mass of trash and used needles outside of his tent. (Joseph doesn't have one handy, but offers to bring one back.) Near the closest LAPD station, a younger man invites him for a few beers outside of a convenience store, which Joseph gently declines. "I'm on the job right now!" he responds.
Others have a deeper connection, like Charlene, better known as "Mama Mo," who has become Joseph's confidante over the decade she's been on-and-off Skid Row. These days, she has an apartment in South L.A., but she remains a familiar face in the community. She approaches the car to update Joseph about her increasing worries about an influx of new homeless women, who she says are especially vulnerable to dealers and pimps. "I'm always tryin' to stop people from fighting or doing what they're not supposed to," she tells me. "But Joseph, one time he caught me doing something I had no business doing — selling drugs. I had to do it to take care of my family, but out of the love and respect he had for me, he gave me a choice: 'Walk away, or you're going with me.' He said, 'That's not you, Charlene.'
"That day changed my life."
There was a time when the concept of becoming a cop was a betrayal to Joseph's roots. Growing up in Long Beach in the 1980s and 1990s, Joseph witnessed the devastation of the crack epidemic and racial profiling by law enforcement (a la Rodney King). Joseph himself was pulled over and harassed by white cops as a young man, which left him angry and questioning the intentions of the broader police force.
The financial implications were even more devastating. His father's construction company had thrived throughout the 1980s, but the 1992 L.A. Riots and ensuing debate about race meant it was tough for a black-owned company to get business. Joseph had been working by his father's side, but he was now out of work. Desperate for employment, Joseph sent applications far and wide, to a variety of jobs, including the LAPD. He was surprised to receive only one letter of congratulations — as a new recruit of the Police Academy.
"When I got the letter of acceptance, I was standing in my mom's restaurant, and I was the only one celebrating," he says. "My friends got up and walked out. One of them said, 'You ain't a nigga no more.' I hadn't even put a badge on yet, and everyone was acting like I'd changed. Even my new in-laws were ginning me up, telling me, 'Don't let those white boys change you.' I felt crazy."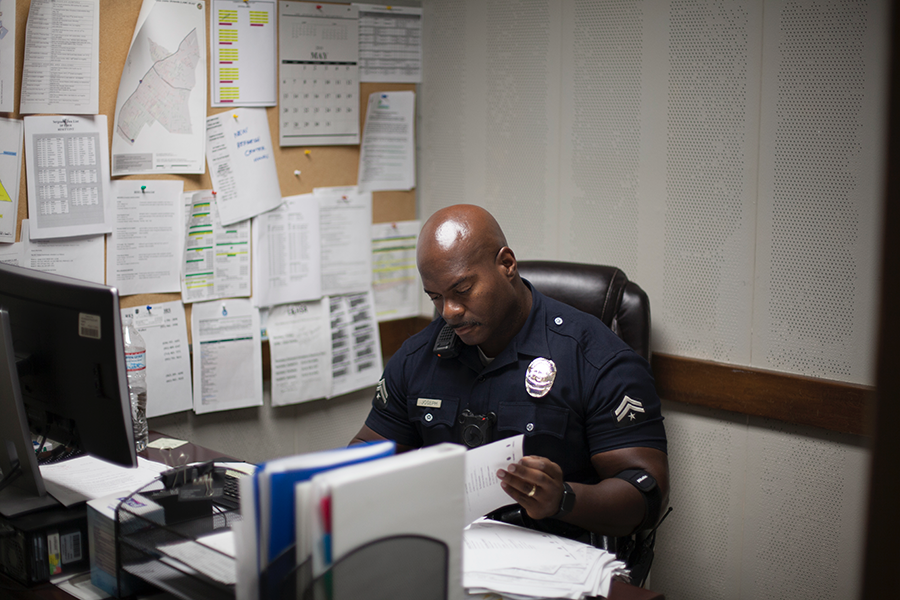 At the academy itself, he half-expected his white colleagues to throw slurs at him from the get-go. Instead, he found an LAPD that had shifted its focus amid the tough investigations after the King beating. Over the previous two decades, Chief Daryl Gates had groomed a force that prided itself on intimidation, aggression and unilateral force. But the disastrous riots shook this culture, forced Gates' resignation and made diversity and community collaboration a bigger priority, if not an immediate reality.
Lessons in the streets continued to challenge Joseph's assumptions — perhaps none more than his early time as a trainee under Bill Snowden, a longtime officer known for his work in Oakwood, the largely black enclave in Venice. Snowden was tall and blonde with blue eyes, the perfect picture of the racist white cop, yet as he drove around Oakwood, the residents would shout his name with a smile.
Joseph was confused. Was his new supervisor a dirty cop? After all, Snowden had supposedly made hundreds of arrests in the neighborhood. "He just laughed and said, 'These folks understand you have a job to do. They know why I show up, but they also know I'll treat them with dignity,'" Joseph recalls. "I adopted the same exact idea, except I tried to be there for my people even more, trying to be visible and advocating for their needs. If someone was in the hospital with a heart attack, sometimes the first face — often the only face — they'd see is mine. I take great pride in that."
More controversially, he also takes pride in the now-defunct "Safer Cities Initiative (SCI)," which restricted tents and ticketed people for quality-of-life crimes, as restoring a sense of order to the community and creating an air of safety for residents that he says had a calming effect on violent crime. In 2005, 93 people in Skid Row died from non-homicide incidents, usually related to drug use, Joseph says. It's not easy for him to forget the finer details. "These were beautiful human beings, dead like common animals," he says. "When Safer Cities happened, we saw less deaths, less violence and less chaos as a result of making people accountable. So how can you say it had no effect?"
But activist groups like the L.A. Community Action Network (LACAN), based in Skid Row, view it as unethical treatment of the homeless that amounts to "move-along" harassment rather than a long-term solution. A UCLA study in 2007, two years after Safer Cities went into effect, calculated that in Skid Row, police citations were handed out at 69 times the rate of the rest of L.A. LACAN's 2010 survey, meanwhile, had half of all respondents stating they had been cited or arrested under Safer Cities, with half of those people losing some form of housing or services as a result of the legal ramifications.
In the eyes of Pete White, LACAN's executive director, the disproportionate arrests and citations of African American and Latino individuals is just another sign that LAPD's plan is hurting, not helping. "Los Angeles spends more than $100 million a year coping with homelessness, including as much as $87 million that goes to arrests, Skid Row patrols and mental health interventions. It appears that L.A. continues on a trajectory that values handcuffs over house keys," he argues.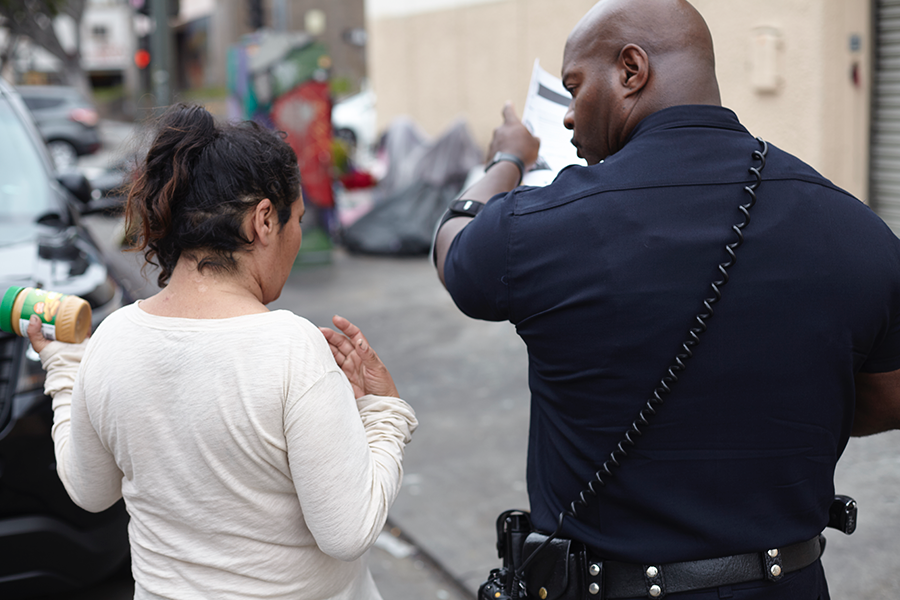 The LAPD also has received deep criticism for officer-related shootings of mentally ill and homeless people, including the publicized case of Charly "Africa" Keunang, a 43-year-old who was shot and killed in 2015 after a verbal dispute with officers escalated into a tazing. "LAPD is killing unarmed black people, and doing things like throwing away the property of mentally ill people," says "General" Jeff Page, a local activist. "There was one woman at the Union Rescue Mission who jumped into a trash compactor desperate to get her stuff back. Meanwhile, these cats have been here without fixing nothing for years."
Joseph vehemently disagrees with criticism that LAPD isn't doing enough, noting that it's been on the frontline of everything from assisting the mentally ill to handing out hygiene kits and busting gang members. As with many other cops, he points a finger at legal changes in the last seven years that mean many offenders who are charged with non-violent crimes (like drug possession), or have displayed good behavior in prison, get released much sooner than they used to.
Hailed by prison-reform advocates as a smart way to reduce the cycle of incarceration, the changes irk Joseph, who says Skid Row has felt a disproportionate increase in crime. LAPD's own statistics bear that out, with Downtown L.A. seeing violent and property crime rates rise in the last decade, and crime data maps show that a large proportion of violent attacks and robberies happen in Skid Row.
One of the most unusual aspects of gang warfare in Skid Row is the level of cooperation between L.A.'s most famous coalitions, the Bloods and Crips. Despite turf wars elsewhere in the city, a handful of gang families have brokered a truce in Skid Row, divvying up blocks for business. Joseph laughs incredulously as he recalls a Blood "bounty hunter" and a Crip woman getting married in San Julian Park, an important recreation spot for the community. Gangs also work together to take over some residents' homes under threat of violence or as retribution for drug debts, using low-income apartments as convenient chop houses. "Some people think that drugs are a victimless crime, but not here," he adds.
When Joseph first got his assignment for Skid Row in 1998, he heard a lot of whispers from other cops about how shitty the job was. There were rumors that officers caught staph or other diseases, or that the chaos was impossible to fix. He decided to lean into his desk job for the first two months, dreading the day he would have to patrol the streets. Once he did, an angry and motivated Joseph arrested as many offenders as he could. But by 2005, when he agreed to take on the job of senior lead officer, he found himself exhausted by a sea of crimes that never seemed to recede. A different game plan arose: increase the quality of the cases, rather than the quantity. That meant walking the community and speaking to anyone who had observations to share and gaining trust with residents, some of whom even let Joseph into their homes so that he could observe the street from a secluded perch.
His willingness to work with residents, regardless of their background, caught the attention of Nyslie Guerrier, a pastor and chaplain at the Los Angeles Mission who helps women in recovery. Although she grew up as a black woman in New York City during the 1970s — an experience that taught her that cops weren't always to be trusted — Joseph earned her respect through his outreach to the women in her program, and his dedication to following up even when nobody asked. "Deon is one of those officers that rekindled my faith in law enforcement," Guerrier says. "I know what policing can look like. But he cares, not just about the law, but the people. People may get to live another day because he stops to consider the human being in front of them. To have an officer — and a male at that — who isn't denigrating but empowering feels rare."
Marc Reina, the commanding officer of Joseph's division, views his willingness to lend respect to people, even those he's busted in the past, as a critical part of his influence within the department. "A lot of the younger officers who patrol Skid Row have seen that Deon builds trust with the community by going out and having conversations with people who would never talk to the cops before. They look up to him. Our approach in Skid Row can't just be criminal enforcement. They look at the techniques for engagement so it's not always confrontational."
Back on the beat, a woman named Frida, newly homeless after arriving in L.A. from Washington, D.C., approaches Joseph about other women who have been picking fights with her. "Don't borrow money from anyone, and don't get caught drunk, because people will fight you and say you started it while intoxicated," he advises. Next, he checks on Fatima Anderson, a 39-year-old who shows signs of schizophrenia, when he spots her stumbling along in the middle of a sidestreet. "She needs help, but until she says the magic words, 'I'm going to hurt myself or someone else,' we can't legally transport her," he tells me.
Toward the end of my afternoon with Joseph, he apologizes for a quick stop we need to make at the Midnight Mission. "I'm sorry, but I promised this guy I would follow-up, and I didn't this week. I need to apologize to him," he says. On the way out, he encounters a whip-skinny woman with short blonde hair, who has a question for him but remains shy. He leans toward her as she describes an incident from last year, when an attacker bashed her in the head with a blunt instrument. "Is it possible," she wonders with a wavering voice, "to still report a crime?"
Tears form in the corner of her eyes as Joseph tells her that there's no statute of limitations on a violent felony. He hands her a card and offers to hear the rest of the tale in greater detail at a later time, away from prying eyes and ears.
It can be dangerous to be caught whispering with a cop, after all.