Noel Fielding has been a very deliberate oddball, sartorial and otherwise, ever since he broke on the scene with classic U.K. comedy The Mighty Boosh. The show defined Fielding's vampire-eque sensibility and off-kilter sense of humor, something he's largely stuck to over the course of his career. Fans of The Great British Bake Off were nervous that this hard partying provocateur (who has counted Courtney Love and Russell Brand as friends) would ruin the show's delicate sensibilities, but in fact, his innate ability to subvert rules and provide an alternative vision of manhood injects a much needed sense of whimsy into the proceedings.
Even before you hear him use another silly voice to make an announcement, or distract a contestant with his stream-of-consciousness banter, you can look at Fielding and know immediately that he's a strange bird. His shirts are large and often patterned, his jeans are tight. It's the fashion of the future, one where the rules of masculinity are defiantly, winkingly loosened. 
In the early 2000s, when Fielding first rose to fame, his better-groomed punk presentation was labeled metrosexual. More recently, people have lazily thrown around the word "gender fluid" to describe the phenomenon of a man wearing a blouse. While I don't think Fielding's style is exactly boundary breaking, it's distinctive enough to earn its dedicated fan instagram account. He can wear conservative brands like Paul Smith or cheeky ones Lazy Oaf, but his distinctive post-rocker take on menswear is still intact, so in tribute, below I've ranked all of his outfits from the most recent season of Great British Bake Off, from worst to best.
10th Place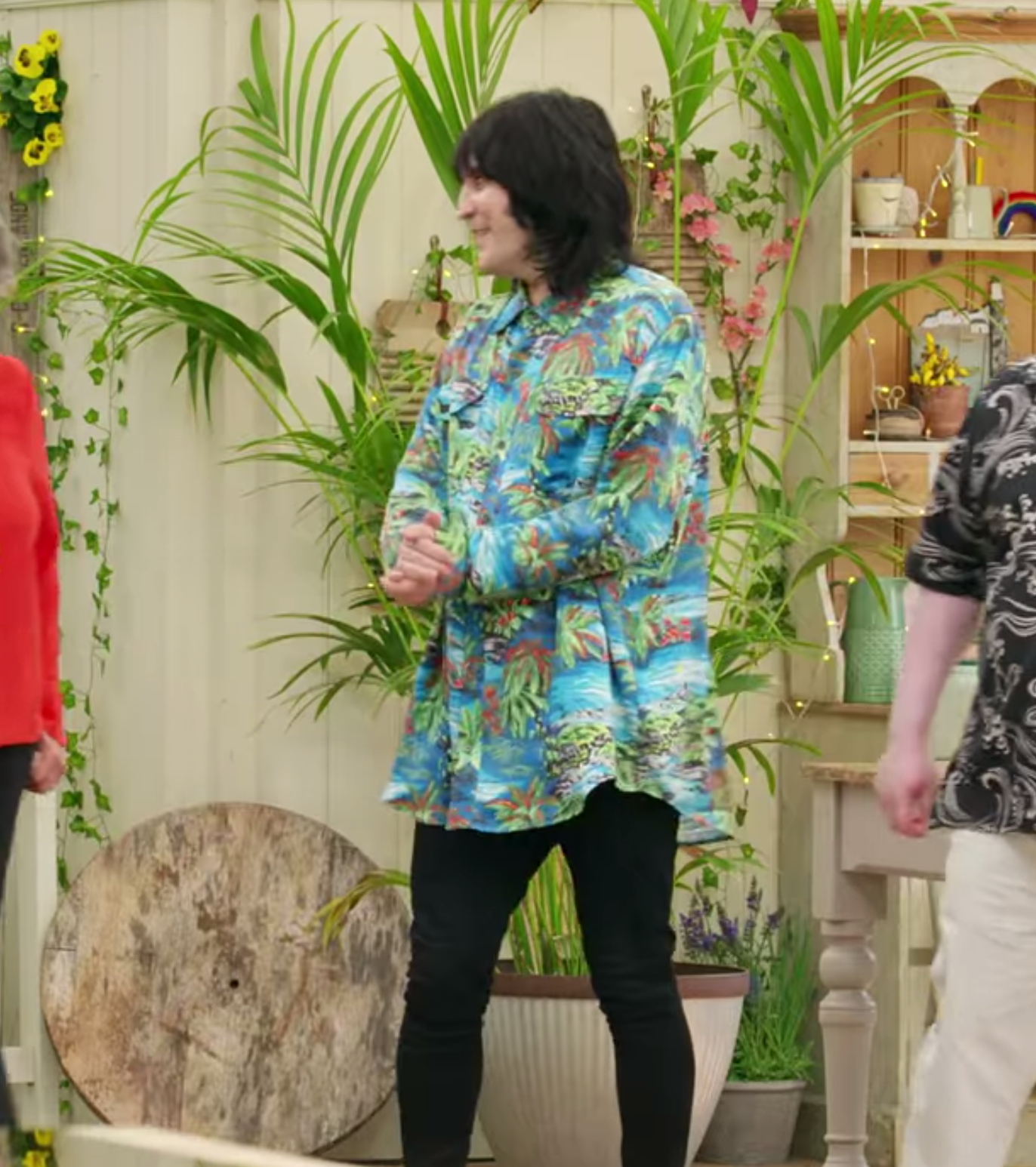 The ninth episode of the season features Fielding's worst outfit (along with the worst judging of the season, but I'm not spoiling). Fielding's patterned shirt by Lost Daze is horrid, looking like something a sorority girl would pull on after leaving her frat boyfriend's dorm — although in his defense, three-quarters of the contestants and his co-host are also wearing a take on the Hawaiian pattern. While he gets some points for his song, "I like patisserie, sometimes in my lingerie," I would much rather see what that lingerie looked like instead of this outfit. 
9th Place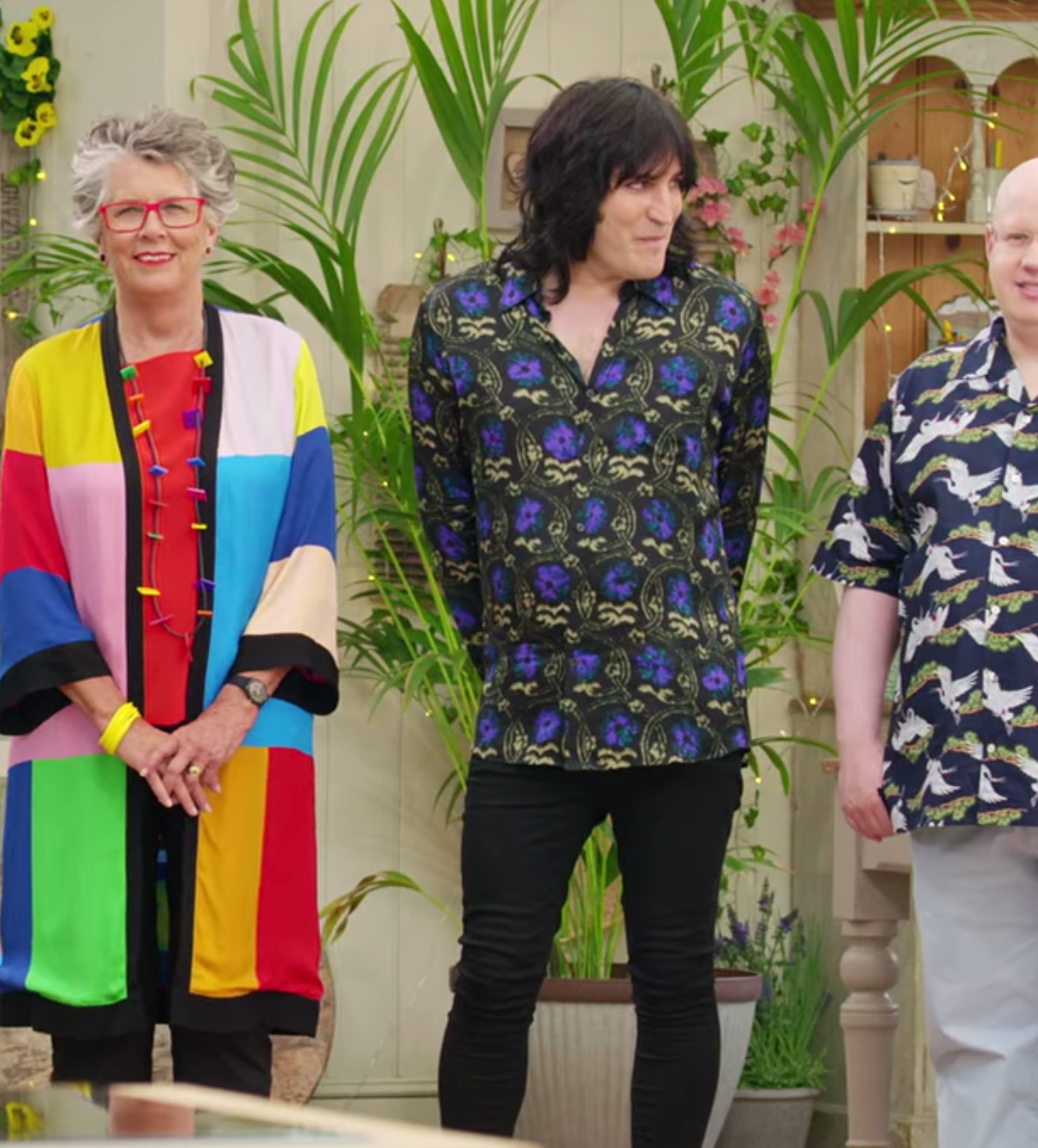 For the season finale, it looks like Fielding got a fresh haircut, but his peacock-esque Dries Van Noten shirt isn't as fresh. The whole look reminds me of something Harry Styles would have worn in 2015 — for the finale of the series I was expecting something with more panache. Noel, you've disappointed me. Thank the cake gods there's better looks to come on this list. 
8th Place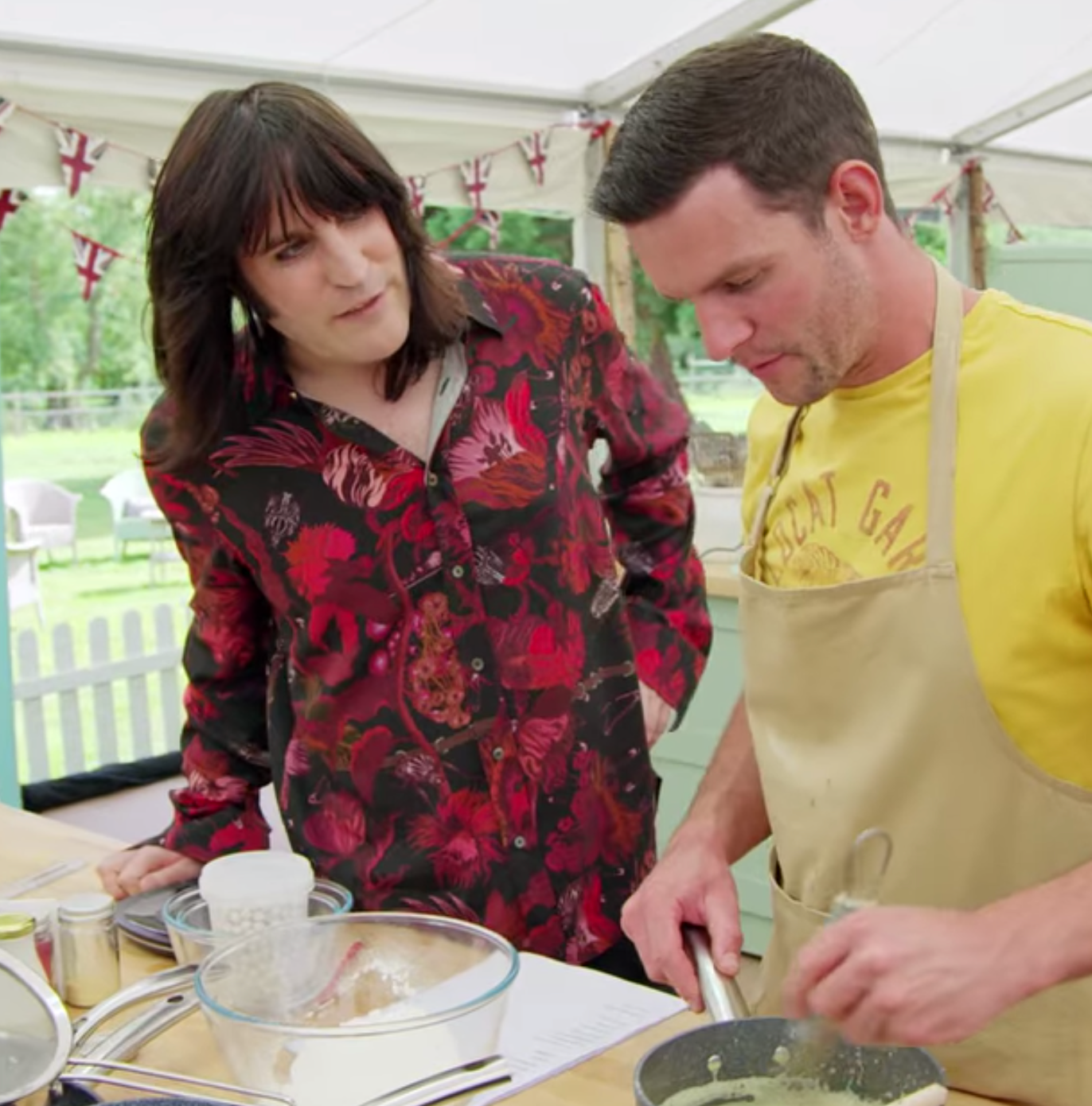 In the fifth episode, Fielding wears an oversized "Beetle Botanical Print Shirt" by Paul Smith, heeled boots and some black slim jeans. Clock the safety pins in the pattern! The shirt's fit is awkward, but Fielding gets high marks for being secure enough in himself to wear heels while commenting on the "powerful buttocks" of stern, bread-obsessed judge Paul Hollywood. Later, he makes a joke about Paul wearing a "bum bag" (fanny pack, for my fellow Americans). We all know that the conventional judge would never wear such a trendy item, but to every guy reading this: You can wear a fanny pack without it being a joke!
7th Place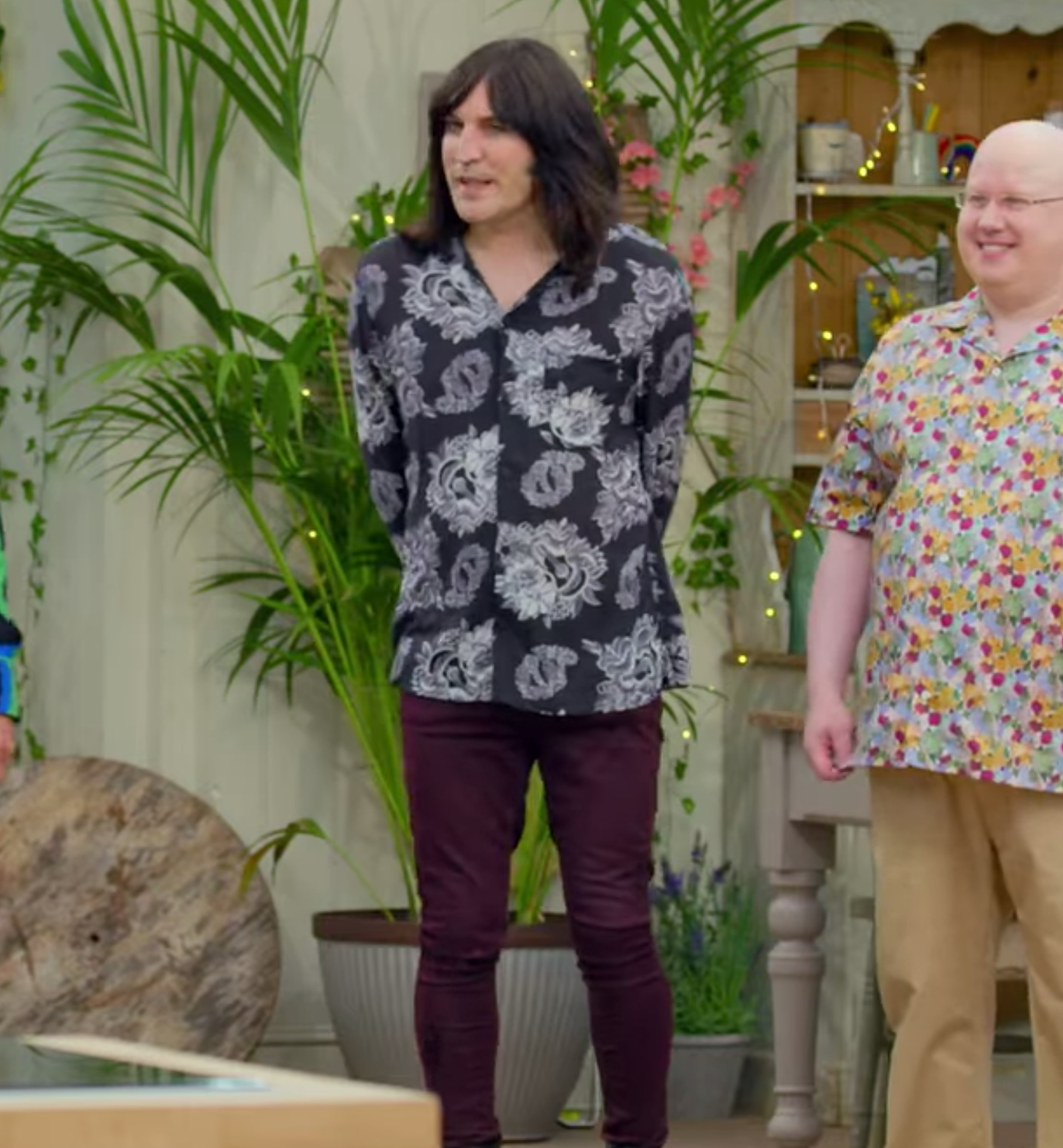 Fielding wears an All Saints "Garland Camp Collar Shirt" with red wine pants and a chunky heeled boot for Episode Eight. It's standard noir-ish rocker fair, but added points for the red wine pants. Fielding subverts the idea of his cold, deadpan goth persona by immediately professing his love for his co-host Matt Lucas during the opening skit. Soon on this list, he'll throw away the sartorial trappings of that goth persona all together. 
6th Place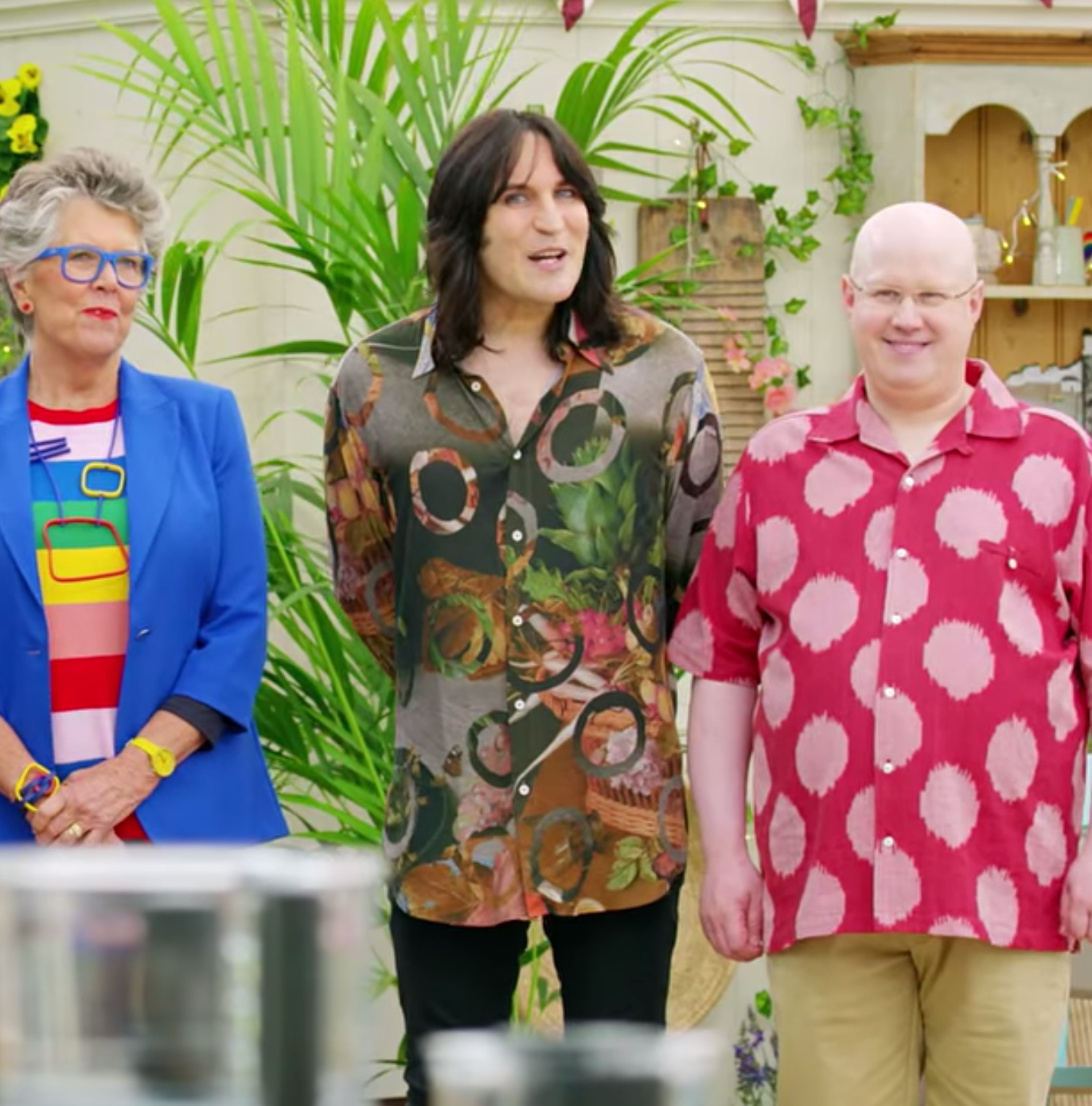 Fielding makes his first appearance of the season, being introduced as "a lady in a funky dress" during the opening episode. The dress is actually a long shirt by Vivianne Westwood, the co-creator of punk fashion. The spirit of impish rebellion, of punk's chaos, is always afoot with Fielding: In this episode, he picks a final desperate moment in a challenge to go try and make small talk with contestant Lottie, who is clearly irritated at first by the distraction. Later, he encourages fellow contestant Sura to chuck some dishes at a wall instead of putting them away. In every episode he's encouraging some form of cheeky rebellion, but being a rebel doesn't mean dovetailing into hypermasculine displays of stoicness. Later in the episode, Noel tenderly comforts Sura when she inadvertently knocks down someone's tray of pineapple upside-down cake. 
5th Place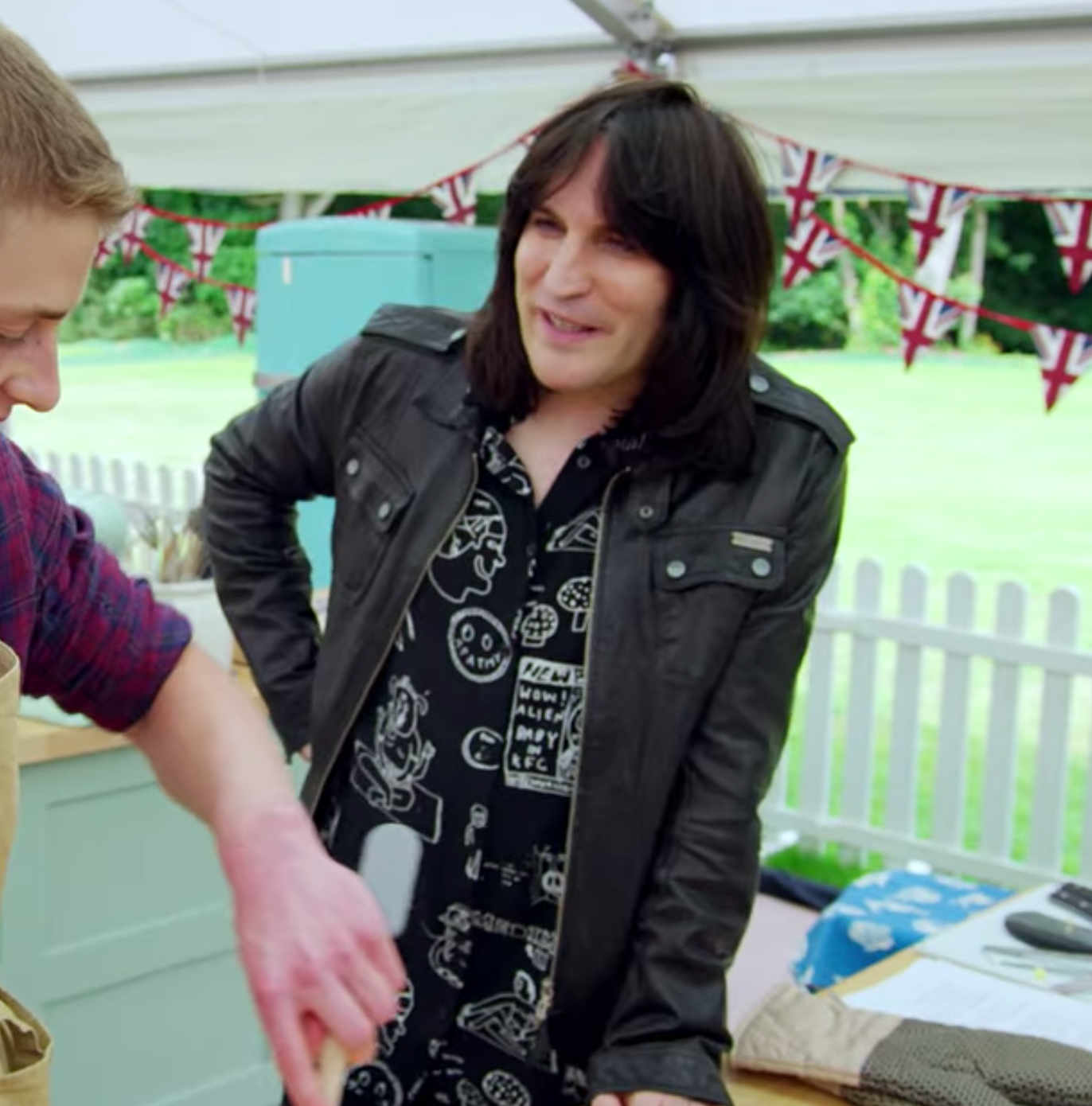 In Episode Three, Fielding wears a sold-out blouse from Lazy Oaf with black skinny jeans, heeled leather and snakeskin boots and a leather jacket, proving that clothes have no gender. There's a bit more of a playful spirit mixed in with the noirish 2000s rocker energy here, and even when he's in all black, Fielding takes care to differentiate himself from the traditional masculine model of Paul Hollywood. First, he undermines the judge's intense eye contact ("no one can look into those ices… you'll turn to baking flour"). Later, he remarks that Hermin's hand turns red after Hollywood's handshake, continuing to poke holes in the head judge's intimidating affect. 
4th Place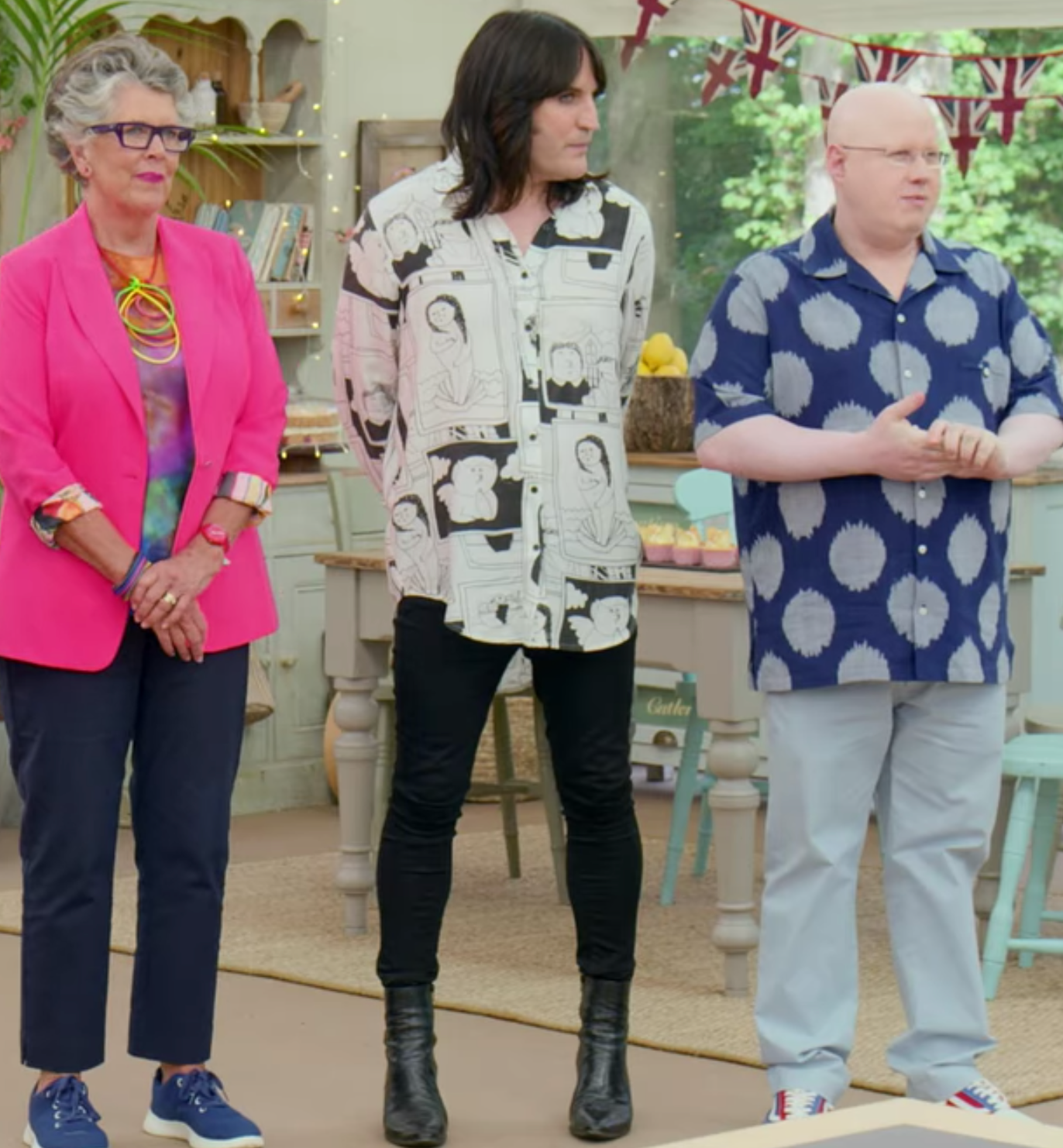 In Episode Seven, Fielding wears a "Work of Art" Lazy Oaf Shirt over black skinny jeans — understated, but interesting. The shirt is practically a mini dress, subtly leaning in a genderbent direction. His best joke this week is about E.T. being on Grindr, injecting a similar hint of queer sexuality into a very traditional show. We also get some peeks into Fielding's fashion inspirations: "The Cure? What a look! Back-combed hair and a big jumper, you wear that for the rest of your life no one's gonna say anything." 
3rd Place
In Episode Four, Fielding continues The Strokes-on-Sesame Street energy with a leather jacket over another Lazy Oaf button-down, which is a bit more colorful and playful than the previous Lazy Oaf look. The cartoon fruit with faces stands in opposition to Fielding's vampire-esque persona, but underscores the joke of that persona in the first place. It's cool without being clownish, the perfect outfit for quipping, "How free are any of us?" Thanks to Fielding, grown men are a little more free to indulge in shirts that look like candy bar wrappers. 
2nd Place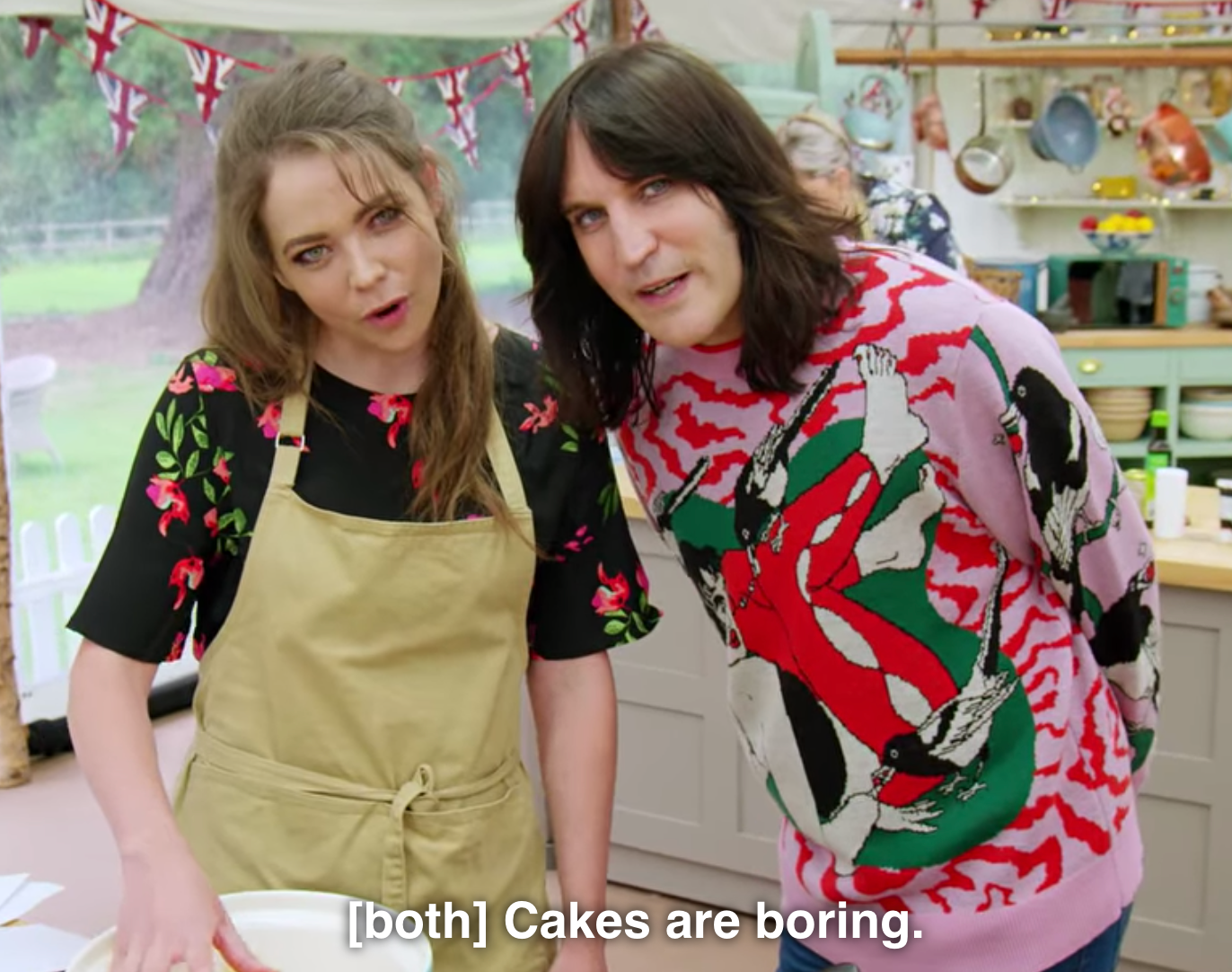 In Episode Six, Fielding is wearing a manga-inspired Wah-Wah Australia x Laura Callaghan Sweater with tight blue skinny jeans and black boots. He looks epic, and he knows it too. Plus, it's a much more tasteful homage to Japanese Week than judge Prue Leith's Kimono-like robe. Here he is with Lottie, trolling the audience by claiming "cakes are boring." 
1st Place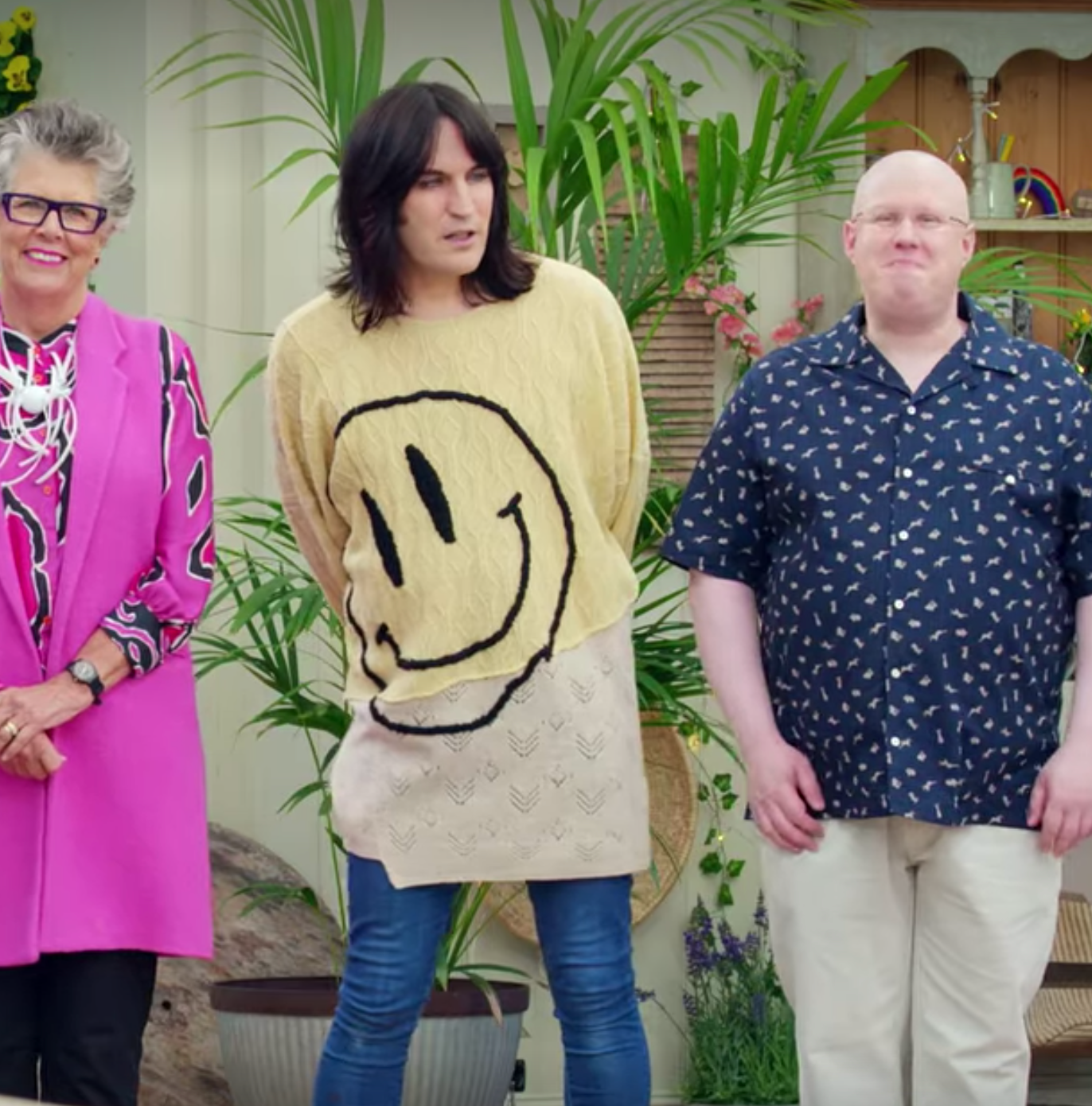 This is truly a shining moment in fashion and television. In Episode Two, Fielding wears an oversized smiley sweater by Raf Simmons and skinny jeans. Both referencing DIY punk aesthetics and invoking a giant toddler, it's the kind of confrontational whimsy that makes Fielding's clothing so exciting. It's nice to have a man dress and behave in a way that suggests friendliness and warmth — indeed, he literally opens the episode walking along holding his male cohost's hand. It's the opposite of Paul Hollywood's steely, buttoned-up intimidation, and by far the more liberated option. Men should be free to wear giant dopey sweaters, just as they should be free to make glazed buns in the kitchen.