Sometimes there is no better person to recommend a potential man to you than a woman who has known him intimately and loved him. With that in mind, you could do worse than to cry over the latest New York Times "Modern Love" column, wherein a woman dying of ovarian cancer has the incredible foresight to not just wax nostalgic over a happy marriage to her husband Jason, their children and a life lived well, but to also recommend him to women of the world at large as an ideal man to consider for their future husband.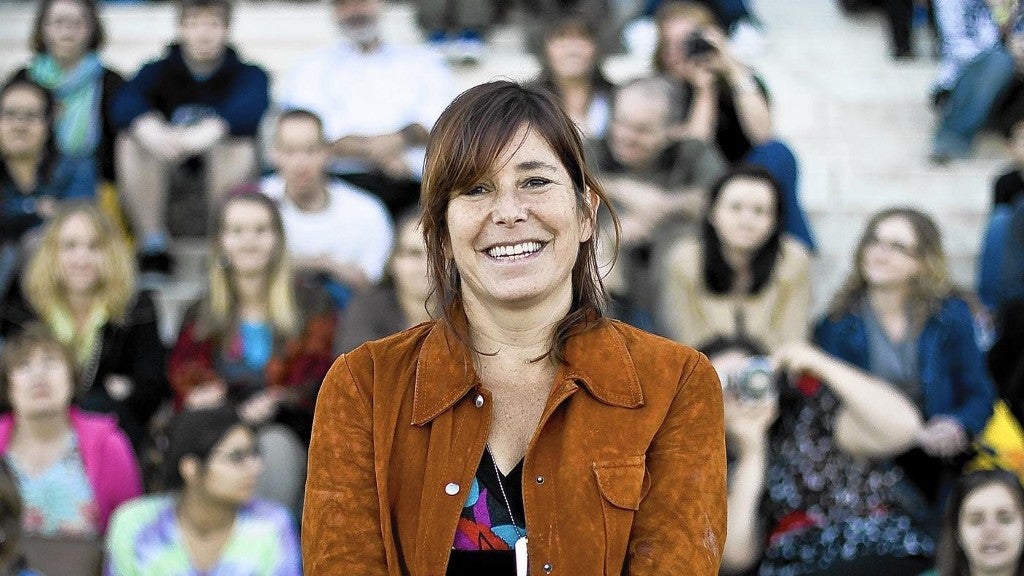 The column, which details Amy Krouse Rosenthal's difficult reckoning with her medical fate, is a testament to more than 26 years of marriage and three lovely children as well as a dating profile offered up for her husband, Jason. She admits she's never been on Tinder or Bumble or eHarmony, but she offers this description after 9,490 days together:
"First, the basics: He is 5-foot-10, 160 pounds, with salt-and-pepper hair and hazel eyes," it begins. Jason is also a "sharp dresser," and "uncannily handy." He's a great cook, who loves music and his children; he's an artist, a spontaneous traveler, down for anything. Rosenthal continues:
This is a man who, because he is always up early, surprises me every Sunday morning by making some kind of oddball smiley face out of items near the coffeepot: a spoon, a mug, a banana.
This is a man who emerges from the minimart or gas station and says, "Give me your palm." And, voilà, a colorful gumball appears. (He knows I love all the flavors but white.)
My guess is you know enough about him now. So let's swipe right.
Okay, but — through our collective tears — hold on a second. No Tinder profile is this good, for one thing. Also: Everything about it is lovely, a love letter to love, and a sweet parting gift to a man who sounds incredible. It's worth noting though, that it takes a very special kind of woman to live up to such a testament to love. Most of us date knowing people in our pasts have pasts, and we're often eager and open to hearing those details. But a love story like this occurs once in a lifetime, if at all. These are big shoes to fill, and not just any woman is going to fill them.
Readers may recall that former Dear Prudence columnist Emily Yoffe married a man who'd lost his beloved wife Robin, to cancer at an early age, and Yoffe wrote about the fact that, rather than suffer silently over a great love her husband had already experienced, she cherishes her relationship with him, and honors his departed wife's memory in their life. She is grateful to have found the man that she loves, even as she regrets what he has lost.
"I'm grateful to Robin, not jealous (even if she left it to me to convince our joint husband that the laundry hamper was invented for a reason)," Yoffe wrote. "I knew my husband for only four months before we got married. But I heard from others how protective, tender, and devoted he was to her. Because of their relationship, I knew that this was a man who could be trusted, who stayed, for better or worse. I also knew that it's possible to have more than one love of your life. I am the love of his, and so was she."
There is perhaps no better endorsement of a person than a loving portrait offered by their dying spouse. There is also, perhaps, no better candidate for their new love than someone who has the level of grace and security required to make space for a new relationship while respecting the old one.
"I probably have only a few days left being a person on this planet. So why I am doing this?" Rosenthal writes. "I am wrapping this up on Valentine's Day, and the most genuine, non-vase-oriented gift I can hope for is that the right person reads this, finds Jason, and another love story begins. I'll leave this intentional empty space below as a way of giving you two the fresh start you deserve."
It cannot be overstated, ladies: Let's not Sleepless in Seattle this — let us not hear the story of a loving, grieving man and flood him with letters and marriage offers, willy-nilly. This is one job offer for which only serious, classy candidates need apply.