It was a cold November night in Austin, Texas, when Jordan, a fed-up 25-year-old Dallas Mavericks fan living away from home, triple-checked an angry email he was about to fire off to Mark Cuban, the billionaire owner of his favorite team.
Jordan, a bona fide #MFFL (Mavs Fan for Life), had to move from Dallas to Austin in 2011, the year his team finally won a championship. Because of Austin's proximity to San Antonio, the NBA's antiquated "blackout" restrictions, put in place during the 1998–99 NBA lockout to sell more tickets, meant the Spurs were the only basketball team Jordan could watch. In 2014, after three years of desperation, Jordan broke down and bought a subscription to the NBA's streaming service, League Pass, hoping he could finally watch Mavs games again.
"Wrong," he tells MEL. "They were all blacked out in my area, even with League Pass."
So Jordan reached out to the most powerful figure in a Mavs fan's universe: Cuban himself. Thunder cracked as Jordan hit send. He knew it was a Hail Mary, but maybe the Shark Tank star and media entrepreneur could somehow swoop in and save him.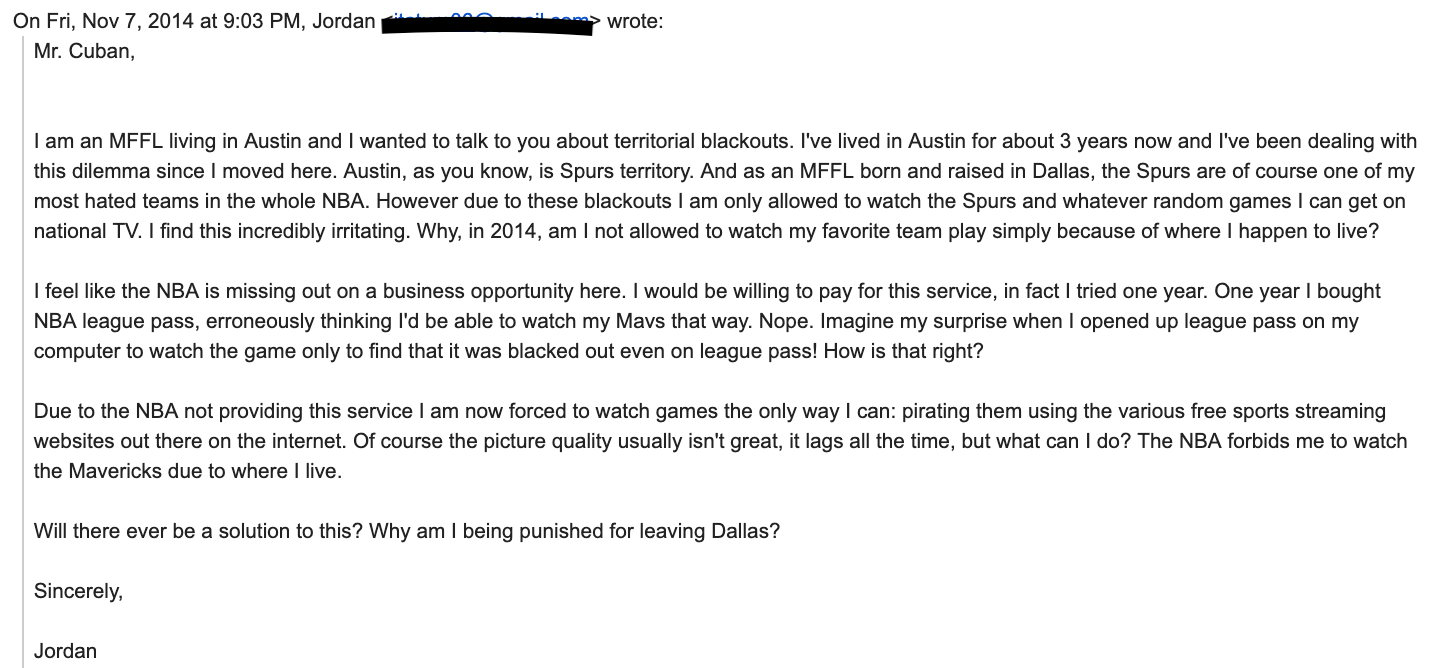 Alas, Cuban's hands were tied. They still are. "I hate it too," Cuban responded to Jordan. "The Spurs won't change. We ask them to every year."
It was clear there was no legal method for Jordan to watch his favorite team, as much as he wanted one.
Soon after, he discovered the new subreddit r/NBAstreams, a safe haven for cord-cutting NBA fans who wanted to watch their favorite teams without paying an exorbitant amount and fearing that a game might be blacked out. "I was so disappointed [in League Pass], I never used it again and have been streaming ever since," Jordan says.
He wasn't alone. On June 17th, 2019, the last blessed day before r/NBAstreams was finally shut down, the forum boasted over 400,000 subscribers.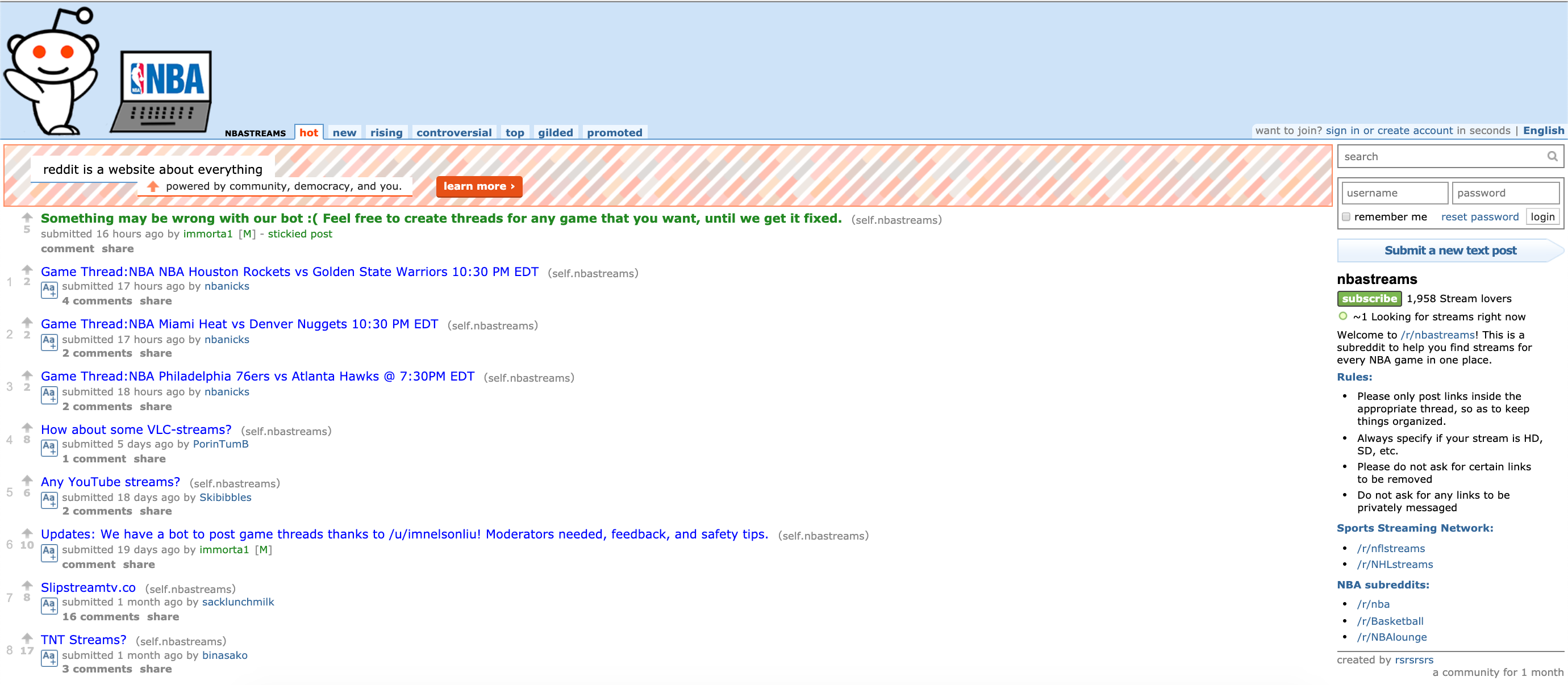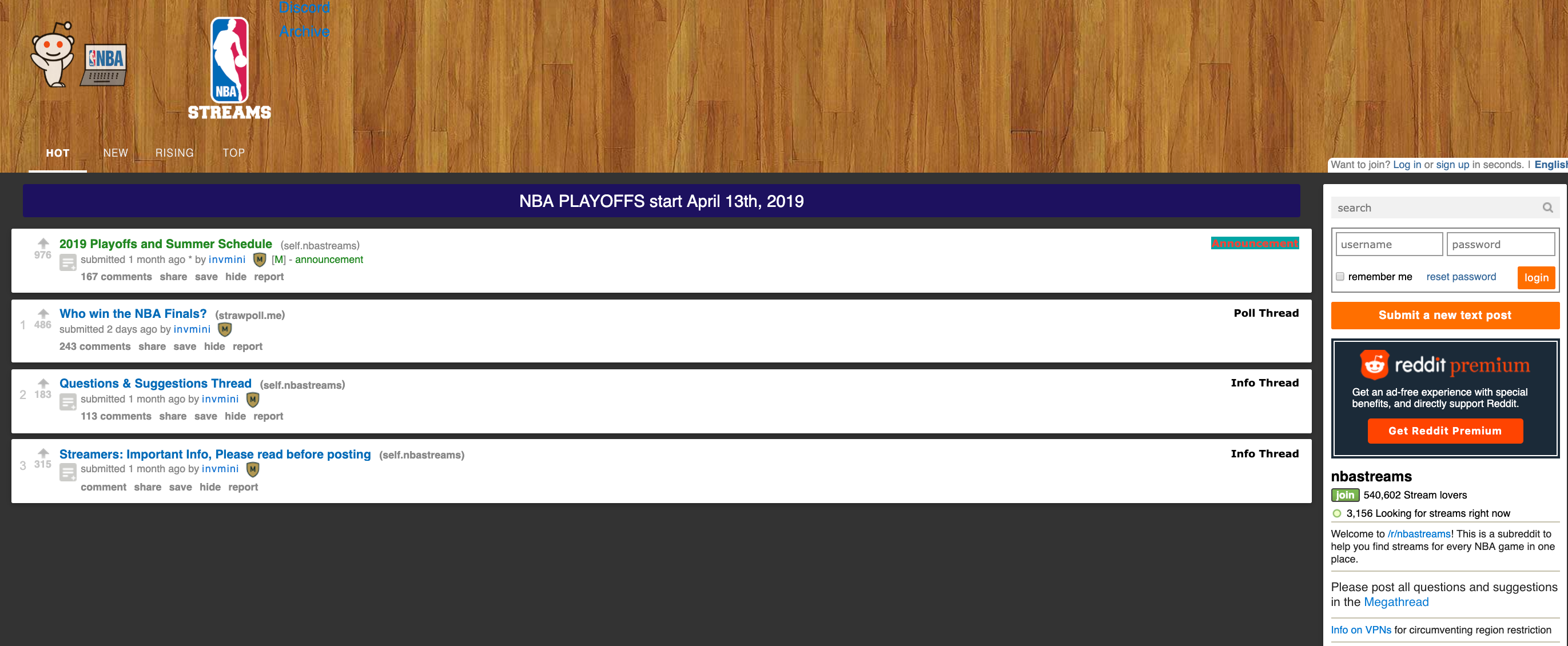 "At its peak, the sub would easily have 80,000 to 100,000 people during any game," says Luke, a moderator of the subreddit, using a pseudonym. "As for the streamers, there could be from 20 to 40 streamers for a game [depending] on the time of the year."
While the NBA doesn't provide subscriber numbers for League Pass, in 2016 it reported 26.7 million game views. To do some sketchy math, if 80,000 people tuned in to all 82 games for all 30 teams on r/NBAstreams, that number would look more like 196 million game views. It's a high estimate, sure, but take into consideration that in 2017, the Guardian reported that 54 percent of millennials use free streams to watch live sports.
Surely there's money to be made here. What's holding it back?
NBAstreams Was an Oasis — Far Superior to Its Legal Counterpart
Most NBA fans came to r/NBAstreams because of the blackout rules that hampered League Pass.
"Why the hell would I sign up for [League Pass] when every time I try to watch my home team it's blacked out?" asks Alex, a 32-year-old in Chicago. "The entire concept of a blackout should be fucking illegal. It's like paying for Netflix, but being able to watch only every other episode of The Office, except it's worse because the only show available is The Office and it costs twice as much."
Rob, a 33-year-old Sixers fan living in Central Pennsylvania, ran into the same problem. "I'm three hours north of Philly and I haven't had cable in years, with no plans on getting cable just for Sixers games," he tells MEL. Not only are the Philly games blacked out for me, but the New York games too, and I wouldn't have access to [Yankee Entertainment and Sports Network] or MSG even if I did have cable, because I'm in Central Pennsylvania. I would absolutely be willing to pay for League Pass rather than using illegal streams if I could get Sixers games."
Another selling point for r/NBAstreams? Its dependability and stream quality.
"What made r/NBAstreams better was ease of access and reliability; there was a centralized location for all games, no need for a cable subscription, and they were always of a respectable quality," says Marko Vucetic, a 30-year-old in Washington.
"Cable companies are clinging desperately to a golden goose that is fast approaching menopause," he adds. "The NBA is happy to collect the fat checks from a slowly declining business… but I think Twitch is positioned well to be that new ESPN. The audience is there already thanks to esports, and it has the resources to grow and bring in other demographics that may not be what the current Twitch user looks like."
And then there's the whole "free" aspect. "[The subreddit] helped a lot of people my age," says redditor Jeric13xd. "As a college student, without any disposable income or any income at all," he laughs, "that sub was a lifesaver. [It] let me watch the game I love."
Taylor, a 23-year-old living in Tampa, Florida, grew up a Celtics fan because his dad chose the Celtics in the '70s before the NBA expanded to Florida. He's been following the team since 2003, but as "a broke 23-year-old," he opted for r/NBAstreams five years ago.
"Xfinity and WatchESPN are slow; the video player lacks basic features like streaming-quality options and the ability to rewind. Not to mention their streams are often a minute or more behind live TV," Taylor tells MEL.
"I'll be watching a game and my dad or brother will text me something along the lines of 'Did you see that dunk?' and I'll still be multiple plays behind them. If I jump over to a stream from r/NBAstreams, not only is it ahead of the official one, but it has those missing features that any video player should have in 2019!"
Remembering the Fallen
For many, r/NBAstreams was more than just a cheaper, more reliable and higher-quality option than what they could pay for — it was a community. A brotherhood.
"I will definitely miss the exclusiveness to the r/NBAstreams community, being able to watch any game we wanted with the boys on Friday and Saturday nights," says a 24-year-old member in Connecticut who asked to go by his nickname, "Bag." "Both r/NBAstreams and r/NBA have some genuine comedians. Like, I've seen have some of the best comical jokes all around the league on those subs."
Taylor remembers the individual flairs some streamers brought to their broadcasts. "My favorite was this one Celtics streamer who would put an overlay of Kelly Olynyk doing an awkward dance, with the words 'Big Dick Olynyk' on the screen," he tells MEL. The same goes for Vucetic, who recalls one streamer who "had a nice production around his stream, with a Golden State banner around the video and dope songs playing over the stadium stream of games." Asa, a 19-year-old in California, loved to follow multiple teams on r/NBAstreams. He whimsically remembers one streamer cutting away from commercials to stream himself playing NBA2K along with the new Kendrick Lamar album "like a day after it dropped" in 2017.
"What I'll miss most — other than having a place to find game streams easily — is that small-town feel," says Vucetic. "I knew to always search for [the] Golden State guy's streams, but now I can't even remember his name. … Like all good things that experience a massive spike in popularity, there seems to always be a loss in the ability to savor it, replaced instead by a detached consumption of something you once enjoyed differently."
"The sub loved to get involved and just watch NBA," says Luke, the former moderator. "I would also include some fun topics like polls asking who would be the champion, etc. This was all the passion of the people just coming together to watch basketball and talk [in the chat room]."
Jake, a 30-year-old NBA fan in Washington, D.C., who happens to work for a cable company, is pissed. 
"It should be easy for the NBA," he begins. "You own all the content. Figure out a fucking way to get it to us in a high bit rate, at a decent cost, and we'll all buy it. Just throw money at the tech until it works, dipshits. [The NBA] is hobbling themselves by either cheaping out on the technology or actively trying to appease their cable partners.
"My generation left cable behind, and without a way to watch the NBA how we want, we might leave basketball behind too," Jake continues. "The fact that some guy in his basement was able to put out a higher-quality, more consistent stream than the NBA or TNT or anyone official is just inexcusable to me. I have cable! I am willing to watch commercials and pay for content! I work in television! I'm not some anti-corporate renegade who refuses to pay for anything. I don't torrent movies, I don't steal TV dramas, but I do stream NBA games illegally. That's how bad their product is."
Jake believes cable companies like the one he works for are simply afraid of leaving money on the table. "There's a billion-dollar cable contract right there for them. Why would they invest in appeasing the core fans when they can appease Turner and ABC?" he says. "It's scary, I get it. But look at Netflix: $160 billion valuation or something" — according to Forbes, it's $152.7 billion — "right now. If you want to move into that stratosphere, you need to realize the media climate you're currently in.
"I have sympathy for the blackouts issue; I know that's a complicated thing. I have no sympathy for the quality issue. Make a good technology product. It's 2019 and you have money. It's embarrassing at this point."
So What Does the Future Hold?
As frustration mounts for young NBA fans without disposable incomes, the NBA must be thinking ahead, right? Like Jordan, I reached out to Mark Cuban to see if he had any thoughts on what the NBA could do to win back illegal streamers.
"It may not be a bad idea for the NBA to look at advertiser-supported streams and see if they make economic sense," Cuban tells MEL.
Andrew Bucholtz, a staff writer for Awful Announcing covering media and the NBA, explains what Cuban is getting at.
"The idea of 'advertiser-supported streams' makes some sense, as most sports content is somewhat advertiser-supported. If you're watching an NBA game on ESPN, TNT or a regional sports network, you're going to see ads; those networks make enough to buy NBA rights from a mix of advertising and per-subscriber fees from cable, satellite or streaming TV providers," he explains.
"And if you're streaming an NBA game through an authenticated login with one of those networks, that's an 'advertiser-supported stream' of a sort (especially in ESPN's case, where they often sell ads specifically for their streaming content)."
It's for this reason that if you're watching NBA League Pass, you'll see the local advertisements of the broadcast you're watching. A premium subscription to NBA League Pass is commercial-free; you're shown a live feed inside the stadium instead of commercials. In a blog post titled "Integrated Advertising in Sports: The NBA," MediaRadar notes that the NBA has increased the amount of in-stadium advertising, including jersey ads, so consumers watching commercial-free streams still get a healthy dose of marketing.
That is to say, perhaps the NBA is already looking at offering direct-to-consumer, advertiser-supported streams. They already stream G-League games free of charge on Twitch, and in an interview with Strategy+Business, NBA commissioner Adam Silver acknowledged that the only thing holding them back from experimenting more with direct-to-consumer streaming is their current media contracts:
"As far as I know, the partners who have our rights — ESPN and TNT — have no plans to distribute their programming on platforms that don't collect subscriber fees. Longer term, we're already in a direct-to-consumer business through NBA League Pass. … I think there's going to be a lot of studying in the league office over the next five years as to how direct a relationship we should have with consumers."
And while it sounds promising that Silver is actually talking about this, Bucholtz isn't so optimistic. "There are a lot of variables at play for any new NBA streaming venture," he says. Namely: Will a direct-to-consumer streaming option "actually bring in enough people, will it just transfer more people from cable or satellite buckets (where the NBA's already reaching them) and will it actually increase revenue? There's a whole lot to consider with any change to the streaming setup, and that probably means we won't see big movement on that front quickly."  
According to Bucholtz, that's what Cuban means when he talks about exploring the economic benefits. "If Cuban's comments are about exploring options with League Pass to better incorporate advertising or sponsorships into those streams and reduce the price to consumers as a result, there could be some logic to that. But it's unclear how much interest … there would be from advertisers and sponsors, and particularly if it would be enough to significantly lower the price," he explains.
Plus, Bucholtz adds, "It doesn't seem reasonable to assume that there's a price point at which everyone who was illegally streaming games would move over to paying for legal streams, or that even if there were, that reducing the cost that way would be maximizing revenue."
So while many former r/NBAstreams subscribers scramble like rats from a sinking ship to find new streaming platforms, Bucholtz says we might not be doomed to clunky Xfinity streams for the next decade.
"It seems more likely that change here (if any does actually happen) would come through League Pass and/or through more local broadcasters offering streaming-only package options rather than through any new setup outside of that," he says.
In other words, some local broadcasters are already offering cheap streaming options for guys like Jordan and Taylor, who just want to watch their favorite local teams without fear of blackouts. For example, he says, NBC Sports Northwest is offering an "over-the-top [meaning stand-alone, no-cable-package-needed streaming package] Blazers Pass, and it wouldn't be surprising to see other networks try similar ideas. That might wind up being some of the 'ad-supported streams' in question here."  
"Maybe that leads to change, maybe it doesn't," Bucholtz says, "but any significant change will probably take a while."
Until then, most streamers are confident something new will pop up. When it does, the r/NBAstreams community will be there to help each other out. "I just feel sorry for the people not as internet-savvy who won't be able to locate these new stream sites and will be forced to get League Pass," Asa says. "Which is why I think everyone who was a part of the community should keep spreading awareness and news to keep everyone updated on how to watch games online."