I'm an anxious traveler. Who isn't? Trains, airports, security lines, A‌i‌r‌b‌n‌b‌ hosts who look like Jeffrey Dahmer — it all stimulates dread. When people tell me they "love to travel," I'm happy for them but also slightly bewildered. It is like they just told me they love to play checkers with raccoons.
So I was intrigued when I learned that one hotel has pioneered a new way to help guests feel relaxed. Moxy NYC Chelsea, a swanky new Manhattan hotel owned by Lightstone, is offering what it calls "the first ever in-room hotel ASMR experience." In plain English, this means the hotel is providing guests with free ASMR videos designed to induce tingles and lull them into a euphoric trance.
The purpose — beyond, I guess, bolstering the hotel's hip, chill-millennial brand and making rich Instagram influencers want to stay there — is to bring a new, novel category of relaxation to the staid hotel experience. And, of course, to soothe travelers' nerves, no minibar required.
And so, in an effort to force myself to relax, I found myself in a king-size bed on the 29th floor, my ears filled with the crackling sound of Bella Thorne eating Pop Rocks.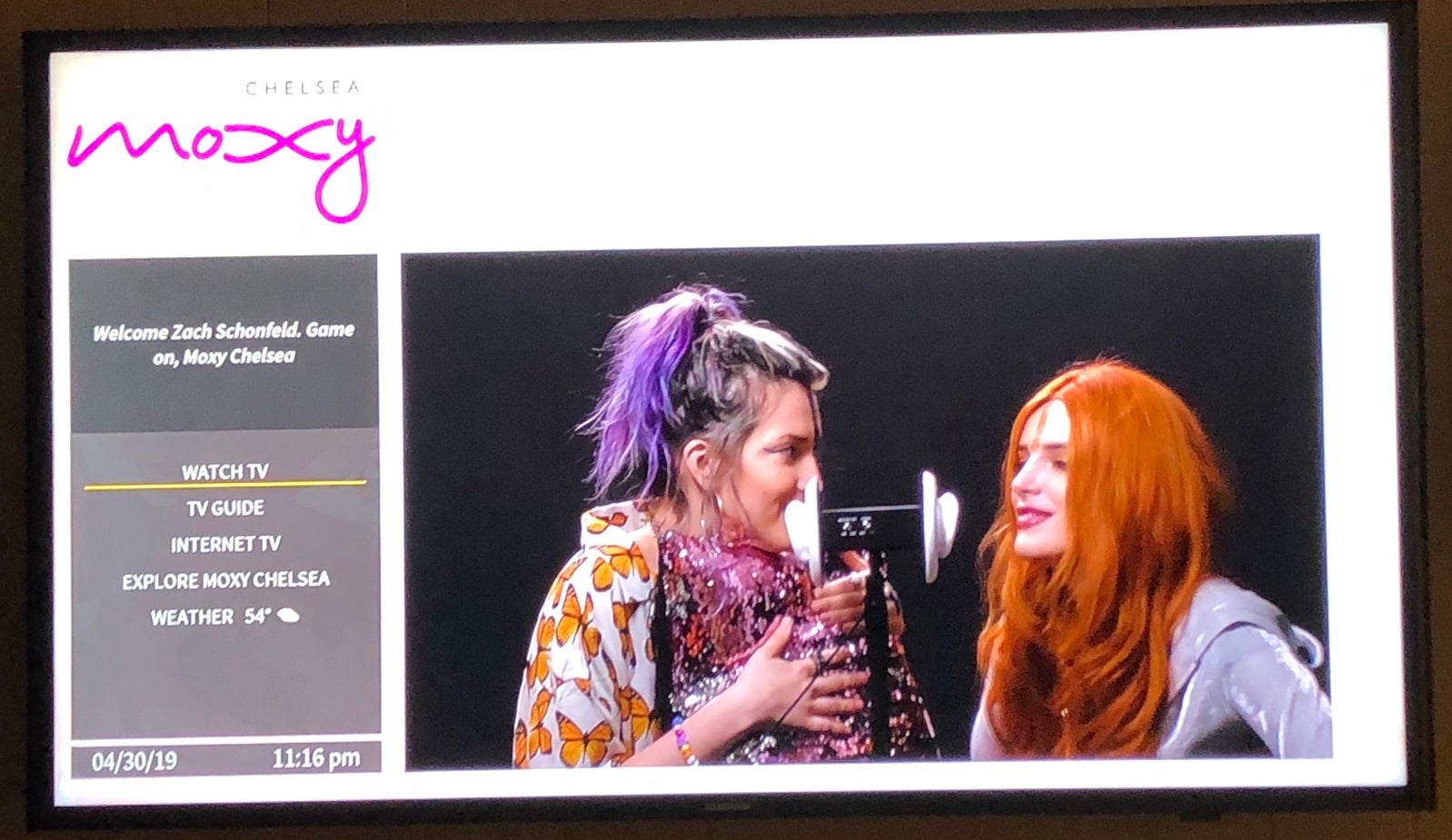 The Brain-Tingle Boom
My first question, naturally: Why bother with all this?
"We have watched the rise in popularity of ASMR and saw this as an opportunity to enhance Moxy's popular amenity, Bedtime Stories," Lauren Levin, Lightstone's chief marketing officer, explained in a statement to MEL. "As a refined yet playful retreat, we wanted to encourage relaxation in a playful yet immersive way, and bringing the ASMR element directly into the guest rooms felt right."
ASMR, of course, refers to the pleasant, "tingly" sensation that can be stimulated by a variety of gentle aural and tactile triggers. (Ever get a light scalp massage and sink into inexplicable euphoria? That's ASMR.) For many, it's a source of relaxation and stress relief. While its mainstream name recognition is relatively recent, the phenomenon has developed a massive YouTube presence over the past decade. Literally millions of viewers tune in to watch YouTube stars like "Gibi ASMR" and "SAS-ASMR" whisper into microphones and tap gently on household objects. There are subcultures, too: ManlyASMR, an ASMR nun, even customer service fetishists.
By this point, ASMR is part internet phenomenon, part wellness trend. While the Moxy hotel amenity is a limited offer — it was available "exclusively in-room at Moxy Chelsea" until mid-May — its existence has long-term implications for ASMR's rising appeal to marketers and brands.
In recent months, ASMR has been marching steadily into the realm of mainstream culture. In February, Zoë Kravitz starred in an ASMR-themed Super Bowl commercial. In April, I reported on how singer-songwriter Billie Eilish's U.K. distributor "commissioned" an ASMR tribute to her album. Plus, therapists and researchers are increasingly considering ASMR a legitimate treatment for anxiety.
So it makes sense that a hotel aiming to give off a sleek, millennial-friendly image might be drawn to this potential.
For some context, I reached out to Craig Richard, a physiologist who literally wrote the book on ASMR. He also founded the website ASMR University, which closely tracks research and developments in the ASMR space. (Richard is the first person in history who can put "ASMR consultant for Super Bowl commercial" on his résumé.)
"Creating and providing ASMR videos to hotel guests is a great idea," Richard says by email. "Many hotel guests struggle with sleep due to not being in their own bed, being surrounded by unfamiliar and usually louder sounds than at home, and also being stressed by traveling. Having ASMR videos in hotels is a new and wonderful way to introduce ASMR to new audiences, especially individuals who may be struggling to relax and fall asleep."
In order to craft an ASMR sensory experience, Moxy partnered with Whisperlodge, a self-described "ASMR spa for the senses" that has built a reputation for bringing intimate, tingle-inducing experiences to various cities. The hotel had found it through BMF, an ad agency hired for this project. First Whisperlodge was tasked with helping to create a one-night "interactive ASMR pop-up" as part of the hotel's opening party.
Then came the videos.
Good Form, Bella Thorne
"We were there on-site, coaching the talent on how to deliver the best ASMR," says Amanda Wallace, a performer and project lead for Whisperlodge. "Just coaching on volume level and overall tone. It's not a loud, fast, wild thing. It works best if things are gentle, hypnotic."
It was a quick shoot, Wallace says. Moxy selected the on-screen talent (namely, Bella and Dani Thorne and Caroline Vreeland); Whisperlodge provided the script and coaching. "We wanted to highlight the personalities of the talent they chose," Wallace says. "We came up with this theme of, 'There is power in pleasure.' We thought that worked really well with ASMR. It's all about diving in and enjoying these little pleasures."
"I wouldn't be surprised if more hotels hopped on this idea," Wallace adds. "At a hotel, you want to be comfortable, you want to be pampered — all of those themes go really well with ASMR."
I couldn't knock it till I tried it. So I decided to see the world's first in-room hotel ASMR for myself.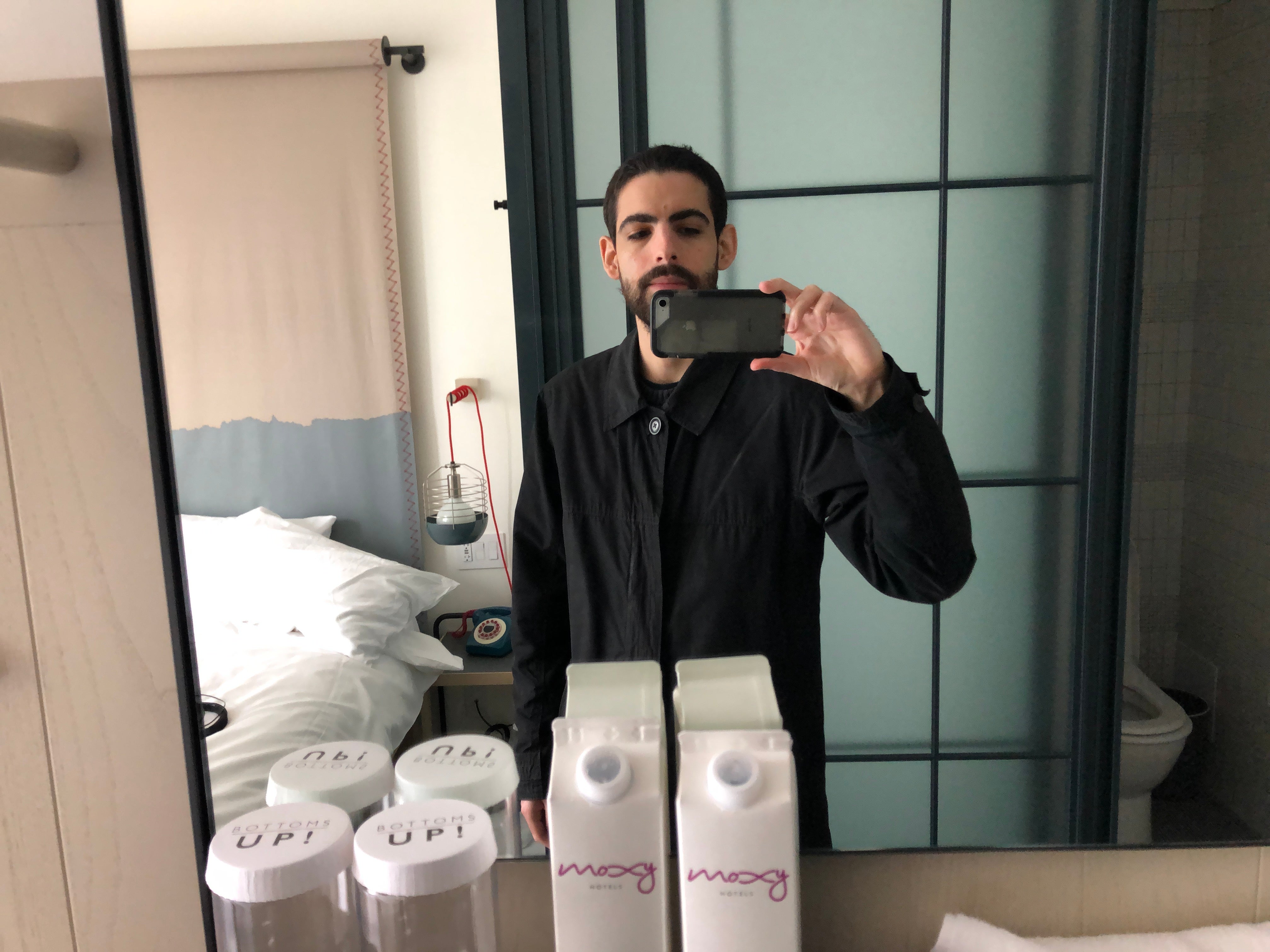 Soothe Me, Dammit
While I'm not a whisper fanatic, I do enjoy the mysteriously soothing sensation of ASMR, and I wondered what it would be like to upgrade to the most expensive ASMR experience available in Manhattan. (The standard rate for most rooms in this hotel is between $300 and $500 a night.) These must be top-shelf tingles, I thought. Would it be like going from chugging PBR cans in my apartment to swigging a bottle of Château Cheval Blanc at Jean-Georges? (Well, no.)
In late April, I spent a night at Moxy Chelsea. (Full disclosure: I didn't pay for this hotel room. A publicist arranged a complimentary stay for me. That said, this isn't sponsored content, and Moxy had no say in the content of this piece.)
As soon as I arrive, Moxy's embrace of ASMR makes more sense to me: This hotel gives off oppressively hip vibes. The entrance is a narrow corridor draped in fresh-cut flowers — a nod to the surrounding Flower District. The lobby looks like a startup office from 20 years in the future. In lieu of a traditional front desk, there are two compact floating desks suspended from the ceiling, and a blaring sign that says "M E E T & G R E E T" in neon lettering that reminds me of that one Silverchair album cover. A friendly staffer checks me in and hands me not just a room key but also a champagne cork with the words "BUBBLES ON US": good for one free drink.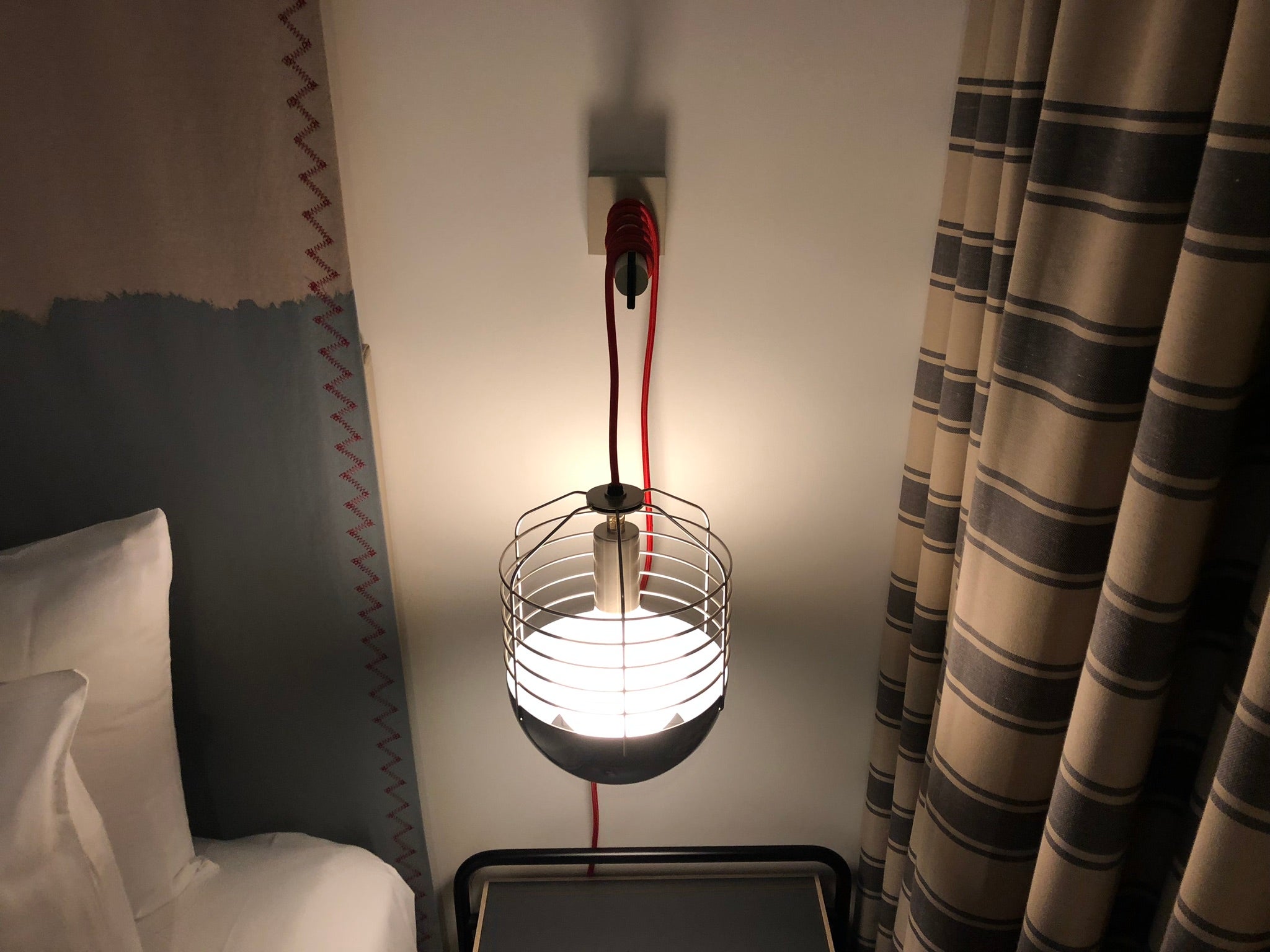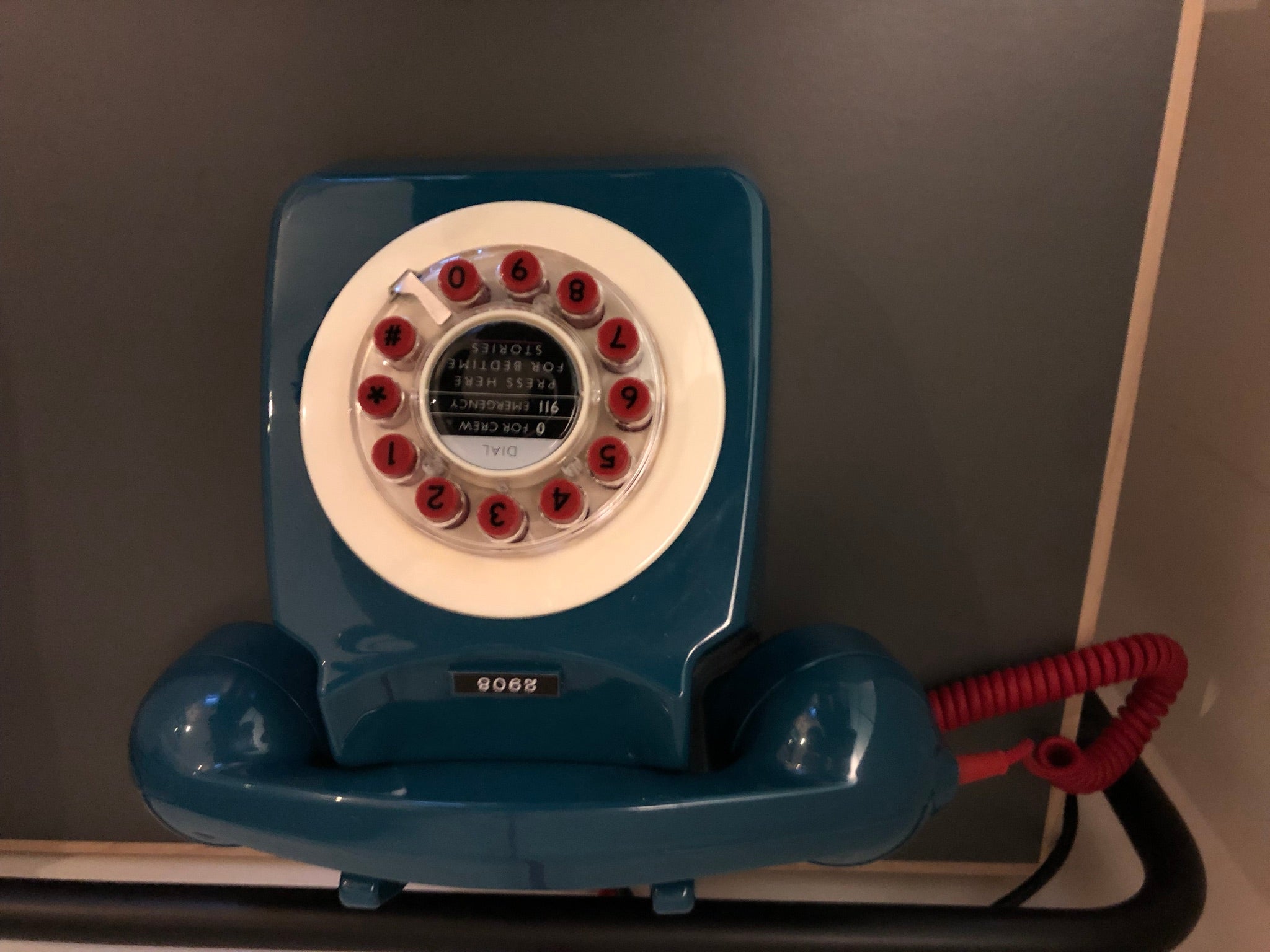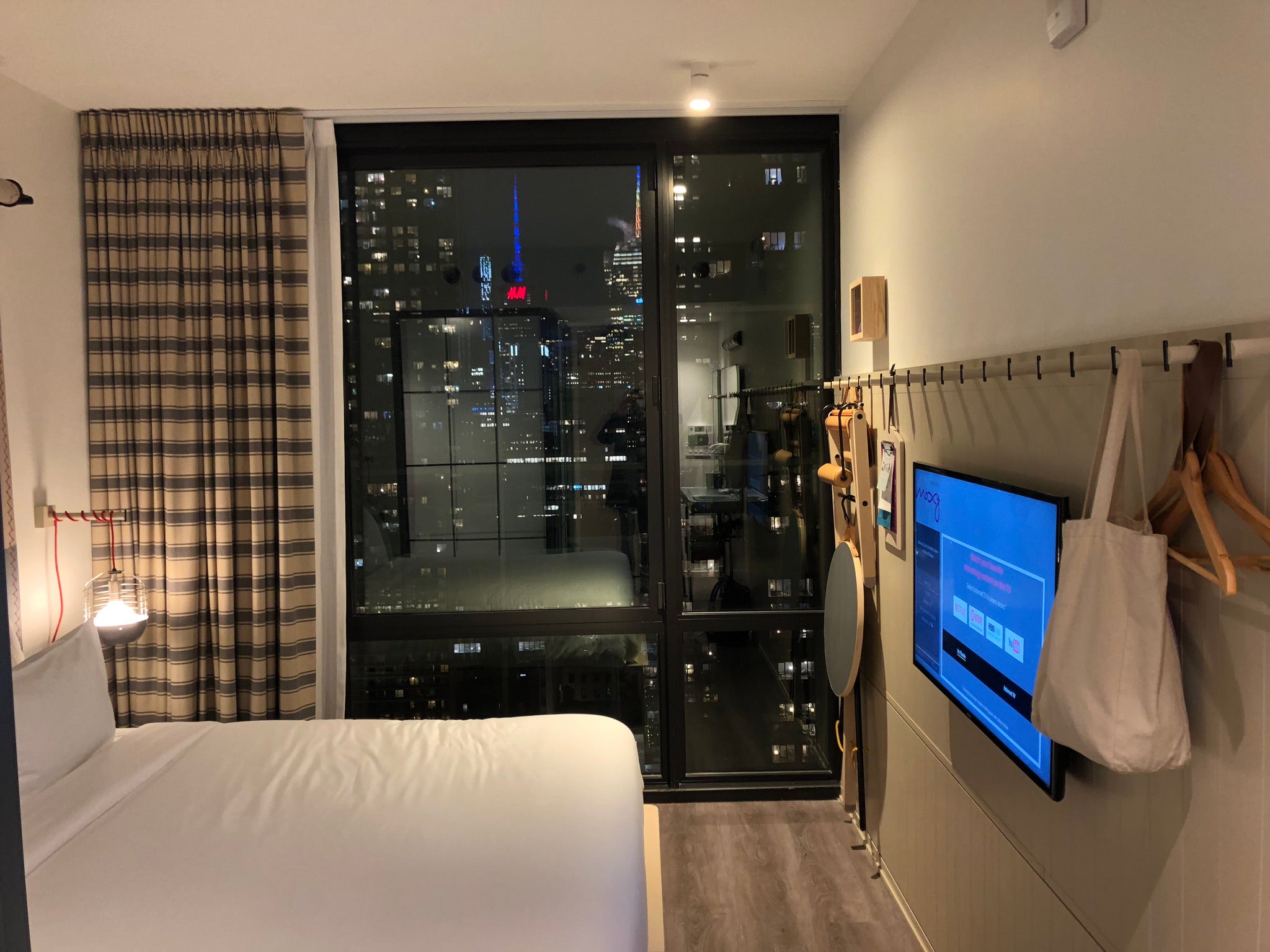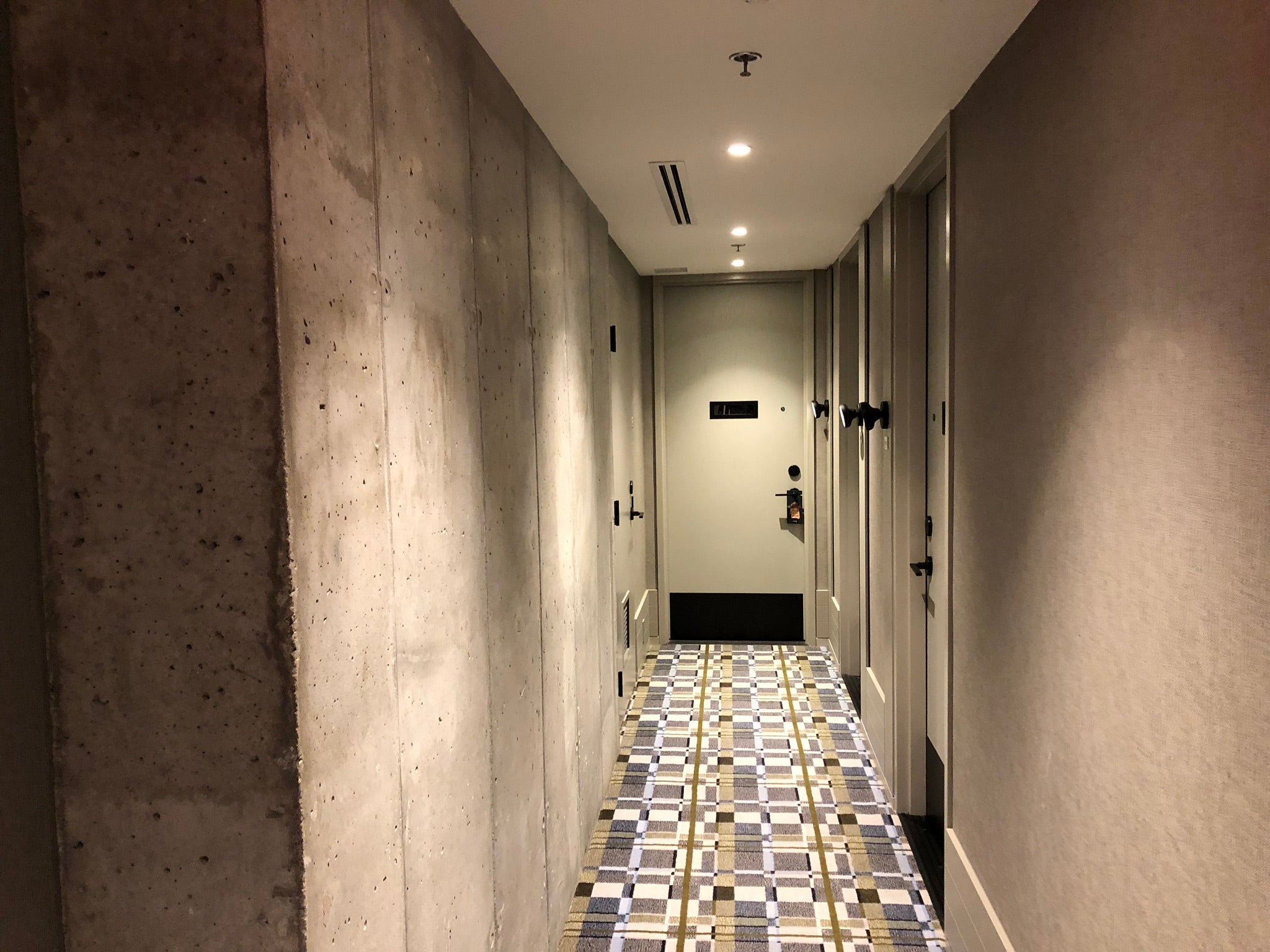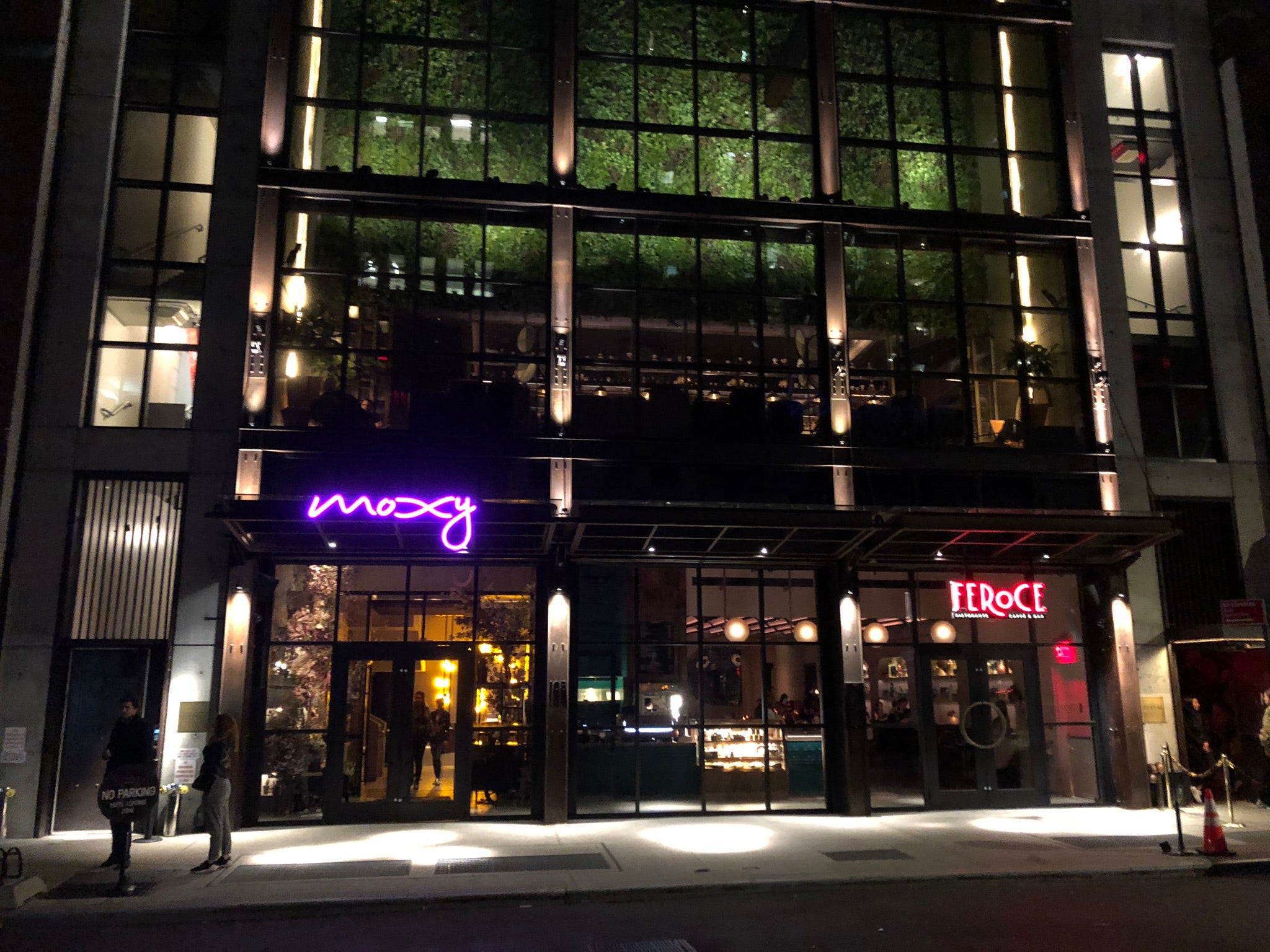 The elevator corridor is lit like a nightclub. I ride up to my room on the 29th floor.
The room is small — are all Manhattan hotel rooms this small? — but full of chic, self-consciously retro flourishes. There is a red-and-blue rotary phone that looks like a movie prop. There is a bedside lamp that hangs in a cage suspended with red wire. The sink resembles an antique, with ancient-looking black knobs. Instead of normal water bottles, the water is provided in gratuitously cute milk cartons with pink Moxy logos. The bathroom walls appear to be made from white subway tiles. Even stranger, the bathroom and shower are separate rooms.
I glance into the shower and see the word "LUST" engraved on the tiled wall, which confuses me: Is this hotel encouraging shower sex? Then I glance at the toilet and see the word "WANDER." I get it now. WANDERLUST.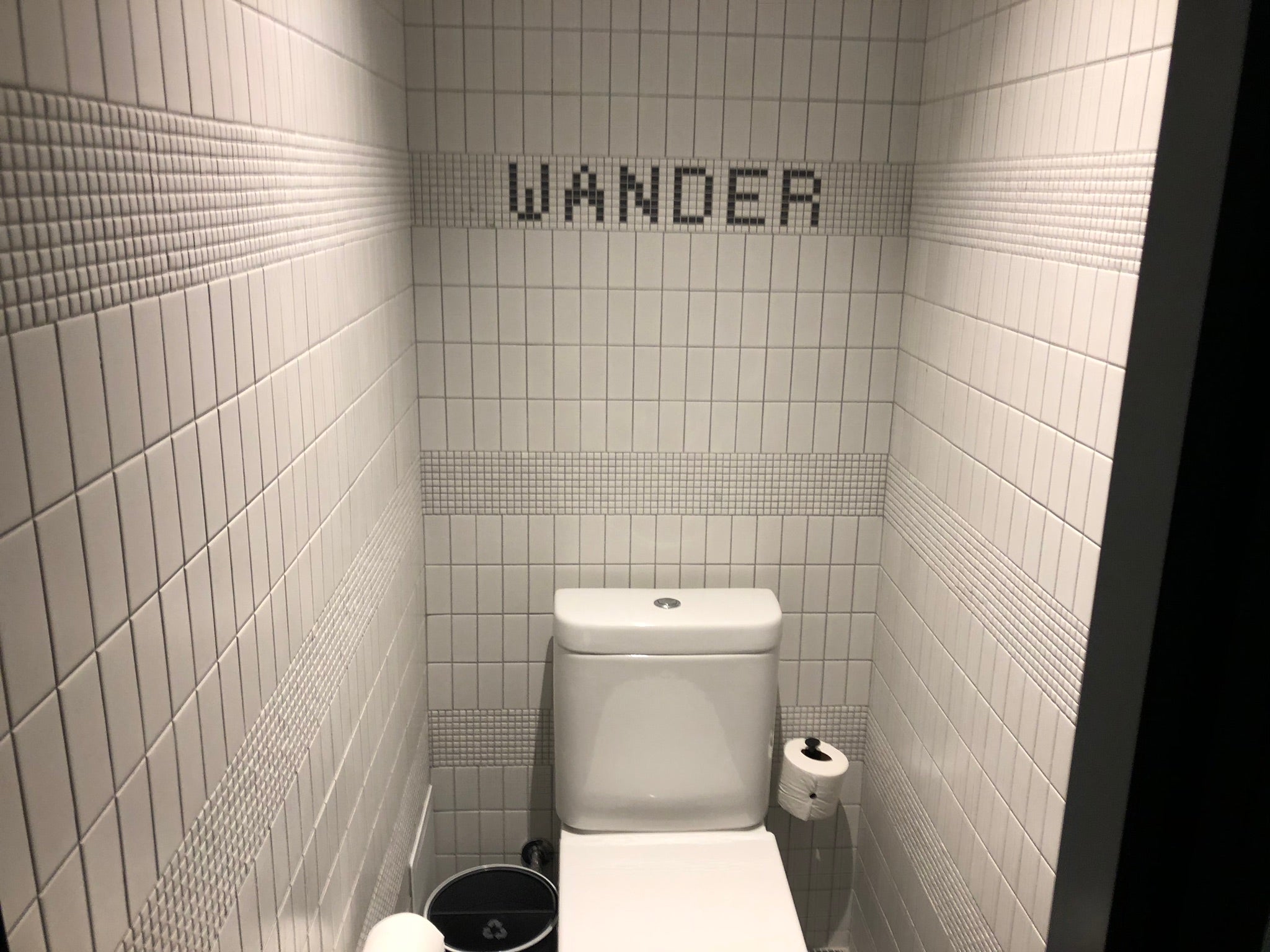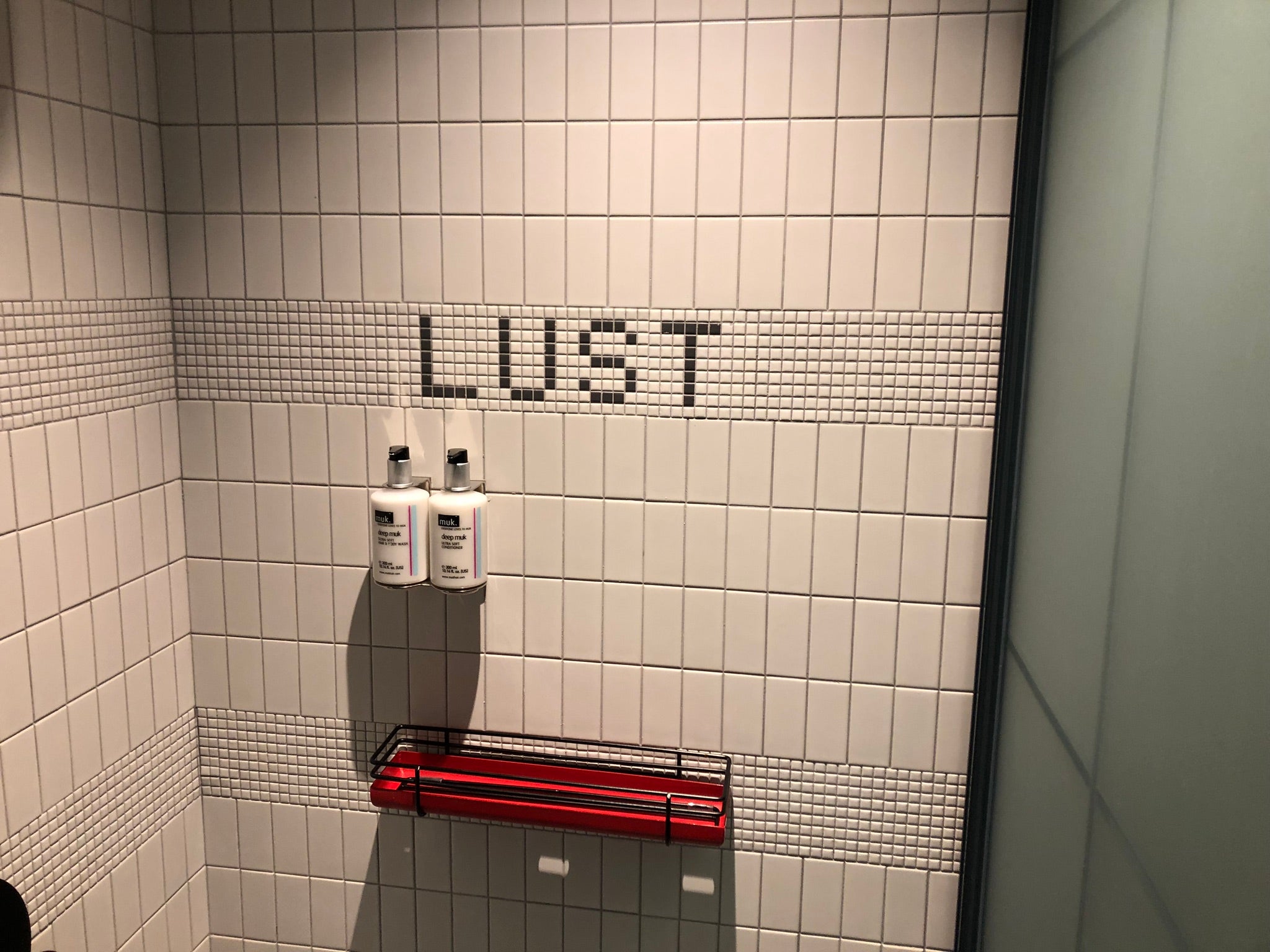 This is not exactly the Chelsea Hotel Leonard Cohen was singing about.
The view, I should mention, is phenomenal. You know in a Disney movie when the main character visits New York for the first time and stays in a fancy hotel and we get a breathtaking view of the Manhattan skyline as clichéd music plays? It's like that: I have a full-size window with a stunning nighttime view of Times Square and the Empire State Building. I feel like I've stepped into an alternate universe New York — the one experienced by rich celebrities and entertainment executives visiting from L.A.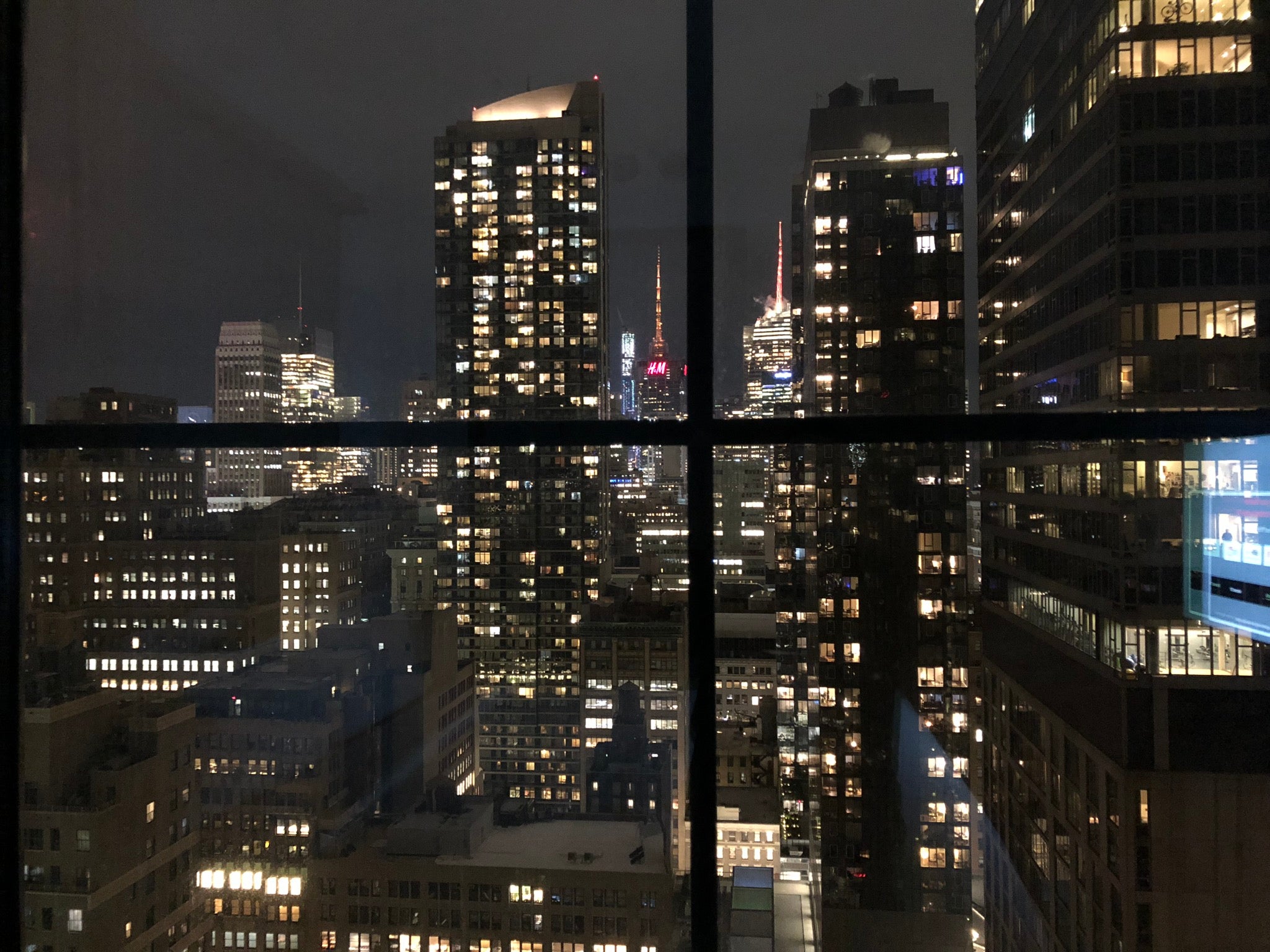 Fancy views, however, do not induce tingles. Eventually I quit gawking at ant-sized tourists below, remember what I came here for, and steel myself for some in-room ASMR. All I have to do is flip on the TV and the tingle videos materialize. (You do not have to select a special ASMR channel. The videos automatically fill up most of the screen, with a small menu on the left containing options like "WATCH TV" and "INTERNET TV.")
My room fills with whispers. "I'm Caroline Vreeland and I'd like to show you how to properly enjoy a meal," the singer-slash-Instagram-influencer informs me in a gentle voice. Seated in front of two close mics, Vreeland giggles and beams with pleasure as she eats a dainty plate of spaghetti. Food sounds can be an ASMR trigger for some people, but not for me. Still, Vreeland's quiet, restrained presence is relaxing. "Don't be afraid of making a mess," she whispers while clearly not making anything resembling a mess. She grabs a napkin and gently fondles it, drawing out the sound for maximum tingle potential.
It's ASMR Without the Intimacy
Eventually Vreeland moves on to some wine. The video begins to feel like an ad when she whispers one-liners like "A glass of wine is like a vacation in between bites." Her next course is pizza, and she carefully taps her fingers along the pizza box before digging in. (Admittedly, this sort of gentle tapping is more soothing to me than eating.) After reveling in what seems like an orgasmic bite of pizza, Vreeland declares, "Pasta is my wife… but pizza is my mistress," and I burst out laughing. This moment isn't soothing, but it is outright funny.
After less than three minutes, the screen shifts to a new video. Actress-sisters Bella and Dani Thorne appear onscreen. Never rising above a whisper, they introduce themselves and pour Pop Rocks into their mouths, letting the microphone pick up all the crackles and pops. Later, the sisters gently apply makeup ("not just any makeup — Thorne by Bella makeup," Dani informs us in a sleek bit of product placement). They also suck on lollipops, caress a fuzzy purple pillow, and play with some dice. These ASMR "triggers" are appealing, but they each last only about 30 seconds — not long enough to lull me into a trance. And like many seasoned celebs, the Thorne sisters have a comic energy that's good for a sizzle reel, but not ideal for ASMR.
In other words: they're a little too charismatic.
An ideal ASMR video is gentle, slow-paced, and even slightly boring. There are no punchlines. You're not meant to be riveted by videos of ASMR YouTubers "soft-reading" instruction manuals (yes, this is real). You're supposed to be soothed to sleep. When a celebrity like Margot Robbie tries ASMR, the results are mixed, because Margot Robbie doesn't know how to be boring. Her natural instinct is to entertain, and to play it up for laughs. The Thorne sisters bring a similar sensibility to the genre.
Once the Thorne video ends, the TV automatically reverts back to the previous clip, then back to Thorne, and so on (there are just these two clips). I lie on my hotel bed and let the two videos wash over me for a while. Admittedly, it feels strange and nice to have this quiet cocoon to myself in my own home city.
These Moxy videos relax my mood and may even reduce my heart rate (as ASMR has been found to do, per recent studies). But I don't experience the mysterious tingling euphoria associated with ASMR. I suspect this is because the videos are simply too short and fast-paced — and too humorous in tone. I couldn't take them seriously.
Also, I'm on the bed, and the TV feels far away. The effect of ASMR often stems from a sense of closeness and intimacy: close mics, gentle touch. This setup seems to undermine that. Craig Richard, the aforementioned physiologist, believes the pleasurability of ASMR is related to a feeling of close personal attention, which is why you might get tingles when someone is cutting your hair. (Richard once interviewed a primate neuroscientist who saw a parallel between what humans recognize as ASMR and the euphoria rhesus monkeys experience when being groomed by their mothers.)
Later, Richard emails me his own thoughts on the Moxy ASMR videos, which he's watched on YouTube. His assessment? "The quality of the ASMR triggers in the video varies," he writes. "Some of the whispering and sounds are gentle and soothing, but too many of the sounds are abrupt and loud, which will create an alert response rather than relaxation — for example, biting on popping candy, gnashing teeth together, and dropping heavy objects."
Like me, Richard quibbles with the length: "At less than three minutes long, these ASMR videos are too short to be effective at helping most people to fall asleep. Many people who struggle with falling asleep need something that is 15 minutes in length or much longer."
As for me, I turn off the clips before going to sleep. (I generally prefer quiet.) But in the morning, I watch them again before checking out. Still no tingles. But I'm stressed about an impending deadline, and the in-room ASMR does bring a welcome sense of calm into the room.
For now, I'll stick with watching ASMR YouTube channels in my apartment. But if the Four Seasons Hotel is reading this: I'm happy to try out your in-room ASMR channel whenever it's ready.