Another year in the books. I won't bore you with platitudes about how 2018 was the year we began the journey to become better men or some shit — this post is long enough already.
I will say, however, that if you've enjoyed MEL but haven't had a chance to check out every teeny-tiny thing we wrote over the last 12 months, this is like a buffet of the best of the best of all that.
So start chowin' down.
The Best-Of Lists
If you're not sure where to begin, here's as good a place as any. Because this week we put together about as comprehensive a collection of "best-of" lists as is editorially possible. Like long reads? Eat thousands of calories with The Rock's stunt double, or get a first-person account of life inside the Wild Wild Country sex cult. Enjoy a good oral history? Hear from the creators of GoldenEye 007, HBO's Taxicab Confessions and more. Dr. Death not cutting it? We've got true crime for days. Or, there's the best of everything else:
Of course, you could play it safe and just stick with our top-trafficked pieces from this year. Can't really go wrong there.
The Only Memes That Mattered in 2018
No one on our staff knows shitposting better than Miles Klee, so I won't pretend that I know how he came up with this exhaustive list of 2018's most memorable memes. All I know is that they're funny as hell.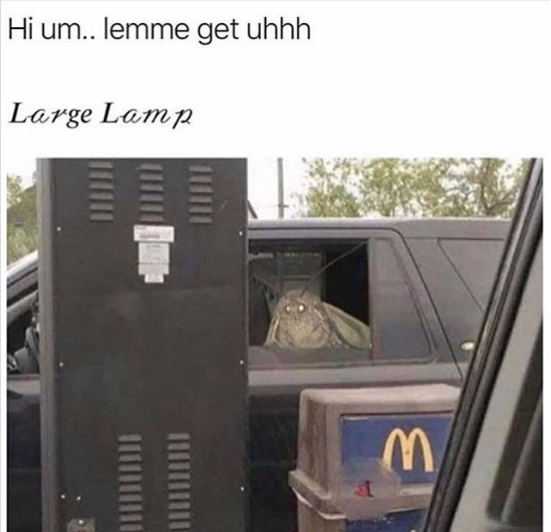 Follow-Ups
Was there a story this year that made you think, Damn, I wish I knew what happens next? Us, too. So we went back and took a second look at some of our favorites:
"The High Cost of Being a Black Entrepreneur in the Cannabis Industry"
Four months ago, Zaron Burnett interviewed people of color in the legal pot business about how legalization has mostly left minorities on the outside looking in. This week, Burnett talked to the master grower of a renowned African-American-run pot farm, The Hollingsworth Cannabis Co. (THC, natch), about his experience being a black entrepreneur in the middle of the cannabis industry's green rush.
"The Queen of the Bimbos Isn't Nearly as Dumb as You Probably Think She Is"
In July, Magdalene Taylor explored the world of women with big fake breasts and tight pink dresses — or as they're better known, bimbos (which is also how they self-identify). But she wasn't able to talk to the Queen of the Bimbos, Alicia Amira, the woman most responsible for popularizing the idea of reclaiming hyper-femininity. That is, until now.
"But Are Weed Strains Really Bullshit?"
We revealed in November that weed strains like Girl Scout Cookies and O.G. Kush are kinda B.S., considering they all contain virtually the exact same levels of THC and CBD. To put this finding to the test, staff writer Ian Lecklitner set out to get as high as possible. Here are his conclusions from all that "research."
"The Bitcoin Moms Have Gone Bust"
Pour one out for the Bitcoin Moms, the middle-aged women Hussein Kesvani profiled back in February who were buying, selling and speculating on cryptocurrency to supplement their low-paid service jobs. Since then, Bitcoin's value has plummeted, and many of the mothers who bet the farm on crypto are completely sunk.
"I Wrote About 'Hydro-Haters' Who Don't Drink Water — And Then I Found Out My Mom Is One"
One of our most-discussed stories of the year was about the people — looking at you, Odell Beckham Jr. — who avoid drinking water at all costs. Quinn Myers was all set to rest on his laurels after writing it and bask in the endless conversation it created — until his own mother admitted to being a hydro-hater herself.
"I Can't Stop Thinking About My Foreskin Facial"
Who knew having a baby's dick skin rubbed into your face — like what Andrew Fiouzi experienced back in April — could make you feel so damn nostalgic for having a baby's dick skin rubbed into your face?
"Fentanyl Is Exploding — And Heroin Addicts Are Becoming Reliant on a Nasal Spray to Reverse ODs"
In August, C. Brian Smith spent some time at a needle exchange and Narcan distribution center behind the Los Angeles LGBT Center in Hollywood, talking to the real first responders of America's opioid epidemic: Drug users. This week, Smith went back to find two of the addicts he met for his first piece — 37-year-old skateboarder Michael and his 20-year-old fiancée Kirsten. What he found instead, though, was ground zero of the fentanyl epidemic.
"There's Drama Brewing in the World of Paranormal YouTube"
Remember when Zaron Burnett tried to warn us in March that there were time travelers among us? Their purpose was twofold: 1) to save us from ourselves; and 2) to make YouTube confessionals. Eight months later, they've multiplied, and now they're fighting over who's fake, and who's really from the future.
The State Of…
… the Male Gaze is changing. At the end of 2018, the male gaze been called "dated," likened to "stale bread" and even talking about it feels retro. But that doesn't mean that women on-screen — in movies, on TV, in ads or on our devices — are no longer passive "spectacles" on display. It's just that, in a year when feminism is less a dirty word, and more a social norm, the male gaze is no longer dominated by straight white men.
… the Alpha Male is a sorry, misbegotten one. For thousands of years, alphas played an important role in our evolution — constantly fighting to be the top dog that built the pyramids, got us to the moon and gave us technologies far beyond our wildest imaginations. But since then, the alpha male's evolutionary success has gotten the best of him.
… Living Forever is getting closer and closer to becoming a reality. In particular, if you're a millennial — i.e., if you're 40 or under — you have a good chance of staying young and healthy forever. No bullshit.
… the battle over Comprehensive Sex Ed is at a crossroads. In the 1990s and 2000s, abstinence-only sex education was the most well-funded sex-ed curriculum in the U.S. — even though it showed no positive impact or increased effectiveness over time. President Obama did fund sex-ed programming based on science that's actually proven effective in reducing teen pregnancy, but since President Trump's election, many of those gains are under threat. And even in places where comprehensive, LGBTQ-inclusive sex ed is the law, resistance to it has led to the disappearance or postponement of sex ed all together.
MEL at the Movies in 2018
We here at MEL are blessed to have the inimitable Tim Grierson on the 1s and 2s when it comes to all things film-related. And he killed it this year, finding meaning for men through movies that were great, and movies that were not-so-great. Thus, to properly wrap up 2018, Grierson's gone full Grierson and put together the incredibly comprehensive 2018 MEL Movie Awards. If you ever wanted to know what the year's top movie with a question mark in its title was, how Ruth Bader Ginsberg movies stack up against each other or the best movie about toxic masculinity, then read this immediately.
The Men Who Were So 10 Years Ago
As we start a New Year, allow me to leave you with three names — John Mayer, Justin Timberlake and Ashton Kutcher. They were, by one man's expert opinion, the most influential male pop culture figures of 2009. And they say man hasn't evolved…