Welcome to Misleading Men, a regular feature where we look back at the actors who ruled Hollywood for one brief shining moment.
How many men find their calling in their mid-50s? At an age when some are pondering retirement, Leslie Nielsen pulled off an almost unprecedented professional renaissance, essentially saying farewell to a fine but journeyman dramatic career to become an absolute goofball. He made himself a joke, and in the process he made himself a box office star.
The deadpan comedic anchor of Airplane! and the Naked Gun movies, who died in 2010 at the age of 84, spent a large chunk of his life not being funny, at least for money. He grew up in Canada's Northwest Territories; his father, a Royal Canadian Mountie, was abusive to him, his siblings and his mom. It sounds like a freezing, miserable experience for a child. "There were 15 people in the village, including five of us," Nielsen once said. "If my father arrested somebody in the winter, he'd have to wait until the thaw to turn him in."
He got out at 17, joining the Air Force and then later moving to New York to focus on acting. (He was part of the Actors' Studio, the same place where talents like Marlon Brando studied.) In the 1950s, he did live television and voiceover work, utilizing his deep voice and somber good looks. Eventually he made his way into the movies, landing a seven-year contract with MGM that led to his first big-screen success, Forbidden Planet. Inspired by The Tempest and boasting cutting-edge effects, the 1956 science-fiction film starred Nielsen as a space captain who lands on a world that seems like paradise — only to discover darker secrets. A precursor to the thought-provoking sci-fi popularized by Star Trek, Forbidden Planet remains a beloved genre staple. Nielsen was handsome and ramrod-earnest — you wouldn't have found his performance hilarious back then because you had no idea where his career would eventually go.
Nielsen enjoyed the life a lot of actors would kill for: He worked steadily. Never a star, he took roles over the next few decades on Peyton Place, Bonanza, The Man From U.N.C.L.E. and M*A*S*H. (If there was a TV drama on for at least one season, there was a good chance he did a guest-spot at some point.) He was the captain of the doomed boat in 1972's The Poseidon Adventure. He played lots of bad guys, lots of serious characters. And all the while, he harbored a secret desire to do comedy.
"I never had the courage," Nielsen said on The Last Resort With Jonathan Ross in 1991. "I was a closet comedian. I was afraid to put it to the test. When you have something special that you really enjoy doing, as long as you don't test it, you can always believe, 'Well, if they really wanted me to do that part, I could show them how it could be done, but since they don't know my phone number and don't know that I can do comedy, they won't call and it's too bad — it's their loss.' That kind of thing. And if you don't test it, then you never lose your dream."

The opportunity finally presented itself when filmmakers David Zucker, Jim Abrahams and Jerry Zucker, fresh from making the juvenile goof Kentucky Fried Movie, decided to parody the self-seriousness of disaster movies. It was going to be called Airplane!, about a domestic flight in which the pilots get stricken with food poisoning while airborne, and the writer-directors wanted to cast actors who were known chiefly for doing dramas — and who would be willing to send up their solemn onscreen persona. That's how Nielsen came to mind.
In an Airplane! oral history from 2015, Jerry Zucker recalled, "[Our casting director] was a great guy, but I remember when Leslie's name came up, he just said, 'Leslie Nielsen? Leslie Nielsen is the guy you cast the night before!' And here we were probably six weeks out from shooting. But we were thrilled to get Leslie. At the time, I think people recognized his face for having been in hundreds of television and movie roles but didn't necessarily know his name."
Others might have seen the invitation as an insult. Nielsen was ecstatic. In 1988, he told The New York Times about the Airplane! offer, "I told my agent: 'Do not negotiate. Accept! I'll pay them to do this part!'"
Airplane! remains one of the funniest movies ever made, and although there are plenty of great performances, the film is unthinkable without Nielsen. As Dr. Rumack, the plane's resident medical expert, Nielsen was remarkable, giving the know-it-all character a deadpan frankness that made him even more of an insufferable jerk and even more hilarious. In later films, Nielsen would sharpen the imbecilic side of his comedic personality, but when you watch Airplane! now, what's striking is how delightfully haughty he is in the role. He's so funny because he's so sure of how smart he is.
The experience led him to reunite with Zucker, Abrahams and Zucker for their short-lived but brilliant 1982 cop-parody show Police Squad! Only six episodes made it to air, but in Los Angeles police detective Frank Drebin, Nielsen found his signature role. Frank was profoundly bad at his job, but nobody bothered to tell him, which was in keeping with a show that played its sophomoric absurdity with a straight face. Earning an Emmy nomination for the part, Nielsen would later reprise the role for 1988's big-screen The Naked Gun. Recycling some Police Squad! jokes but amping up the silliness, The Naked Gun was a massive hit, becoming the eighth-biggest film of the year. (It made more money than Beatlejuice or Cocktail.)
Suddenly, Frank's fogeyish foolishness felt iconic, propelling Nielsen to a stardom he'd never known as a "serious" actor. He had a ball, this 62-year-old man who looked like he could be your lovable grandpa, showing up on talk shows and stealthily deploying his ever-present fart machine to get laughs. Nielsen had always been a prankster on-set, even before his comedic reinvention, but it wasn't until he started doing TV interviews that we all got to witness his cheerful adoration for cheap toilet humor. This 1983 appearance on Late Night is especially terrific for how it shows the usually anarchic David Letterman seeming legitimately flummoxed by Nielsen's low-key tomfoolery.
https://www.youtube.com/watch?v=eocfRjQyHRc
In his interviews and public appearances, he came across as a guy who seemed grateful — shocked, really — to have stumbled into the life he'd always secretly wanted. As he told Jonathan Ross in '91, "[Zucker, Abrahams, Zucker] kept on knocking on my closet door and insisting I come out to play. And I'm really so grateful to them."
Nielsen made two more Naked Gun movies, The Naked Gun 2 1/2: The Smell of Fear and The Naked Gun 33 1/3: The Final Insult, becoming (for better and for worse) a parody institution. He'd star in Mel Brooks' lame vampire comedy Dracula: Dead and Loving It, the forgettable action-movie spoof Spy Hard and the Fugitive takeoff Wrongfully Accused. The shtick got old eventually, and even when he wasn't doing spoofs, like in 1997's live-action Mr. Magoo, it felt one-note. By the time he showed up in Scary Movie 3 and Scary Movie 4, both directed by his old friend David Zucker, he felt like a cultural footnote.
Did he ever have any regrets about this profound tonal shift? In the early 1990s, he admitted, "Now that I've done comedy, I'd love to go back and do heavy drama. Trouble is, I might do the most diabolical thing to a defenseless woman and the audience [would just laugh]." That's certainly true when you watch Forbidden Planet now — you keep wanting to giggle, assuming that Nielsen's character knows the film's dourness is some kind of put-on.
But even though Nielsen toured extensively in an one-man show about famed attorney Clarence Darrow, he knew what his destiny would be. He wrote a memoir, The Naked Truth, in which he delivered bushels of puns and flat-out made things up. (No, he has not won two Oscars.) Two years before his death, he was still doing silly spoofs, and in an interview from that time, he remained the dopey, grateful goofball. "I've had a few [awards] along the way, and to be honest, I never expected any of them," he said. "I made a good living for decades, and that was enough; that, and maybe a good residual check from time to time. And a peanut butter and jelly sandwich, maybe."
Nielsen died in the fall of 2010, almost exactly 22 years after The Naked Gun hit theaters. But his indomitable clowning remains alive and well in the culture. In 2015, TBS unveiled Angie Tribeca a spectacularly sunny spoof of police procedurals that was full of Zucker, Abrahams, Zucker spirit, with star Rashida Jones essentially channeling Nielsen's poker-faced absurdity. And earlier this year, a bunch of people mistook an old BBC report of his passing as a breaking-news item, social media suddenly bursting with tributes to an actor who had been gone for six years. It's the sort of surreal oddness Nielsen probably would have loved.
But this is a man who'd already had the last laugh. Go to his gravesite, and you'll see this.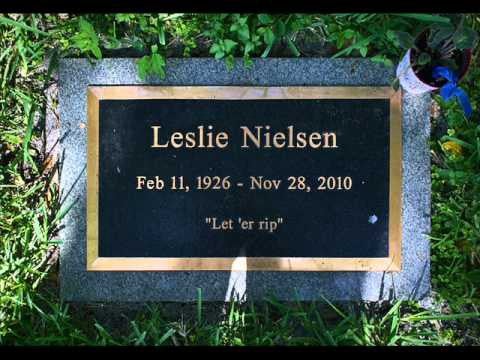 Totally dumb, but pretty funny, sending up the solemnity of the whole thing. Very, very Nielsen.