Despite an abundance of trend pieces heralding the return of the bush, a groundbreaking study this past June revealed that women of all ages prefer to go bare. A poll of 3,316 women by a medical journal called JAMA Dermatology found that 48 percent groomed their pubic area on a weekly or monthly basis, while 5 percent reported shaving daily. Sixty-two percent had completely shaved their vulvas at least once in their lifetime.
Few topics are as fun and fraught as pubic hair; seemingly superfluous, it easily lends itself to bucolic analogies featuring bushes, crops, thickets and forests. Maybe that's why so many writers have wanted to believe women were letting their hair grow out: Rainforests are more fun to describe than deserts. (And, to be fair, the narrative of resistance against infantilizing and heavily pornified beauty standards is also appealing.) But, as any social scientist will tell you, the mere existence of one actress's unshaven hoo-ha does not an overarching thesis make. The JAMA Dermatology study, rigorous in its execution, has effectively blown the female pubic hair trend piece to smithereens.
While women have long been stigmatized for big bushes, today's cisgender men are are also anxious about having "excessive" foliage, as a recent survey of 1,000 young men in New Zealand attests. "It's more acceptable to look groomed than to look like a hairy gorilla," one survey respondent observed. Others noted that going au naturel only works for certain body parts: "Back, shoulder and upper arm hair is yuck. Chest and stomach ok as long as it's maintained. Leg (upper and lower), armpit (to a degree), facial are all normal. Pubes as long as they're maintained. Not bushy."

In other words, the researchers say, effusive body hair has been "unsettled in its cultural dominance," and now competes with a sentiment women might be more familiar with: "that much of men's body hair is unpleasant, even disgusting."
Perhaps we can blame men's magazines for the antipathy. Men's Journal, for one, believes hair in the wrong places "can age you and move you several rungs down in the evolutionary ladder in the eyes of women." It also recommends shaving off "any tufts [that] creep over the top of your collar." (As if hair's natural inclination is to wriggle its way out of your clothes.) GQ, by contrast, is less judgy, but still advises that "a little pubic hair manicuring isn't just polite these days — it's expected."
But are men taking that advice seriously? Lacey Shaver, owner of the L.A. men's grooming salon My Little Wax Bar, told me she sees about five to six male clients a day, and around 85 percent ask for Brazilians. "Half take everything off; another half do a mini men's Brazilian, which is the scrotum and inner buttocks," she said. People assume her clients work in Hollywood but, she says, "It's a lot of average guys, ranging in age from 20s to early 50s. Almost all are straight."
David*, a straight comedian in his mid-20s, told me he likes to keep his bush "wild and free," adding proudly that it looks like Cousin Itt from the Addams Family. "Are men supposed to groom it?" he asks with genuine curiosity. Sam*, a straight writer I also awkwardly conversed with, told me he clips his hedge maze "every now and then," but not regularly and not for his girlfriend. "Laziness influences the lack of decisions that I most regularly make," he said. "I guess I trim when I sort of suddenly realize things have gotten unruly."
Phillip*, a gay architect in his mid-20s, believes he's "boring" because he doesn't trim his crotch hair at all. "I've been blessed with straight, short, manageable pubic hair," he said, adding that a shaved look is not desirable because, as he puts it, "I don't need any more physical reminders that I'm a twink."
Other men were quick to draw a comparison between full bushes and manliness. Josh*, a straight actor, told me, "I remember as a kid wanting to have pubes to validate my manhood. When my pubic hair started sprouting, I wore it with pride, and I guess I still do."

I was only able to find one male interview subject who was methodical about shaving his pubes. Francisco* told me he likes to maintain his pubic hair like his head hair: short on the sides and a little longer on top. "Not, like, too long, though," he added. "I keep it professional."
He says he does it out of common courtesy. "No one wants to choke on pubic hair while they're choking on a dick. And I think part of it is being optimistic that I might get laid. Like, who knows when I'll have an unexpected sexual encounter? It's good to be prepared."
None of the men I interviewed admitted to shaving in order to increase the perceived length and girth of their dicks — the reason I thought would be most appealing. Porn stars, for example, typically keep just a few wispy tufts of crotch hair above their schlong, presumably so as not to overshadow it.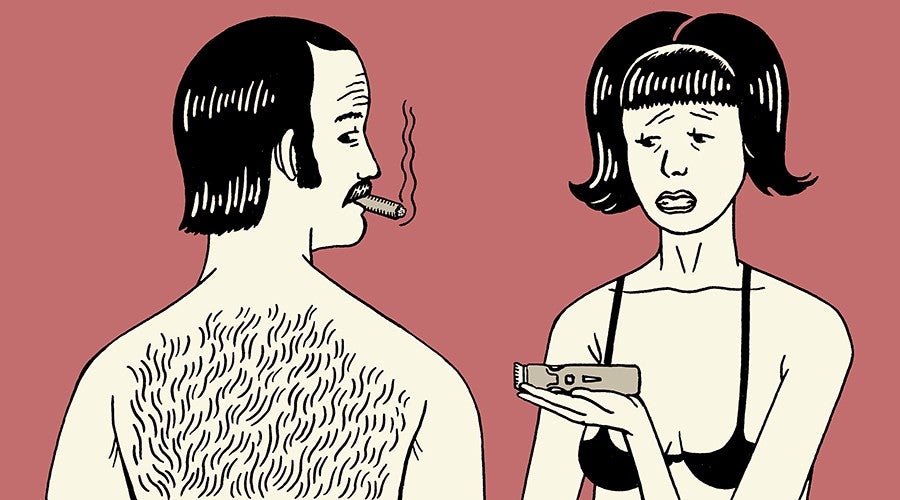 The artful, conscientious hedging of male pube bushes has a long and weird history. According to Rebecca Herzig, author of Plucked: A History of Hair Removal and chair of the women and gender studies department at Bates College, men have historically pulled out all the stops in their effort to remove pesky pubic hair, using everything from radium and x-rays to chemical creams and straight razors.
American attitudes towards visible hair have evolved over time: In the 1800s, hair removal was considered a "mutilation" practiced primarily by "savage men," according to Plucked. However, by the turn of the 20th century, visible hair came to be perceived as a sign of sexual deviance, criminality, mental illness or subversiveness (think: the bearded lady).
Herzig believes men and women today both deny the effect of societal pressures on their grooming habits; interestingly, both sexes see others as more susceptible to beauty norms. "In this culture, we seem to really value self-determination, to the extent that we under-recognize, or at least under-report, the social norms we adhere to. We can see them, and we can acknowledge their power, but we like to imagine ourselves as independent of them."
In other words, even when men believe they are exercising their freedom to pick which hair trend to buy into (whether their desired look is hirsute hipster or Michael Phelps) we still end up trapped in a hedge maze devised by hegemonic masculinity. Whether we are grooming at the same rates as women, though — or feeling anything like the same degree of pressure to do so — remains to be seen. To the authors of the original JAMA Dermatology article: If you decide to conduct a follow-up study on men, we promise to write it up in MEL.