Behind a tall row of hedges on a steep hillside terraced with million-dollar houses in an oceanside suburb of San Diego, Rob Greenfield hops up on a hay bale, one of three arranged around a fire pit. He peers over the simple wooden privacy fence that surrounds his encampment, searching the Pacific sky expectantly for signs of a storm.
His balding head is deeply tanned; the soles of his feet are black and calloused. He always goes barefoot. Not long ago, when he discovered he needed shoes to travel on a commercial flight, he went down to the beach and foraged a pair of flip-flops from a trash can. There's a fresh scar where surgeons recently reattached the fourth toe on his right foot after a bicycle mishap, and yellow dust on the tip of his nose — the telltale remnants of his daily dose of turmeric, a natural anti-inflammatory he believes is also good for his general health.
Part Henry David Thoreau, part Robinson Crusoe, Greenfield, 29, is a former marketing man who suffered his own Don Draper moment a few years ago and chucked it all for an eco-mindful lifestyle. He has purposefully shipwrecked himself on a utopian island in the middle of suburbia, a haven from the forces of waste and consumerism that have come to rule our daily lives.
Greenfield doesn't own a cell phone or a car. He gets around on a bamboo bike he has ridden across the country twice; with the help of donors, dumpsters and extreme conservation techniques. He shits into a 5-gallon bucket and composts his own waste with the leaves from a spreading pepper tree that also provides his shade. The end product is called humanure; there's surprisingly little smell, although he tolerates a minor plague of flies around his humble encampment. He waters his wicking-bed garden with his urine and his dirty dishwater. The trash he generated last month fits into the space of a large Ziploc bag.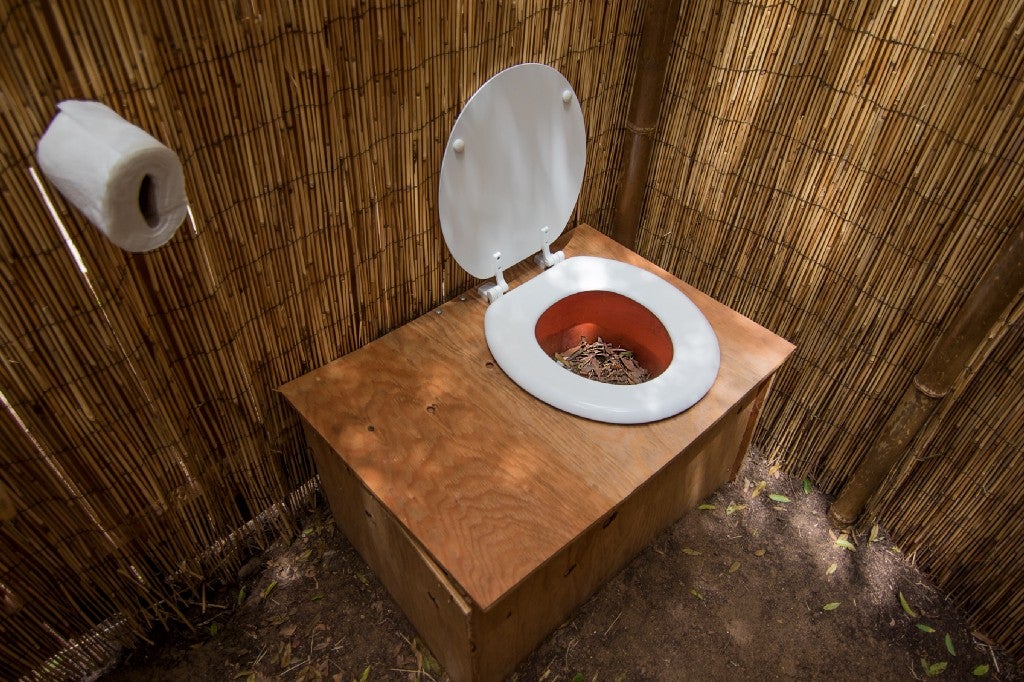 He retires at 10 p.m. every evening and sleeps nine hours on a futon on the floor of a 50-square-foot house. The structure is a prototype of a DIY emergency shelter designed by a local contractor. It has wheels and cost $950, but it isn't tall enough inside for Greenfield to stand. He charges his computer with solar panels and uses the internet at a library or cafe. He tries not to use public utilities, unless he's away from home and has no other option. Social media is his largest concession to modernity — he has more than 15,000 Facebook friends and 28,000 followers on Twitter. He calls himself a Dude Making a Difference. With or without the attention, he figures he does, in his own small way, just by trying.
"Money makes it too easy to complicate your life with things that don't matter, that nobody needs."
Turning in place, wearing the perpetual smile of the fervently engaged, Greenfield surveys with pride his environmentally friendly kingdom, roughly 750 square feet of dirt and leaf mulch in a pricey part of San Diego called Point Loma, near the quirky seaside town of Ocean Beach. The houses across the street cling to the hillside above. Looking up from Greenfield's plot below, you can see, through large picture windows, the treadmills, telescopes and big-screen TVs that dominate the front rooms.
Greenfield's place has a kitchen area with a small sink connected to a water collector. Nonperishable items are kept in an insulated locker made of plastic. To one side he's set up his own little outdoor privy, with bamboo walls and a little mirror. Due to the high hedges and the canopy of the pepper tree, nobody in the neighborhood suspects he is here, living off the grid in suburbia. The landlord, a follower of his blog he had never previously met, has given Greenfield the space in exchange for his improvements, which include the fence around the property and a rain-gathering system that utilizes the sloped asphalt roof of the landlord's house, hunkered on a terrace below.
Greenfield is wearing a T-shirt and quick-dry Patagonia shorts. He hasn't taken a proper shower since April 2013, preferring instead to bathe in the ocean, lakes, rivers, downpours or leaky fire hydrants — one such hydrant, encountered in Brooklyn, was, by his own careful measure, leaking two gallons a minute. In Africa, he says, there are billions of people living on two to five gallons a day. The average American consumes 80 to 100 gallons of water a day. Greenfield consumes less than two gallons a day. Using 5-gallon buckets, it takes him two hours to haul enough water uphill from the collector below to fill his water tank.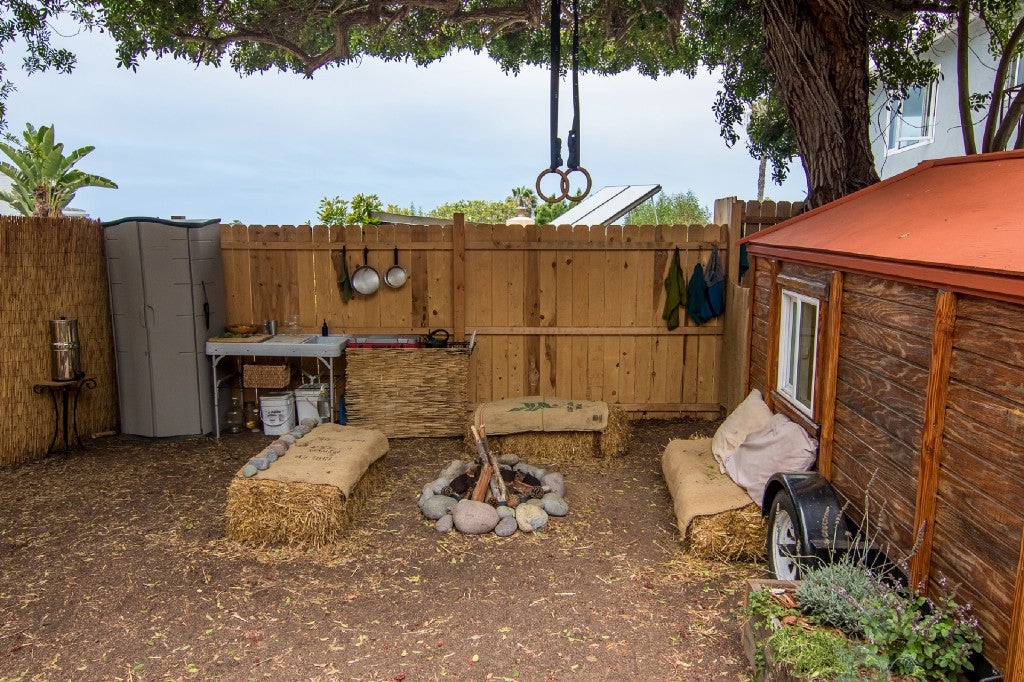 "The idea of living here is to simplify," he says. "Though in a sense, my life is more complex because I have to pay attention. I don't turn on the faucet and have an infinite supply of water; I have to harvest my water, ration it and finally dispose of it properly. I can't flush my poo down a toilet; I have to turn it into soil. What I've learned is that every time something is easy in our modern life, typically that means you've just outsourced the burden to someone else. The reason flushing a toilet is easy is because there are people dealing with your poo somewhere else. The reason driving is easy is because fossil fuels were pumped from the earth, and pollution is being caused — or wars or price gouging — and that's why you can go from 60 to 80 miles per hour just by changing the angle of your foot. Whereas running or biking is hard because you're generating the energy.
"A lot of people work hard to have a lot of money so they don't have to work when they're not at work," Greenfield says in his loopy but thoughtful style. "They pay maids and gardeners and construction workers. They pay food stores. They pay for people to work them out at a gym. They pay for water and sewage, for electricity to run their things."
He hops down off the hay bale, absently waving away a pesky black house fly. "Try carrying 165 gallons of water up the hill," he says. "You won't need a gym membership."
Greenfield and his three siblings were raised in Ashland, Wisconsin, by a single mother. Coming from a family of modest means, he says, "I was extremely money-oriented. One of my hobbies as a kid was collecting coins, collecting things to hold coins in, just counting coins — like every time I went to a friend's house I would count his piggy bank. I just loved money. I thought I wanted to be a banker."
After his freshman year at the University of Wisconsin, La Crosse, Greenfield spent his summer selling educational books door-to-door. "I worked like 80 or 90 hours a week. My first summer I made $18,000. And then I was hooked. I did about the same the next few summers. I loved that feeling of amassing the numbers. It was, in a very real way, a security blanket for me."
"What I've learned is that every time something is easy in our modern life, typically that means you've just outsourced the burden to someone else."
After graduating with a degree in science and suffering a bad breakup with a girlfriend, Greenfield put Wisconsin in his rearview mirror. In 2011, after a brief sojourn in Florida, he landed in San Diego, where he and several partners started a marketing company that sold advertising on shopping carts and cash register tapes.
"The company did OK, but nobody ever made their money back from what we were selling," Greenfield says. "It was like: The most important thing is making the sale. You did whatever it took. It didn't matter that the product you were selling was bogus."
Greenfield left the company to start his own. His main product was hotel key card advertising. At the business's peak, he says, he had 20 salespeople. The money was great, but the management was a nightmare. All these personalities, every one of them grabbing for the kind of numbers that gave them self-worth. And the products they were pushing — hotel key card advertising! At last, he says, he'd had enough of his "soulless existence devoted to selling little pieces of plastic. I had to get out of there."
He shuttered the company and left the marketing business forever.
Since then, Greenfield has lived full-time as an eco-pioneer, carrying on his personal crusade as a learning experience and as an example, part of a small but committed worldwide movement of people who believe that less is more, not only for the benefit of the besieged planet and its depleted natural resources, but because why in the hell do we need all the stuff with which modern life has presented us?
In his bicycle trips across the country, Greenfield promoted awareness of water use and food waste, getting attention from news outlets along the way. Soon he will embark on his most challenging feat of eco-adventurism: a barefoot sojourn across South America, from Rio de Janeiro to the Panama Canal, with no money.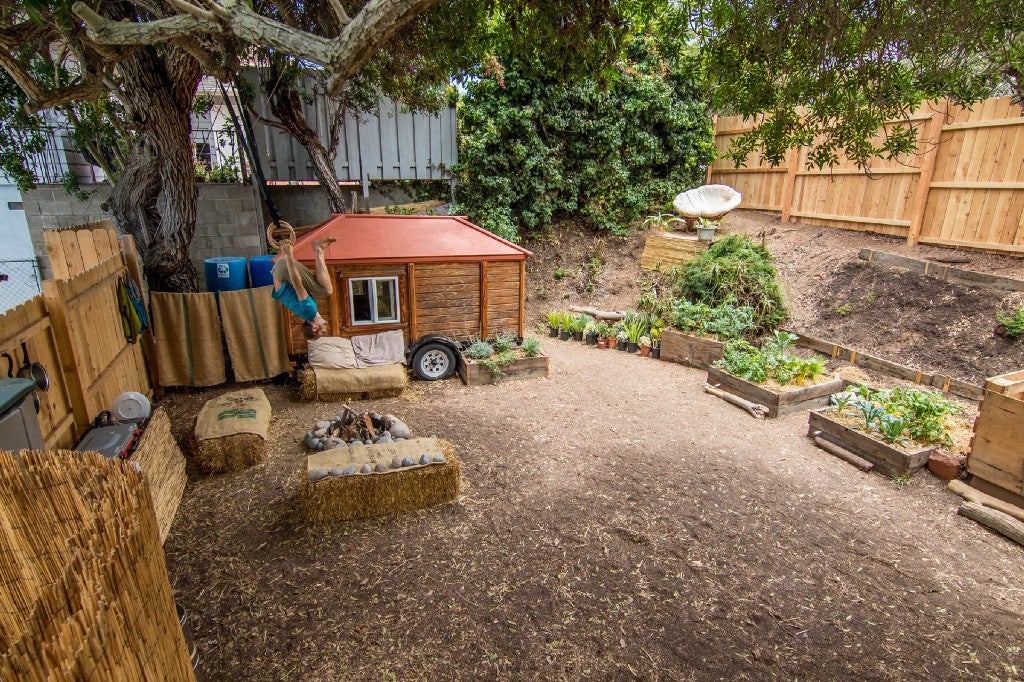 He looks up toward the sky. The sun is getting stronger. The storm clouds in the middle distance seem to be receding. Three weeks ago there was a heavy mist overnight. He collected about 10 gallons of water off the roof. There hasn't been anything since.
"I'm gonna be a little bummed if it pours over there and doesn't rain here," he says. As it turns out, there will be flash-flood warnings several miles north away in Pacific Beach, where his girlfriend lives; she, too, is avidly eco-conscious, down to three showers a week.
But Greenfield knows better than to get too upset about the weather: To live closer to nature is to learn to surrender. Plus, the next challenge is already upon him: to free himself from the tyranny of money.
"I've been learning that I prefer a life that's less based around money. Without money, I follow my truest desires and my truest ethics. Money makes it too easy to complicate your life with things that don't matter, that nobody needs.
"At the beginning of the year I was down to like $10,000. Now I have about $5,000. I think the money will run out in January. I'm looking forward to that day."
Mike Sager is the features editor of MEL. He last wrote about Arabian Prince, the forgotten member of N.W.A.
For more MEL, follow us on Medium or subscribe to the newsletter.