What's your number? I'm at 485 — just 15 people away from a lifelong goal of mine. My friend Gavin has only 286 on his list, while some people in my graduating class are more than halfway to 1,000. The belief is that once your count reaches 500, the world opens doors for you, personally and professionally. You've joined an elite tier.
You're a LinkedIn star. 
A magical thing happens when you reach 500 connections on LinkedIn: Your number changes from an exact figure to a "500+" symbol.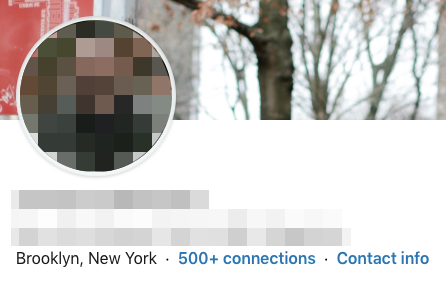 Like Twitter's blue "verified" checkmark, the 500+ is a subtle emblem of exclusivity that keeps us hooked on mindlessly connecting with random peers and consuming a feed full of #success #win #hustle poetry. Striving for that 500+ status is also a subculture of its own, garnering new tweets and memes every time school lets out and a wave of thirsty graduates like me scramble to enter the workforce. We're broke, inexperienced, jobless and terrified, and we'll take any advantage — overblown or not — we can get.
The conventional wisdom is that the more connections you have, the easier it is to find a job. There are how-to pieces all over the web offering ways to reach 500+ connections and get noticed. It doesn't matter if you actually know the first-year assistant at Deloitte; her LinkedIn connection might just be your in to getting your résumé through to the hiring manager. Then, when they glance at your LinkedIn profile, that impressive number of connections might make you appear more well-known and well-liked. 
"LinkedIn will not reward you for your connections, but the computer algorithms will," writes Madison Mussio, a personal branding writer, in a 2017 article on LinkedIn's Pulse feed. "Once you reach this number, you enter a special club few have entered that gives you unintentional benefits."
Enticing, to be sure. But is any of it actually true?
In short, no. I reached out to LinkedIn, asking if there are any actual changes once a user reaches 500+ connections. A representative referred me to a June Fast Company article by the company's product management director, Liz Li. She says the company's research shows connections start to make a difference once a user hits 30, not 500. "Once you hit this many connections, you should start to see a more relevant news feed and engagement on your posts and new opportunities start to open up," she writes. "However, this only works if you connect with people you know, as this ensures the notifications and information coming through are relevant to you."
This may be why many recent graduates and senior professionals say reaching 500+ has resulted in few, if any, noticeable changes on the social network. "As a young professional, when you hit 500+, it gives you the illusion you're in the same category as people who have been hustling for years," says Samantha Jones Toal, who recently graduated from the University of Illinois. She spent over a year and a half building her following to 500, thinking it'd help her score a full-time job. Currently, Toal is interning with the Chicago branch of a national PR company.
"I'm like a naive teenager in a game server trying to get into everyone's game," says Rachel Kroll, a senior at the University of California, Berkeley, who's pursuing a career in digital marketing. She hopes LinkedIn connections can offer a path into the industry. "I don't have any evidence to back this up, but I presume having more connections would make you more visible to recruiters," she tells me.
Nationally, only 3.7 percent of Americans are unemployed; however, employment recruiting agency the LaSalle Network reports 76 percent of the class of 2019 has yet to accept a job offer. What's more, many of these graduates are seeking starting salaries high enough to offset their increasingly high student loan debt. As such, today's postgrads are eager to make any impression they can. 
Many of these graduates look to professional influencers like Jay Shetty and Gary Vaynerchuk for inspiration. Vaynerchuk, an investor and entrepreneur, has 3 million followers on LinkedIn (followers work the same way as liking a Facebook page, while connections are more like friending someone). He often talks about overcoming adversity, working for what you want to achieve, projecting positivity and hacking your way to success. But he offers little in the way of specific career advice, like cover-letter tips or ways to nail a job interview. This culture of "hustle porn," writes Nat Eliason on Medium, has "made LinkedIn into a depressingly hilarious circle jerk for people who look way too excited to be having their headshot taken."
Overconnecting on LinkedIn isn't just overhyped — it can actually send the wrong message. Adrian J. Hopkins, now a senior talent development manager at the New York Times, wrote in 2015 for the Daily Muse about accepting connections with strangers. "He wasn't looking to connect with me — he was looking to add contacts to his Rolodex," Hopkins writes about one user's not-so-subtle hustle.
Still, for some recent grads, it doesn't matter that the 500+ club is a hall of mirrors. They'll do anything they can to get closer to a job and make a dent in their student loans. "I would say I don't personally know about 10 percent of my 639 connections," says Julia Metzger, a friend who just graduated from the University of Wisconsin-Madison. "I connect with them solely to kind of save face. I don't want a stranger to perceive me as being a standoffish person, even if I don't know them."
Metzger is currently interning with the Lake County State's Attorney's Office in Illinois. The legal industry is notoriously cutthroat, and she's willing to do whatever she can to stand out, even if that means pretending to know strangers on LinkedIn: "It's all about obtaining and maintaining a reputation — for both yourself and for other people."