When Lina* started the interview portion of her application for asylum in Germany, she received some unexpected questioning. "I've come here because I can't raise a child with a woman in my home country," she explained to her translator. Coming from Dagestan, a predominantly Muslim republic in Russia where homophobia is rampant, the 24-year-old knew other LGBTQ people who had been violently killed after having their sexuality revealed, and so had fled to Berlin.
Her translator, a woman from the neighboring area of Chechnya, turned and said: "What are you talking about? You cannot raise a child with a woman anywhere." Lina was stumped. "You don't expect to flee your home country because of homophobia, only to encounter it in the place you escape to," she tells me.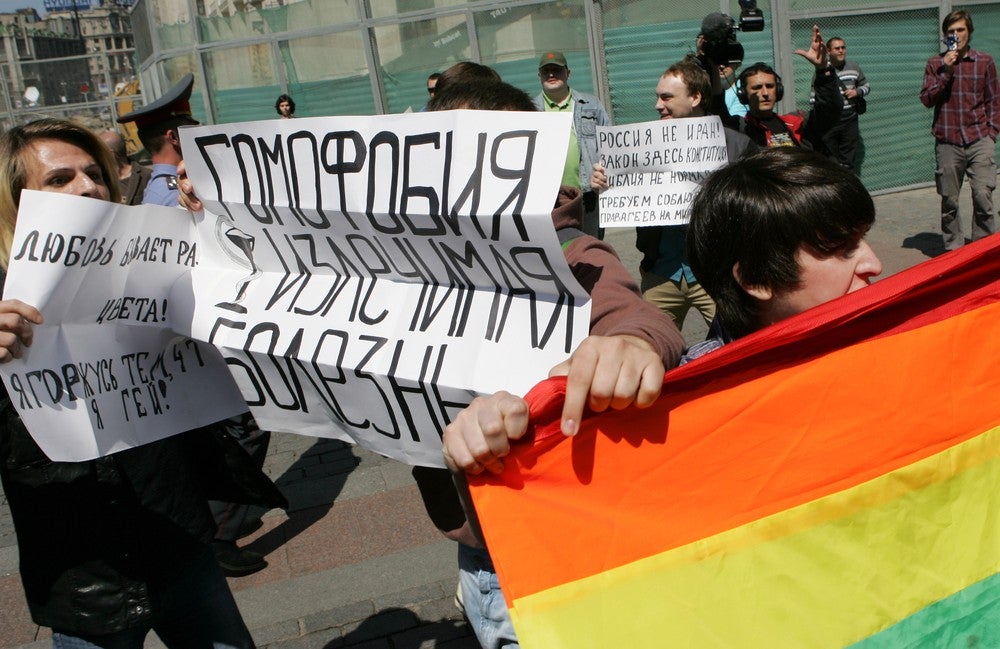 Lina's story echoes that of many LGBTQ refugees seeking safety in the West. Even in the German capital, famous for its sexual liberalism and thriving gay community, some still live in fear of their lives many months after arriving. The German system means that refugees have to live in dedicated shelters or camps while their applications are processed — which can take up to a year — trapping them among the same homophobic attitudes they are running away from. Like Lina, they may also encounter prejudice from officials during the asylum application process.
"We had this huge influx of refugees [after Germany opened its borders in 2015], so people are crowded into small spaces and you have to fight for everything," explains Mahmoud, 43, a gay Syrian who sought asylum in Germany after war broke out in Syria in 2011. "Conflicts arise and the most vulnerable group suffers the most. And that group tends to be LGBTQ people." In the city's main camps, homophobic violence has become an all-too-regular occurrence.
Mahmoud, who grew up in Saudi Arabia, moved to Aleppo to study medicine in the '90s, and was always open about his sexuality despite homosexuality being illegal. "I was very lucky, my family and circle of friends were open-minded and accepting," he explains. "I never had the guilt complex that a lot of gay men from the region have."
While "unnatural sex" is punishable in Syria by three years' imprisonment, an LGBTQ community still managed to exist, centered around select hammams (steam rooms), cruising areas and internet-organized parties. However, around 2008, the Assad regime began a vicious crackdown. "They started raiding parties and cruising spots almost every day," Mahmoud tells me. "It was usually more extortion than enforcing the law, because of corruption, but people were still very scared."
Mahmoud started a blog, which he intended to be a gay travel guide to Syria, and found himself called in for questioning by the secret police. "This happened to all bloggers and journalists," he explains. "They call you in, explain there are 'red lines' as to what you can write about, and tell you to stay away from politics." When the revolution broke out, Mahmoud attended demonstrations and started writing about why he was against the regime from the perspective of a gay man. He then received a threat of being reported to the authorities as an anti-regime activist. "I knew then that I had to leave, because I did not want to die under torture."
Mahmoud went first to Turkey and then to Berlin, where he claimed asylum. "My translator left me on the day I was applying for asylum, as he did not want to work with a homosexual," he recalls. He also had to leave the camp he was in before his asylum process was up, due to homophobic threats. "My roommate, who was Tunisian, warned me about comments some other guys were making. I managed to stay with friends until my application was processed, and kept my address at the camp."
Other LGBTQ refugees have endured years of horrific, systematic violence before arriving in Europe. Miki*, 35, shakes as he begins to tell his story. Miki is also from Dagestan, and his troubles with the authorities in his country began when he was working in a bank at age 22.
"I was talking online to some other gay guys, and printed out the conversations," he says. A security guard entered his office without permission, found the transcripts, and showed them to the heavily corrupt local police police. Together they started blackmailing him. "This carried on for a year, then they asked me for more money, and I had to say no because I didn't have it."
The police held him captive for seven days and tortured him, breaking his legs, fingers and toes. He tied to commit suicide twice while imprisoned. Eventually he was released, but as he was still unable to meet their financial demands, they showed the conversations to his father, who tried to shoot him.
Miki fled to Moscow, where he was homeless for a while. Gradually he built his life back up, and eventually became involved with a political party, who asked him to stand in elections. "My face was on posters, and these eventually reached my hometown," he says. The police officers saw them and tracked him down once again, threatening to out him if he did not pay them more money. "I said no, and they told the political party. They asked me to stop working with them, as they couldn't be seen to have a gay man involved."
Vicious homophobia was on the rise in Moscow following the introduction of the Kremlin's gay propaganda law. "My boyfriend and I saw videos online of homophobic gangs attacking gay men," he says. "One day I came home and someone had spraypainted 'faggot' on my door. I realized it was getting too dangerous to stick around." Leaving his boyfriend, who had to stay in Moscow to care for his sick mother, Miki paid €3000 to not have his passport scanned at the airport, for fear the corrupt officials might discover his whereabouts once again.
However, he still doesn't feel fully safe in Berlin. "I appreciate that the police aren't corrupt here," he says. "But I still hear homophobic comments from other refugees. I have a couple of friends I trust who I've told about my sexuality, but I mostly keep it to myself. I'm not going on dates or to any of the clubs." He has also encountered racism: he tells me that he and a friend were kicked and spat at by two neo-Nazis at a train station after they heard them speaking a foreign language. "There were lots of people around but no one did anything to help."
Fortunately, more projects are springing up to help Berlin's LGBTQ refugees as awareness about their situation grows. A special LGBTQ shelter was opened last year in response to the homophobic attacks, where Miki and Lina have managed to get rooms, and Mahmoud is working. "Everyone's stories are very different," says Mahmoud. "Some people are open and comfortable now, and getting involved with activism and Pride events. Others are still keeping it secret. It's personal to everyone. We have a lot of Syrians and Iraqis here who have come to Germany with their families, and I advise them not to come out to them during the asylum process because you're not in normal circumstances."
Lina says she finally feels at ease with her sexuality after years of keeping it secret, and is taking it upon herself to confront homophobia when she sees it. "Some of the Middle Eastern guys in my German language class were telling the other students not to sit next to me because homosexuality is a sin," she says. "I told them they have to get used to me because we're in a country now where it's accepted."
Miki says he is keeping his head down and trying to improve his German so he can return to education. He wants to study architecture. "I just want to not be a second-class citizen anymore," he says.
There are also education programs aimed at tackling homophobia in the refugee community, although Mahmoud is skeptical about their effectiveness. "In my opinion, they come at the topic from a very white privileged point of view," he says. "If you're being condescending to people, then they just shut down and don't engage."
Despite the challenges, Lina says she is relishing the chance to explore her sexuality free from fear of violence. "I feel safer now I'm in the LGBTQcamp. And I feel very welcome in Berlin, I've been going to a lot of parties and events, and meeting new people," she says. "The pressure at home was so intense and suffocating, and living in the closet was so dangerous. Coming here, the feeling of freedom is just amazing."