I thought I didn't need to read this hilarious Miles Klee investigation on whether Tony Soprano would've been a Trump supporter, but damn if I'm not glad I did.
Of course he's into MAGA, I thought. The dude loves crime, loves power even more and is the kind of guy who thinks it's perfectly normal to bury hundreds of thousands of dollars in bird feed. I mean, if that doesn't sound like a Trump guy, I don't know what does.
But if you read the piece, it becomes clear there's compelling arguments for the alternative, and now I'm beginning to waver.
Don't trust me, though. Read it and make up your own mind, but once you do, be sure to cast your vote, here:
Must Read
"My Month With a 'Bottom Coach'"
In the 20 years since he came out to his mother, C. Brian Smith has always been a "top." But that doesn't mean bottoming — i.e., being on the receiving end of penetrative sex — hasn't crossed his mind. Even if he wanted to flip his gay script, though how would he even do it? With the help of a team of bottoming experts, that's how. So, for the last month, this 20-year top went to work preparing his ass — and mind — for penetration. Here's how it went. READ MORE
Punt, Pass, Butt
Of all the various parts and points of interest on the human body, asses are the least appreciated in sports. While coaches and commentators will rave about players' "soft hands," "quick feet" and "good eyes," they don't rave about butts. Which is kind of weird when you think about it, because butts have had their fair share of critical moments in the sports spotlight.
Make Jersey Great Again
Though The Sopranos has been off the air for more than a decade, there's been a question lately that's consumed its still-vibrant fandom far more than "what happened to the Russian in the Pine Barrens?": Is Tony Soprano a MAGA guy?
Using primary sources — essentially, Tony's own words — Miles Klee weighs the evidence for and against whether New Jersey's favorite son is a Trump supporter.
Something to Remember Me By
Jade Stanley is just like any other British mum — in that she watches TV, drinks tea and goes to bed at a reasonable hour — but with one, rather significant difference: Her business is creating sex doll replicas of deceased loved ones for widows and widowers.
Ray Romano Knows Balls
Does getting whacked in the nuts hurt less as you get older? That's Ray Romano's hypothesis, as recently stated in his new Netflix special. As a man getting older himself, Ian Lecklitner would love nothing more than for Romano to be right, and based on a number of less-than-scientific explanations, the Everybody Loves Raymond star might be.
Dude-Strology: Hot Sex Edition
Sure, MEL's Chief Astrology Officer, Taj, would gladly help you navigate your personal and professional life based on nothing more than your astrological sign. In fact, she's been doing exactly that for a while now. But this being Valentine's Day and all, we thought we'd skip the personal and professional this week, and go straight to the sexual. So let's get down to brass tacks: Which sign has the hottest sex?
Splish, Splash
As much as it is about roses, fancy dinners and champagne and strawberries, Valentine's Day is also the unofficial holiday of failed romantic gestures. And nothing says "you done fucked up" like a full glass of buttery chardonnay to the face.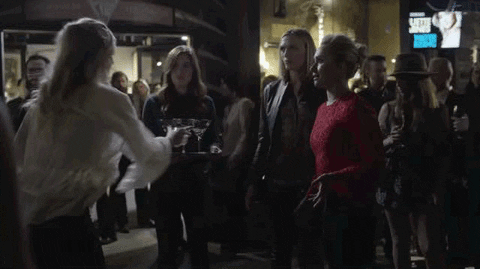 Which got us thinking: How did throwing a drink (or food, for that matter) on someone become the de facto means to express displeasure, and who was the first to throw a rotten cabbage at another in rage? Unsurprisingly, the practice goes back thousands of years.
Single-Ply Guys
When it comes to wiping asses, most people fall in one of two camps: The wadders, and the folders. Unfortunately, both camps are horribly wrong — at least according to a growing number of people who insist the only true and good way to wipe your ass is with a single, solitary ply. Because, the thinking goes, the less toilet paper you need, the healthier your poops are.