When Lady Gaga infamously said, "No sleep. Bus, club, 'nother club, 'nother, 'nother club, plane, next place," she was alluding to the steps it'd take to track down Chromatica Oreos.
For a gal who loves to tell people she's just an Italian girl from Brooklyn, Lady Gaga seemed to forget about her fellow Prospect Park Sicilians with her latest brand launch. The pop star, fresh off her performance at the Biden-Harris inauguration, partnered with Oreos for the Thursday release of themed golden cookies, tied to her latest album, Chromatica. They're nearly impossible to locate, even in a city like New York. What's harder to do than break into the Capitol? Find Gaga's Oreos.
Venturing out to buy Chromatica Oreos took me on a mental trip to Gaga's fictional planet, because I wasn't able to find a single sleeve anywhere near me. Four grocery stores later, a fellow gay Italian (of the Hell's Kitchen variety) revealed insider information that one of the most dreaded Targets in the city — the Target Manhattan Herald Square — had my prize: a pop star's perishable collector's item.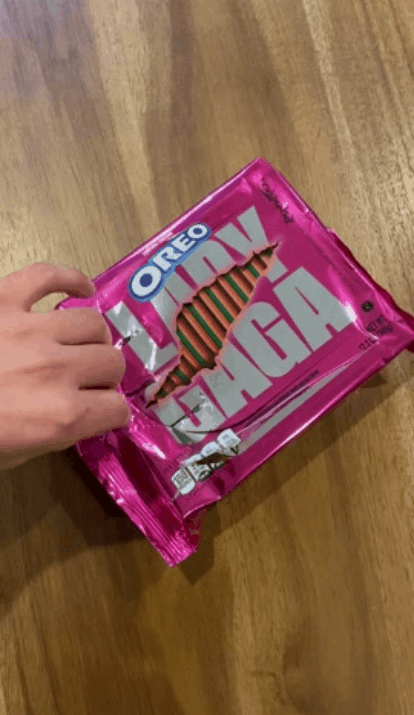 The Chromatica Oreos glistened under the fluorescent lighting, drawing the eye away from the many varieties of Oreos. (Do we really need chocolate hazelnut Oreos? Just buy a Ferrero Rocher at that point.) 
These cookies are pink as Pepto Bismol, which you'll need after eating more than two in one sitting. Sandwiched between the two wafers is a layer of shamrock-green cream. (The packaging calls it "creme" because Gaga is nothing if not dramatic, and that's why we love her.)
Each Oreo features one cookie imprinted with the standard Oreo insignia, while the other side is stamped with the Chromatica heart — not exactly the same logo on the album cover or promotional material. But, hey, it's the thought that counts.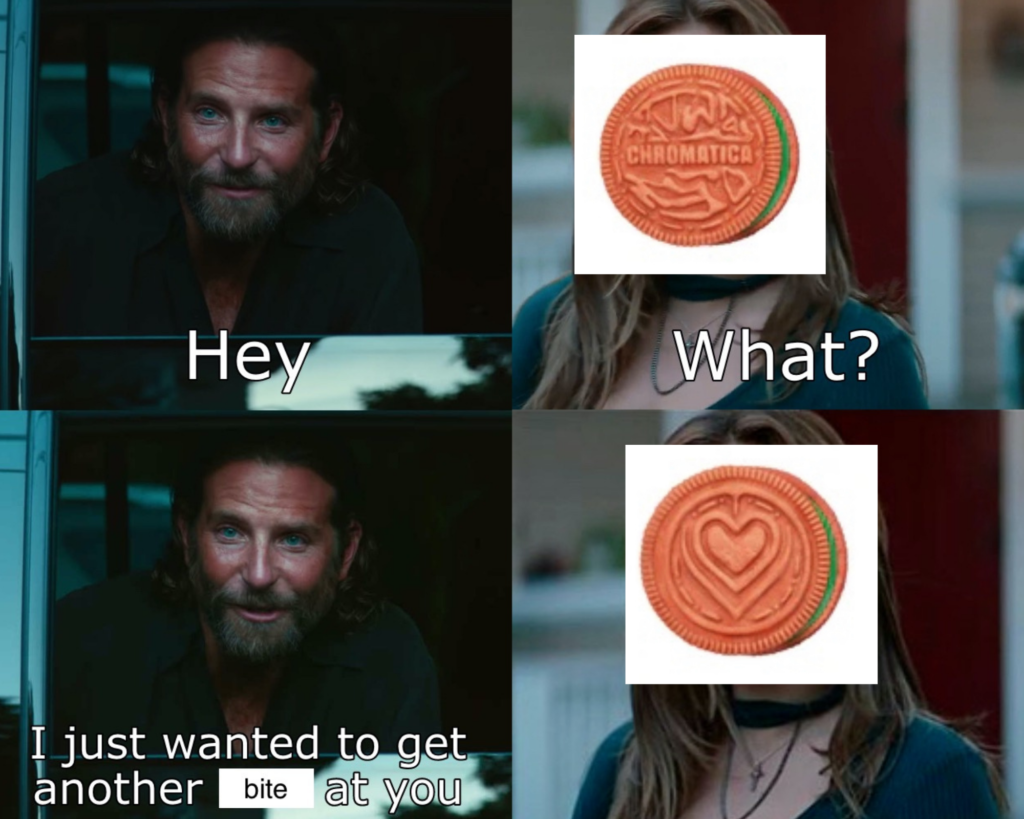 As for how the cookies taste? Would they make her father, owner of the Italian restaurant Joanne Trattoria, proud? Probably not. The cookies are… tasteless. Honestly, I'm shocked, because Gaga is anything but bland.
Okay, maybe that's a little hard. Chromatica Oreos aren't bad. But, lacking both unique flavor and purpose, they feel like an uninspired cash grab from an artist known for being earnest to a fault. Not that Gaga should be held to a higher standard than any other pop star dabbling in a little brand marketing synergy. But Oreos? Still scratching my head over this one. Nothing about the brand fits with Gaga's particular sense of masterful chaos.
If she needed to partner with someone on Chromatica food, Gaga should've called up Frosted Flakes. Because if there's anyone who knows their way around an album full of club anthems, it's masc daddy mascot Tony the Tiger.