The late Congressman John Lewis spent his life fighting for justice and sticking up for the oppressed. From helping lead the Selma March to bringing attention to the inequalities in our voting system that persist to this day, there was no battle that was too daunting for the Georgia representative. But small gestures that touch just one person can have a giant impact as well, and Lewis was never one to let even the smallest bit of unfairness slide, as Andrew Aydin, his former aide turned digital director and policy adviser, can attest.  
By the summer of 2008, Lewis' latest reelection campaign was winding down, "and some folks were sitting around talking about what they were gonna do after, and I said I was going to a comic book convention," Aydin says. "Everybody laughed at me. But the congressman said, 'Don't laugh, there was a comic book during the Civil Rights Movement, and it was very influential.' I was taken aback." 
"First, here's John who was sticking up for me as he stood up for so many of us," Aydin continues. "But then also the idea that there was a comic book that had played a role in the Civil Rights Movement. I'd grown up as a comic book fan. My father was a Muslim immigrant who left when I was very young, and I was raised by a single mom. I started reading comic books as an escape."
Aydin went home and tracked down a copy of Martin Luther King and the Montgomery Story, a 16-page comic published in 1957 about the Montgomery Bus Boycott and the principles of nonviolent resistance that King helped edit. (Aydin would later write about the history of the comic for his graduate thesis at Georgetown University.) He'd grown up reading X-Men and other superhero books, and had particularly fond memories of Ron Marz' run on Green Lantern and Mark Waid's time writing The Flash. But The Montgomery Story was an entirely different type of hero story.
After reading it, Aydin was taken aback by how much he hadn't been taught about the Civil Rights Movement, even as someone who attended Atlanta public schools, right in Lewis' district. He was also struck by just how important determined young people and students were to the cause. "The biggest problem that we talked about on that campaign was that people didn't seem to know what it was John Lewis did during the Civil Rights Movement, they didn't realize what a major role he played," he says on the phone, calling after a long series of meetings and just a few days before Lewis' funeral in late July. "It just started to seem self-evident to me: 'Okay, well, there should be a John Lewis comic book. That's a great way to teach people about him."
At the next meeting between Lewis and his staff, Aydin shot his shot, and suggested that his boss write a comic book about his life. "Everybody turned their head and looked at me like I'd lost my mind," he remembers. "The congressman later said that he thought I had actually lost my mind a little bit, too, when he heard that for the first time. But he was really sweet about it. He said, 'Well, maybe.'"
While "well, maybe" is usually understood to be a polite way of saying "no," Aydin was persistent, continually bringing up his idea to Lewis, who eventually came around to the idea. (It probably helped, Aydin speculates, that Lewis' wife, Lillian Miles, was a librarian.) "He said to me, 'Okay, I'll do it, but only if you write it with me.'" 
The two began writing the script for what would eventually turn into the graphic novel trilogy March, which Top Shelf Productions published in 2013, with March: Book Two and March: Book Three following in 2015 and 2016. A sweeping tale of courage, change and resistance in the face of oppression told through the eyes of an idealistic young man, the March series would go on to top the New York Times bestseller list and win the National Book Award, among other accolades. But first, Aydin had to learn how to transition from comic book fan to comic book writer. 
"As much as I'd never tried to write a comic book before, I had written a lot of other things. I had written speeches for the congressman, I was writing all of his tweets and Facebook messages. I had written radio ads and that sort of stuff, so I'd gotten to know his voice very well. And there's just not that much difference between writing a good tweet and writing a good comic book panel, especially if you're doing it with images, because then it's basically sequential narrative," he tells me. "I approached the writing with the detail of a congressional staffer, but with sort of the imagination of a lifelong comics fan, if that makes sense."
Aydin would interview Lewis at night, hearing stories about growing up on an Alabama chicken farm and joining the Student Nonviolent Coordinating Committee (SNCC) in the early 1960s while attending American Baptist College. March tells the story of America on a grand scale, but it also finds time for human moments, such as when SNCC members would laugh as they blew cigarettes in each other's faces, in order to mentally prepare themselves for later abuse. 
Aydin and Lewis wrote the script for the first book on spec, as it took more than two years to find a publisher. "Which is wild to think about, right? Like John Lewis ever having to do something like this on spec. But nobody would take the project. Everybody thought we were nuts." Finally, the pair landed at Top Shelf, which had recently published the Eisner Award-winning graphic novel Swallow Me Whole by Nate Powell, a former punk frontman turned writer and illustrator.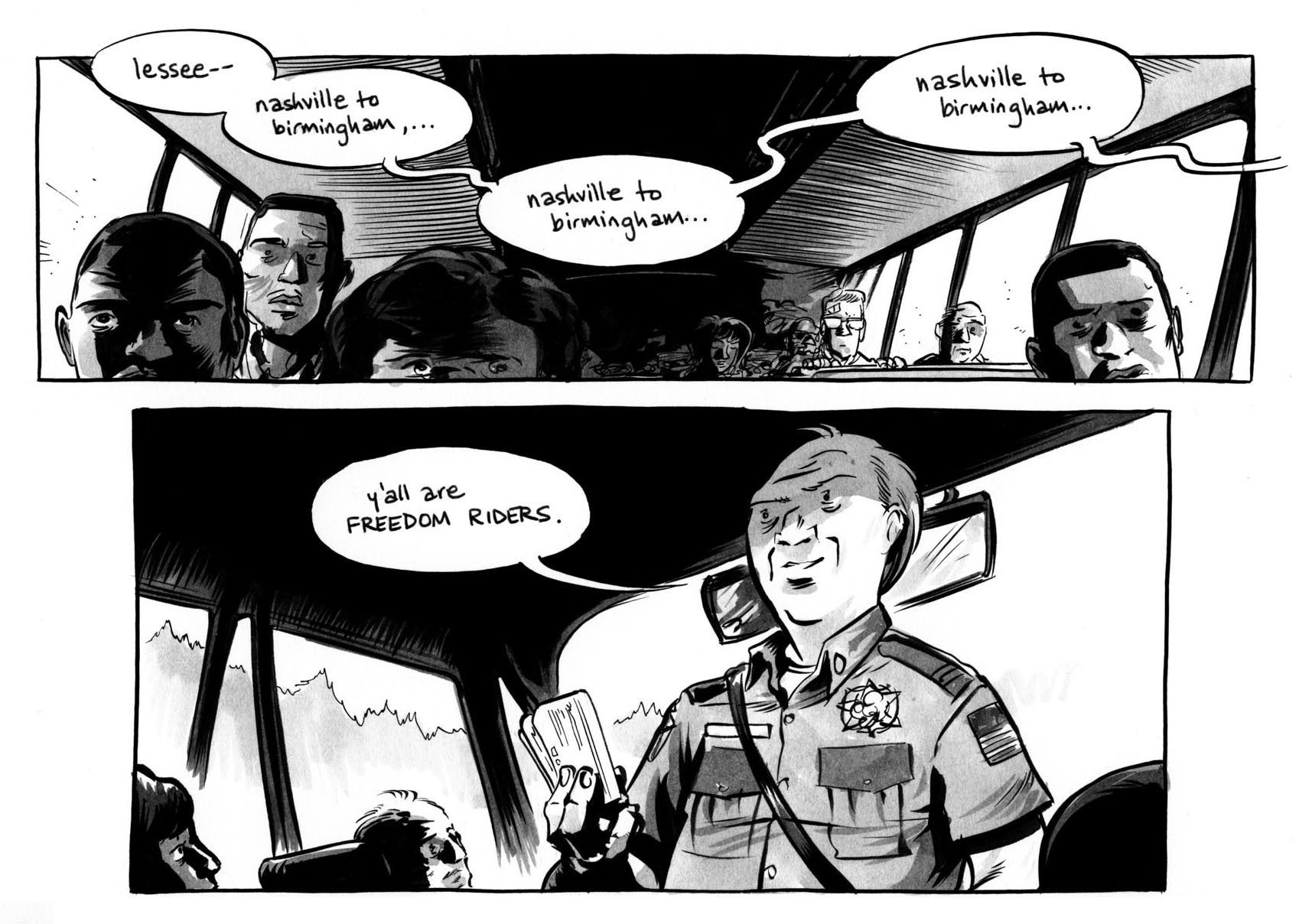 "I remember reading the press release about March at the time and being really excited about it. However, I didn't connect the dots that the absence of an artist listed meant that they might be looking for an artist," Powell explains. "Fortunately, a week or two later, my publisher Chris Staros gave me a call and strongly suggested that I try out for the role of artist. Some of that had to do with stylistic and storytelling considerations, and some of that had to do with my being a Southerner and having a familiarity with not just the history and the context, but a lot of the topography, the culture, the landscapes, as well as the buildings and the locations of so many of the historical events covered." After submitting some sample pages and meeting with Aydin and Lewis, he got the job.
Powell grew up in Little Rock, Arkansas, and like many people of his generation, he knew who Lewis was and was aware of his involvement in the Civil Rights Movement, "but I really couldn't have given you any details about the significance of the role, or even the context of the sort of intergenerational reckoning within the movement that he represented as part of the young radical wing of direct action."
He started working on March in 2011, researching and fact-checking to ensure historical accuracy, while bringing his flair for flowing, dynamic imagery to the material. "In a lot of ways the entire early process of working on March was sort of like taking myself back to school. It was re-educating myself, re-introducing myself with the history," Powell tells me. "I guess in the longer sense, it became a reckoning with the way that my parents and their generation — being white middle-class Southerners with their own baggage having grown up through the Jim Crow South — educated and in many ways mis-educated my generation with certain conventional wisdoms."
"Looking back, the spectre of my parents' era of growing up in the South was so close you could almost touch it," he continues. "Seeing organized white supremacists as a kid all the time and, relatively speaking, just how close the 1980s were to the 1960s by comparison," he says. "And a lot of the just incredibly oppressive social constructs of white supremacy never diminished whatsoever by the time I was a child growing up in the Deep South." 
Powell, calling from his home Bloomington, Indiana, a few days after Lewis' passing, freely admits that there were times when he was nervous and self-conscious about being a white man working on a story about Black people's struggle for equality. "It's quite fair and understandable — not only for me to have some doubt and anxiety, but for somebody who might have doubt or objection about my role. Being mindful of that was an important part of the job. That set the bar for me, personally, pretty high, knowing that I was still chosen for this role, and thus, it was doubly important that I try to knock it out of the park," he says.
In many ways, March is Bildungsroman, focusing on Lewis' journey from a gentle boy who loved the chickens he raised too much to eat them and dreamed of becoming a preacher, to joining SNCC and eventually working alongside MLK, Rosa Parks and Senator Robert Kennedy to organize boycotts, march on Washington as part of the Big Six and push for legislation to end segregation in education and employment. Along the way, March shows the often extremely violent pushback the movement faced, such as the 16th Street Baptist Church bombing and the Bloody Sunday incident, in which police officers savagely beat protesters with the authorization of the virulent racist Alabama Governor George Wallace. Doing justice to the pain that real-life people endured was always at the forefront of Powell's mind. 
"My relationship at the drawing table to representing historical violence perpetrated against real individuals, that's something that I had to acclimate to," he explains, noting that he had to develop "my own working process, which would allow me to get the job done in a way that was unflinching and didn't try to sanitize any of the violence, but equally, I was trying very hard to avoid exploiting or sensationalizing the violence."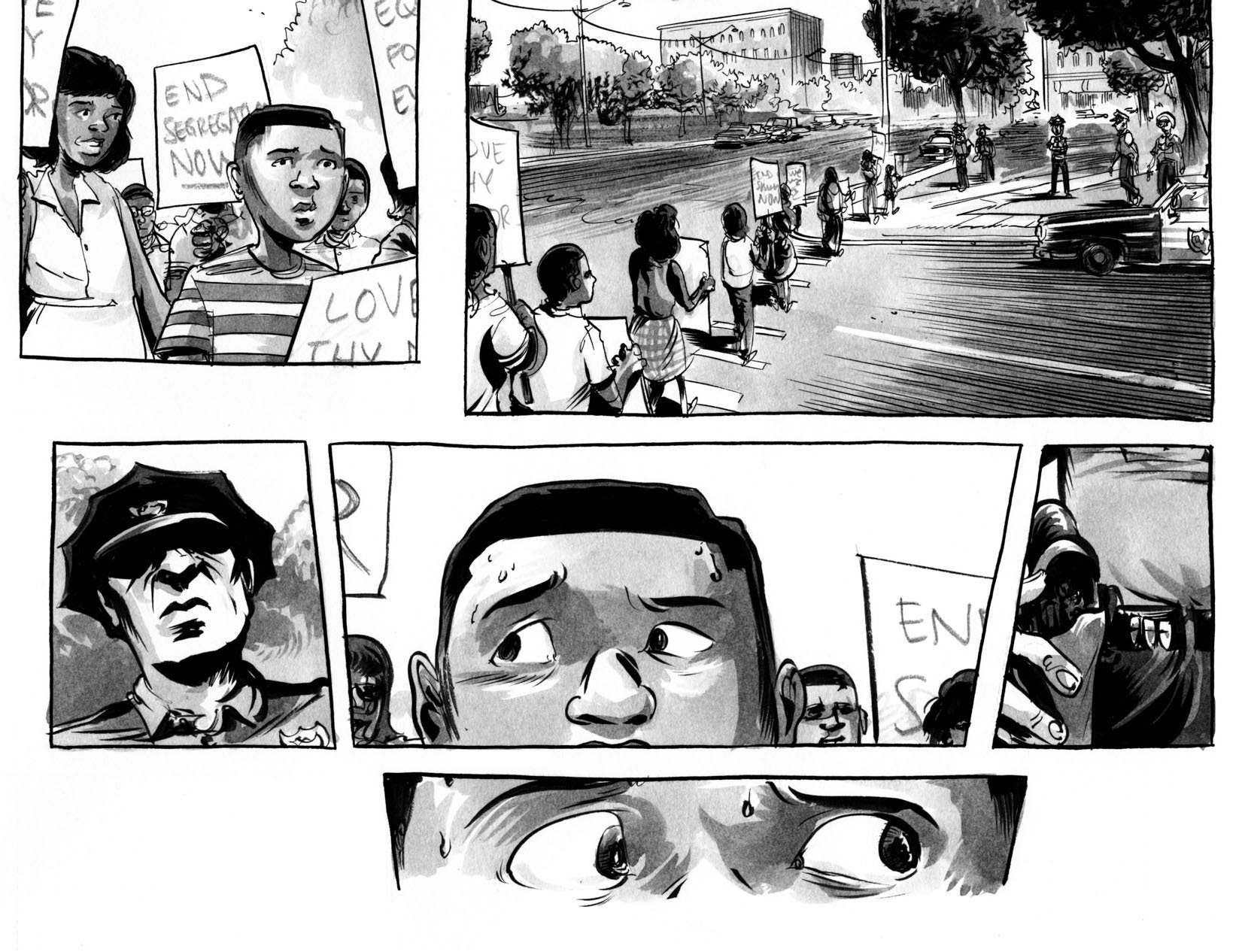 Aydin was nervous about working on his first graphic novel, but after the reception to the first installment, his confidence grew and he felt bold enough to begin experimenting with the structure of the book, using Lewis attending President Barack Obama's inauguration as a framing device. The three kept in constant contact, and Powell remembers that he would often strive to finish 10 pages in a week and then meet up with his collaborators to attend a comic book convention or speak at schools. All the while, Aydin would continue to prompt Lewis to dive into his memories, which was sometimes a difficult endeavor for a man who had buried many friends.
"I think in some ways, he enjoyed the process — there were so many really beautiful moments along the way. But other times, when he'd talk about Mickey Schwerner or Andrew Goodman, he would start crying," Aydin says, referring to the Civil Rights activists who were murdered by the KKK. "I know it was hard for him when he thought about the friends he had lost and the people who were gone."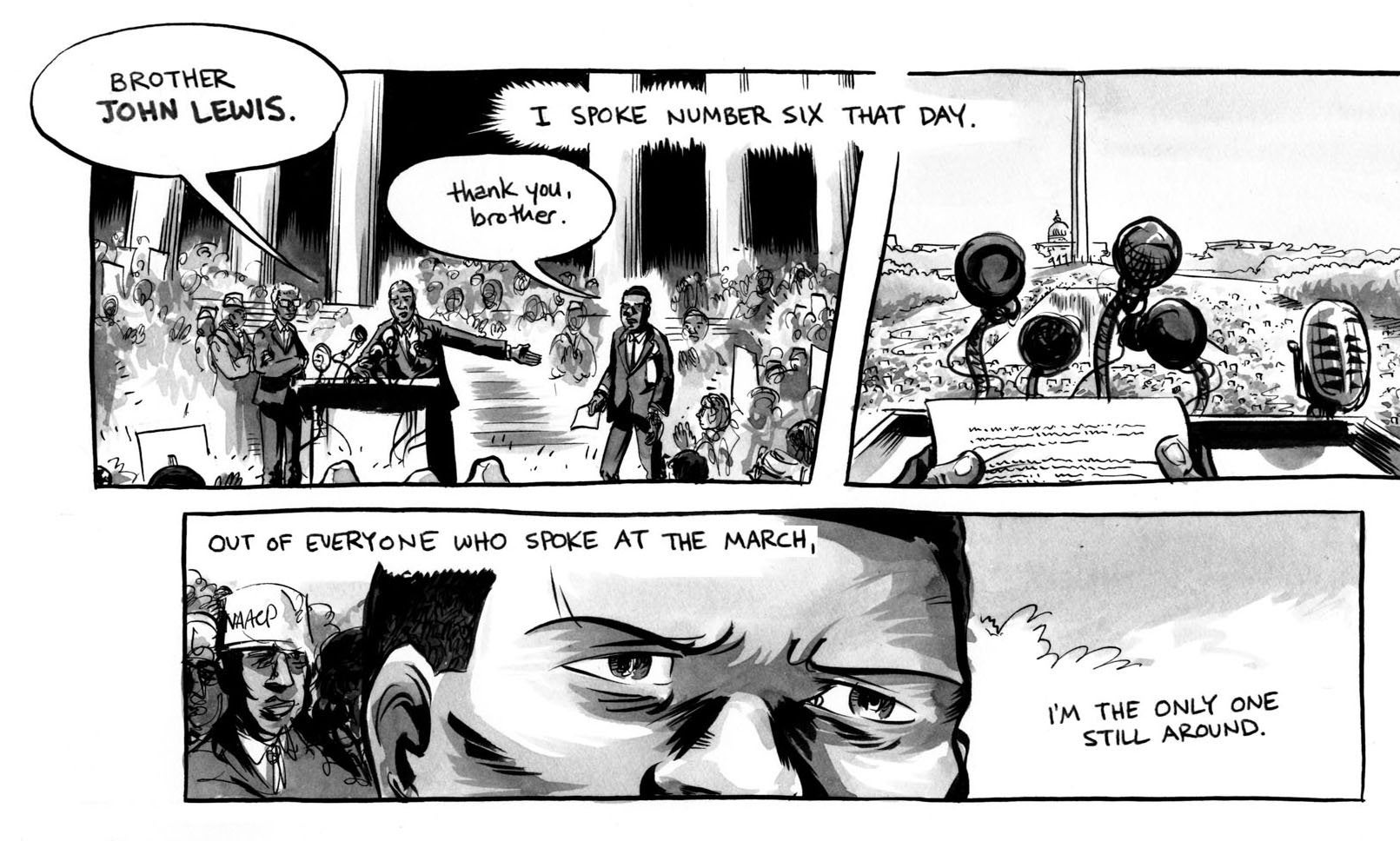 March is now a staple in high schools and colleges, which blows Powell's mind, even as Aydin hopes it becomes even more widely taught. "If every student in America had to read March before they graduated from high school, we'd have a much more well-informed, non-violent population," he tells me. "But the other piece of what March unlocked was allowing so many stories that had been swept under the rug or marginalized to now find a new audience and a new place in the publishing market. Because so many folks now are doing these non-fiction graphic novels, where before it was a small niche audience. We showed them how it can be successful, and we showed them what the true market is. It's just another barrier that John Lewis broke down with his example."
At the moment, Aydin and Powell are preparing a sequel to March titled Run, which Powell couldn't go into detail about beyond saying "basically it's the transition for John Lewis from direct action to public service." They're also both trying to take comfort in the wake of Lewis' death by recalling the small moments of joy that always seemed to happen in Lewis' presence. "He announced his cancer diagnosis in late December, and so, it was important to me to try to stay in touch strictly as a friend and not be somebody who was always working on something and needed something from him," Powell says. "It felt good to have a little bit more of a grandfather-grandson relationship and to talk about less significant things and just let him know that I was there for him."
Lewis was also not-so-secretly a bit of a goofball, down to crowd surf on The Late Show With Stephen Colbert, dance in his office or to cosplay as his younger self while leading a march at Comic-Con, and one of Aydin's favorite memories was when the comic book writer Kelly Sue DeConnick, known for the popular indie series Bitch Planet and for revamping the character Captain Marvel, met him at Dragon Con and asked for a selfie. "Sheepishly, she was like, 'Okay, this might be ridiculous, but one of the things I do with people, sometimes we take a duck-face selfie. Would that be something you would want to do?' And he was like, 'Yes, of course.'"
Aydin laughs for a moment. "I was looking at that picture the other day, and he just looked so happy and joyful. To me, for all the success that March has had, the thing that I take the most satisfaction from is how much joy making these graphic novels and touring and promoting and meeting all these people gave to John Lewis, and being able to play a role in making the last decade of his life just as special as any other decade in his life."