When Jennifer Lopez wants to be taken seriously, she puts on her best whites. At her Super Bowl halftime show announcement last year, she sported a white bralette and matching high-waisted trousers. In 2011, at the precipice of her comeback era on American Idol, Lopez wore a white Zuhair Murad gown with a crystal chiffon cape capelet to the Golden Globes. She's worn white jewelry, body-hugging dresses and leather Louboutins to countless perfume launches, talk show appearances and red carpets over her four-decade career.
So it came as no surprise she appeared at the U.S. Capitol for the Biden-Harris presidential inauguration dressed in all white. Wearing head-to-toe Chanel, Lopez looked like a glistening white light in a tweed coat, ruffled silk blouse paired with a white sequin trouser and pearl belt, earrings and bracelet.
She was there to belt "America the Beautiful" and gently sing Woody Guthrie's "This Land Is Your Land." She sounded pretty damn good. (But do not text me that you're surprised. We know she can actually sing… when she tries.)
At the end, she paused before saying the final phrase of the Pledge of Allegiance in Spanish. Then, curiously, she shouted the name of her 2000 single "Let's Get Loud."
Well, okay! If there's one thing Jenny will do, it's a little self-promo at someone else's event. Sure, "Let's Get Loud" is her signature song, but do we really think Biden knows that?
It seemed like an odd name-drop. Lady Gaga (dressed like Effie Trinket in The Hunger Games) performed the National Anthem minutes before, but she didn't turn to new first lady Dr. Jill Biden (another famous Italian) and shout "'Grigio Girls'!" Lopez simply can't help it — but that's exactly what I've come to expect and appreciate from her. (And, given the chance to fly safely again, I will return the favor on every New York–to–Los Angeles flight.)
But the "Let's Get Loud" shoutout had a more subtle significance. Lopez follows other fellow singers positioning signature songs as social movements. Madonna made "Express Yourself" into a female-empowerment mantra; Gaga's queer-acceptance anthem "Born This Way" became the Born This Way Foundation. "Formation" is a Beyoncé call-to-excellence for Black women. The list goes on.
Subtlety isn't a word Lopez seems to know. Here, she's retroactively taking a song about living life to the fullest and turning it into a decree: Do not stay silent about social injustice.
What's more, Lopez has pushed her "Let's Get Loud" activism motto for years. According to New York Times, Lopez and fiancé Alex Rodriguez were spotted at a June protest in Los Angeles where Rodriguez carried a sign that read "Let's Get Loud for Black Lives Matter."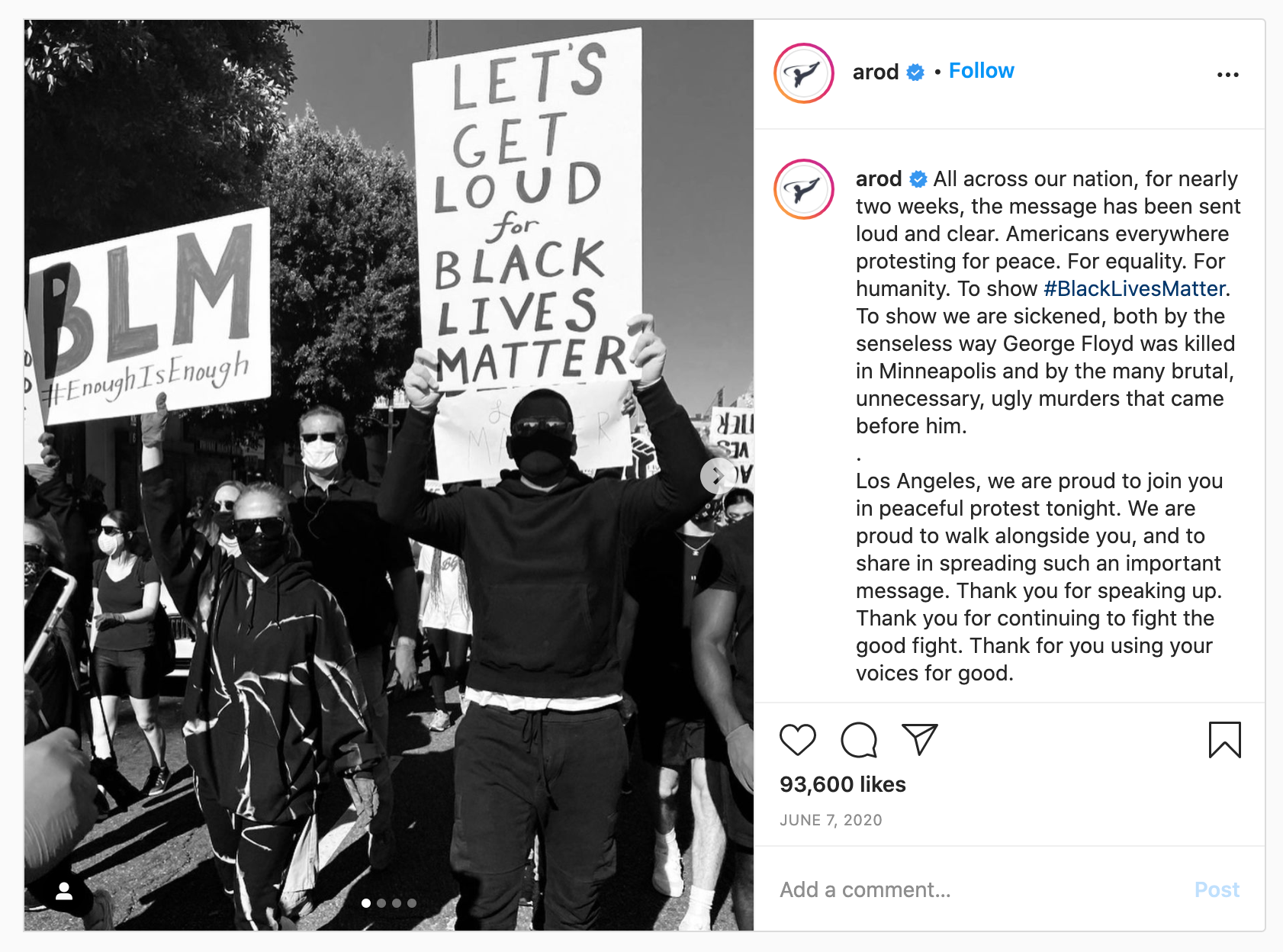 Last year, during her Super Bowl performance, Lopez's daughter Emme Muñiz performed a gorgeous, harmonized rendition of "Let's Get Loud" while the stage turned into a cross and ring. On the football field, children sat in illuminated "cages," a perceived reference to Trump's immigration policy separating and confining families on the U.S.-Mexico border.
A chorus of girls in all-white sweatshirts with silver glitter American flags and ruffled skirts buttressed her. Seconds later, Lopez came out wearing the featured vest of her ancestral Puerto Rican flag and sang a mashup of "Let's Get Loud" and Bruce Springsteen's "Born in the U.S.A." with her daughter.
The next day, Lopez posted a behind-the-scenes Instagram video about her lead-up to the performance. In her caption, she addressed the political undertones. "All I want my girls, the little girls on stage with me and all over the world to know is how to use their voice and be proud of everything they are. We are proud to recognize that all of us together are what makes this beautiful country truly great," she wrote.
According to BuzzFeed News, she wrote (and later removed) a line in the Instagram caption about cages. "Other people can try to build walls, keep us out or put us in cages," the line reportedly read. But it's now missing from Lopez's post. Why? Who knows. Odd!
Regardless, with "Let's Get Loud" as her political motto, Lopez has certainly made it clear she won't be silent as America faces a seemingly insurmountable string of crises. Who knows? Maybe one day she'll run for president; she's already got a slogan.
That said, I'd prefer her 2010 track "Dance Again." It's what we'll all want to be doing in four and eight years once the pandemic ends.