For just $9.99, you can have a nearly naked, buff Jeff Probst lighting your fire. This magical gift can be found on Etsy, where Cheyanne Luna of Detroit, owner of the online gift store LitWickShop, sells novelty celebrity prayer candles featuring famous faces superimposed on chiseled, angelic bodies.  
Each candle is a carefully crafted (i.e., Photoshopped) shrine to the star. "Saint Selena" features the late Selena Quintanilla holding a microphone and towering above an array of white and red roses. There's also the oxymoron "Saint Tony," a gold-chained Tony Soprano with stacks of cash and, most curiously, angel wings. 
Then there's Probst, the Survivor host whose head is superimposed on top of a chiseled, hairy chest, a pair of ripped arms and a toned torso. A white sheet is wrapped around his waist while two ignited Tiki torches (which represents life on Survivor) buttress him against a picturesque sandy beach backdrop. No shade to Probst, whose penchant for outdoor competitions has kept him fit at 59, but it's clearly not his body on the candle. In fact, it's Luna's "buffest friend," Andrew.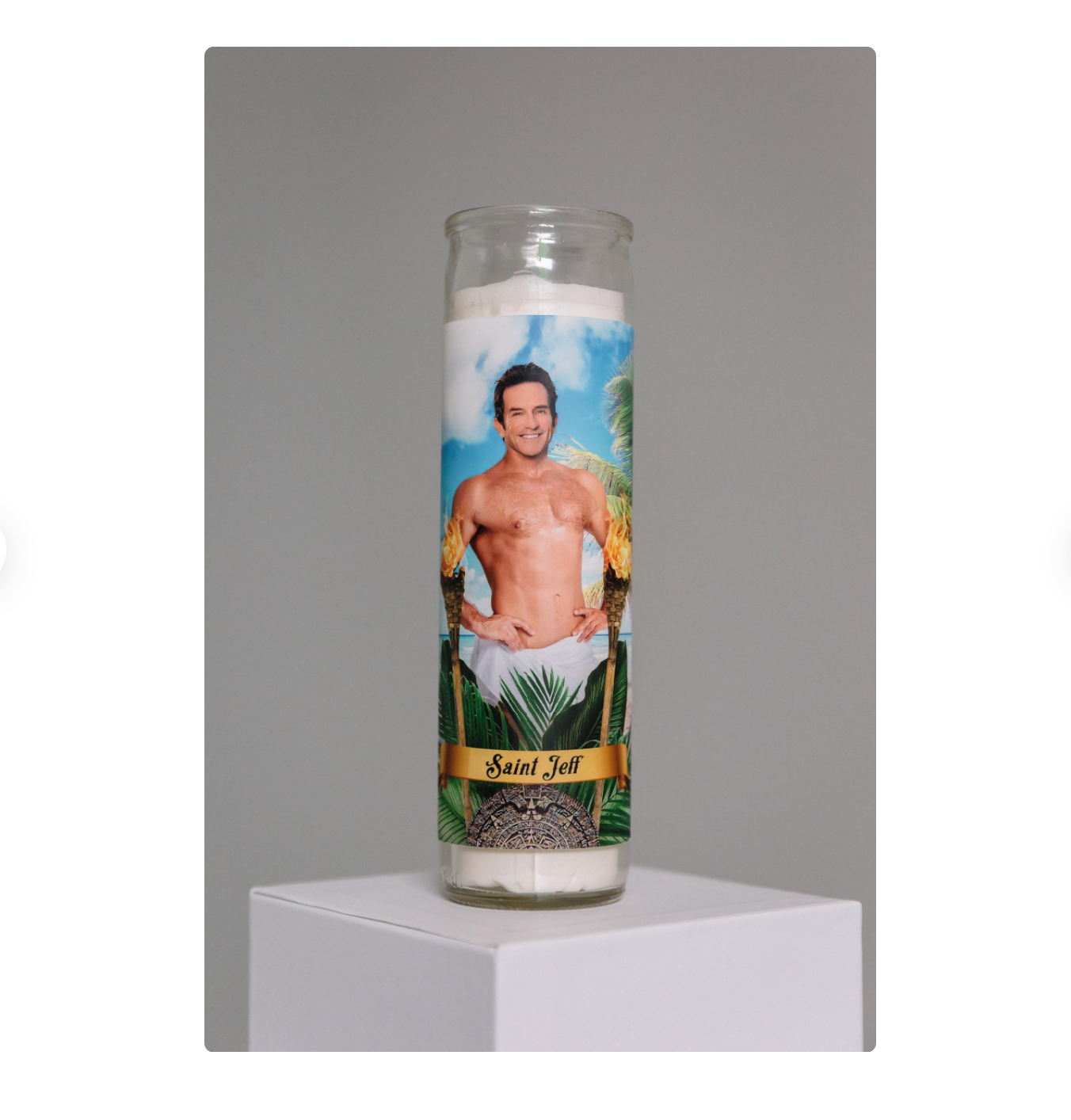 "Jeff was part of a collection I was releasing, called Heavenly Hunks," Luna says, which also included Alex Trebek, Keanu Reeves and Antoni Porowski. "Every guy in that collection had this super-ripped Andrew body."
"Saint Jeff" is Luna's patron saint of profits. "Jeff keeps the lights on," she says. She first created the Probst iconography in December 2019. During the pandemic, Survivor became one of the most popular shows to binge in quarantine, so much so that Luna says last holiday season — her busiest time of year — 30 percent of the candle sales were for Probst. 
Anecdotally, I know this to be true. I bought three Jeff Probst candles from Luna last month as immunity idols gifts to my Survivor crew: one for myself, one for my bingeing guide and colleague Cooper Fleishman and one for our friend and fellow Survivor obsessive Gabe Bergado. 
Two weeks ago, Bergado unintentionally gifted me the same exact candle. 
However, we weren't the first to lust after candle daddy Probst — that'd be actress Rachel Brosnahan. In September, for her W Magazine photoshoot on what shows celebrities are watching in the pandemic, Brosnahan chose Survivor and wore "The Tribe Has Spoken" socks (from the CBS Store) and posed with a Probst candle. Luna says she sold 25 Jeff Probst candles the evening the photo of Brosnahan was posted to the Survivor subreddit.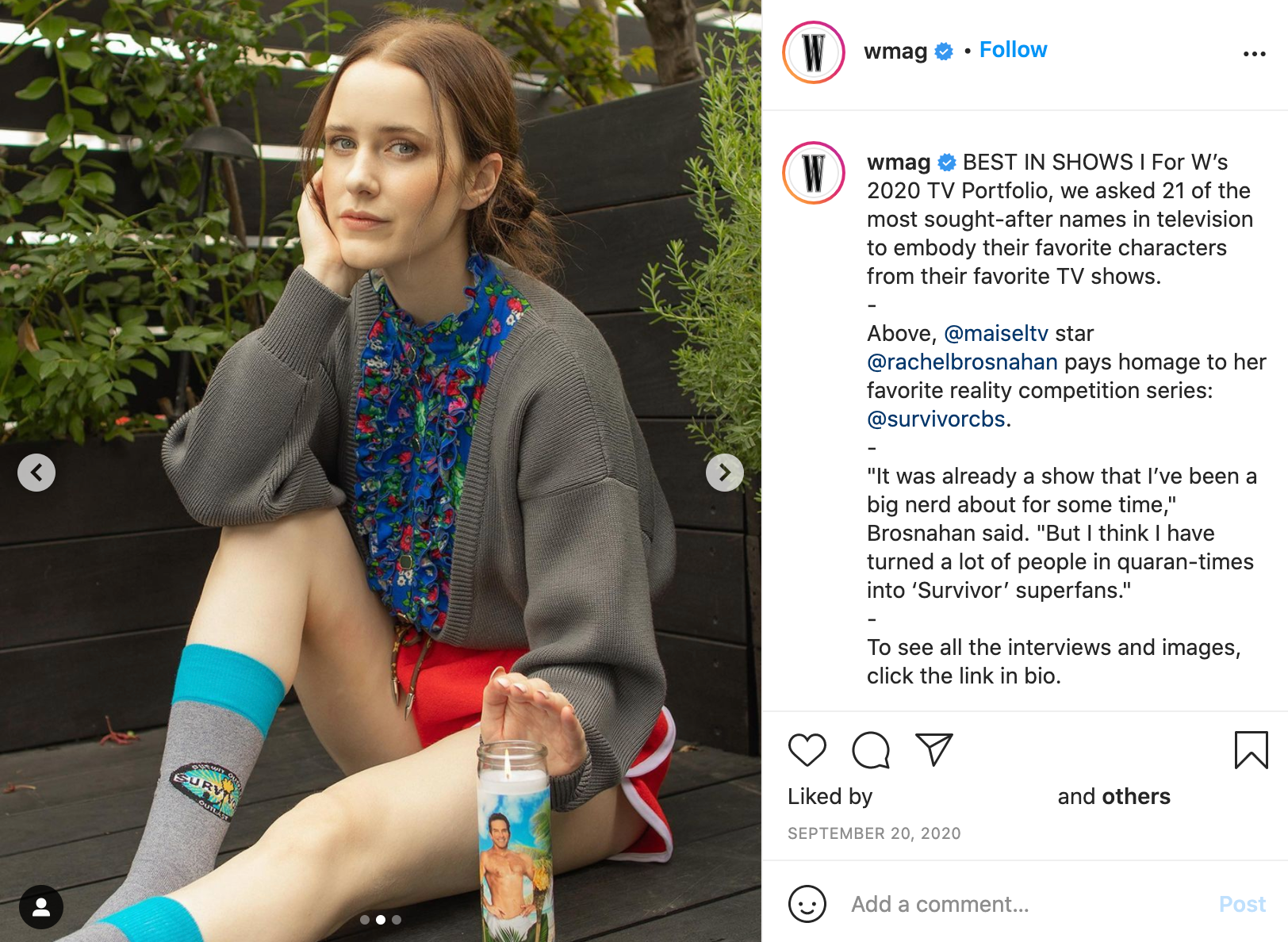 Still, the Probst candle's popularity is about more than just universal thirst for a buff daddy Probst. It's representative of how the pandemic changed content merchandise: With weddings postponed, birthdays subsided and graduations canceled, novelty merchandise (alongside plants) are the new celebratory gift — or, most recently, "get well soon" flowers. 
"I essentially wanted to gift them to the few people that sort of sold me on getting into the show, then also the people that I have unfortunately brought into the fold of spiraling into 40 seasons of this reality TV show," Bergado tells me. 
Read Next: 'Survivor' Reveals How Bad Most Men Are at Picking Underwear
The rise in content bingeing, coupled with the demise of in-person entertainment events, has also turned merch from an auxiliary novelty into noble pseudo-donations. Musicians, hoping to recuperate lost concert revenue this year, expanded from stickers and concert T-shirts to peddling miscellaneous trinkets. "I used to approve merch like it was a byproduct of my art," artist Liz Phair told the New York Times last month after releasing two album covers as puzzles. "The pandemic made me realize it is a powerful, tangible connection with fans in and of itself."
As for TV shows, it's increasingly common for reality stars to hawk products as additional income. This is especially true among the women of Bravo's Real Housewives, where the savviest stars know to promote their products on the show. Fans and podcast hosts are now quick to purchase and gleefully eviscerate these products, but it's the stars who are seeing the return through fragrances, makeup and even OnlyFans subscriptions. Bethenny Frankel, who featured her Skinnygirl alcohol brand on Real Housewives of New York, reportedly sold off subsidiary Skinnygirl Cocktails for $100 million in 2011. 
Survivor contestants are simply the latest reality TV contestants jumping on the merchandise bandwagon. Brice Izyah, Rob Cesternino, Teresa "T-Bird" Cooper and several other Survivor contestants host podcasts, while even more are available on Cameo. Recently, though, several are trying to profit off their recent appearances on the show with signature products. Last spring, in conjunction with appearing on the show's 40th season, Survivor fan favorite Parvati Shallow released a children's book, Om the Otter, inspired by her most recent trip to Fiji (where the reality show is filmed). Shallow also sells Instagram Live yoga retreats. Her Survivor buddy Rob Mariano, meanwhile, just dropped an Italian family-style cookbook, Boston Rob's Family Favorites.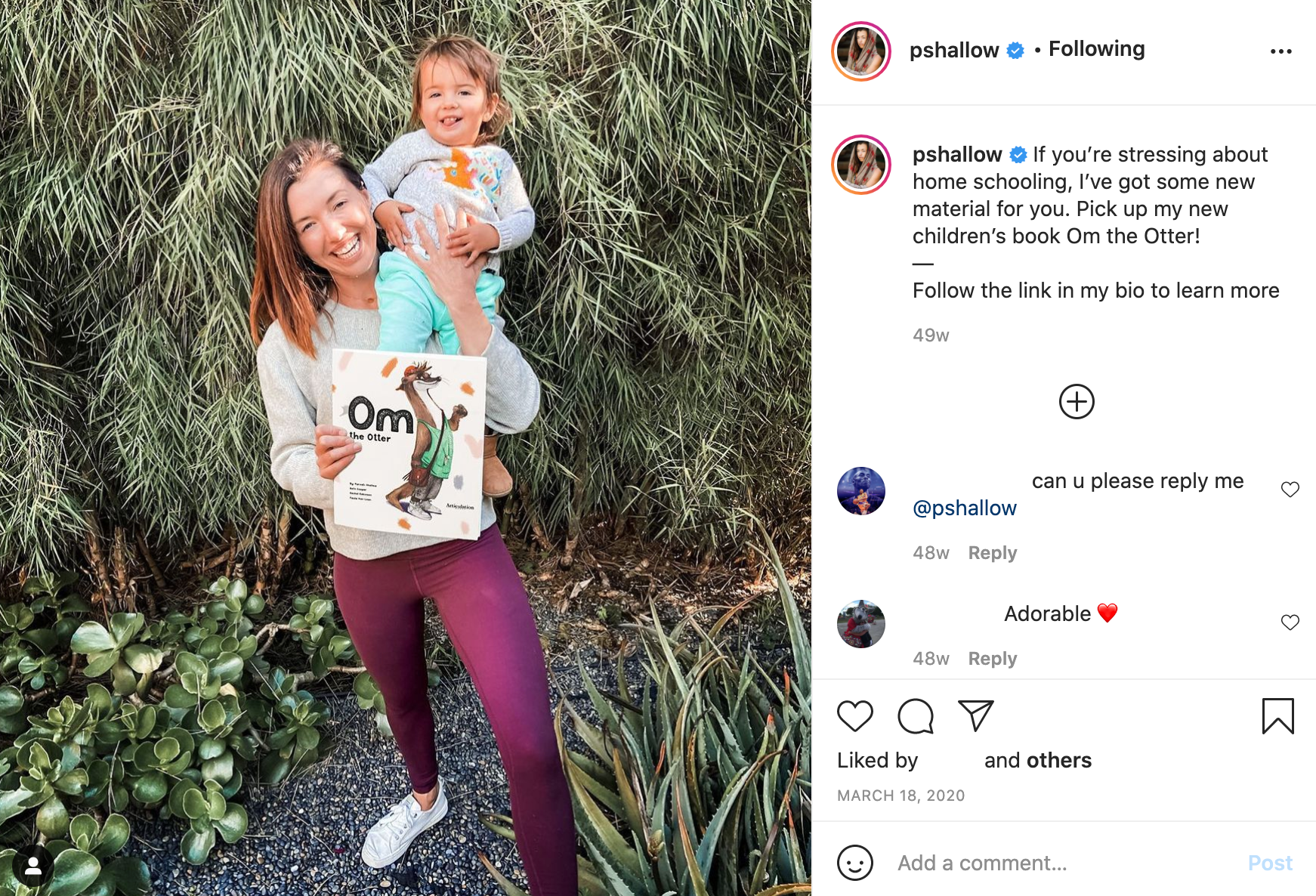 This formula has also proven successful for the queens of RuPaul's Drag Race. "Right after Season Three of Drag Race is when we started to understand that we had a fan base that wanted to support us through product and merchandising," beloved drag queen Shangela told Vox in 2019. "That it would actually sell!"
Unlike Shangela or Phair selling their own merch, Probst and Survivor won't see any money from Luna's candle (though they probably see a nice return on official BUFFs sold on the CBS Store). Luna joins Real Housewives podcasters, Game of Thrones filming location tour guides and Drag Race illustrators as a growing auxiliary industry profiting off TV show content. 
While Luna is aware that CBS could technically take her out of the merch game with a cease-and-desist, she's appreciative (and respectful) of the show for driving customers to her shop. "The great thing about fan communities, like Survivor, these are people that are in it and love every aspect of it," Luna says.
As a redditor pointed out under a post about the Probst candle in the Survivor subreddit, "As you know, fire represents life." To that end, Daddy Probst is lighting up Luna's bank account and, now, our bookshelves too.