A growing number of homeless people are living outside of Pacific Place mall in downtown Seattle, where janitors like Mark Guthrie regularly scoop human shit into hazard bags, and spray Virex disinfectant if they smell urine and SaniZide Plus if they spot blood. When not handling biohazards, for about $18 an hour, Guthrie scrubs and disinfects delivery docks and empties hundreds of trash cans, sanitizing everything afterward, per COVID-19 protocol. (While it's uncommon to contract the virus from contaminated surfaces, the CDC says it's still possible.)
"There's all kinds of stuff in those garbage cans, man, and you never know which one's gonna spit on you," Guthrie tells me.
And yet, if you ask the 53-year-old former accountant, it's never been a better time to be a janitor. The pandemic "thrusted us into the spotlight," he says, and as a shop steward for the Service Employees International Union (SEIU) Local 6, he's anticipating that a $10,000-per-year hazard pay increase for janitors will be included in the next stimulus package. "We haven't gotten any bump since the corona started and everybody else has," he explains, adding that he recently signed and mailed a petition to three U.S. senators explaining as much.
Meanwhile, a dustpan gold rush of sorts is underway. "I see so many people — cousins, sisters, brothers — heading into janitorial work for job security," Guthrie continues. "Because even if the economy collapses, we'll still need people to clean up the mess. I'm glad I'm in this industry, even though it's dangerous and dehumanizing at times. I mean, I don't want to be waiting for no unemployment check."
Though traditionally relegated to the shadows, janitors are now among the super-squad of essential workers keeping daily life from killing us. To that end, the average U.S. business has increased the frequency of professional cleaning by 30 percent, according to Josh Feinberg, president of the Cleaning Coalition of America, an advocacy group that recently formed in response to the pandemic. He anticipates COVID will do for the cleaning industry what 9/11 did for the security industry. "Whether it's fortifying the front line by disinfecting hospital rooms or rigorously cleaning offices to get back to normal as promptly as possible, the cleaners of America are, and will be, essential to the rebuilding and upkeep of the American economy," he told Fortune in May.
Essentially, as life returns to normal (whatever that might be), businesses nationwide — from pizza parlors to dentist offices to co-working spaces — will need to demonstrate to customers that they're keeping them safe. "Everyone has a heightened focus on hygiene," explains Tim Mulrooney, a commercial services equities analyst for William Blair. "And when you have a heightened focus, you have more dollars spent."
"This isn't just a good time to be a janitor, it's the best time," says Norma Duckworth, the 45-year-old co-owner of Robles & Duckworth Cleaning Service in Milwaukee, which has hired four new staff members since March (with plans to bring more on soon) and experienced a 50 percent increase in revenue since March (a total of 100 grand). Duckworth and her team are busy around the clock, seven days a week, she says, and they regularly respond to late-night calls from frantic businesses seeking emergency decontamination. "The media hasn't once referred to janitors in hospitals as heroes, but they're the ones cleaning everything down," she says. "I don't need you to tell me I'm a hero, but I do need you to understand the value of people risking their lives."
That risk is very real. Erin Sroka, SEIU6's communications director, tells me that there have been dozens of COVID-19 cases among SEIU6 members, one of which was fatal. "So it would be hard for me to say it's a 'good' job right now," she says. "But you can definitely dig in and fight for more pay, more health and safety and more respect, which is happening nationally."
Again, though, the demand is outpacing the risk. For example, as Hollywood prepares to turn the cameras back on, Marc de Mauregne, the 59-year-old owner of MNZ Janitorial Services in Burbank, explains that a "COVID-19 supervisor" must always be on site to ensure high-touch surfaces are cleaned throughout the day. Even school janitors are feeling the COVID bump. Typically, to become a head custodian in Jefferson County School District in Colorado, you'd have to work three years. But when the pandemic hit in March, David Diment was promoted after just 10 months, increasing his salary from $14.98 an hour to $18.40, which he calls "unheard of."
"There's definitely a lot of opportunity, but also some negatives that come with it," the 25-year-old tells me, explaining that cafeterias are closing due to social-distancing guidelines and students will be eating lunch in their classrooms when they return, meaning he'll be changing out trash in 80 classrooms afterward and wiping down high-touch surfaces the rest of the day. It's a lot of responsibility, he says, because if things aren't properly disinfected and the virus spreads, the school will automatically close for two weeks. "That's a big, big issue," he admits. "Am I happy about all the extra stress? Not so much. But I'm absolutely thrilled with the promotion."
There is, however, another side of the coin — particularly in states like New Jersey where oversight isn't as stringent. "It's never been this slow in the 25 years we've been in business," reports Keith Brown, the 58-year-old owner of Environmental Disinfecting Agency in the Garden State. "While many states are mandating cleaning, Governor [Phil] Murphy refuses to act. No one's telling anyone to do anything, so businesses are doing the cleaning themselves and cutting us out because they say they can't afford it. At least 20 people have told me, 'We'll call you if someone gets sick.'"
But Brown seems more like an outlier than not. "Everyone is cleaning more, it's costing more, contractors are making more money, and wages will continue to go up," predicts Jeff Cross with the International Sanitary Supply Association. That said, he adds, "There's quite a bit of opportunity for janitors, but only if they embrace a higher level of cleaning and disinfecting."
In other words, you can't just spray Formula 409 on surfaces and, voila, you're done. As Greg Pierce, the owner of the SafeClean janitorial company in Maryland, puts it, "People always think something's clean as long as they don't see anything. That's just not the way it works anymore."
Instead, Pierce recommends SafeClean's "COVID-19 Cleanup," a strict, four-step disinfecting process, which includes using ultra-low volume fogging equipment, like the Victory Electrostatic Backpack Sprayer. The device, which looks a bit like a plastic gun, was prominently featured in a commercial touting Delta Air Lines' expanded cleaning efforts. (Electrostatic spraying is also the first bullet point in Southwest Airlines' new cleaning plans.)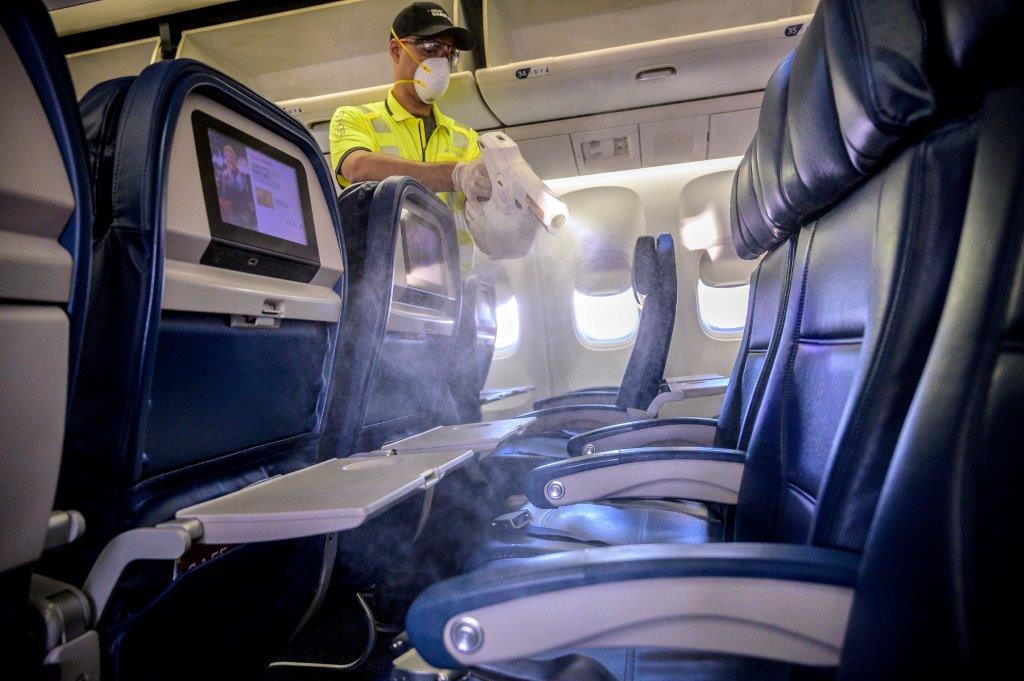 Of course, if janitors are clearing $275 an hour, as they are in Columbia, Missouri, for anything COVD-related, all that extra work can be worth it. Clarence Jones, co-owner and director of operations at Blessed Cleaning and Janitorial Services, says his revenue has increased 30 percent in the last six months, thanks in large part to earning $2,700 to clean a 3,000-square-foot space as opposed to $1,200 pre-pandemic. Better yet, he doesn't see the boom ending any time soon. Just yesterday, in fact, Blessed Cleaning signed three new clients, and a "multitude" of current clients are requesting ongoing decontamination services.
The only drawback? Jones and his co-owners have been forced to suit up and clean units themselves because they're so short staffed. They're hoping to bring on 30 to 40 people by the end of the month, but attendance at a recent job fair was underwhelming, and an online job posting that would have returned 70 applications before COVID only resulted in three. "My cousin was laid off and gets $1,000 a week from the state," Jones says with frustration. "Add an additional $600 [as part of the stimulus], and you now have people making $6,000 or $7,000 a month for staying home. Who would ever want to go back to work?!?!"
Perhaps some of the 2.2 million domestic workers in the U.S., many of whom are ineligible for unemployment. When the pandemic prompted shutdowns and social-distancing orders, a majority of them lost their jobs, says Julie Kashen, the senior policy advisor at the National Domestic Workers Alliance. "Fortunately, we're hearing stories of many of them finding employment as janitors, now cleaning buildings instead of homes."
Guthrie made a similar career pivot a decade ago during the economic downturn, when accounting work dried up. After joining SEIU6, his first janitorial assignment was at CenturyLink Field, home of the Seattle Seahawks, before moving on to Amazon HQ, where Jeff Bezos works, which Guthrie likens to a prison. "Everybody watches you," he tells me. "Maintenance people watch you. Your own boss watches you. Undercover Amazon security workers watch you. It's just horrible."
But the pandemic — and, obviously, leaving Amazon — has brought him a new level of respect. Yesterday, for instance, as he was wiping down a garbage can outside of the mall, a woman stopped by to say thank you. Next, he says it's time for companies to fairly compensate him and his brethren for all their hard work — and the danger they're putting themselves in. He reasons $25 an hour would be a good start, which would be enough to allow him to travel to Georgia to see his 81-year-old mother before she passes.
"That's why I fight for the people," the shop steward concludes. "But I can't save everybody during a pandemic, you know? I have to fight for me, too."