Congrats, freshly minted American university graduate! We here at MEL would like to commend you on completing your higher education and welcome you to the corporatocracy — where people are wealthier but far less happy than in their college years.
But let's not get ahead of ourselves. You'll have plenty of time to dwell on the inherent absurdity of life when you're sitting at your desk, toiling at your mindless job, wondering why you accumulated a crushing amount of student loan debt only to spend the next several decades of your life in a state of glorified indentured servitude.
First you need to figure out where to live! It's no small choice. For many of you, this is the first time you'll be living completely on your own, unencumbered by your parents or a tyrannical student housing system. And where you decide to make your home informs virtually every aspect of your life—from whom you befriend, to the industry you work in, to the types of cuisine you eat.
Maybe you've dreamed of trying to make it on the hardscrabble streets of New York. Or getting noticed in L.A. Or moving to Silicon Valley and cashing in on the startup gold rush.
It's here where I regretfully inform you that if you plan on living in a major metropolitan city, you'll likely be living woefully beyond your means for much of your young adult life.
The 30 Percent Rent-Income Threshold
The Department of Housing and Urban Development defines being "cost-burdened" as spending more than 30 percent of your income on rent. Problem is, a MEL statistical analysis shows that it's virtually impossible to live in a large U.S. city and stay below that 30 percent threshold.
To conduct our study, MEL consulted 2016 incomes from the Bureau of Labor Statistics and rental price data from Zillow for 20 of the largest cities in the U.S. (We didn't stick to the 20 largest cities because who the hell dreams of living in Jacksonville, Florida?) We then took the annual mean wage for each city, assumed a 25 percent tax rate (which is improbably generous, we should add) and compared the post-tax income to the median rental price for a one-bedroom and studio apartment.
The results were staggering and sure to give Dave Ramsey a coronary.
(Author's note: It's here that I'd like to head off any overscrupulous readers who may want to criticize our methodology—specifically, the whole "comparing mean to median" part—and clarify that our results, while extremely cool and good, are intended to be a rough, yet enlightening illustration of how batshit expensive it is to live in certain urban area nowadays, and not the end-all, be-all authority on the topic.)
The Data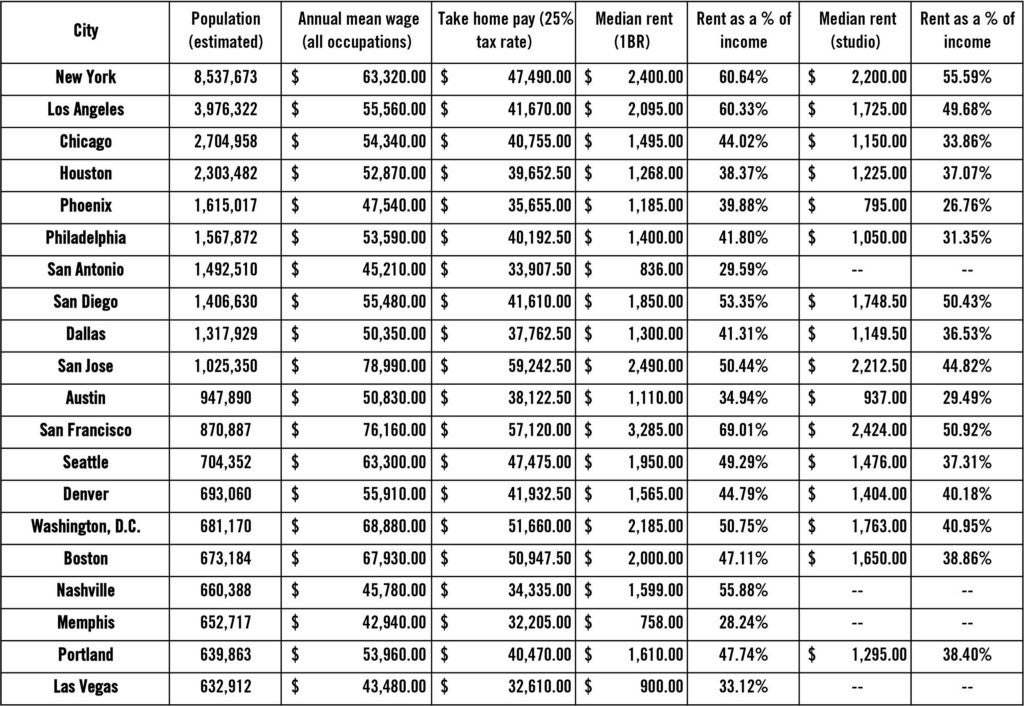 For New York and L.A., the two largest cities in the U.S., the average rent-to-income ratio for a one-bedroom apartment was 60 percent, twice the suggested limit. The ratio was highest in San Francisco, though, coming in at 69 percent (nice).
The prices are outrageous, and explain why so many New Yorkers complain the city has lost its charm, why so many wannabe stars wash out of Hollywood and why computer engineers earning $200,000 in Silicon Valley can have trouble making ends meet.
The data reflect a troubling nationwide trend: With U.S. cities becoming increasingly dense, and rents increasing at a corresponding clip, the number of Americans spending too much money on rent is soaring.
More than 20 million Americans spent more than 30 percent of their income on rent in 2014, a record high, according to a Harvard University report released last summer. Of those families, 11.4 million spent more than half their income on rent (also a record high).
Indeed, there were only four cities beneath the 30 percent threshold: Memphis and San Antonio (for a one-bedroom) and Austin and Phoenix (for a studio). It makes your childhood dreams of becoming a cowboy-country music star seem downright plausible.
You might be thinking: This is an average of all wages. I am a smart and cool college graduate who will earn far more than the average bear, however.
Ah, you adorable naif.
Your College Degree Won't Make It Much Better
The BLS doesn't provide data on the average salary for people with a bachelor's degree in each city. But PayScale, the popular salary data startup, has such data for seven major cities: New York, L.A., Chicago, Houston, San Francisco, Seattle and Boston.

And using their data we find that life is only slightly easier, on average, for people who completed a basic undergraduate degree.
The numbers paint a pretty dismal portrait for our nation's college grads, and communicate something profound: If you're going to live in a major U.S. city, you better be better than average.