Matthew Clark, 18, did not want to see another selfie-taking twink kneeling naked on the floor in front of a mirror and exposing everything. Sure, he'd mutually followed a slew of men on Instagram simply because they had being gay in common, but Clark wasn't interested in seeing strangers naked.
So last November, for the seventh time, Clark politely asked to be removed from a guy's Close Friends — Instagram's private stories. Clark even said please.
This was no recourse for the offended twink. "Oh. More than happy [to] remove you. Didn't even mean for you to be on it, your not up to my standards hun x," they replied.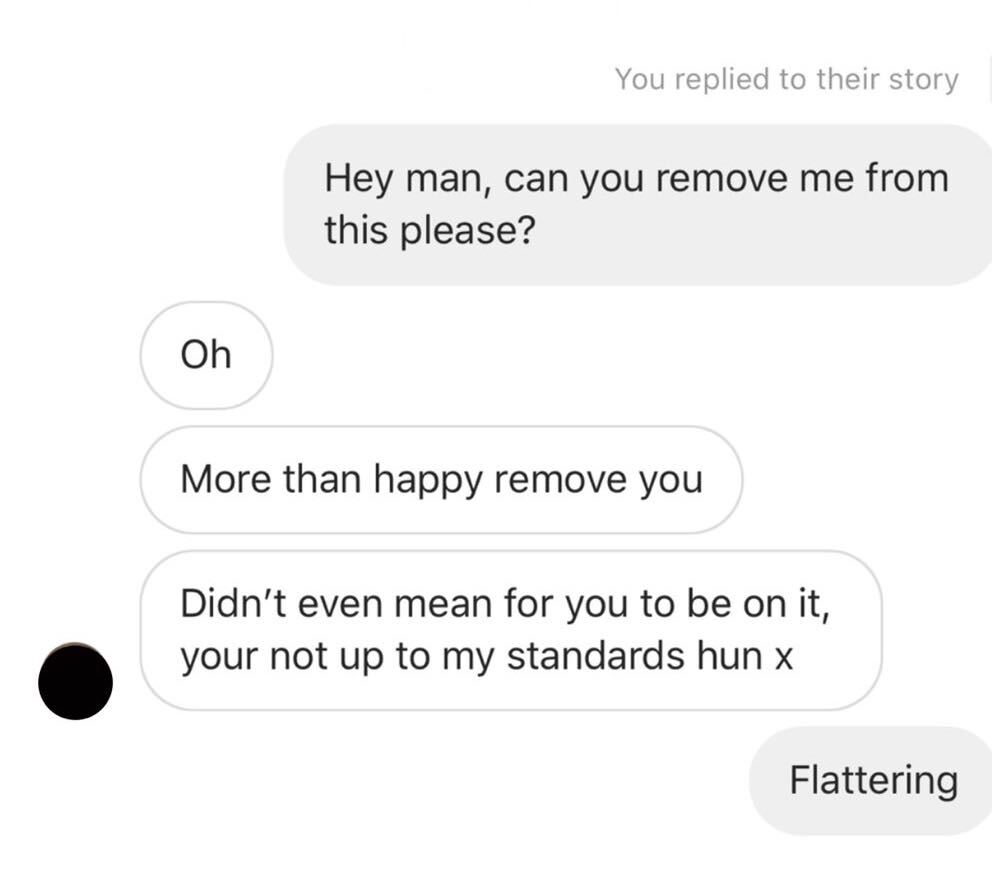 'Close Friends' Is the New Pandemic Bar
Ten weeks into coronavirus quarantine, Instagram's Close Friends stories are the digital neighborhood pub, a place to vocalize frustrations about your boss, share your pandemic drinking games and post thot pics in hopes of finding a friend to sext later.
The green circle indicating a Close Friends post is a virtual Hey, can I buy you a drink? Some users are sober and not suffering from quarantine horniness.
George, 23, from Athens, Greece, is not publicly out as gay, but that doesn't mean Instagram guys aren't trying to flirt with him via suggestive butt pics. One guy didn't take George's feedback to his underwear selfie well. "I asked to be taken off the list since I'm in a relationship, and the next thing I know, I was blocked," George tells me.
Instagram prioritizes Close Friends stories, pushing them to the top of the queue. The more you interact, the closer to the front they go. A Close Friends removal DM is a sobering retort to what my colleague Magdalene Taylor calls the delight of being added to a user's secret list. "It's for the people in your life who you know won't judge you or consider any social media content in your next performance review," she writes.
I hate to break it to you, but some of your followers are probably judging your Close Friends content. "A girl I barely know was on there talking about her family, and I didn't care about her business," Courtney Bowden, 22, from Baton Rouge, Louisiana, tells me.
NSFW on Instagram
Instagram adheres to stringent censorship rules, prohibiting photos showing full nudity and sex. Nude paintings and sculptures are allowed, as well as photos of post-mastectomy scarring and women breastfeeding. Exposed nipples on people with breasts and fully nude ass pics are out.
Close Friends stories are a no man's land, though. Anecdotally, I've seen friends post full nudes behind their green circles. If a friend objects and reports your ass pic, Instagram will remove the photo. That's why there's an unspoken no-snitching rule for nudes. If you don't like what you see, swipe out.
Sometimes that narc is your niece. Kamil Jordan, 23, never expected to see inside her aunt's green circle. "She posted a video (fully clothed), and it said something like, 'How I'm sitting on faces after the quarantine,'" Jordan tells me. "I was like, ?11 Girl ?"
Later, while Jordan and her mom were on the phone with the face-sitting aunt, she politely asked to be removed. But her aunt laughed it off, and Jordan is still getting her auntie's unwanted ass pics.
Other times, you're the secret Insta thot being humbled by a family member. In March, a gay comedian and friend of mine (who asked to stay anonymous so he wouldn't be labeled a "CF slut") pivoted to bathroom underwear selfies. He removed all family members from his Close Friends list but forgot one thirtysomething female cousin. "I posted a mirror thirst, and [she] was like, 'Ew, what is this?'" he tells me.
Blocking or muting the user is the most common way to avoid unwanted posts and an awkward conversation. Emilee Rietveld, 23, exchanged Instagram handles with a friend's coworker she briefly met at an apartment party. She wasn't down to see his private stories, though. "They posted so much that I ended up just blocking them and moving on," she tells me.
Filtering Out Fake Friends
Close Friends lists can quickly pile up full of pals, former friends turned acquaintances and ex-partners. Not everyone should have lifelong access to your debauchery.
Bridget Jones, 21 (yes, that's actually her name), routinely cleans out her Close Friends list. When the feature first launched, in 2018, she added over 100 followers. Much like the fictional Bridget Jones, she has since experienced her share of ended friendships. She's whittled her list down to fewer than 30 people. "Not everyone stays an angel, and not everyone deserves to see," she tells me.
For users lucky enough to achieve Close Friends status, when it comes time to shoot your shot, play it smart. Sometimes being too eager will leave you curbed. Samia Khan, 27, recently obliged an old university pal when he asked why he was on her Close Friends list. "When I said it's nothing special, he got offended and blocked me ," Khan tells me.
Better luck next time, pal.