It's been said that we're having less sex since the election of Donald Trump. "After the Election, I Lost My Sex Drive," an Elle headline revealed. "Donald Trump Is Destroying America's Sex Life," read another on Slate.
But there's a certain breed of writer whose erotic imagination was sparked by the inauguration of our Pussy-Grabber-in-Chief. On sites like Archive of Our Own and Wattpad, pornographic tales featuring The Donald and a revolving cast of characters have flourished in the past few months. Who needs the intimate details of Trump's night with Stormy Daniels when you can read about him getting it on with a T-Rex, Bernie Sanders or Vladimir Putin?
It's that last fantasy scenario which captured the eye of Concordia history professor Alison Rowley. In a recent paper, Rowley waded into the cesspool of Trump-Putin erotica — at least 50 titles and counting — in search of answers. Had the "pornographication of politics" changed since the days of Sarah Palin? Why were writers portraying Trump as the loquacious bottom to Putin? And what was one to make of photoshopped images like Trump and Putin enjoying penis popsicles at a BDSM fair or Putin sitting astride a centaur pig with Trump's face?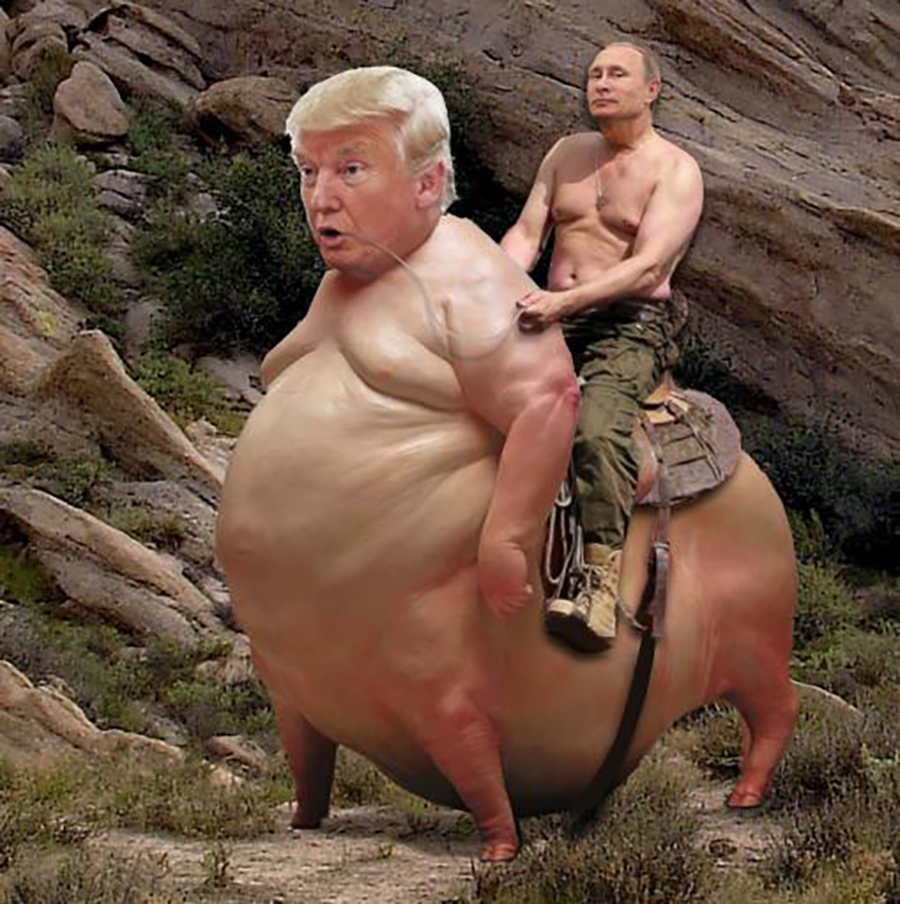 The bromance suggested between Trump and Putin is obviously meant to undermine Trump's public persona and denigrate the president's masculinity. (The idea that bottoms are less powerful is also a retrograde and homophobic trope.) But Rowley sees, in this erotic fiction as well as in billboards of Trump and Putin mid-embrace, a strain of homoeroticism unprecedented in American politics.
"The biggest change right now is that politicians are being portrayed in same-sex relationships," she explains. "That's only possible because of Trump's rather sexualized campaign and because Putin transformed himself into a sex-symbol, most notably after 2006, when he allowed the first shirtless photos of himself to appear." (Putin continues to be comfortable freeing his nipples, too: The Russian president was recently photographed plunging himself into an icy cold lake, inspiring a kind of mock Russian Ice Bucket Challenge.)
The practice of inserting politicians in imaginary sexual scenarios is a relatively recent phenomenon; so-called "real person fic" was long considered a no-go for writers, given that it can run into thorny issues surrounding the ownership of public identities, not to mention questions regarding consent. In 2002, one of the earliest fan-fiction forums, Fanfiction.net, banned all fanfic involving real people. "But as internet usage grew, more people ignored that unofficial rule," Rowley says. "And the Trump and Putin fan fiction is the tip of the iceberg."
To that end, there are also stories featuring Trump, Mike Pence and Bernie Sanders, sometimes in combination with each other (and Satan). Hillary Clinton is often depicted as a dominatrix, while Trump's adult children sometimes appear as guest stars.
The master of the erotic fan-fiction genre is undoubtedly Chuck Tingle, who has authored more than 100 niche gay erotica ebooks since his first book, My Billionaire Triceratops Craves Gay Ass, was released on Amazon in 2014. His titles envision a world in which the news makes people horny, not suicidal. He runs the day's events through the "Tingleverse" — what he calls his fictional universe — and makes lovely, ridiculous porn out of it.
As for Trump, Tingle has imagined the president's ass being pounded by things both literal and existential —a T-Rex, his fabricated wiretapping scandal and the ghost of his incriminating tax returns. But when I connect with Tingle, who lives in Billings, Montana, he's careful to add the caveat that the star of his books is a fictional character named "Domald Tromp," not Donald Trump. Tromp exists in a different space-time continuum, according to Tingle — who, it must be noted, is known for staying in his loopy character during interviews.
"There are layers of reality where TROMP is a handsome man and not made of VOID WORMS but he's still bad and also there are some timelines where he's a bad-boy dinosaur," he says. In most layers of the Tingleverse, he adds, Tromp is "made of shrieking void worms who wear him as a suit of human skin."
In one of Tingle's stories, Tromp lures a "muscular T-Rex prostitute" into peeing on him. Tingle says Tromp would be drawn to making love to a dinosaur because they're the "natural bad boys" of prehistory. "You might think 'wow, this T-Rex is dangerous,' but he is also handsome. Then, when you get to know him, he might have a heart of gold, but you might also have to break up because he cannot commit to your relationship."
What does it do to one's brain to write about Trump having sex? Tingle says he tries not to think about the act of Trump making love for too long because otherwise he starts to feel the "GVM [greater void madness] start." This, he continues, happens when you "focus too much on any creatures of the void and their way of cosmic horror."
Tingle's ultimate goal is to teach his readers that "LOVE IS REAL." He does this not just by writing Trump erotica, but by envisioning asses being fucked by a variety of sentient objects, including handsome cars, living corn and hot cups of coffee. He's also not afraid to go meta and bizarre with titles like Pounded in the Butt By My Own Butt and Pounded By the Pound: Turned Gay By The Socioeconomic Implications of Britain Leaving the European Union.
So as all of the tawdry details about Stormy Daniels's night with Donald continue to leak — making you painfully aware of the fact that nothing will destroy this man's presidency — do yourself a favor and read about Trump being peed on by a dinosaur instead.