We're such stoners that 4/20 isn't just a day, it's an entire week. And it's not just weed we love, it's the act of smoking and everything even loosely related to breathing in toxic fumes — whether that's chain-smoking cigarettes, vaping Juuls, suffocating a rack of ribs, or hell, even committing arson! Welcome to our exploration of all things smoke.
When I meet 93-year-old Evelyn Cassini, owner of the Casino Bar & Grill — a landmark roadhouse saloon and community touchstone in Bodega, CA, with an ancient 7 Up sign out front — she's wrapping up a successful game of solitaire on the bartop poker machine. Stuffed raccoons and tangled deer antlers keep watch over pool tables and a scratched up hamburger grill as Cassini unceremoniously motions to an empty barstool and asks what I want to know about the Bodega Volunteer Fire Department next door.
"Everything," I reply, tugging on a 7 Up.
She should know, given that for a long time the Casino, purchased in 1949 by Cassini and her late husband Art, served as dispatch for the fire department with Cassini fielding emergency calls on the bar phone. "I memorized all the ranchers' numbers and would call to relay the messages," she explains. Since her house number and the bar number were the same, her children weren't allowed to be on the phone any more than three minutes at a time or they'd get a backhand from mom. If there was a major fire, the Casino would become a command center, and Evelyn would communicate with the California Division of Forestry in Guerneville to let them know what was needed. "It was all done by rotary telephone," she explains, "and it worked."
Bodega, population 500, is 70 miles from San Francisco and perched along the Bodega Highway, a two-lane country road that connects the City of Santa Rosa to the Pacific Ocean. Blink and you'll miss it, the town is barely one block long. In addition to the Casino and the fire department, there's a post office, coffee shop, surf shop, country store and smattering of galleries and souvenir shops looking to lift a few bucks from cityfolk on their way to the beach. A central attraction in town is St. Theresa's Church, which was featured in Alfred Hitchcock's 1963 film, The Birds.
While the response area of the Bodega Volunteer Fire Department (BVFD) is only 16 square miles — 70 if you include mutual-aid response agreements with nearby towns Valley Ford and Bodega Bay — the BVFD is a lifeline for the rural community it serves and its 17 members take their jobs seriously.
Same for the nearly 25,000 other nonprofessional fire departments in the U.S., which save taxpayers $139.8 billion per year in costs according to a 2017 report from the National Fire Protection Association (NFPA). Nearly three-quarters of U.S. firefighters are volunteers, with 83 percent of the 30,000 fire departments nationwide being "all" or "mostly" volunteer. That's because the country's smallest communities, like Bodega and many throughout the Midwest, are almost always served by nonprofessional departments.
And yet, across the country, small, rural firehouses are struggling to recruit and retain volunteers despite the growing number of calls, which have tripled in the last 30 years per the NFPA. "Career and volunteer firefighter and emergency services are the infantry in every community when disaster strikes," says Denis Onieal, Deputy U.S. Fire Administrator. "There's no force at the state or federal level, with the exception of the National Guard, that can provide a community with rescue, mitigation and recovery services like the local fire and emergency services."
Here in Bodega those are provided by the BVFD, created by Art Cassini and a couple neighbors in 1952, prior to which community members would call a municipality 30 miles away and hope for the best. Art lived closest to town so he kept the firetruck in his garage; often it would just be him and a few kids responding to calls. All the while, Evelyn manned the phone. When a wildfire came over the hill and threatened her brother's house, for instance, she dispatched every bulldozer in Bodega to backfire vegetation and divert the blaze. "Otherwise it would've come all the way to Bodega and wiped us out," she explains calmly.
"The town loves our firemen and we're behind them 100 percent," she adds, repeating that the safety of Bodega depends on them to promptly answer the call. They've gone above and beyond, she says, solving problems in ways they can't anymore due to regulations. (Responding to a call now requires completion of Firefighter 1 Academy at a local junior college, covering basic EMT and first-responder training.)
Increased regulation and oversight, while protecting firefighters, has changed the definition of "volunteer," says Steve Perucchi, a 59-year-old dairy farmer and second-generation BVFD firefighter who admits he doesn't always wear a uniform — or clean clothes — when responding to calls. "In the old days, we were flying by the seat of our pants. If there was a fire, you just called the Casino, and a few of us would show up in whatever we happened to be wearing and use common sense."
"You and I can't just grab a hose and break into someone's house if we smell smoke," Cassini adds, but she quickly notes the regulations haven't changed the main component of the BVFD: well-trained volunteers providing a much-needed public service for their community. "As far as performance goes, we've never, ever backed down," she says, proudly.
That unceasing devotion persists today, evidenced at training sessions attended by most of the department's 17 volunteers — one chief, three captains, two engineers and eleven firefighters — held every other Thursday at a state-of-the art firehouse built in 2013 by locals. It took eight years and $1.5 million to construct the building, far less than the $5 million it would've cost otherwise. Those who couldn't contribute monetarily did so by offering labor and services, with contractors digging the footing for the foundation and ranchers banding together to finish the interior.
I'm taken on a tour of the facility by 31-year-old Josh Perucchi, Steve's son and a third-generation captain in the BVFD who splits his day job as a paramedic in Petaluma and making hay on his family's dairy farm. Perucchi's grandfather was among the first to join forces with Art Cassini back in 1952, fighting fires by swatting burning grass with wet burlap sacks. Thankfully, the BVFD has come a long way, as Perucchi leads me into an expansive garage that holds three glistening red trucks, or "pieces of apparatus" as he calls them — a "Type 1 Fire Engine," used for structural firefighting and vehicle extrication with the Jaws of Life; a four-wheel drive "Type 3 Fire Engine" used primarily for wildfires; and a Water Tender that contains 2,000 gallons of water that's shuttled to fires since there aren't hydrants in the BVFD response area. A small garage next door houses a smaller "utility vehicle," essentially a mini Hummer with a water tank used for off-road beach and trail rescues. All four pieces of equipment — costing $500,000, $330,000, $350,000 and $25,000, respectively — were purchased on federal grants, the majority written by Josh, since the nonprofit department doesn't have a tax base. As such, funding for the BVFD is pieced together with such grants combined with fundraisers, donations and support from the Sonoma County Board of Supervisors.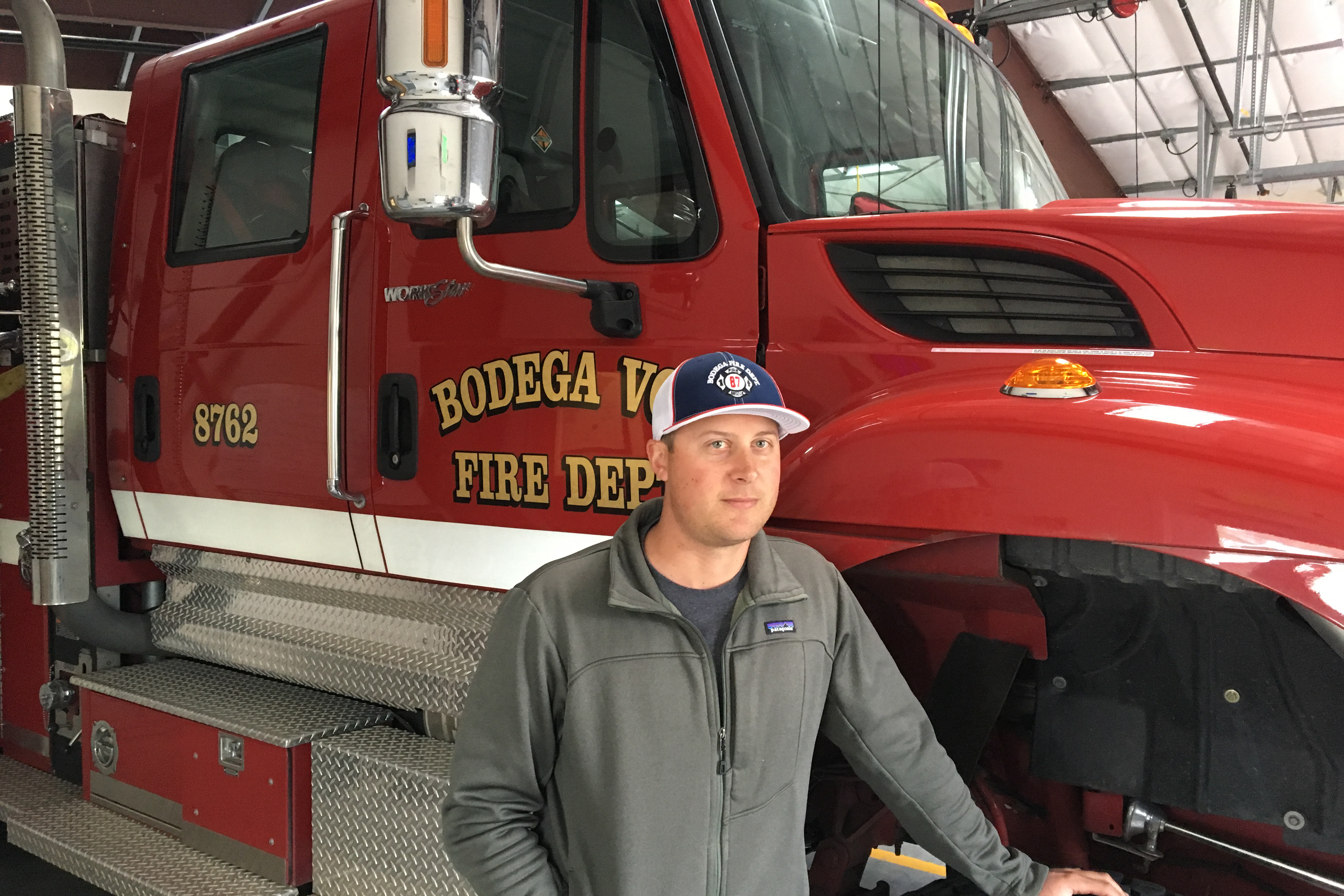 Embedding with firemen is unnerving. Every few minutes I'm startled by a punctuating beep beep, a pre-alert signal on the ever-present dispatch system echoing throughout the station announcing the names of units responsible. Next is the type of call — "medical aid" is most common, followed by "motor vehicle accident," "vegetation fire," "vehicle fire," "structure fire," "cliff rescue," "water rescue," "vehicle extrication," "hazardous condition" and "public assist" — followed by a series of jarring tones programmed to alert specific pagers. We're listening for "beep beep… Bodega," but will also respond to Bodega Bay and Valley Ford if there's a fire, a vehicle accident or a cliff or water rescue.
The BVFD averages two or three calls a week, slightly more in the summer, two of which come within hours of my arrival. The first is a medical call — a cardiac arrest a mile down Salmon Creek Road — so I'm not allowed to ride along, but Josh debriefs me afterward. They initiated care but pronounced the man deceased while waiting for the ambulance to arrive, at which point their role shifted from first responders to consolers.
"We hung out with the family for a while and let them know the process," he says, since most people don't know what happens next after someone dies. Perucchi explained that the sheriff would come by shortly to coordinate the coroner and removal service, and that mental-health resources were available should they be requested. Communicating this information with tact and empathy is part of a volunteer firefighter's job description.
"Everybody knows everybody in a small town so we're responding to neighbors' grass fires and friends' motorcycle accidents," says 33-year-old Sophie Martin, one of two women in the department who works in the coffee shop and is training to be a career firefighter. "As a result, the town has greater trust with us as well."
After the tour, Josh and I head for lunch at the Estero Cafe, a family owned and operated breakfast and lunch restaurant in Valley Ford, another one-block town 10 minutes down Route 1. Josh's childhood best friend makes the cheese atop the burger, which he recommends, but before we can open the menu, a call comes over the pager: "Beep beep… Bodega Bay, cliff rescue — vehicle off cliff."
"That's us," Josh says calmly, grabbing his keys and walking toward the door (firefighters never run, I'm told). The waitress, aware of Josh's credentials, understands the sudden departure. "Do you at least want a cup of coffee to go?," she offers.
But we're out the door and into Josh's charcoal Chevy Silverado in a matter of seconds. A map appears on his phone via an app, Active911, which tracks all 17 volunteers and says whether they're coming or not. Three have responded to this call: Josh; Ron Albini, the BVFD chief; and Wesley, Ron's 20-year-old son. Others are listed as "watching," meaning they're not going to make it for the first truck but can come to the station to cover a second call if needed. "I tend to get away with driving fast on the way to the station for an emergency call because I know the [California Highway Patrol] around here," Josh says, gunning the truck while explaining his heightened concern. They dispatched four different agencies to Westshore Road, a point jutting out from the coast with giant cliffs that drop off into the ocean hundreds of feet below. "People are stupid and regularly fall off while taking selfies," he explains.
In 2015, a six-year-old fell from a 262-foot cliff here at nighttime. Josh and another firefighter were first on the scene, rappelling down the cliff with a stretcher. He recalls massive waves crashing around him as the Coast Guard looked for the kid with a searchlight. They eventually found him — unresponsive with broken arms, legs and a head injury — and took him to the hospital, where he fully recovered. I'm hoping for a similar outcome this time around.
We screech into the station in under five minutes to join the Albinis in the half-million-dollar fire truck and head off to the cliffs, sirens blaring. But then, moments later, an update comes from dispatch relaying a message from the first unit on the scene. It turns out only one tire of the unoccupied vehicle is off the road. "No injuries," the dispatcher reports. "Cancel Bodega unit."
"This happens a lot," Josh says. "A call that sounds intense but turns out to be a false alarm. You obviously don't want people to get hurt, but new volunteers often get frustrated."
We arrive back at the station as volunteers are gathering for the every-other-week lecture and training session, where I find a group shooting pool in the rec room while others sit on recliners watching a 49-inch TV, all of which are newfound luxuries in the renovated firehouse, as is a full kitchen, a lecture hall and an upstairs sleeping corridor with three dorm-style bunks. "Our old station was just a garage," Josh explains. "We didn't even have anywhere to put our gear so we kept it in our cars. It took longer to respond to incidents because we had to pull all the crap out. Now, depending on what kind of fire it is, we have different types of gear waiting for us in lockers at the station. It's a lot more efficient."
Tonight's training is led by Jim Barrios, an instructor with Sonoma County Fire and Emergencies, who explains that the weather is changing and wildland fire season is now upon us, predicting "brown grass" by May 5th. The BVFD never used to be deployed on mutual aid strike teams battling California wildfires, until October 2017, when more than a dozen fires broke out in Sonoma County — one of which, the Tubbs Fire, became the most destructive wildfire in California to date, burning 36,810 acres and killing 22 people. The BVFD ended up being in Santa Rosa for seven straight days.
"We thought we'd seen the worst of the worst in 2017," Barrios says, beginning his wildland fire behavior lecture. "Then, one year later, Paradise happened. Also known as the Camp Fire, which in November 2018, killed 85 on its way to becoming the deadliest U.S. wildfire in a century. I scratch my head and wonder what's coming next. Every year is 'the worst fire season ever.' I've got a bad feeling about Marin County. It's been sailing along for the last 40 years, and Mount Tam hasn't burned in forever. If that takes off, Marin County's gonna see a conflagration of epic proportions."
Changing tone, Barrios asks if anyone remembers the "rate of spread" at Paradise, referring to how fast the fire moved.
"Three football fields a second," answers Vaughn Higginbotham, a 22-year-old tow truck driver who incidentally came within 400 votes of unseating an incumbent city councilman in the last election. (Higginbotham's platform: Get the youth more involved. "We're gonna inherit this city so we might as well shape it the way we want," he tells me.)
"Three football fields a second," Barrios repeats. "People attempting to get into their cars were completely overrun by the flames. How can we possibly get containment on something like that?"
There's deafening silence from the volunteers. "By ignoring where the fire is now and looking at where it's headed," Barrios answers. "That's why tonight we're going outside to work on progressive hose lays."
As the volunteers suit up in their Nomex Wildland Firefighting gear, which is three times lighter and more maneuverable than their structure fire suits, Barrios tells me a "progressive hose lay" is among the most common ways to fight a wild vegetation fire. One hundred feet of hose is hooked to the engine while two other 100-foot rolls are packed on each man's back. At the end of the first 100 feet, one man spins another around and lifts a roll off his back, and after a brisk walk, heaves it like a bowling ball, unrolling it. "Knowing how to uncoil a hose quickly and effectively under stress is one of the first things we teach in fire academy," Barrios explains, handing me a roll of hose and asking me to give it a try. I used to be decent bowler and confidently accept the challenge, but unlike the others who gracefully lay down hose like fly line on a lazy river, I trip a little while letting go and my roll travels two feet before spilling over, uncoiling in a tangled mess.
Meanwhile, Vaughn, Josh, Sophie and the rest of the volunteers have successfully strung together 600 feet of hose up a steep hill in two separate flanks, connecting male and female couplings at the end of each line (in the dark). It's a choreographed waltz with each dancer knowing exactly his or her role — clamping, connecting, uncoiling, repeat — until Barrios throws them a curve ball and clamps one line at the bottom of a hill, mimicking a hole tear. "You've got a burst hose line back here!" he announces over the radio. "You've lost pressure and there's no water. Come back and replace that segment of the hose!"
Without hesitation — or even a hint of frustration — the volunteers briskly walk back, find the hole and begin running a new line.
"This is exactly what they'll need to do this season," Barrios explains. "Hopefully, they haven't already laid 2,000 feet of hose." They only had one fatality in the infamous 2017 fires in Santa Ana, a water tender driver who drove off the road. Barrios credits that with everyone being smart, egoless and working together.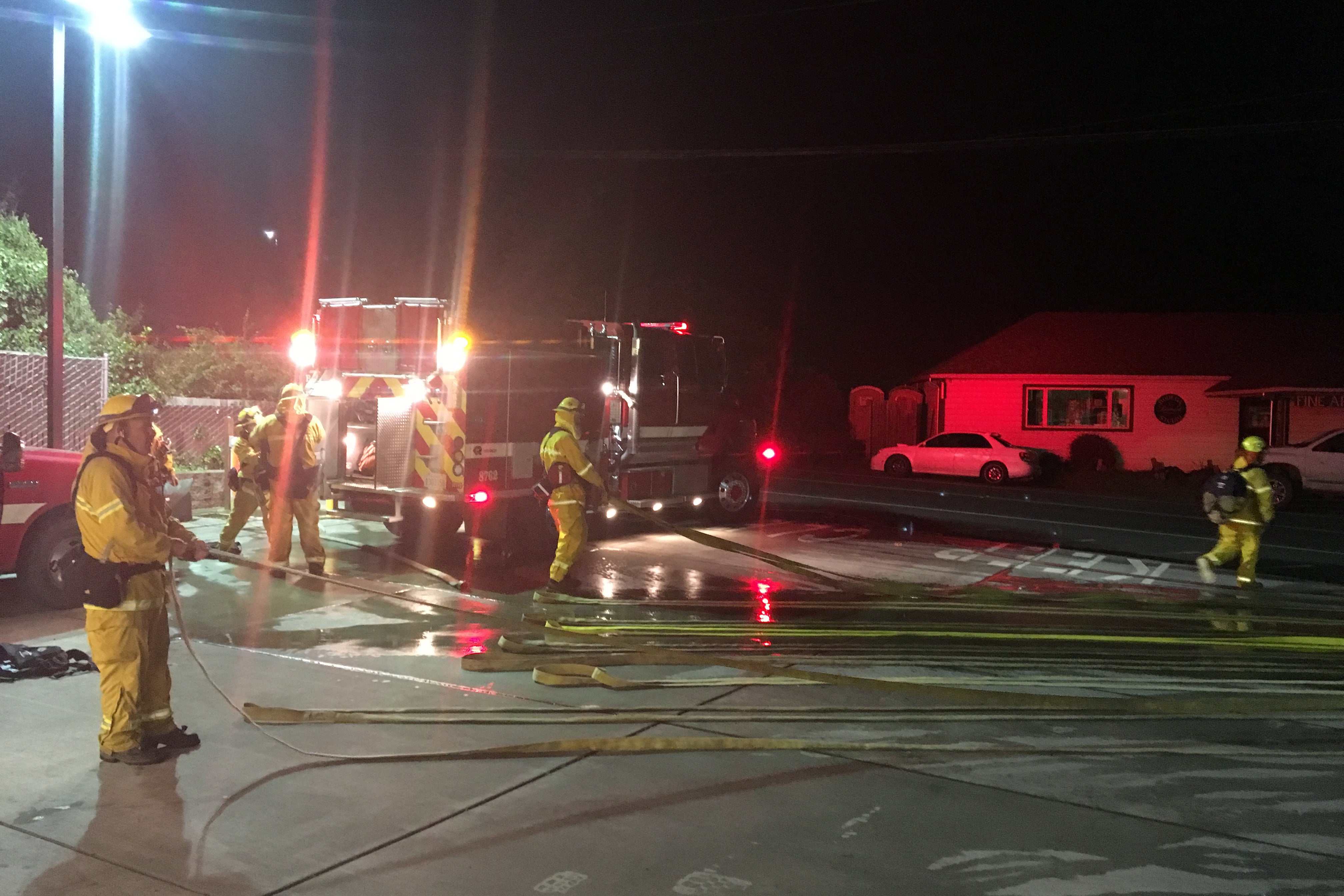 When the drill ends, after a couple hours of standing outside in the midnight Sonoma cold, I'm shivering and checking my watch. But the volunteers are still at work wiping down each hose, one by one, and recoiling them on the truck. When I tell Barrios I'm humbled by their uncompensated devotion, he says it's a calling they accept with pride. "We've never seen fires like this before," he says. "Never even studied before. But it's the new normal."
And unlike specialized career firefighters, the BVFD volunteers do all of it — cut roofs, run hoses, tear roofs off cars, administer CPR — because if not them, who else?