"Wait, you're wearing what?" my friend asks.
"I'm rocking a pair of magnetic underwear for a week," I respond.
"Why the fuck would you wanna do that?" he says, between laughs.
The short answer: Because I want to see what magnets do for my dick game.
The longer answer: Because as much as I love science, I've always been willing to entertain terribly ridiculous ideas. Aliens live inside our planet, you say? Okay, convince me. You've invented a perpetual motion machine that draws its power from the zero-point energy field? Yeah sure, show me. I'll straight-up listen to any idea, no matter how bat-shit crazy it sounds. For a couple of reasons: 1) All genius sounds strange, at first; and 2) in a world as bleak as ours, the frontiers of what's possible and acceptable still amuse me.
All of which hopefully explains why I was so curious when I saw an online ad for magnetic underwear (or as industry leader, Vince Klein, calls them, "intelligent underpants") — and why I totally ordered a pair shortly thereafter.
In fairness, I did do a little research on Vince Pants (their official name) beforehand, reading everything I could find on Klein's website. I studied product descriptions and reviews, as well as the company blog. It was all more or less grammatically incorrect and nonsensical, though that's partly what made it so much fun to wade through. For instance, check this paragraph from the product description page:
"Because scientists are tireless in their pursuit of discovering new ways to treat diseases, they have shed light to the recovery of patients. Among the recent discoveries is the use of magnetic field therapy and magnetic underwear and gourmet. Although it was used even during the time of Cleopatra, it is only recently that it has gained favorable popularity. Luckily, most doctors and practitioners in the field of science have openly welcomed this procedure."
Across the board, Vince Pants makes some bold claims. Such as, magnetic underwear…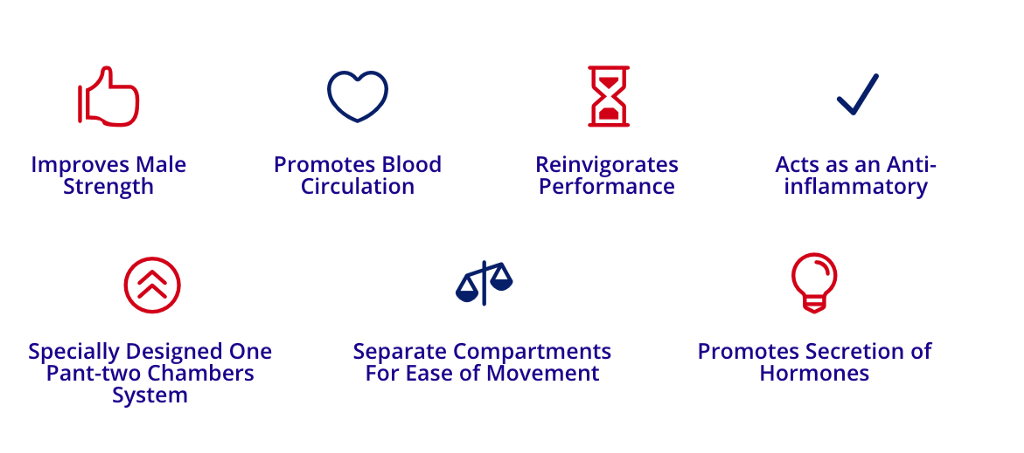 But let's not pretend. Vince Pants knows the real reason men want to buy magnetic underwear: They want to treat their impotence. They want a bigger, fuller dick. They want a more robust libido. (And they think that starts in their underwear instead of their mind.) Vince Pants, of course, is more than happy to oblige them: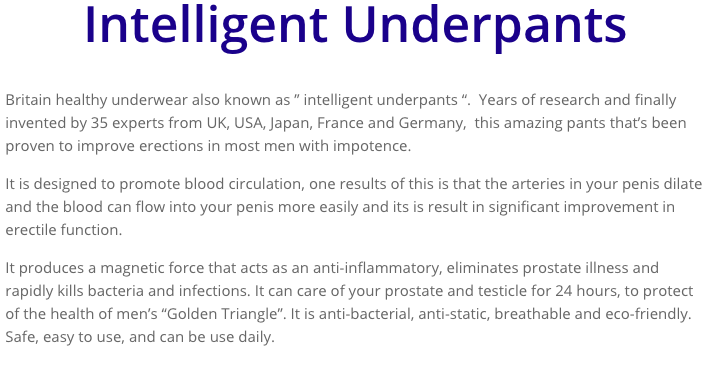 One alleged important factor in how well your magnetic underwear will work is the fit and grip of your boxer briefs. As the company points out over and over again on its site and videos, it's very important you pick the correct size of magnetic underwear. After all: "Tight underwear makes you less of a man," it claims. "This isn't just because tighten whites make even the manliest of men look a hopeless geek and are probably the most effective form of birth control in the known world, which if not controlled can lead to erectile dysfunctional although there is that."
It's easy to laugh at mistranslated nonsense like "tighten whites make even the manliest of men look a hopeless geek." Instead, let's assume that just because the marketing department for Vince Pants can't string two coherent sentences together, that doesn't mean the company can't make life-changing, dick-swelling, magnetic underwear. The best question to ask then: Can magnets actually increase blood flow? And: What does respected science have to say on the subject?
As the Cleopatra reference above indicates, the idea of using magnets to increase blood flow isn't a new one. It's as ancient as the ancient Greeks themselves. In fact, the ancient Chinese, Greeks and Egyptians all seem to have used magnetic lodestones to promote health. And as medicine remained in its infancy, the practice was common for hundreds of years thereafter. Finally, in the 15th century, the Renaissance-era iconoclastic scientific badass Paracelsus busted the common medical myth as magnetic quackery. For the next few centuries, other notable scientists joined Paracelsus to also debunk any claims that magnets held medicinal treatments. Then, however, came Franz Mesmer with a whole new bag of mysticism and occult knowledge. Part of that involved bringing back magnets to medicine — where they've remained on the fringes of acceptability since the 19th century.
These days in particular, there's renewed talk about the benefits of magnetic therapy in healing — for example, strapping magnets to injured areas to promote healing and increase blood flow. However, journal studies, such as this one, suggest that's just more magnetic bullshit and magical thinking. It looked at 29 relevant trials and found that magnets offer no detectable health benefits. Or as the study concluded, "The evidence does not support the use of static magnets for pain relief, and therefore, magnets cannot be recommended as an effective treatment."
In fairness, though, there was also this study of the effect magnets have on the blood. Kinda like Charlie Sheen and his tiger blood, the study created quite a stir back in 2011. A pair of researchers (medical physicist Ke Huang from the University of Michigan and physicist Rongjia Tao from Temple University) were concerned with how much daily doses of aspirin often tear up the lining of a patient's stomach. They wondered if they could replace aspirin as a blood thinner by using the field effects of magnets instead. As such, according to Science magazine, "Tao and Huang let blood flow inside a tool for measuring blood viscosity, which itself was inside an electromagnet producing a field of about 1.3 tesla. They arranged the components so the blood flowed in the same direction as the magnetic field lines. […] The researchers discovered that just 1 minute inside the field was enough to reduce the blood viscosity by 20 percent to 30 percent."
That actually sounds medically important. Lower viscosity means a patient's blood isn't as syrupy, which means it acts less like old motor oil. This could be extremely important for all sorts of blood-dependent conditions or diseases.
But wait, how exactly can a magnet reduce blood viscosity?
One word: hemoglobin.
If you know your physiology, you recognize that hemoglobin is an iron-rich protein found in the blood. Since iron is a ferrous metal, magnets have a profound effect on it. Per the study then, apparently magnets lower blood viscosity by rearranging the iron-rich hemoglobin in a way that makes a person's blood flow more smoothly through their veins. That'd be huge, if true.
Except, it's not true. This critical article takes its time to fully debunk the Tao and Huang study. One of the key findings that kicks the legs out from under the "magnetized hemoglobin" theory is the fact that hemoglobin is not ferromagnetic. That's not to say that magnets don't affect the body. They do. But only when you use much higher strength magnets. "To reinforce this point," the critical article maintained, "the weak paramagnetic or diamagnetic properties of cells or living tissue require a strong magnetic field to have any effect — like an MRI magnet. The small relatively weak magnets used in products with health claims are orders of magnitude too weak to have any such effect."
But here's the thing about Vince Pants: They want you to know they use really, really strong magnets. So strong, in fact, that they're capable of picking up rocks, coins and paper clips. Don't believe me? Watch and see for yourself the magic of Vince Pants magnetic underwear. (At one point, a ruler and a pair of magnetized scissors get involved. Really, the whole vid is magic.)
My magnetic underwear arrived in a can. They were packaged similarly to how you'd expect to purchase tennis balls. There was absolutely nothing high-tech about the can. Good, I thought, save the production dollars for the magnets.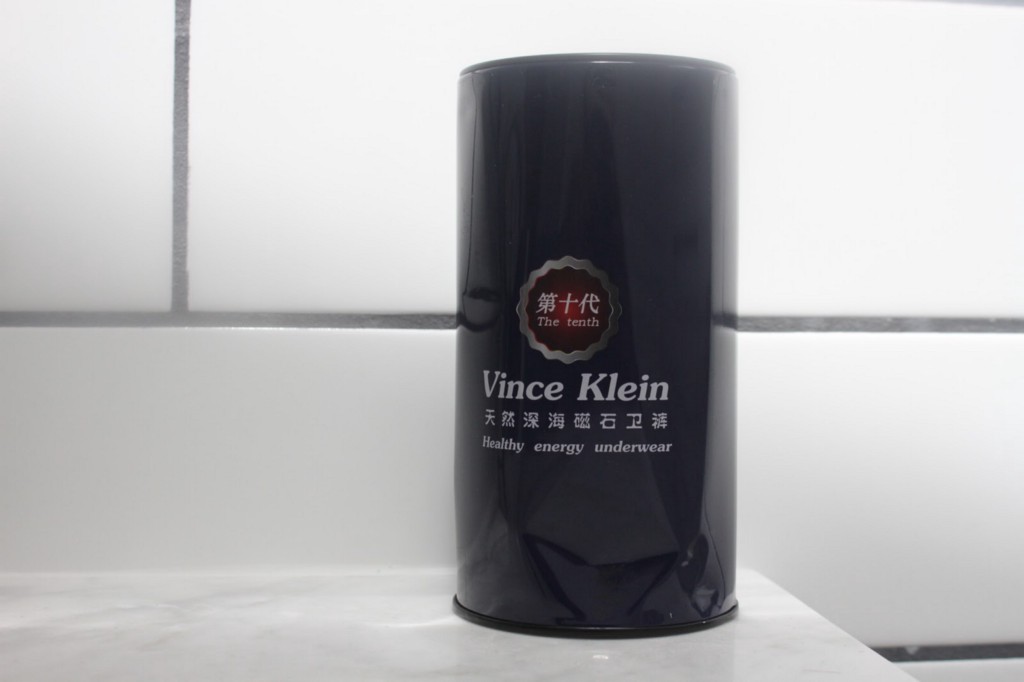 After I popped the top, I found a thin pamphlet. I'd hoped there'd be some instructional information. At bare minimum, I wanted to know how strong the magnets were. But there were only four words of English in the entire pamphlet: "EFFORT RESTORE THE NEALTM."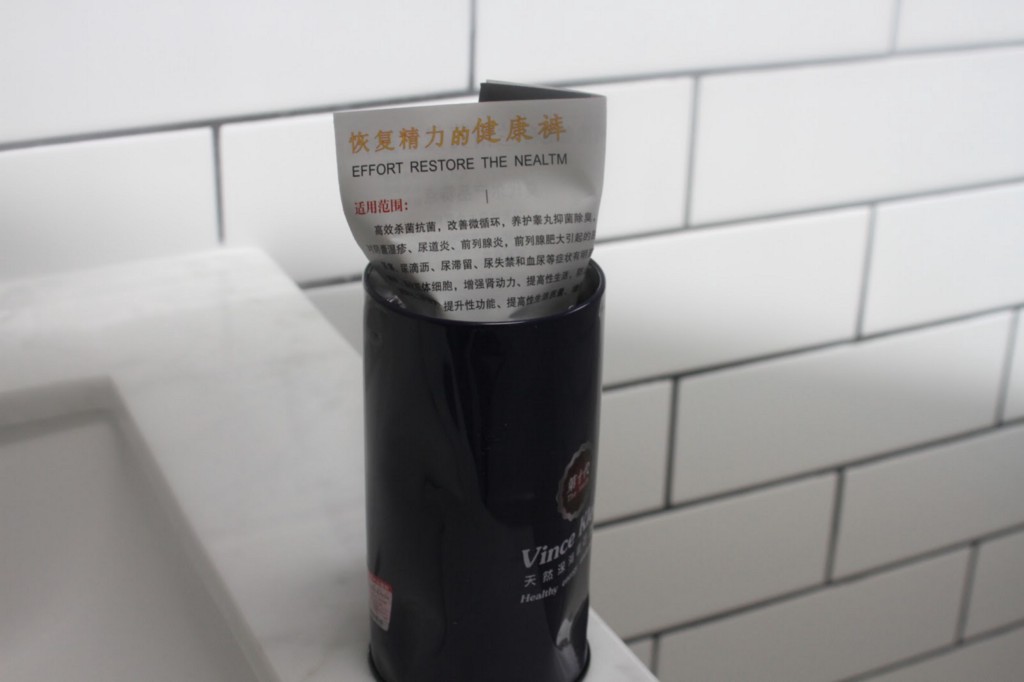 I have no idea what that means. My best guess is it's a bad translation with the added benefit of a typo. But who knows? Anyway, here's the rest of the pamphlet: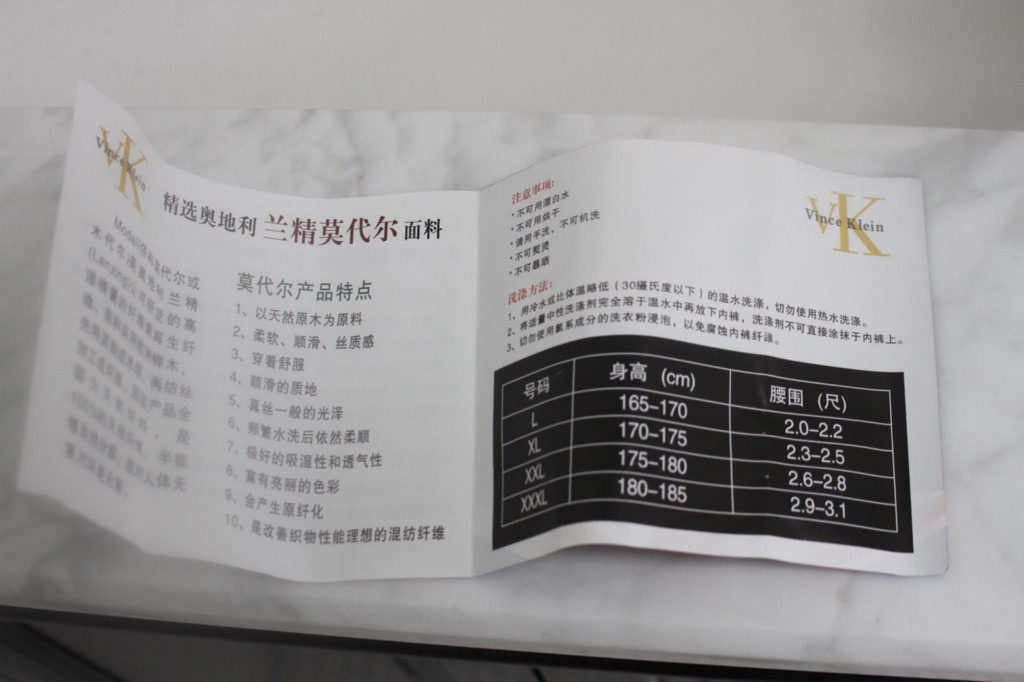 As you no doubt noticed, the pamphlet is written entirely in Chinese characters. I, however, don't read Chinese. This could be a health warning. This could be cleaning instructions. I have no idea. It's all Chinese to me. (Except for that golden Vince Klein monogram in the upper corner of each page. Classing up the joint.)
Caution be damned, I tried them on anyway. They fit and felt pretty much like any other pair of boxer briefs. Except, there was a bedazzled codpiece encrusted with tiny magnets. I wanted to believe this was intended to provide a matrix of magnetic field effects. But most likely, it was just the easiest configuration to mass-manufacture.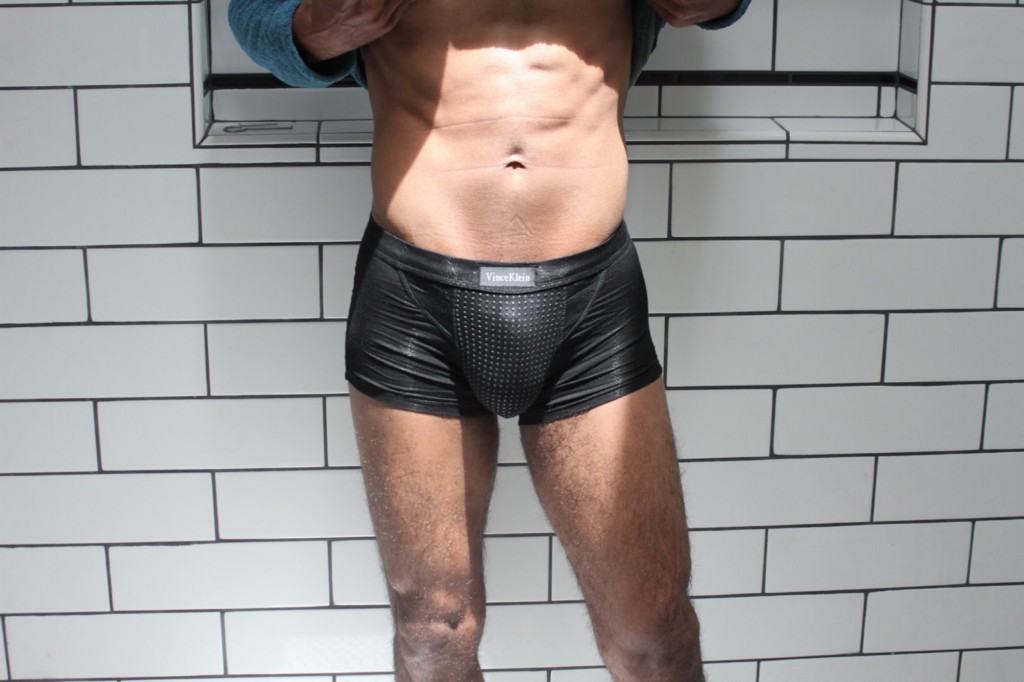 After I'd worn the magnetic underwear for an hour, I noted in my experiment journal: There have been no tingling sensations, no strange woo-woo effects. There have been no noticeable magnetic field effects, whatsoever. The only discernible thing I noticed is the underwear feels hella tight.
This explains why Vince Pants constantly tries to help make sense of their indecipherable sizing chart. Naturally, I ignored their recommendations. My balls are still paying for it. It felt like having your nuts constantly cupped by the Hulk while he wears neoprene gloves. My general discomfort aside, I decided to wear the magnetic underwear around the clock. You know, to test the full effectiveness. That was an equally stupid idea. On the second day I wrote: I woke up this morning with an angry erection. It was hot as a woodfire stove top. I could use this motherfucker to drive nails into cement. So, there's that. Will see if a pattern develops.
The pattern did hold true. Each and every morning, I was greeted by morning wood as stout and sturdy as a California redwood. I don't know if I should chalk that up to the magnets, the tight underwear or maybe just the fact that I'm just horny AF. But it was undeniable and also coincided with the magnet codpiece hugging my junk. On the negative side of the ledger, after careful examination of my crotch four times an hour, every day for a week, I must report: There were no significant gains in length or girth. (But on the positive side: none of my parts fell off.)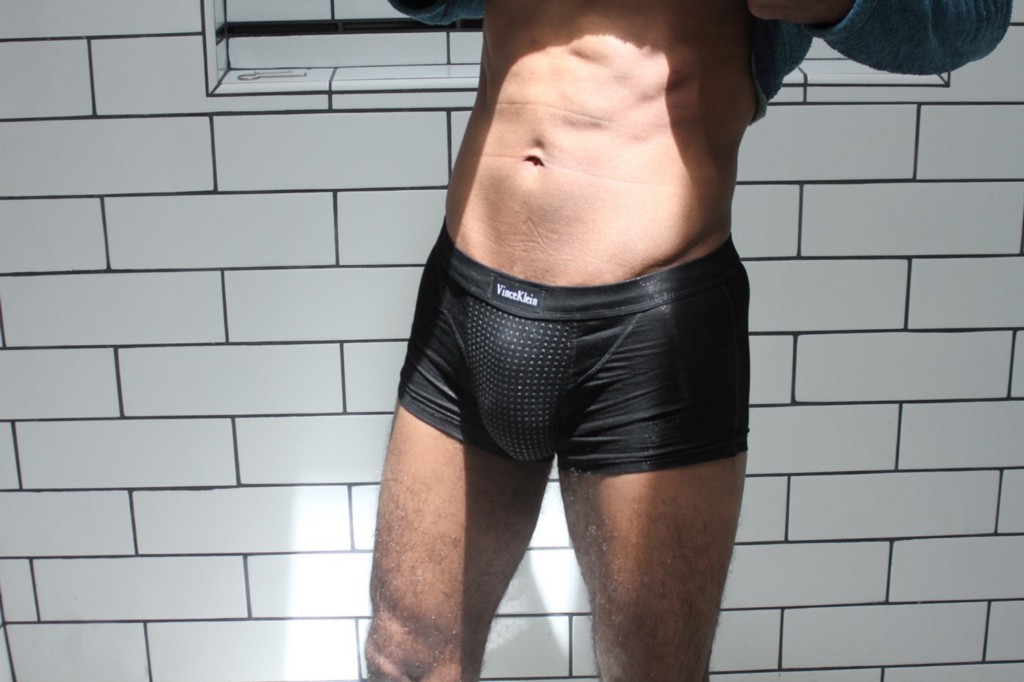 Oh, and one last thing: Earlier this month, a man by the name of Xie Qinrui was sentenced to 12 years in a Chinese prison for fraud. He was selling magnetic underwear. He'd conned 50,000 men out of roughly $1.16 million. Xie bought a reported 100,000 pairs of Vince Klein brand magnetic underwear and sold them online. When the customers didn't get the results they expected, they phoned in to complain. That's when he conned them, yet again. "Xie hired a team of more than a hundred women to answer [the] phone calls," the Shanghaiist reported. "They were told to always refer to themselves as 'coaches,' not 'doctors' or 'experts,' and were given a script that they should follow in order to coax men into investing in a [even more] 'specialized treatment package.'"
As Paracelsus might have warned the gullible: When it comes to anything in life, but especially with dicks, if it sounds too good to be true, it usually is. Especially when magnets are involved.