Butts and masks — they go together like shrimp and strawberries. 
In fairness, though, there is a lot going on right now that doesn't make a whole lot of sense, and, well, masks are the defining accessories of the moment. So if a company wants to go out and sell butt masks, I say many thanks to them for helping fuel the economy at such a perilous moment. And if some people are so concerned about their butts that they're willing to spend their hard-earned coronabucks on a product that promises to make their ass look and feel its absolute best, I similarly say it's totally, completely fine and to just leave them be.
Okay, enough with the bullshit excuses. 
I might as well just cut to the chase and admit it: I'm one of those concerned butt-havers. 
It's not that I think my butt is in particularly bad shape. Sure, it's a little worse for the wear — after all, as a former athlete who's now 36 and hasn't played a meaningful sport in 15 years, it doesn't look like it used to — but I'm not necessarily screaming in terror whenever I see it in the mirror. That said, I didn't sign up for a butt mask because I thought it was in bad shape — I was just kind of excited to put a mask on my ass in the name of beauty. Yeah, maybe it's a little weird, but in the age of coronavirus when there's no better time to experiment with your look, weird is good — and a welcome reprieve from the new normal of endless monotony. 
Turns out, though, it's as dumb as it sounds.
The Problem: Who doesn't want a hotter-looking ass?
The Potential Solution: The Bawdy CBD Butt Balm and Clay Butt Mask (retail price, or at least what I paid for it — 62 bucks). Not literal masks — a point of confusion for me, I'm not going to lie — but two Ban-esque sticks chock-full of ingredients like Mediterranean brown algae, hyaluronic acid, kaolin clay and willow bark, which when combined (they're a package deal) promise to moisturize my skin while simultaneously purifying, detoxifying and firming my ass. 
What I'd Thought the Potential Solution Was: I'm obviously not a smart man, because I thought I was buying a quarantine mask for my butt, but one slathered with, I don't know, Mediterranean brown algae, hyaluronic acid, kaolin clay and willow bark (or some combination of special ingredients therein). Peep this artist's recreation: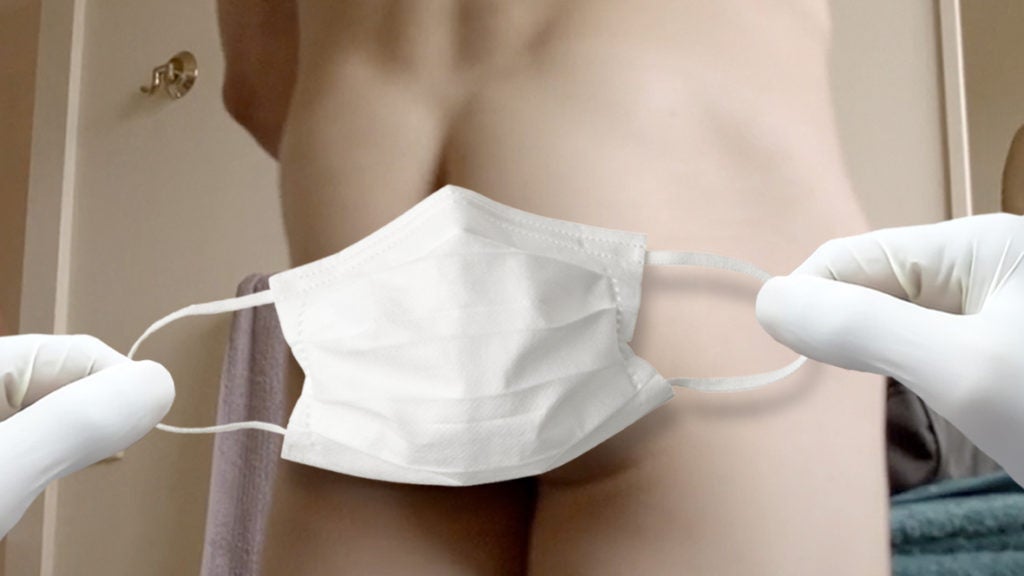 Stupid, I know. I repeat: I am not a smart man.
What a Big-Time Male Porn Star Thinks About My Butt Mask Plan: Once I figured out what they actually were, I was definitely still excited to see what they might be able to do to improve the look and feel of my butt. But I didn't want to blindly believe Bawdy's marketing, because I had no idea whether butt masks were a thing, let alone a thing that could make my ass firmer and more beautiful. What I needed was a sherpa — someone who takes maintaining a great butt very seriously.
Enter Ty Mitchell, someone who, given his career as a porn star and writer (occasionally for this very site), I figured would know his way around butt care:
"I've heard of butt masks from people's promotional posts on Instagram, but I've never used one," he tells me. "I haven't heard much about whether they work, but I try to abide by a paradigm of giving my ass the same degree of skincare as my face."
Okay, so, not disapproval, but not an endorsement, either. I follow-up by asking Mitchell how he takes care of his butt. "Just stick to shea butter every day," he answers. "And wear women's underwear — it's always hot." 
Two Things I Learned About Butts Along My Butt-Mask Journey: Scientists aren't entirely sure why we as modern humans still have hair on our butts. The best reason they can come up with is that there's just no evolutionary pressure against it. To which I say, c'mon, you guys, let's step up that pressure.
Also, did you know that butt acne is a thing? I don't have any, thankfully, but if I did, I hear that sitting on a moist, warm washcloth works to get rid of it.
The Experience: Adding a butt mask to your skincare regimen, I found out, isn't like adding a moisturizer, or any other product that slots nicely into your daily routine. That's because a good butt mask requires both time and space. As in, time to set and "do" its "work," and also space, as in you're going to need some after you get this shit all over your ass and then you can't sit down.
I learned these facts the hard way. I'm not sure what I was expecting, but applying my butt masks, particularly the clay mask, meant lying face-down, somewhere, anywhere, for 15 minutes, which I found rather annoying.
But not as annoying as trying to thoroughly smear this stuff on my butt in the first place. During my maiden voyage, I had to get my girlfriend to help me. With the invisible stick of butt balm, it took us about five minutes to feel like we'd gotten the whole thing. That's five minutes of my girlfriend reacquainting herself with my thoroughly "okay" ass, which looks pretty similar to this one:
Not exactly my most sexiest moment. 
Unfortunately, applying the balm and mask myself wasn't much better: Have you ever tried looking over your shoulder in order to cover your entire tuchus with a one-and-a-half-inch stick of butt balm (one of which is invisible)? It's pretty difficult. 
So in no way was this a pleasant experience from a usability standpoint.
What You'll Be Saying After a Few Weeks When Your Butt Doesn't Feel Any Firmer:

The Result: To that end, despite all those weeks of regular use, I haven't noticed much change to the firmness, suppleness or overall aesthetics of my rear end. In fact, I haven't noticed any positive changes at all. 
I did, however, learn a much bigger lesson: I'm okay with my very okay butt. And apparently so is my girlfriend. Which makes me doubly okay with it. So assuming that this product (or a product like it) has worked for someone, anyone, it's really probably for a person for whom their butt is their moneymaker: Instagram thots, girls on TikTok, porn stars, etc. 
Not a schmo like me — a guy whose decidedly average butt isn't bothering anyone, himself most of all.