I'm naked from the waist down on a massage table, my feet pointed toward a dozen or so East Asian and African masks hanging near the ceiling of artist Magnus Irvin's home studio on the East End of London. It's a couple of blocks past The Cock Tavern, a gay pub boasting "Hackney's tiniest beer garden," where I stopped in to catch my breath in preparation for paying to have my asshole molded into tiny sculptures (£450 for Irvin's time and subsequent casting) made from the material of my choosing. Such as:
Chocolate

— £600 for the mold, £2.50 per box of my asshole in three types of chocolate

Glass

— £150 for transparent rose-colored blown glass

Bronze or silver

— £350 for a cold mold, £25 extra to be hallmarked and engraved
In fact, any material will do, so long as it can be liquified and poured into a cast. Oxymoronically, Irvin's even made slightly larger soap anuses that "include more of the bum cheeks," into which he adds a couple of dead house flies so when you're sitting in the bath every now and then, one will float to the surface.
When I arrive at Irvin's studio, or "tin box," as he refers to it — one of four duplexes in a bucolic courtyard purchased by an artists' collective a decade ago — a sign at the foot of the stairs reads "ANUS" and provides the URL for Irvin's asshole molding business, www.edibleanus.com. After ascending 15 clunky wooden steps to the second floor, I'm greeted by a spunky 66-year-old in a hairnet and medical scrubs whose scraggly gray beard and spectacles are reminiscent of either a mad scientist or a mass murderer. (Irvin has been likened to Harold Shipman, the notorious U.K. serial killer, but his breathless joviality reminds me more of Doc Brown from Back to the Future.)
"Welcome to Anus Central," Irvin grins, stirring a small mixing bowl filled with green sludge, or alginate, essentially powdered seaweed, which when mixed with 73-degree water becomes a thick, moldable paste. "It's exactly what the dentist uses to mold your teeth," he explains. "We're just using it on the other end."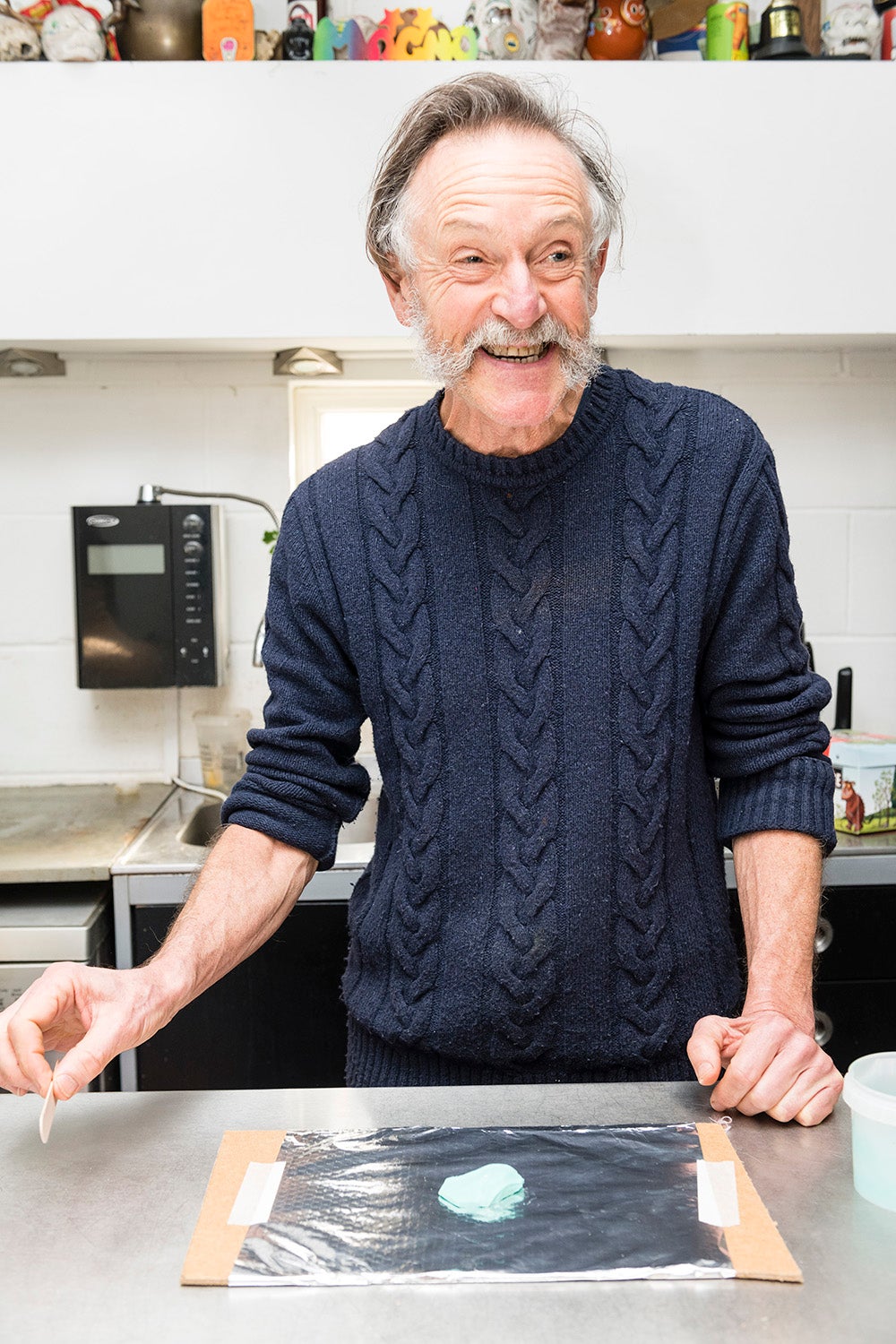 Also present is Mike Ritzema, the tall, 43-year-old Dutch cofounder of Edible Anus who recognized a business opportunity in 2005 when visiting Irvin's exhibition of multi-colored chocolate anuses at a local art show. His instincts have proven (moderately) correct. Last year, they sold 37,000 units at roughly $8 a box, mostly in the States during chocolate-centric holidays such as Christmas and Valentine's Day. While Edible Anus is the first of its kind, the U.K.'s Spencer and Fleetwood invented the Chocolate Willy decades ago, and others like Dick at Your Door have followed in their phallic footsteps. Irvin rolls his eyes at the choco-cocks, though. "I once tried to make a mold of an erect penis," he recalls. "It's near impossible because it relies on the fellow maintaining an erection whilst you're fiddling around with the plaster."
For his part, Ritzema believes the human asshole should be celebrated, given that it's the first part of our body that's created. We belong to a classification of animals called deuterostomes, or second-mouth, he explains. During embryological development, there's a period where part of the tissue folds back into itself creating what's called a blastopore. In insects, the blastopore forms the mouth. But not so for us: Our blastopore first develops into the anus. In other words, all humans begin as assholes. (Only some of us remain so.)
As for my asshole, Irvin announces to Ritzema and me that the alginate is now ready and time is of the essence since it will quickly begin to harden. I'm instructed to disrobe and lay on a massage table "next to the cakes," referring to a lineup of sugary military dictators Irvin has constructed with brain cavities made of spaghetti mixed with jam. "The Pol Pot cake has been here so long that the mice have eaten most of his right ear," he says, adding that Hitler's face has become pockmarked because the studio is so damp. "As it turns out, he had terrible acne, so strangely, it's become more realistic," he notes.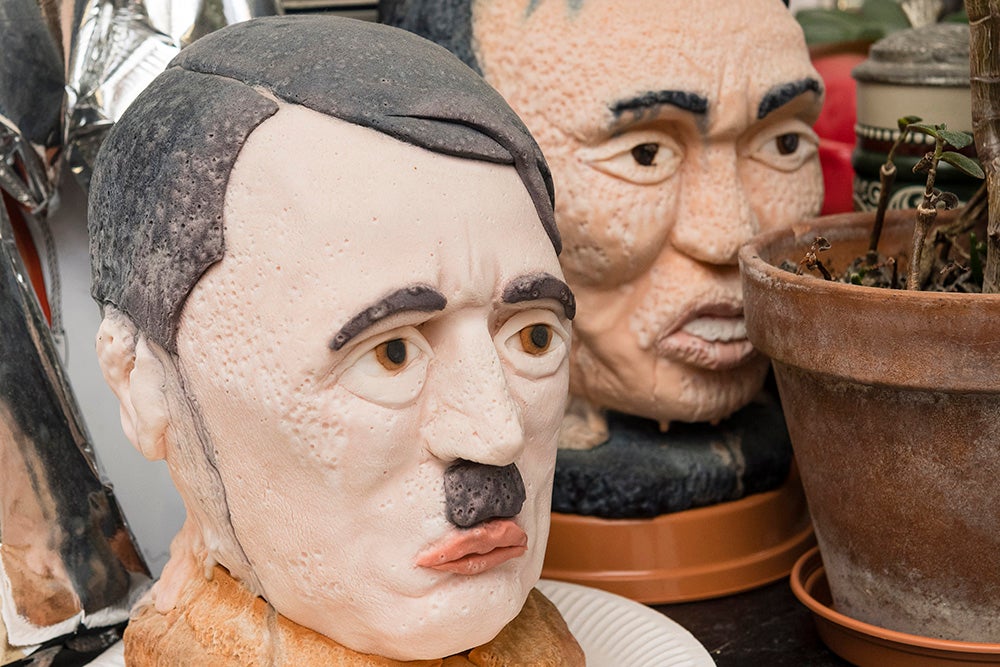 Irvin wasn't always an asshole/autocrat artist. He started off as a fairly traditional painter and woodcut printmaker before evolving into sculpture and unusual cake-making; edible anuses emerged from the latter. "There was something poetic about accurately casting an anus in chocolate," he recalls.
When I ask how it makes him feel to be a pioneer in esculent anuses he pauses, and then smiles. "Benevolent. We're making this beautiful hidden body part available for all to enjoy, aren't we? Okay, spread your cheeks wide…"
And so, in the penetrating gaze of humanity's most ruthless despots, I assume a decidedly undignified position with my feet facing the ceiling, ass forward, a good, if ill-timed reminder to work on my core strength when I return Stateside. "Gifting someone a generic chocolate anus is one thing," Irvin says, spackling my brown eye with lukewarm seaweed paste, which feels surprisingly pleasant. "But chocolates of your anus? That's a whole different kettle of fish."
Irvin's maiden anus-casting was actually his own. He recalls waiting until his wife had taken their son to school before heading into the kitchen to mix up the alginate. His application was disastrous, though, revealing the perils of self-casting. "I poured it into me bum, and it all ran past me nuts and into me face!" he recalls with a snort. Commiserating with a chance bystander at a bus stop, he was gratified to learn she was willing to be his guinea pig, allowing him to perfect the procedure.
All subsequent anuses have been based on this initial casting, though the fortuitous travel companion has no idea her anus has gone viral — and global. (For the record, I'm only the fifth person in the world to have this procedure done — and the first to pay for it.)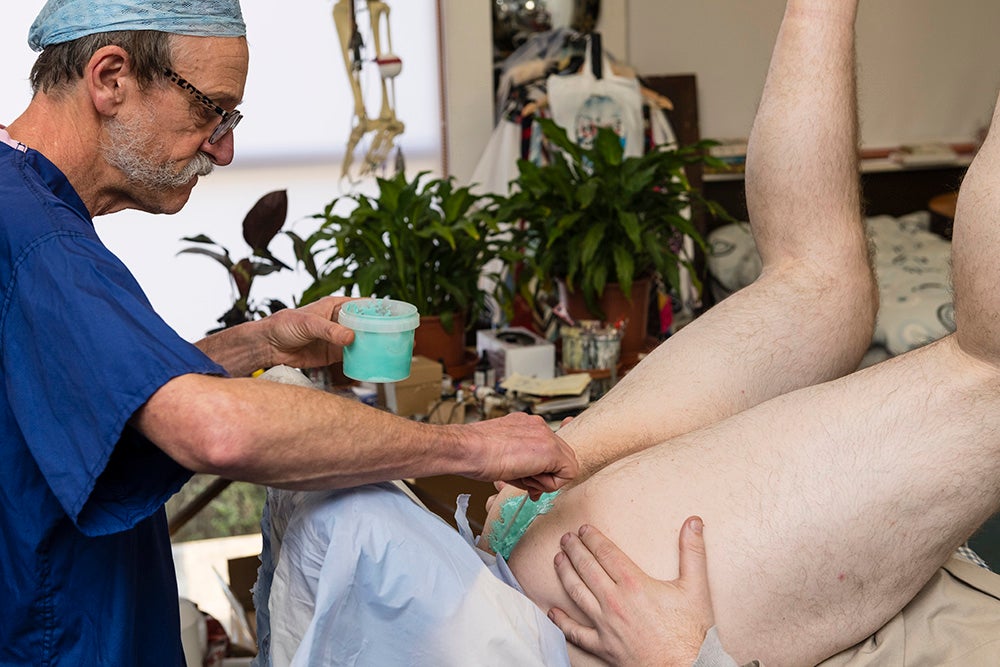 As the beneficiary of Irvin's heightened proficiency, it only takes 15 minutes to make two serviceable moldings of my anus. Irvin taps it a couple times to ensure the alginate registers every imperfection of my rumpled crow's foot before withdrawing the object d'art with a euphoric shhhlop. ("Money's on the dresser, chocolate.") I'm handed a tissue to wipe up.
The next step in the process occurs on his steel-top kitchen island next to a seemingly lifetime supply of Yorkshire Tree Black Tea, where he places the alginate casts on a sheet of tinfoil surrounded by a wall of clay. He then pours plaster of Paris over them to create molds of the cast. (The alginate is essentially a negative impression of my asshole; the plaster mold returns it to the positive.) Afterward, he hands it off to Ritzema, also a seasoned sculpture, to shave it down and carefully carve out every detail of my plastered pucker with a needle. In a couple weeks it will be ready to be molded into any material I choose.
"Wow," I say when Irvin reveals the cast. "I've never taken a good look at this hidden part of my body." With the singularity of a snowflake and the abstraction of a Picasso, my asshole is, dare I say, kinda beautiful.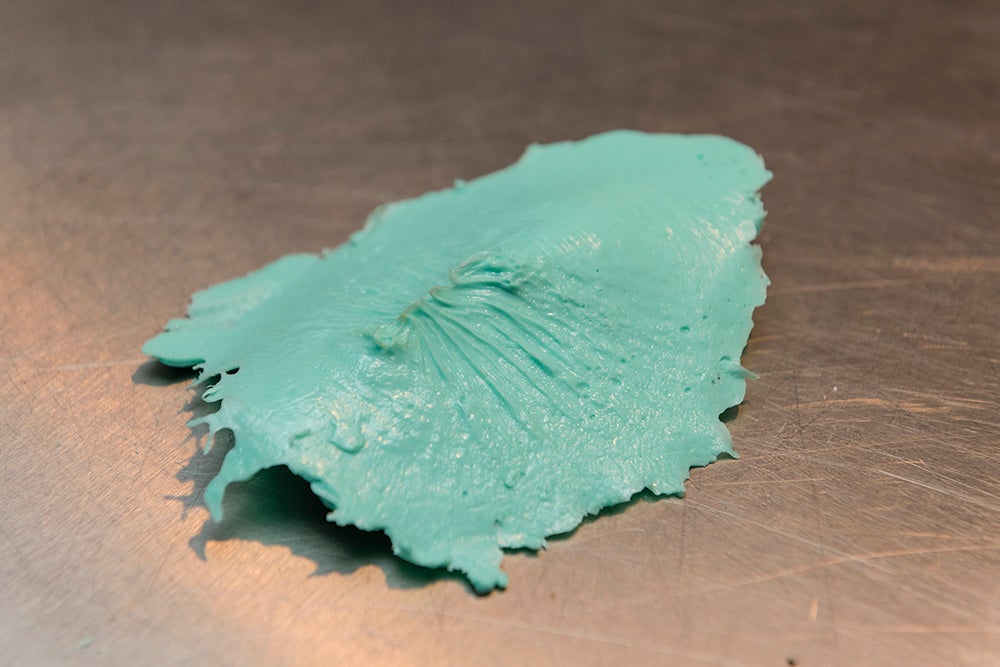 Irvin concurs. "You know how they take your fingerprint when you pass through passport control? I reckon they could take an anus print because they're all different."
Ever the intellectual, Ritzema likens it to Carl Jung's theory of the "shadow," the portion of our personality that through the course of our life, is relegated to the darkness of the unconscious. "A lot of times, the shadow is something you're ashamed of and want to ignore," expounds Robin Robertson, a 74-year-old Jungian-oriented clinical psychologist in L.A. who tells me that the shadow is often the best part of us that we hadn't realized was there. From early childhood we're taught that the anal area is "dirty" and "private," agrees Shawn DeGraw, a 23-year-old animator I meet on the Jung subreddit. "I see a molding like this to be embracing a bodily feature not often appreciated but vital for life."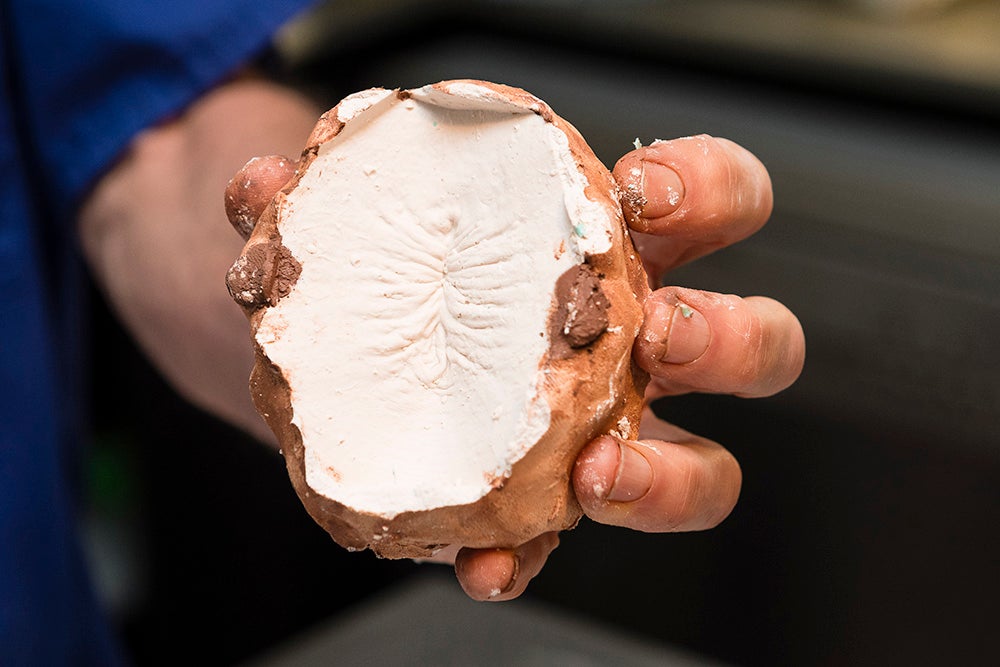 It's a vitality Irvin and Ritzema hope to bring to every life they can. As such, later this year, they're planning to sell DIY mold kits (namely, a mixing bowl, a bag of alginate, a bag of plaster, a hairnet and a couple of stirring sticks). With these tools of ignorance — as well as the help of a close friend and step-by-step instructions — you should be able to make a cast of your own anus, before sending it back to Irvin and Ritzema for the finishing touches. "We're democratizing the anus," Irvin proudly declares.
Personally, I'm still trying to decide what's the best final presentation of my asshole. Snacks for the office? A silver brooch for mom? A wedding ring for my future husband? Sky's the limit, I suppose. As a recovering drug addict, I'm leaning toward the chocolate; I like the idea of confronting taboos while releasing dopamine. Also, gifting my delicious asshole feels like an offering of unity. We've all got one after all — from the cab driver to the queen. Or as Ritzema puts it, "We're breaking taboos of race, class, gender and sexual orientation, but in an easily digestible way."
Bottoms up.