You might not know it by looking at her, but 30-year-old Seattle receptionist Tanya Gilstrap has one of the most exciting sex lives of anyone around. Recently, for her 30th birthday, she decided to celebrate by having sex with 30 people in 30 days — a feat of physical endurance, mental fortitude and Google Spreadsheets mastery that few of us could ever dream of achieving. Why'd she do such a thing? Well, for one, she was horny — that's a given. But more importantly she's a "go big or go home" kinda gal. As a long-time athlete with a community of kinky, polyamorous people at her disposal, she knew she'd be able to rise to the challenge if she put her mind to it.
This is the story of how she pulled it off (hordes of willing partners), what she learned (ask and you shall receive) and what it's like to attain the unattainable… in bed (it's transformative, thank you very much.)
If only the rest of us could be so lucky.
* * * * *
It's April 7, 2019, and I'm sitting on my partner Kelly's bed in between her and our friend Micha. They're both gorgeous, curvy and incredibly submissive, eager to obey any order I give them.
Standing in front of us is Landon. He's Kelly's live-in partner (we're all poly), and he's adorable: fair skin, long hair and bit of a ginger — kind of what the child of Legolas and Gimli might look like. Landon is naked and wearing a blindfold, diligently awaiting the mixture of punishments and rewards I have in store.
After sitting silently for long enough that the tension becomes palpable, I instruct Kelly and Micha to attach cuffs to Landon's wrists and ankles, which we use to strap him down as he lies down on the bed. Then, we test him. We kiss him in different places, and ask who he thinks kissed him where. If he gets it wrong, he gets an electric shock, straight from the tip of the Violet Wand I've plugged in case he's as bad at this game as I'd hoped.
As I brush my lips across his neck, sending chills down his spine that make his toes curl, I wonder silently to myself: Wait, is this my third group sex experience of the week, or my fourth?
Four threesomes. Three foursomes. Twice-a-day solo sessions with strangers I've never met. I could barely keep up with it all were it not for the extensive collection of calendars, spreadsheets and surveys I'm using to keep track of my dates and appointments. After all, these are the necessary organizational measures one has to take when they've given themselves the particular challenge I have: Sex with 30 different people in 30 days.
The idea came to me one night this past January as I was sitting around a table with my friends discussing what I'd like to do to celebrate my 30th birthday. I'm a big celebration person, and given that the approaching April 30th would also by my golden birthday, I knew I wanted to do something epic. Jokingly, I blurted out the most epic thing I could think of in the moment: "Wouldn't it be funny if I had sex with 30 people in 30 days?"
Though I'd said it playfully, I knew as soon as the words left my mouth that what I'd said was more than just a joke – I actually wanted to do it. My face must have changed as the realization hit me, because a silence fell around the table.
"I'd help you with that," one of my friends said suddenly. "Yeah, me too," said another. A third chimed in: "I call first!" They weren't kidding, either – my friends and I are part of the poly community in Seattle where we live, so when one of us blurts out a fantasy or a sex goal we're working toward, we know they're not playing around.
Well, I thought, That was easy. Within moments of bringing it up, I'd already found three people to have sex with. Who was to say I couldn't find 27 more? Plus, didn't a month of sex beat a night of birthday cake and streamers?
Together, we slapped a name on it to make it official — "Tanya's Dirty 30" — and I got down to business planning what would turn out to be the strangest and most wonderful month of my life.
The first two people I told were my partners Aidan and Kelly. They've always been supportive of my sexual adventures — and have gone on many with me — but I was genuinely honored to hear their reactions when I told them I was about to undertake the grandest one yet. Aidan, in particular, didn't react with jealousy or disgust, but with genuine excitement and awe. "If anyone can do this," he told me, "It's you."
It would be me, actually. There are several reasons why. For one, I've always been healthy and athletic, and as such, my body is rather forgiving when it comes to, er, "intense" experiences. Translation: I have an iron vagina. I've also had plenty of experiences with both frequent and group sex, so I knew I could handle it physically.
Honestly, I've always been open to sexual or sensual adventures with almost any person who is respectful of boundaries, and I don't have a "type" besides nerdy and fun, so that's always given me a lot of options. Pleasure and sexual exploration are as big a part of me as my blood and bones, and I consider the pursuit of these things integral to the core of my being. I'm not a person who has to be chased; I'm a person who conceives and executes their own fantasies and who takes an active role in creating the sex and romantic lives they want to have.
The first 15 people were a breeze: They were fuck buddies, booty calls or just good friends of mine who were all enthusiastic about helping me reach my goal. The rest were sourced from requests I sent out to some of the kinky sex-positive social media groups I'm a part of. I posted a little ad in these groups, and I got an amazing response. Not a single person I asked said no, and within 24 hours, my list was almost full.
Somewhat predictably, the majority of respondents were cis, straight dudes. I'm totally cool with hetero dick, but I wanted to be a little more expansive, so I posted a few other ads looking for more women, trans and non-binary folks, each of which reeled in another amazing new partner. When all was said and done, I had a fantastic smattering of people to play with — 18 male-identified folks and 12 queer or bi women — all of whom were psyched to be a part of my little experiment.
However, even with all the support and enthusiasm, planning 30 days of kinky, non-normative sex was no small task. I mean, most people find it challenging to have sex with one person in a month, let alone 30. Good thing I like to organize things. Efficient systems get me wet. So, in order to handle the upcoming onslaught of sexual partners I was about to enjoy, I went into full planning mode, milking the Google Suite for all it was worth. To start, I threw everyone's names into a spreadsheet and organized it by name, date, activities preferred and whether or not I'd had an STI status conversation with them yet.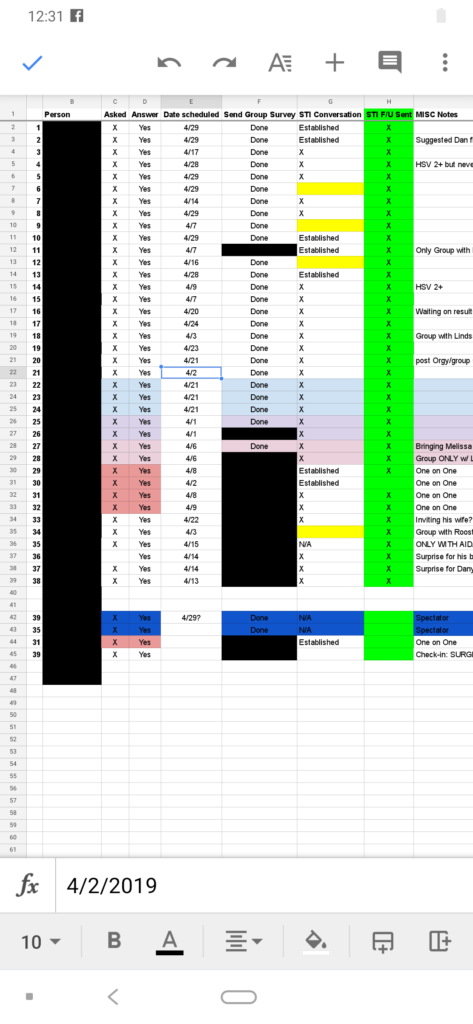 I also sent each of them a group survey that outlined my boundaries, underlined the importance of consent and further probed what they might be interested in doing with me. If anyone was interested in group sex, I added a "compatibility section" so I could cross-check their survey results to make sure they'd be comfortable doing certain activities with each other.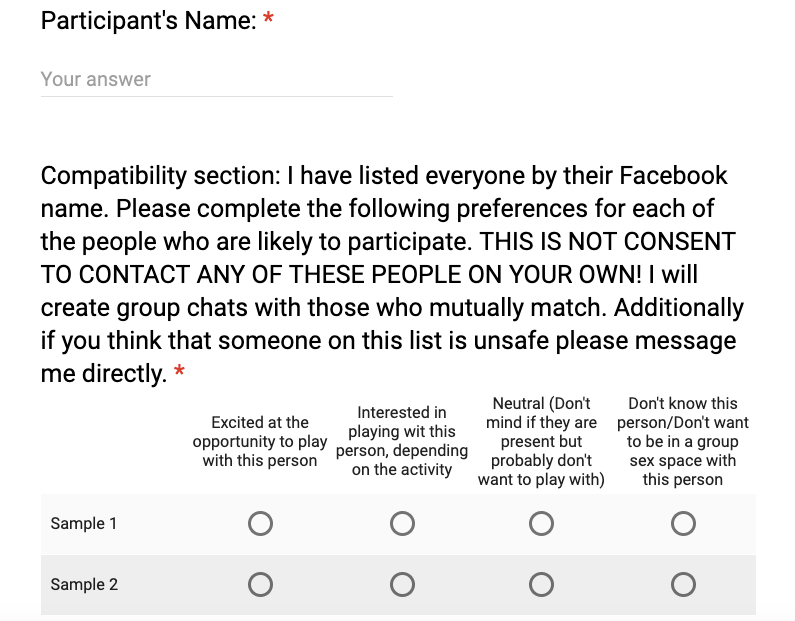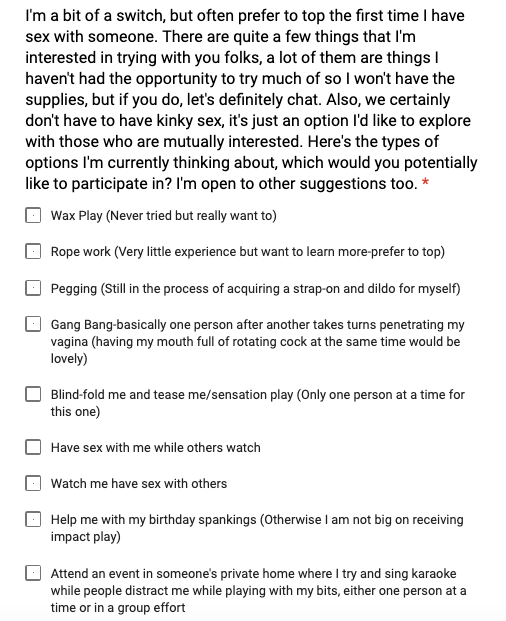 Oh, and just to be extra extra, I had my friend design temporary tattoos you have to apply with your mouth. They said "Tanya's Dirty 30 Participant" on them, with a pair of pink and purple underwear, a unicorn and a bowtie. In addition to fucking 30 people, I planned to brand them with it as a token of my sincere gratitude.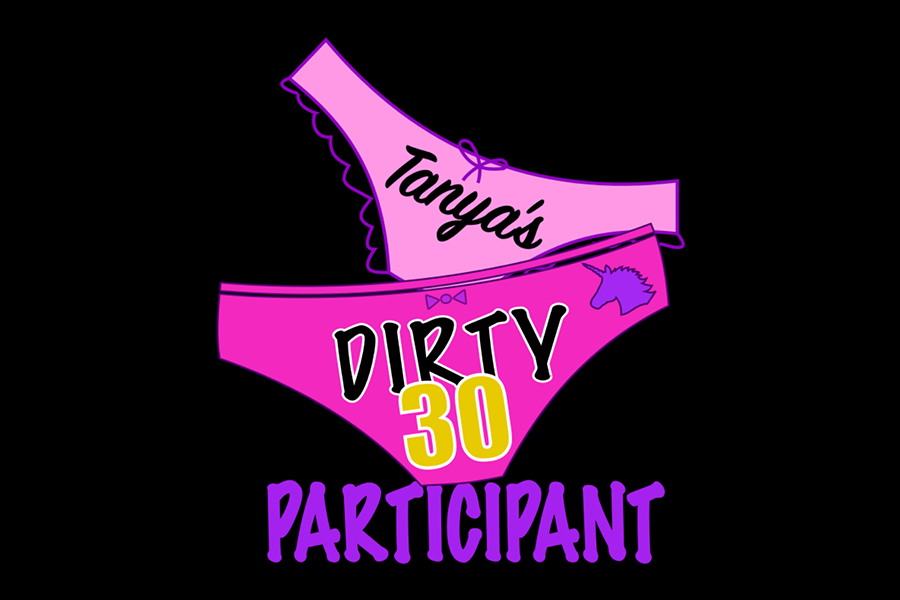 With that, everything was in place. I settled in and began to count the days until the challenge began. On the morning of April 1st, I rolled out of bed, brushed my teeth and went to look at my calendar to see what was on the menu for the week. What I'd scheduled in the first seven days was ambitious: three threesomes, one foursome and two back-to-back one-on-one sessions in an evening. I felt so many things at once — scared, nervous, horny. Most of all, though, I was just excited to get to my first appointment.
It was quite an event, actually. It was a threesome with a wonderful friend I made in the process of this project. She was one of the first people to respond to my ad, and she was very respectful of my boundaries. A little older, but super hot. After I confirmed interest, she asked me if I'd be interested in a threesome with her and her partner, who she said had an enormous uncut cock. I liked this woman — she was even more sexual than I — and I also liked the sound of her boyfriend, so I immediately agreed.
For the date, she picked me up at the light rail not far from his place. They ordered Thai food, and we got a little stoned hanging out in their backyard drinking tasty cider and eating dinner. Once we'd finished, we went back inside, and while he hopped in the shower, she and I got to business warming up for when he came out. It was so natural, with no awkwardness. Our dynamic was amazing: It was one of the best threesomes I've ever had.
Halfway through the month, I was also halfway to my goal. At 18 people, l felt great — it's not like I was having sex every day (I took off Thursdays and Fridays), and I wasn't always having penetrative sex either, so soreness and fatigue wasn't really a problem. Emotionally, I felt full. So far, everyone had been positive and encouraging. Nevertheless, I took a short break around mid-month for Aidan's own birthday, and we relaxed and recovered together.
As the month progressed, I continued on with my sexual adventuring. On April 14th, I had a brunch foursome. We ate happily, and then we fucked some more. After that, I took a huge nap and then had another foursome for a friend's birthday, who didn't even know I was going to be there. I was the surprise guest. On April 22nd, I had sex with a lovely stranger. He very sweetly told me he'd be gentle with me — he was huge and knew I had someone else coming over in a few hours, and he didn't want to "ruin" me before they arrived.
A couple more threesomes and foursomes came and went, and I entertained several incredibly fun and kinky singles. Each experience was unique and amazing in its own way, and with the exception of one threesome that felt more like a good hang with friends than a spicy encounter, I can honestly say that the vast majority of what I had was good, satisfying, revitalizing sex. Some people even went out of their way to spoil me with hotel rooms and nice meals, which I found immensely flattering and kind. All throughout the month, it felt like people were appreciating and celebrating me, not just trying to be part of my aspirational goal.
Originally, I'd planned to end the month with a (gang)bang, but a stomach bug was going around, and some of the folks I had scheduled had to drop out. So, in order to make up for the five-person deficit I now had, I hosted an orgy. It was there that I nabbed an extra five people, which would eventually round out my count at an even 30, an accomplishment I rung in by having one of the most exciting orgasms of my life.
People often ask me what I learned from all this. That is, what's to be gained from fucking 30 people in a relatively short amount of time?
Let me preface my answer by saying this: the last year has been awful for me. I've been through so much – I went through a pretty brutal divorce – but doing this has helped me reclaim my sexuality and understand that it's okay to ask for what I want. It's made me realize my needs are valid, and that I deserve to be cared for and supported as I search for ways to have them met. And while our culture tries its hardest to make that process difficult for some of us, I believe everyone has a right to go after what brings them pleasure — no matter what your gender or sexual orientation is, what your body looks like or what part of the country you live in.
Doing this also made me feel infinitely more confident about myself. Like anyone, there are things about my body I'd like to change, but I was absolutely taken aback by how many of those same things turned people on. The lesson there is this: There's something, and someone, for everyone. So if there's something you don't like about yourself, it might not be worth spending the energy criticizing or berating it, because it's probably something at least a couple million people go totally ape shit for.
Obviously, I understand my version of a "Dirty 30" isn't for everyone. However, I've done my best to realize my goal ethically, by holding space for other people's needs and by respecting their boundaries and desires, things that frankly should be applied to any sexual situation, be it one person per month or 30.
Now, if it does appeal to you, then great — you can sign my Google spreadsheet and I'll call you on my 40th.
A version of this story was told live on the Bawdy Storytelling podcast on May 1, 2019. You can listen to that episode here.