As you might have heard, The Weeknd dropped a new EP last week. Also, as you might have heard, the internet says it's filled with Selena Gomez references. I, however, know shit about The Weeknd and Selena Gomez. Or better put, I know about The Weeknd, but I know virtually nothing about his relationship with Selena Gomez — other than the fact that they seemed to hook up between her multiple breakups with Justin Bieber. So for a rundown of what happened between these two beautiful people, over the weekend, I turned to my 18-year-old niece Sade. While I'm the one who introduced her to The Weeknd (imho, this generation's Michael Jackson — on coke), she's the expert in how Gomez trampled his heart.

First things first: What exactly happened between The Weeknd and Selena Gomez's relationship?
Basically, The Weeknd and Selena Gomez were dating for like 10 months. This was right after he was with the model Bella Hadid. But while The Weeknd and Selena were dating, Selena and Justin were still on and off in their relationship. Plus, Selena was going through Lupus at the time. She was having kidney failure, and The Weeknd was there taking care of her and helping her through this time. Then she went back to Justin.
That's cold. Is this what he talks about on the new EP?
Yeah, in the song "Call My Name" he sings: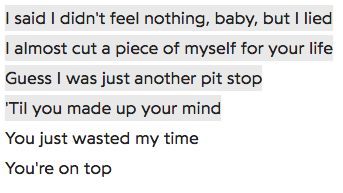 This is him literally talking about cutting out a piece of himself for Selena — he was going to give his kidney for her because of how much he loved her.
In the same song, he writes: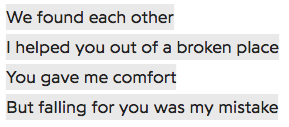 I mean that pretty much speaks for itself. He helped her through her sick times.
Is that it?
No, there's one more that seems to talk about her. In the bridge for the song "I Was Never There," he says: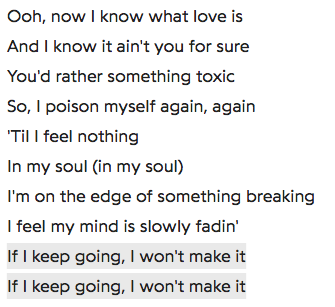 Justin and Selena's relationships has always been known as being toxic. I heard those lyrics and it hit me so hard. I got so sad for Abel [The Weeknd's real name].
When did Selena get back with Justin?
I don't know. Basically we saw her with The Weeknd, then all of a sudden, she's with Justin. It was kind of random.
What does this new EP say about The Weeknd?
That he's definitely depressed. He isn't going to love anyone else the way he loved Selena. This isn't the way it was after Bella, because he didn't make any good music after their break-up. He's coming back to his R&B roots and leaving that pop shit in the gutter — where it belongs.
So The Weeknd needs to be heartbroken to make good music?
Seems that way. When he's in these broken places, his music sounds way more genuine. I mean, he did make money off "Starboy." But his true fans aren't used to that kind of music.
Bella is at least as famous as Selena, if not more so. Are there any songs about her?
There's one song about her I think. It's on "Try Me." He basically says:
Why do you think that's about Bella?
I don't know, because Bella was really young when they dated. Maybe she's matured since then.
If I'm hearing you correctly, it seems like old Weeknd was talking more about women not believing in him, while new Weeknd seems like he's talking about more traditional heartbreak.
That sounds right. I think it's better, too. It's going to make his sales go up. People want to know if he's really talking about Selena. Even though we don't like Selena because she doesn't support Black Lives Matter.
She doesn't support BLM???
Yeah, she posted a picture on Twitter from a March for Our Lives rally. But when she was asked about BLM a while ago, she essentially said, "What's a hashtag going to do?" Then we see her at March for Our Lives. So she basically switches. She could do #marchforourlives, but couldn't do #BLM.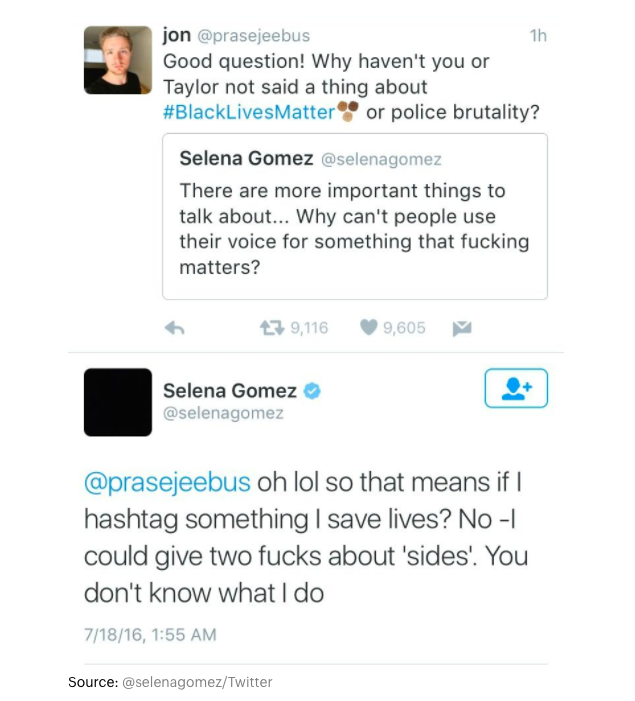 Anything else I should know about The Weeknd/Selena Gomez drama?Not really. I just hope The Weeknd gets better, but still keeps making good music. And that he stays away from the coke!