Mary Winchenbach wants to talk to the people in charge of the dictionary. No, she needs to talk to them. She has a problem with the way they spell "turd," and in fairness, she has a point. "I think Webster's has it wrong," she tells me while sitting at her cluttered kitchen table in Maine. "I'm actually going to call them and straighten that out."
"Why?" I ask.
"How do you spell bird?" she says. "B-I-R-D. Bird. Tird. The same thing. Why would anyone spell it with a 'u'? It's just stupid."
Winchenbach knows tirds. She's a master of the poop pun, which has transformed her home into a mess of buckets of moose shit and boxes to ship out the products she makes from the piles of tirds she collects in the woods. She recently quit her day job to dedicate her life to making poop products after a September YouTube video made her an internet sensation. Before that, she was flinging shit for a laugh on weekends at rural craft fairs. Now, she's inundated in the crap of being a small business owner selling shit like:
Santa tirds, or tirds dressed up with santa hat

Garland made of poop

Shitsicles, or a poopsicle, otherwise known as "high-fiber fudgsicle, taste like crap"

Shit kabobs

An actual piece of shit on a stick  

Shit on a half shell

A tird on a clam shell with eyes

Holy crap, or poop with an angel halo

A poo poo platter, or a tray with a moose image in the middle with tirds around it

Keyshains with shit on them so they float

Shitclips for your joins

The poo poo clock, or her take on the coo-coo clock

Fecal people, or people made of shit — "depending on the shape of the tird, they can have big boobs, butts or guts, or long legs or short legs. No tirds are alike."
The video wasn't anything new for Winchenbach. It was her regular sales routine recorded horizontally on a smartphone in front of her booth at the Common Ground Country Fair in Unity, Maine. But it found its way to Facebook, then YouTube. The video peaked the interest of a local news outlet, and its report went live a few days later, sending her story out across the globe. Online orders spiked so fast she couldn't keep up. "It's freaking me out," Winchenbach says, her Etsy store shut down by an endless stream of orders and her Facebook page overrun with messages and purchases.
When I visit Winchenbach in November, the 57-year-old self-described neighborly woman from Rockland, Maine, is getting ready for "the big city" of L.A., where she's traveling to appear on Comedy Central's Tosh.0. Winchenbach is Maine personified: She's worn wool socks every day of her life. Her baggy jeans are belted tight around her waist. Her boxy sweatshirt and short, tousled graying hair show her rustic roots. And her chin stubble shines in the sunlight through the window.
She'd gone shopping at the local designer retail store, Mexicali Blues, for some "fluffy clothes," so she could fit in on the West Coast. She's excited for the Venice Boardwalk and the women rollerblading in bikinis there, but she's nervous her friendly nature will make her unwelcome. To that end, she has a tendency to talk to anyone. Plus, she has an open relationship with her work. Her ringtone is a fart, something no one else would dare do in the image-conscious confines of L.A. "I hope my phone farts all the way there [on the plane] and freaks everyone out," she says.
Winchenbach has just quit her job as a quality control inspector at a seaweed fertilizer plant to strike out on her own in the moose tird business full-time. Time is still at such a premium, though, that she had to let her beloved (and legal) outdoor marijuana plants die because she couldn't tend to them. Her homestead is already rambunctious — filled with some 40 chickens, seven cats, three dogs and countless animal friends that live in the rundown chicken coop out back and in her cluttered garage.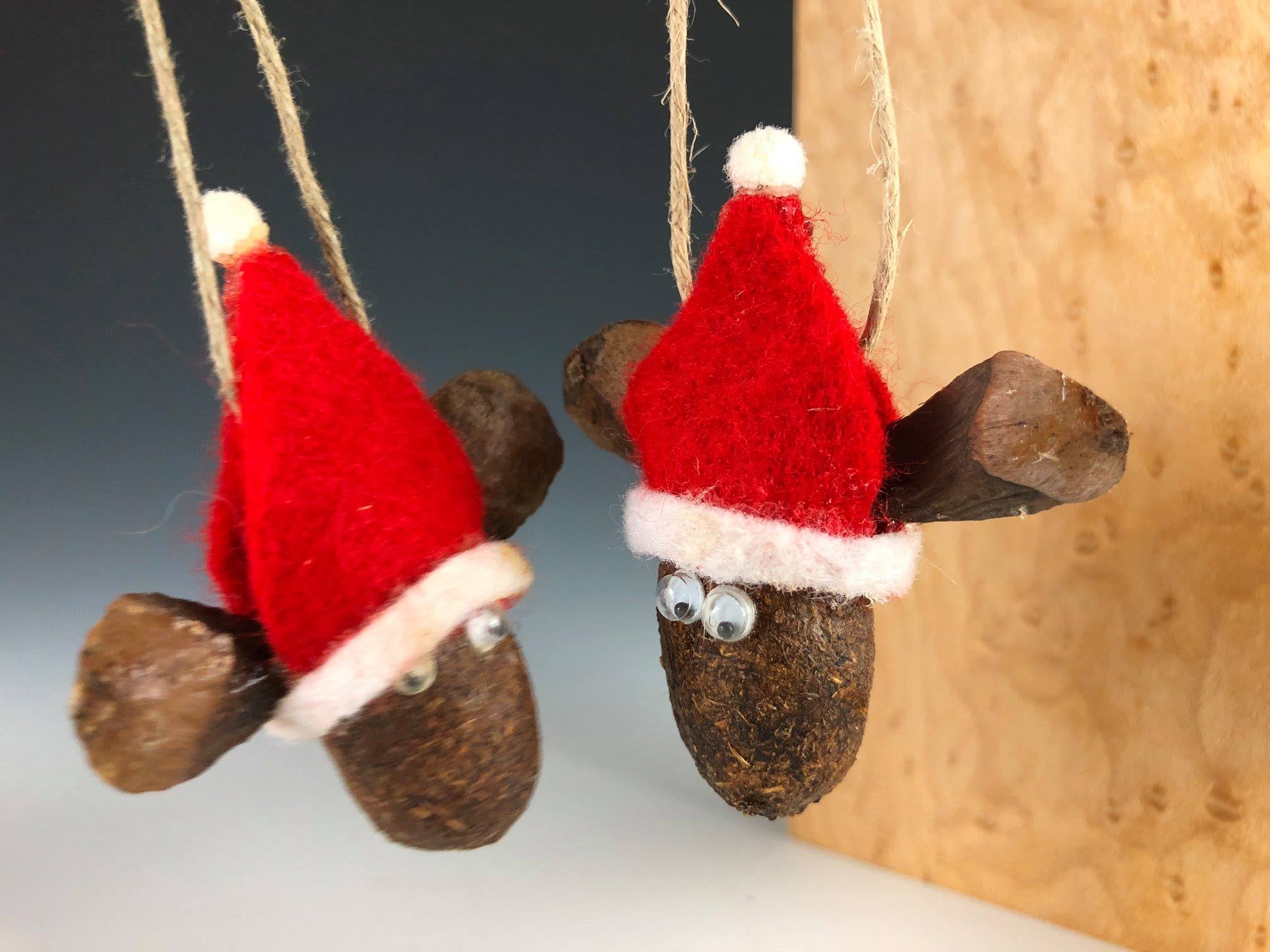 Now, however, space has run out. The kitchen counters are covered in tird projects, and the stove has no room for actual cooking. The kitchen table isn't only a desk for her newly appointed office manager (i.e., her sister-in-law) to track orders, deal with media requests and general customer service, but it's also Winchenbach's main workstation. There's barely an inch of space between the tird piles, the blow torch for her dabs and the ashtray with burnt out cigarettes and pot paraphernalia. Winchenbach smokes to help her epilepsy, which she says was diagnosed after menopause. Add in three adopted children and a wife, and there's barely a moment for Winchenbach to have to herself.
* * * * *
Somerville, Maine, where Winchenbach now lives, is home to 548 people in the middle of the state — north of Portland and a touch east of Augusta, the state capital. It's far from the jagged coast with its picturesque beaches and Rockwellian appeal, and hours from the mountains of Acadia National Park to the north and White Mountain National Forest to the west. It's a place where miles mean more than minutes because the rural backroads can take longer than walking in some cases. The town hall, which is barely a building, is down the road from Winchenbach's home. Across the street from it is a small cemetery.
The three-way intersection next to Winchenbach house might be the busiest in town, and I barely saw a car there during my visit. This is the part of New England few people see: Remote, isolated and never-ending in any direction. It's been Winchenbach's home since she left Rockland more than 12 years ago after she found out her partner was cheating on her.
Before that, Rockland was all Winchenbach knew. The small city on the coast is an old-school fishing town. But it's harbor isn't picturesque ocean views. Instead, it's a collection of docks and ports for fishing boats. Large mechanical arms swing over the sea, and steam billows over the water from a large fish factory that sits on the water's edge. There's a quaint downtown that's in the midst of a rejuvenation with art galleries and a museum that had an Andrew Wyeth exhibit earlier in the year. There's clam and lobster shacks and beaches seemingly in all directions.
Winchenbach was born in Rockland in October 1960, the daughter of a Albert, a World War II veteran and cloth cutter at Van Baalens, and Emma Jean, a telephone operator originally from Mississippi. Her parents met after her Emma Jean moved to Maine in 1946 after her first husband died in an industrial accident in Mississippi. Her parents lost their first child, but Winchenbach never met her older sister because she passed away from cystic fibrosis shortly after she was born. Her parents were avid golfers — her dad won back-to-back state championships at one point — and her mom loved to dress her up in pink, a color Winchenbach hates. "I had pink polyester pull-ons and a stupid pink toilet seat," she says. "That's why I turned into a lesbian — I was rebelling."
Winchenbach was a typical teenager. She smoked pot and drank with friends on the beach. She had a part-time job by the time she was 16, pumping gas and cleaning windshields at a gas station. Sometimes she'd get a peek of a cute woman's cleavage. She took a few college classes, but continued working rather than attending school full-time — she bought her first house when she was 21. Her next job was at the frozen fish factory in town. She worked her way up into a job in the food safety and quality control lab, before moving to the fertilizer factory where the pot was plentiful because organic seaweed fertilizer is ideal for growing bud.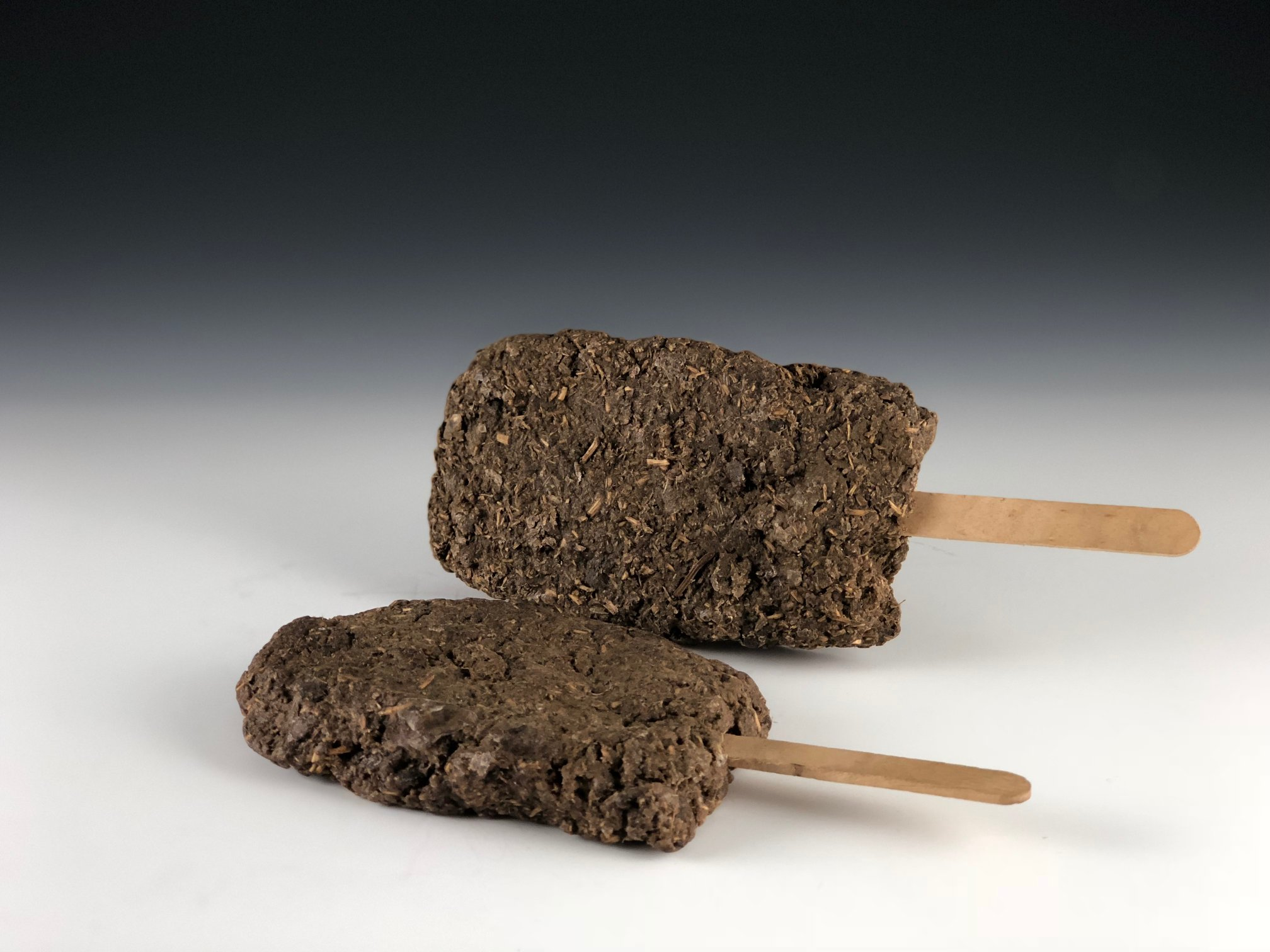 Eventually, she met her future wife Deb through her boss, who was also Deb's son. She'd go over to his house to smoke a joint or two, and there was Deb. Eventually, Winchenbach noticed Deb started to doll herself up more each time she went over. She'd been married to her husband for 25 years, but soon, she moved in with Winchenbach. They eventually got married and adopted three toddlers from a home broken by drugs. They stayed close with Deb's ex-husband until he passed away, and their lawn has some of his large, metal, found artwork — a giant caterpillar, a moose, an elephant and a giraffe. At that point, she'd already begun making things out of moose shit.
In Maine, moose poop, or scat, are piles of large pellets. They look like rabbit poop on steroids, oval and dark brown like a hunk of chocolate. They're dense and float because of a moose's high-fiber diet, which makes it ideal for a keychain. Sometimes it can look more like a cow pie if the moose's diet changes, but Winchenbach likes to joke that "that particular moose has an upset belly or something."
While out on a walk one day, Winchenbach came across a pile of scat and thought, Wouldn't that be funny if there eyeballs on it? So, she collected some of it and did just that. Her first fecal person, or "shithead," was born. Next, inspired by a clock her dad had given her with golf balls between the numbers, she decided to replace the balls with poop and joke that it was "one-tirdy, two-tirdy, three-tirdy" and so on. She came up with a small collection of items with Deb and started selling them at craft fairs, honing her sales pitch with each customer. Over time, it basically became a stand-up routine filled with props and puns.
Winchenbach, however, had no desire to be a comedian. She admits she was funny in high school, but certainly not the class clown. She didn't listen to stand-up records or watch the early years of Saturday Night Live. Instead, she just honed her love of potty humor into a routine that worked for her and her business. That said, she did take it to a comedy club in Portland, Maine and finished third in a multi-round competition.
Beyond the craft-fair appearances, Winchenbach and Deb even had some wholesale accounts. But after they adopted their kids, the couple put the tird business behind them. The children were in desperate need of attention and help. Now, though, a few years later, the children have grown up enough that the couple can use their late-night Heineken drinking sessions as creative time to work on "shitty" ideas.
Winchenbach's shittiest dream is that Ellen DeGeneres learns about her and performs one of DeGeneres' television miracles and helps Winchenbach build her dream "shit shack" in her backyard so she can have an office and a place to dry the moose tirds as well as build her comic creations.
* * * * *
Naturally, Winchenbach has plenty of poop, but she's always on the hunt for more. People know she's looking for it now too and have offered to ship her some as far away as Alaska. But she's into the local product most. And so, she goes out into the woods and finds it. After she finds the tirds, she carries them home in buckets and sets them aside until she can run them through one of her two countertop dehydrators, which I thought were only for drying food.
It takes roughly 24 hours to dehydrate a five-gallon bucket of moose shit. After the tirds are dried out, they get polyurethaned outside the garage with either a shiny oil-based poly or a more rustic water-based one. Once they're dry and set, they're safe to be used.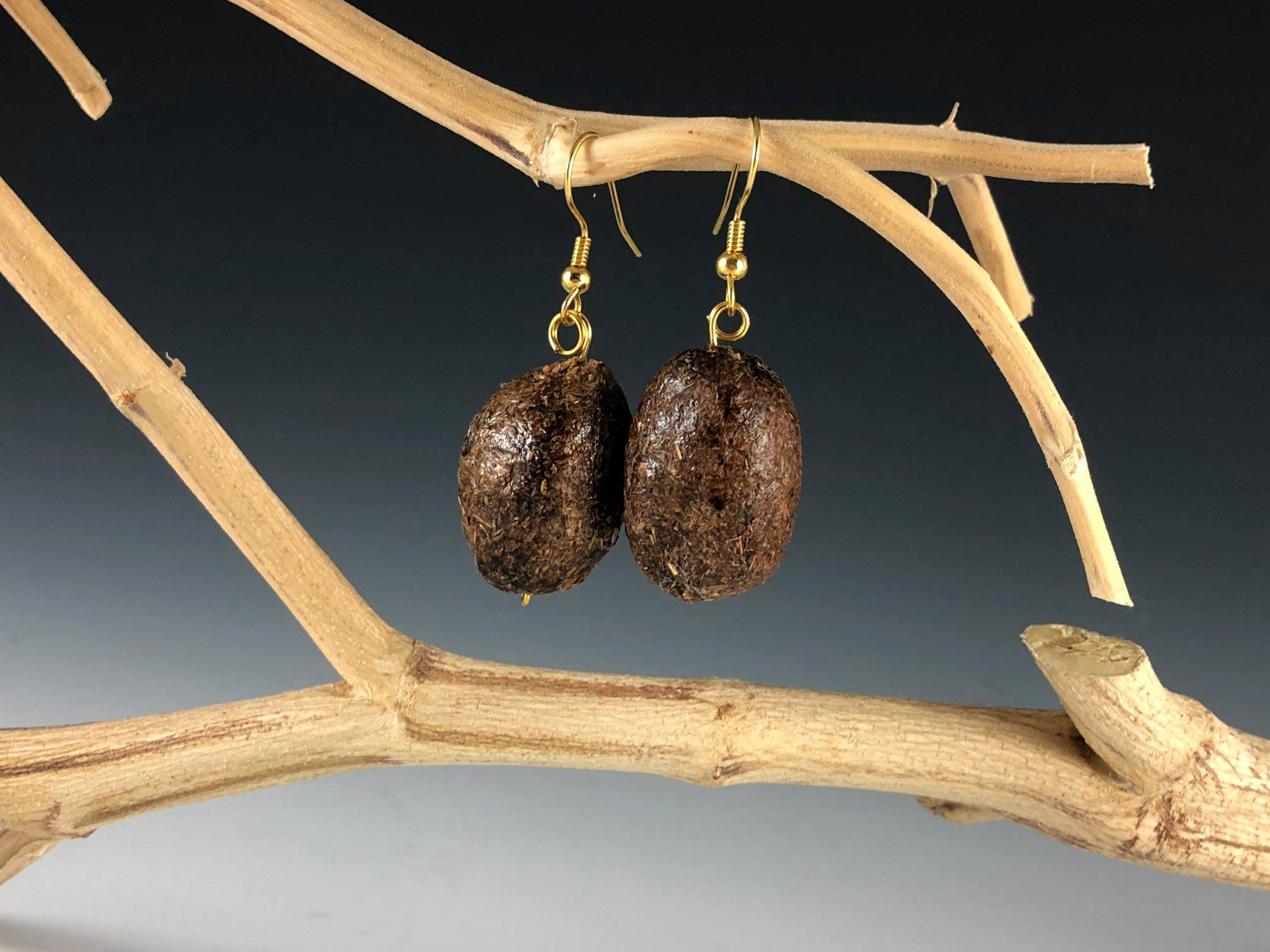 The final products "make everyone smile," Winchenbach explains. "It makes people laugh. Everyone in the whole world can relate to tirds. Everyone does it. I don't give a shit who you are, everyone takes a shit. And the terms that I use, most of them are terms that people say or hear on a everyday basis."
That unabashed joy and enthusiasm is the key to her success. She loves what she does, and has no remorse for shilling for shit. Nor does she make apologies about who she is or where she's from, qualities that make her videos stand out far more than the poop puns. "This is where I was born and bred," Winchenbach says. "I like the seasons, and I like being close to the ocean and the woods. It seems to have it all."
Moose tirds, of course, most especially.