For the entirety of Saturday, May 30th, Trish sat next to her police scanner tweeting out any information she thought might be helpful to protesters in Chicago. An avid police-scanner devotee, the 41-year-old figured she might be of better help to those out in the streets by reporting what she was hearing on the scanner.
But just around the time she was going to call it a night, Trish heard something come across the police radio that sounded odd. "All of a sudden there was this report of buses heading toward Illinois by way of Indiana with 'protesters,'" she tells me.
At first, she ignored it. Chicago's police radio had been hacked earlier, so there was already "several scanner interferences with music playing or a person saying obscenities," Trish tells me.
Cody, a 24-year-old who'd also been listening to the police scanner throughout the day, adds that dispatch had largely been ignoring these interruptions, which included voices saying to "use deadly force," and "shut the fuck up." "But when they said '3,000 antifa were on 12 buses from Indiana,'" Cody continues, "they directly acknowledged it for officer safety. The whole thing seemed surreal. I always thought antifa was sort of an overblown thing, definitely not a formal organization. So to imagine them moving in large numbers across state lines seemed ridiculous."
Independent disinformation investigator Ray Serrato, however, isn't surprised to hear this happened. The information in the recording mirrors a tweet Serrato tracked through Twitter and Facebook. "It originated with the Twitter account @ANTIFA_US," Serrato tells me. "In the Facebook data I have, the first post referencing it was in a group called 'Christians Praying Daily for Our President, Family, Staff and Nation'" on the night of May 30th.
From there, the screenshot went viral, particularly on pages and groups administered by current and former law enforcement officers — e.g., Florida Officer's Resource Page (9,735 followers); The Detroit Scanner (a Detroit Police Facebook page with 41,604 followers); and U.S. Law Enforcement (nearly 500,000 followers), a page "run by several current and former law enforcement officers."
As reported by Brandy Zadrozny and Ben Collins of NBC News, the post then made its way to "hyperlocal services like Nextdoor and the Ring app in communities across the country," particularly rural areas.
By June 1st, several local police departments in states like Idaho and South Dakota were definitely aware of the rumor, but by that point, there was enough evidence to consider it unsubstantiated. Though, apparently, not for Fox News and Donald Trump Jr.: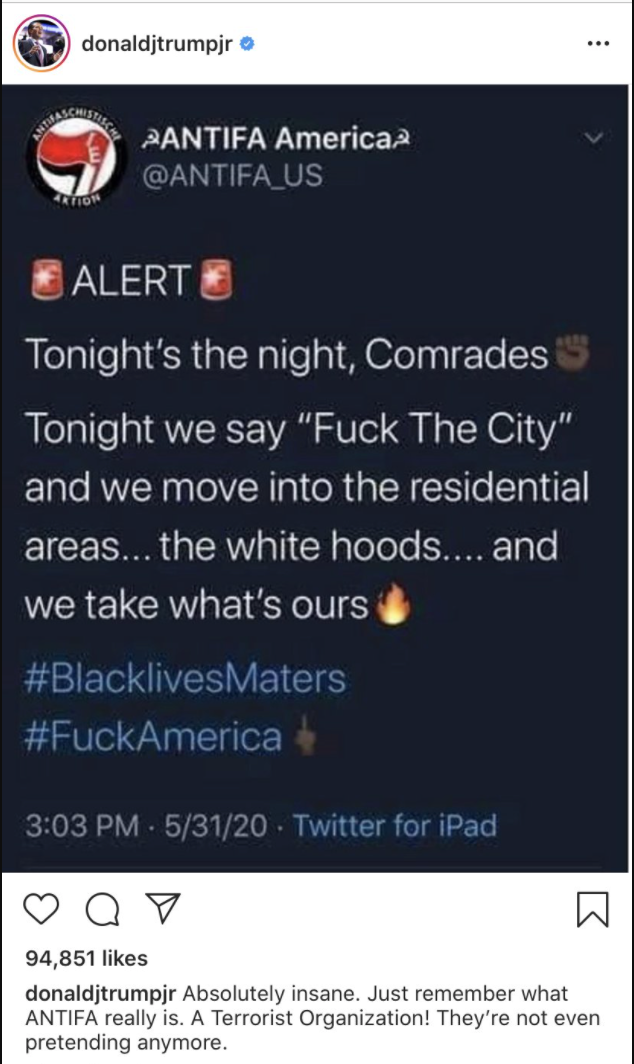 By June 2nd, Facebook moved to label the tweet as "containing false information," long after Twitter suspended the account for calls to violence, and disclosed that it was run by a white nationalist group, Identity Evropa.
Stepping back to the night of May 30th, though — in fairness, days before the post caught enough attention to be debunked — Chicago Police wasn't quite sure what to do with the information. Was it legitimate? Or was it the same troll they'd been ignoring all night?
According to William Spelman, a professor of public affairs at the University of Texas, 911 operators are trained to identify false calls, "but I don't know of anything specific to the internet crime reporting issue." That is, while most crimes are "reported by victims or witnesses over the phone," he's not sure of any places that have specific protocols regarding crimes reported on social media. "In many places, it's also perfectly permissible to report through Facebook or another social media platform," he continues. "In almost all cases, police will follow up in person or over the phone to verify the facts, and to verify that a crime was, in fact, committed."
When reached for comment on whether the Chicago Police Department has such a protocol in place for internet crime reporting, a representative didn't say either way. "Our officers respond to thousands of calls for service everyday and sometimes those calls are related to information gathered via the internet or social media," they write via email. "That information is then relayed to our officers in the field, and they're investigated."
Spelman says some police departments do undergo training in this realm, be it through the Federal Law Enforcement Training Center or a private company. Such training "covers credibility assessments and rumor control (especially regarding natural disasters), and somebody who's gone through it would probably be in a better position to separate fact from fiction."
Those who haven't, though, might be just as likely to mistake a tweet from an account such as @ANTIFA_US as anyone else. That said, this particular tweet had all the hallmarks of being fake. "The account misspelled a legitimate hashtag as '#blacklivesmaters,'" NBC News reported. "And inside the antifa flag in the profile picture, the account appended an 'IE,' short for Identity Evropa, which rebranded as American Identity Movement in 2019."
But again, none of that stopped it from spreading in Chicago on Saturday night. At 10:25 p.m., an hour after the buses are first mentioned, what sounds like a different voice brought them up again, and the dispatcher acknowledged she didn't know where the information was coming from — but was taking action on the report to ensure the safety of officers. She also noted that a police helicopter had been re-routed from the protest to the Indiana state line to watch for the buses.
Within the chatter, another voice chimed in to clarify that the "Indiana State Police says there's nothing to [the story about buses]." Nevertheless, the helicopter was on its way.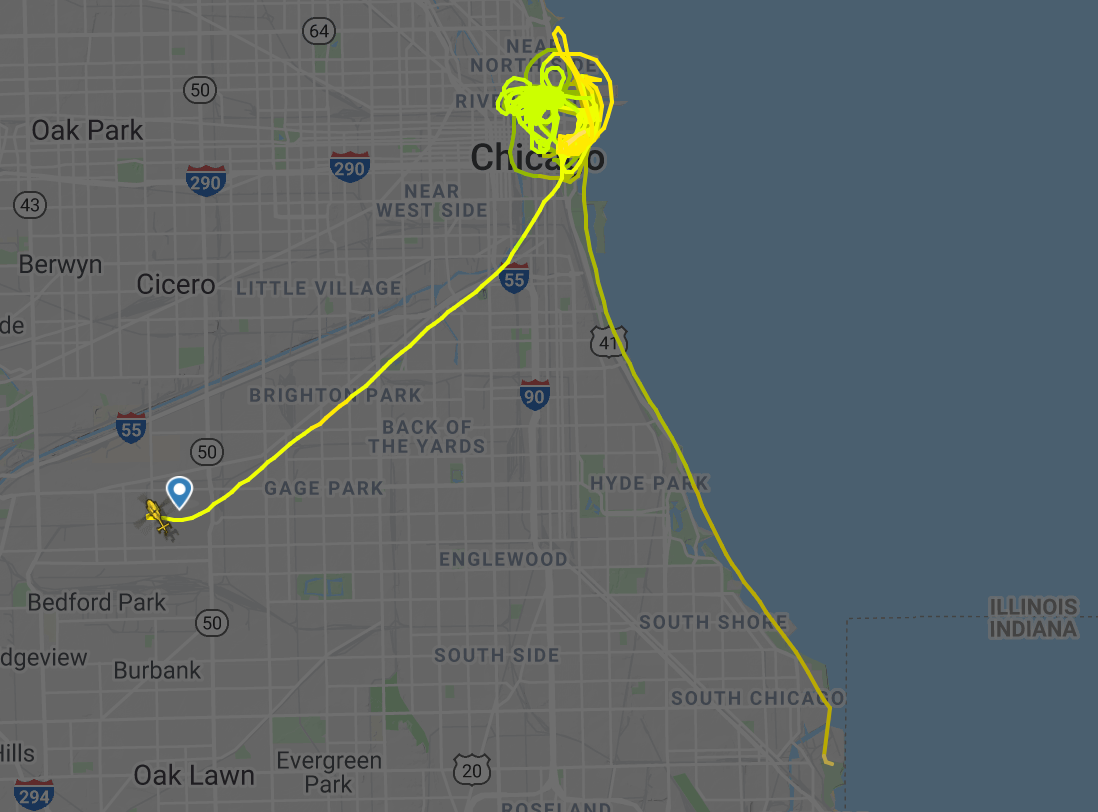 The report of buses heading toward Chicago continued to pervade police chatter throughout the night, as it was brought up at least two more times between 10:16 p.m. and 10:46 p.m.:
The CPD rep says they "don't have any specific information available about the incident you're inquiring about related to a bus headed to Chicago." However, Chicago Mayor Lori Lightfoot confirmed it happened, and expressed her displeasure during her Wednesday press conference:
Given the nature of how misinformation spreads, it's not surprising to see similar reports of a busload of protesters pop up on other police scanners (and when those protesters don't show, it's only because the police stopped them). In Iowa, people on #scannerduty have noted a bus full of antifa protesters being mentioned on the radio. Police in Oregon reportedly sent a text message to residents warning about the same bus. And as of 10:30 p.m. last night, the bus was apparently headed back to Indiana.
Since considerable time and resources have been dedicated to a made-up story posted on a fake antifa Twitter account created by white supremacist groups, hopefully this all leads to greater literacy about online conspiracy theories among law enforcement. But until then, we're left to rely on Trish and others who love to pass the time by sitting and listening to police scanners. "There are a lot of fake tweets and posts that people like me are happy to fact-check," she says. "I'm just doing what I can from my position to get the word out."