"Hey, come chew with us!" a group of young people sitting on plastic chairs yell over to me.
I'm in a parking lot in Pangani, a suburb of Nairobi filled with cheap flats, crammed in three-story buildings and connected by dusty potholed roads. The young men are chewing miraa, shoots that if masticated for a few hours will give you a mild buzz, a bit like downing a few espressos. (The high itself has a name: "Steam.") You bite into the tender parts of the stem and peel back the reddish bark off the tougher bits. The taste is more or less like grass.
An umbrella is sheltering the group from the bright, hot sun. They look a bit tired, but you couldn't guess that they've been on a miraa bender since the previous night. It's the first time I've met anyone going for that long — a typical session lasts an afternoon. "We'll go until Sunday!" says Edwin, a 28-year-old delivery manager at a small business. He consumed miraa for the first time a few years ago, while in college, and now does so every weekend with his friends, much like others might go to the pub.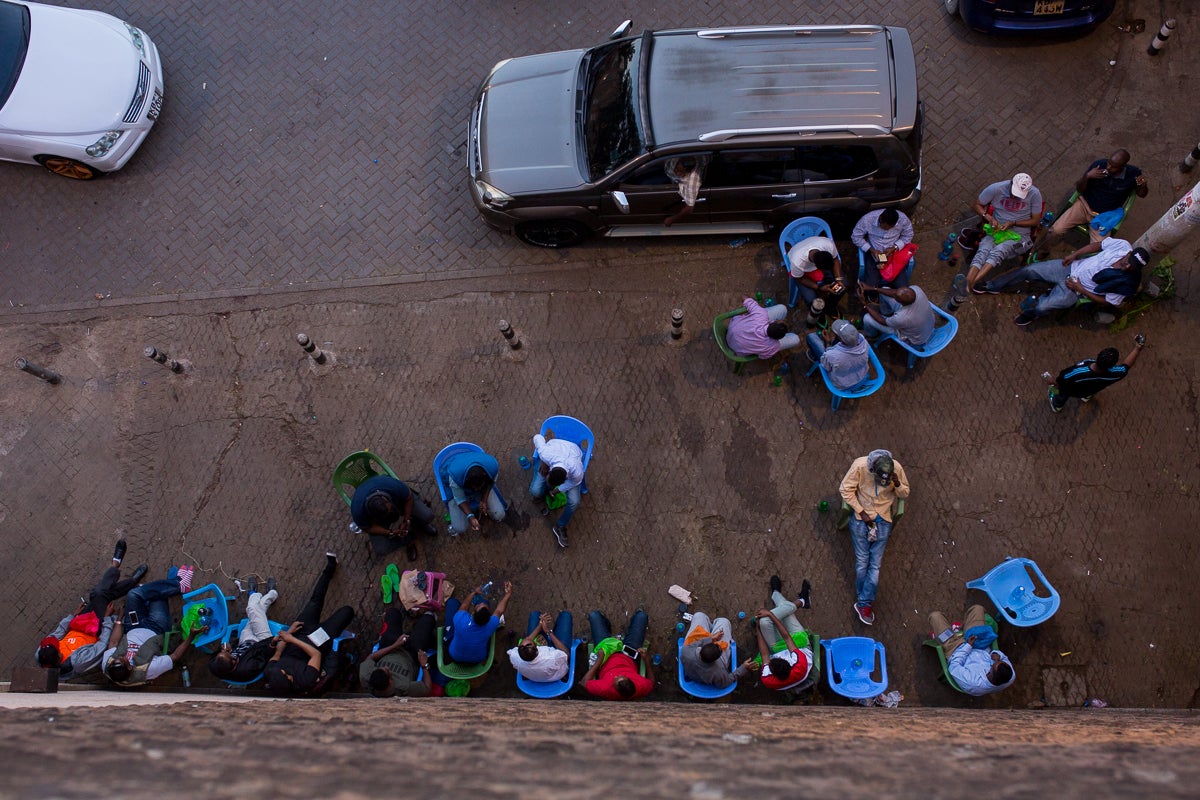 Most of the other revelers went home, but they will return that evening. Every Friday and Saturday, the square is packed with cars, themselves packed with men, and all of them masticate, for hours. Miraa, also called khat, is banned in the U.S., U.K. and much of Europe, but it's legal and very popular amongst Kenyan men. It's one of the country's officially declared cash crops.
The parking lot is surrounded with small shops selling miraa. There are two main types: longer sticks that give a lasting effect, and shorter ones called mugoka that provide a stronger, faster high. The shops also sell bright pink chewing gum called "Big G" that are used to get the leaves to stick together in your mouth — basically, so you avoid swallowing them. It makes a big ball that dents the cheek.
Miraa drastically cuts your appetite, so Edwin and his friends haven't eaten since the day before. They haven't slept either. Another side effect of miraa is that it gets your libido up, but not your penis. While I was on a road trip to northern Kenya, a friend warned me after passing me a bundle of stems, "it might be difficult to have sex," his wife nudging him to disclose this awkward fact. That evening, lying next to my girlfriend in the tent, I cursed miraa.
"It depends on the mindset," Edwin explains. "Once you start chewing [and think], I'll lose my hard-on, then this will happen. For me, actually, I look forward to it, like an aphrodisiac. I'm not kidding you: There are bad days, that you can lose a hard-on, but there are days that you really perform." He adds that it also depends on the type of miraa you chew.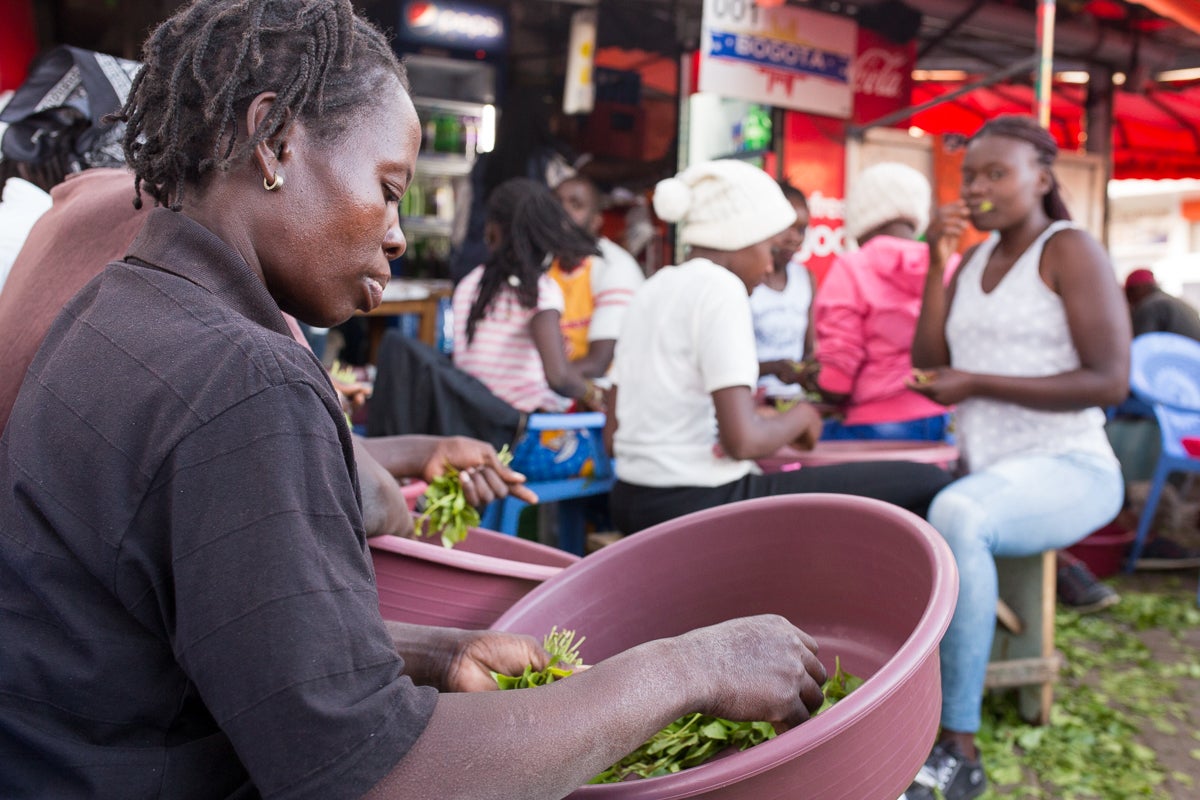 A 2014 study conducted in Yemen found that miraa had no impact on erectile dysfunction, and that psychological problems (unrelated to miraa) were the main cause. But Wondal Getinet, a researcher in psychiatry at the University of Gondar in Ethiopia, who has done some research on miraa consumption by students cramming for exams, says that people "who chew khat leaves for long periods of time have got impotence, erectile dysfunction or they have premature ejaculation."
Before the U.K. banned miraa in 2014, it commissioned a medical review. One of the study's authors, Harry Sumnall, a professor in substance use at the Liverpool John Moores University, explains over email that the Yemeni study was the only one he knew of regarding khat's effect on impotence. Nevertheless, he adds, "many psychostimulants, including amphetamines can produce erectile dysfunction, hence the popularity of Viagra on the chemsex scene. So it doesn't surprise me that khat would also do the same in the short term."
Given the drug's popularity, it's surprising that there's scant medical research about it. And the research that does exist, Sumnall explains, is of "relatively poor quality." As for his report, Sumnall and his colleagues concluded, "Khat has no direct causal link to adverse medical effects, other than a small number of reports of an association between khat use and significant liver toxicity." He tells me, "The report concluded that the public health and social harms of khat were insufficient to warrant legal control."
Yet the British government decided to ban miraa anyway, accusing the drug of harming the U.K.'s Somali community, its main consumers, by driving its families apart. The government also suggested that the country could become a "hub" for illegal trafficking of khat to countries where it's illegal. Before the ban, 2,560 tons of khat, worth £13.8 million, were imported to the U.K. in 2011 and 2012. Today, some of it is smuggled into the country as dried leaves, but it's impossible to know exactly how much.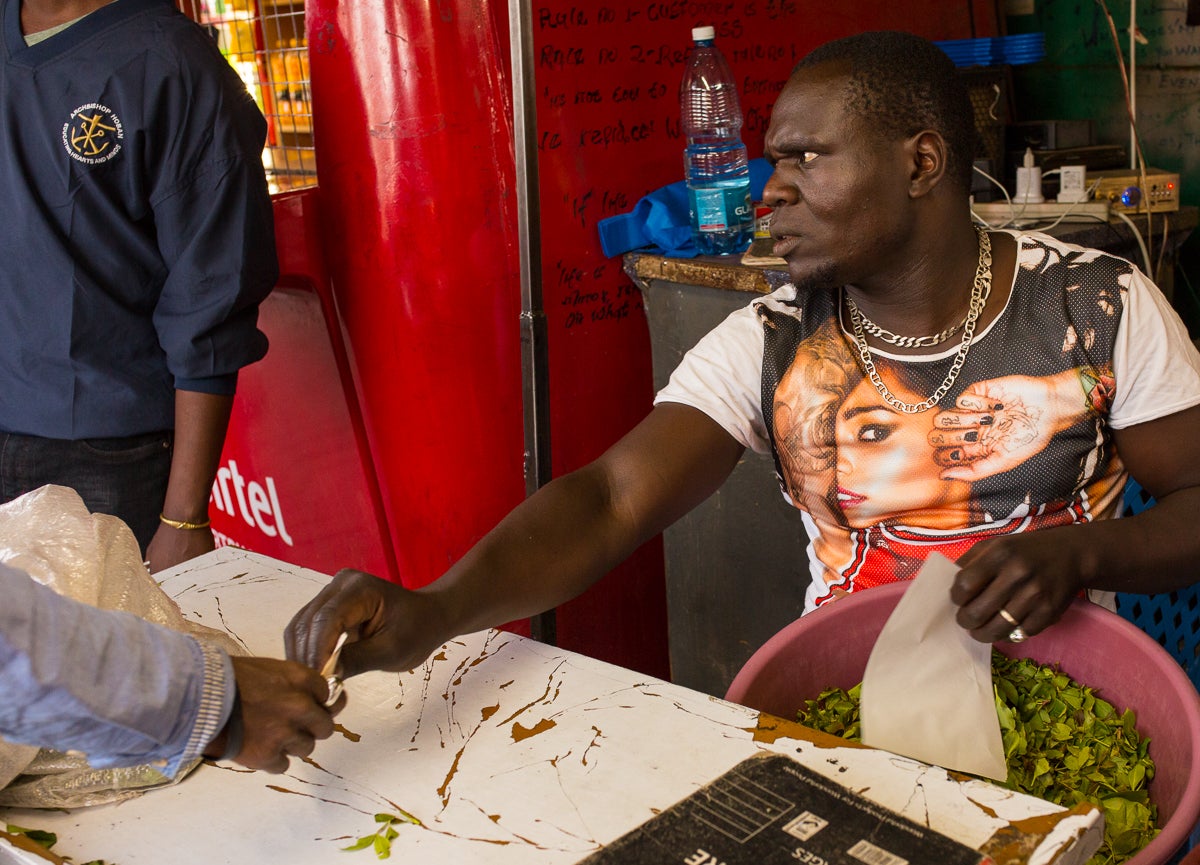 Miraa is made from young stems picked from trees growing near Mount Kenya. It's usually consumed as fresh as possible — within a few hours of picking — and a lightning-fast supply chain distributes it across the region (to Somalia, Djibouti, Ethiopia, Yemen and beyond), where men are looking to relax and chat, just like Edwin and his friends.
With miraa, Edwin explains, "the conversation is more clear, more enjoyable, than when you're taking alcohol." He explains that people are more prone to fighting when they're drunk. "With alcohol, I can't joke about his shoes, or anything," he says pointing at his friend's unique military-style boots. With liquor, "you're going up-up-up," he claims, whereas with miraa, "you're just stable."
"At times, you get very emotional," Edwin continues. A few weekends ago, he says, "with my other boys, we sat down — one of them, his mother is sick, so we started talking about his mother, our parents, how they brought us up."
I get what he's saying. Personally, I've had plenty of deep conversations with friends or partners while chewing miraa. The high definitely makes me more talkative and open to breach personal issues. On top of that, you're forced to hang out together for a long time, unlike having a quick coffee or a drink. To that end, there aren't many activities that force you to relax with friends for a whole afternoon, just focusing on chewing and chatting. It brings people together. So much so that miraa is among the few pastimes that are shared by both the majority of poorer black Kenyans (although some of the black upper-class use it, too) and the generally better-off Kenyan Indians.
Edwin and his friends are black Kenyans. At one end of the square where they sit stands an abandoned cinema that used to show Bollywood movies. A few decades ago, this area, Pangani, was populated by a majority of Indian workers, many brought by the British to work on a railway connecting Nairobi to the coast. Since then, most have moved with their families to nicer suburbs across the Thika highway.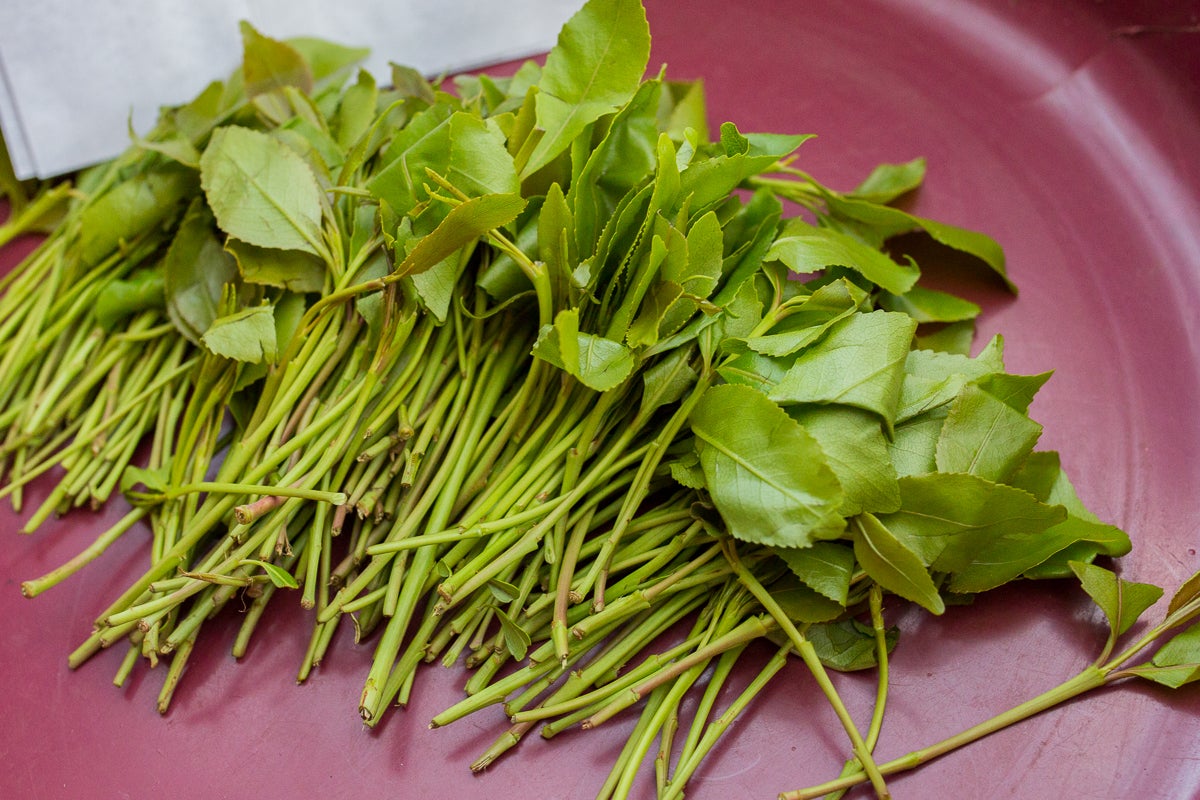 Despite their shared affinity for miraa, however, the ethnic groups rarely chew together. No Indians are visible in the Pangani square, though that's where some of them get their supplies. Instead, they chew at home or in dedicated places; a few of my Kenyan Indian friends even have a chewing space at the back of an Ethiopian restaurant. It's a bit dingy, but they've bought plush armchairs and decorated the wall with photos of their favorite golf course and scenery from safaris in national parks.
Gilbert has been trading miraa for 20 years. He's wearing thick silver chains, and sitting behind his small desk in his small shop on the square, he looks like a thug, in sharp contrast to his friendliness. "I chew every day, every time," he says. He studied mechanical engineering, but he says there are no jobs in Kenya. And so, he ended up in the miraa business instead, first as a broker and then as a retailer, dispatching it all over Nairobi. "We decided to be removing the leaves, make it clean [and easy] for the customers." They're then packaged in envelopes, and sold for about $2.
Initially, Gilbert hired young men to do the job, but they tended to consume too many of the leaves. So he fired all of them, and now, he employs a dozen women. In total, he says, about 20 people are working for him.
On the thorny question of impotence, Gilbert argues "people have different hormones. We aren't all together [in this]. A lot of people chew, then they're good in sex. Some chew and say it's a side effect. It's like food allergies."
"Me, I take it every day," he continues. "When I'm traveling, I just take a little [with me], and when it's finished, I have to go without it. But you know, when you're used to coffee, you take coffee every day. Then [if] you lack it, you feel kind of a headache, and you feel like it's not a good day. People who chew daily, they're the same way."
While talking to Gilbert, a client of his chimes in, saying that if some people don't chew, "they get angry. Others they get nightmares, they can't sleep properly." He uses miraa every day at his sales job. "At that time we are chewing, the quotations and proposals that we will send, the emails that we will send, it's incredible! We will follow up with our clients like crazy." Gilbert's client takes a break on Sunday, but that day, "I'll not be angry because I've programmed myself that way."
For his part, Edwin only chews on weekends. He admits that he'd struggle without miraa, but more so because "this place is addictive," referring to the carpark where he's spent the weekend relaxing with friends — a group that now appears to include me, too. That is, they make me promise that I'll join them again the following week.
I hope my girlfriend will understand.