Before Instagram, YouTube and streaming porn, before news cycles hinged on the president's tweets and hashtags, before you could even "friend" and "follow" other people online — before the dot-com bubble burst! — there was a thing called Goatse. The word referred to a web domain, goatse.cx, or "goat sex," though it featured no such content. Instead, visitors were greeted by an image file, hello.jpg, which the eye at first could not comprehend, but soon resolved into a shocking photo of a man using both hands to stretch his anus wide open, revealing the cavernous pink interior of his rectum.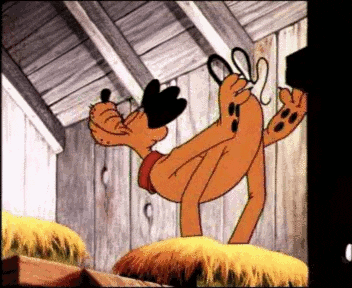 In those days, if you saw Goatse, it was because someone tricked you into looking at it. Other early shock sites, like Rotten.com, invited the morbidly curious to peruse a gallery of disturbing gore and sex acts, but Goatse functioned as a bait-and-switch prank, the significantly grosser antecedent of jokes like Rickrolling. Its legend as an instrument of trolling was such that many years past its zenith as a meme, people wanted to find the elastic-assholed man himself (and a journalist eventually did). Goatse remained accessible at the original URL until 2004, when a complaint got the site suspended; over the next decade, ownership changed hands several times, with periods where the domain was inactive or announced forthcoming services, like webmail, that would be available through the page. By 2014, the administrator was promising the launch of a cryptocurrency called "Goatse Coin." And today, at last, this became a bizarre reality.
I can think of no more fitting yet heartbreaking demise for an artifact like Goatse than to be leveraged by some crypto-vulture mounting a masturbatory experiment in online humor. As the homepage and a white paper now have it, Goatse is now "a blockchain-based incentivized meme creation platform" made possible by Goatse Coin; you can get 1,000 coins for free via the "transfer" of zero Ether, another digital currency. These coins would then, in theory, be distributed to meme-makers whose original work receives the most votes on the platform. The most successful would become "Power Memers" and therefore social media celebrities, while those engaged in identifying and propagating the dankest memes are to be rewarded through the blockchain. Got it?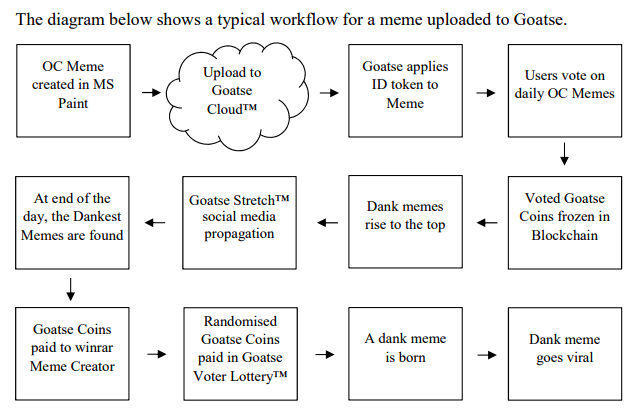 It's tempting to think of all this as a satirical stab at Silicon Valley "disruptors" and financially deranged Bitcoin nerds, but a few red flags suggest the venture is the work of someone too far up their own butt for that sort of critique. Take this sentence from the paper, for example: "Internet image boards have traditionally attracted talented meme autists and have been a breeding ground for fresh OC [original content], but have struggled to efficiently overcome high volumes of copy pasta and forced memes." The reference to image boards, as well as the terminology, are direct links to 4chan culture. The title of "autist" in particular has roots in problematized notions of autism prevalent on the infamous forum. Not knowing much about whoever wrote and designed the current Goatse site (the registrant appears to live in a suburb of Melbourne, Australia), it's impossible to say for sure, but there's ample reason to think they're a dedicated shitposter heavily influenced by chanworld, in which case this could be one big troll. Maybe everybody who signs up will simply receive the original Goatse .jpg in return.
Anything else, however, would be a waste of effort and a very sad coda to the myth of Goatse. Apart from the distastefulness in cynically piggybacking on web canon to create buzz around your overcooked pitch for a content farm, there's just no need for a centralized meme authority, which is antithetical to all that is right and good about the dynamics of virality. The notion of a "meme economy," driven by scarcity and vulnerable to speculation, is already an in-joke for the creatives who recognize that there's no way of putting regulations or controls in place to ensure superior quality or stability in the field of relatable internet gags. Why would we need a blockchain and royalties, given the decent meritocracy in place for memes, which moreover elevates inspired material crafted for its own sake? To act as if you're revolutionizing this landscape by stripping it of anarchic energy isn't just deluded, it's demeaning. It's also, uh, not going to work.
If the owner of goatse.cx is reading this, I beseech you: abandon your ambitions. I don't care whether this is genuine passion or elaborate meta-commentary. Nothing gives you the right to pave over an institution of visceral disgust to offer an abstractly repulsive startup. Think of what drew you to Goatse in the first place, the undying horror seared into your eyes, the disbelief and dumbfounded awe. The internet is a place of flux, but without a few constants, we'll never see how fast it's changing. Goatse was one such pillar, immutable, untouchable. Until you understand that, you are an enemy of history.