This week, a photo of a movie star in his late 80s who hasn't appeared in a film in nearly 20 years went viral. Clearly, people still love Gene Hackman — so much so that it didn't much matter that the picture was actually two years old, not "recent" as the original poster suggested. Everyone was just happy to see him again.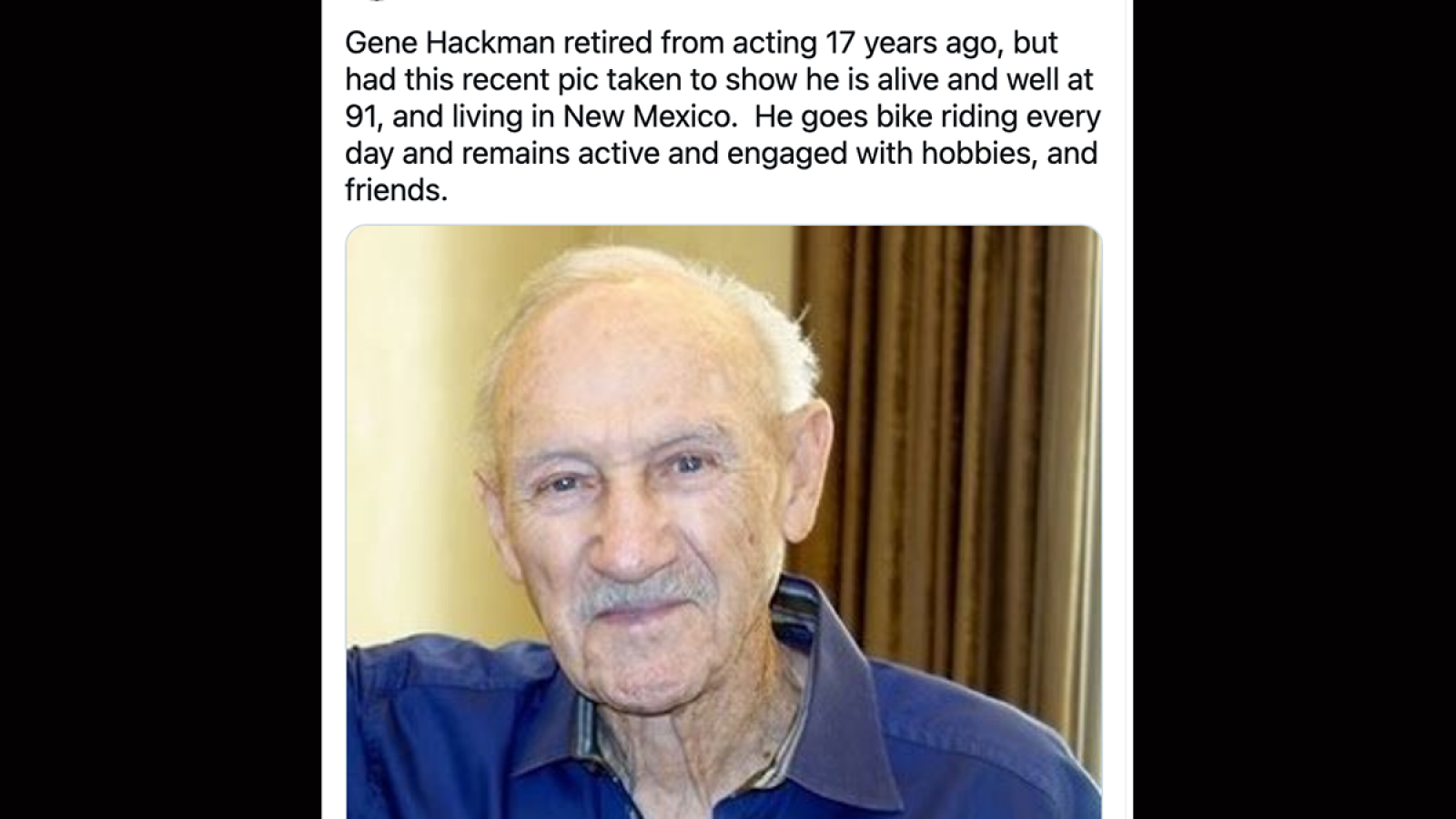 Turning 91 earlier this year, the two-time Academy Award-winner walked away from Hollywood to focus on writing novels and enjoying life in Sante Fe, New Mexico. Who could begrudge the man a happy retirement? There was only one real blemish to that storybook ending: His final film was kind of a dud. The forgettable 2004 political comedy Welcome to Mooseport found him paired with Ray Romano in a battle to win a small-town mayoral election. It wasn't a hit, and critics didn't enjoy it. But that's how Hackman chose to end his film career, and he's not going to be coaxed back into acting. ("If I could do it in my own house, maybe, without them disturbing anything and just one or two people" was as far as he'd go when the subject came up in a 2011 interview.)
If Welcome to Mooseport is indeed his final film role, that would be anticlimactic, but the truth is, several prominent actors have gone out on a less-than-high note. Sometimes, they died before seeing their final work, while others chose a last project that simply wasn't indicative of their talent. Below, we look back at eight bittersweet examples of great performers and their not-so-great swan songs. None of these films are worth seeking out, but their place as historical footnotes can't be denied either.
Bela Lugosi, Plan 9 From Outer Space (1957)
Technically, the last film Lugosi made while he was alive was The Black Sheep, a 1956 horror movie in which he played a mute servant. But famed schlock director Ed Wood wasn't going to let Lugosi's death that same year keep him from shoehorning his friend (and the man who brought Dracula to such vivid life on the big screen) into his next picture, an incompetent sci-fi/horror mixture that involved aliens, zombies and world peace. 
Gregory Walcott, another of the actors in Plan 9 From Outer Space, recalls being pitched the project by producer J. Edward Reynolds, with the promise of getting to act alongside Lugosi. "But Ed, Bela Lugosi is dead," Walcott replied. No problem: Wood simply incorporated footage he'd shot of Lugosi for an earlier unfinished project. The tackiness of that approach only added to Plan 9's reputation as one of the most woeful films ever made. It was a demeaning ending to Lugosi's career, which had been laid low by drug addiction — but thanks to Tim Burton's loving 1994 biopic Ed Wood, Lugosi received a proper posthumous tribute, with Martin Landau winning an Oscar for his portrayal of the disgraced but noble movie star. It restored the dignity of an actor whose performance as Bram Stoker's bloodsucker remains a classic.
Gene Kelly, Xanadu (1980)
If he'd only made An American in Paris and Singin' in the Rain, Kelly's legacy as one of Hollywood's great dancers and comic performers would be assured. Throw in the likes of Anchors Aweigh and On the Town and… well, his oeuvre is just an embarrassment of riches. Kelly died in 1996, having retired from dancing on screen after appearing in his final film, a cheesy love story/musical starring Olivia Newton-John, who was riding high after the success of Grease. In Xanadu, Kelly did a tap-dance number with Newton-John — and another involving roller-skating. Neither is an embarrassment, but they're not to the level of his greatest work. Contrary to some people's assumptions, though, the much-ridiculed movie (one of many weirdo musicals of the 1980s) didn't prompt Kelly's exit from the spotlight. "In fact, I wasn't going to dance in Xanadu," he said later, "but several journalists told me that Olivia Newton-John kept saying how sad she was that she wouldn't get the chance to dance with me. So I finally said, 'All right, throw in a number.'" Any clip reel of the all-time best movie dance sequences will almost certainly include a few of Kelly's — but probably nothing from Xanadu.
Peter Sellers, The Fiendish Plot of Dr. Fu Manchu (1980)
Shockingly, Kelly's and Sellers' final films came out the exact same day. Unlike Kelly, though, Sellers didn't live long enough to see it: The British comedic legend died a few weeks before The Fiendish Plot of Dr. Fu Manchu's release. (He was only 54.) "The project must have been just the kind Sellers loved to work on," Roger Ebert wrote in his one-star review. "He plays two of the major roles in the movie, the ancient Fu Manchu and the unflappable Nayland Smith of Scotland Yard. He also turns up in a variety of other disguises, as a Chinese chef, a foppish antique dealer and the young Fu. The roles required complex makeup jobs [and] Sellers plays around with accents, props, all the schtick he can dream up." 
Putting aside, if you can, the ugly cultural insensitivity at play, The Fiendish Plot was simply an uninspired, unfunny movie, hardly a deserving swan song for an actor who was beloved for his ability to disappear into different roles. Dr. Strangelove and Being There, the latter coming out a year before Sellers' death, are a testament to his genius. The Fiendish Plot is best forgotten.
Orson Welles, The Transformers: The Movie (1986)
For Gen-X kids, this animated Transformers adventure, which predated Michael Bay's bloated live-action editions, has been infamous (and traumatic) for one reason: The filmmakers made the controversial decision to kill off beloved hero Optimus Prime. But for fans of classic Hollywood cinema, The Transformers: The Movie is also notorious because it includes the final performance from Welles, the genius behind masterpieces like Citizen Kane who, later in his career, did paycheck work in order to finance his projects. 
Welles, who died in October 1985, was in poor health when he recorded his part. "When I was waiting for him in a recording booth, he was entering in a wheelchair with an assistant," The Transformers: The Movie director Nelson Shin later recalled. "At a look, I could see he was not in a good condition." Welles' booming, authoritative voice — one of his indomitable strengths since his early days in radio — helped bring the movie's principal villain, a planet-devouring robot named Unicron, to life. Still, a hacky kids' movie was hardly a fitting farewell for a man many think made the greatest film ever.
Gene Wilder, Another You (1991)
Wilder, who died in 2016 at the age of 83, is closely associated with Mel Brooks, with whom he made such comedy landmarks as The Producers and Young Frankenstein. But later in his career, he hooked up with Richard Pryor, finding perfect odd-couple chemistry in Silver Streak and Stir Crazy. "I met him for the first time in Calgary, in Canada," Wilder said in 2005. "A very quiet, modest meeting. We gave each other a hug, he said how much he admired me, I said how much I admired him and we started working the next morning. We hit it off really well, and he taught me how to improvise on camera." 
Unfortunately, their final pairing — which was to be Wilder's final film — was a disaster. Another You cast Wilder as a man recently released from a mental institution who just happens to resemble a millionaire (also played by Wilder) — which brings him into the orbit of Pryor's conman. Pryor's multiple sclerosis was noticeable in the film, but even so the comic spark between the two actors wasn't as strong as it had once been. Another You got terrible reviews, and audiences stayed away. Wilder did a little television in subsequent years, but he was done with movies. "After a while, [films] were so dirty," he later said. "Once in a while, there was a nice, good film, but not very many. If something comes along and it's really good and I think I'd be good for it, I'd be happy to do it. Not too many came along."
Raul Julia, Street Fighter (1994)
The respected theater actor received four Tony nominations, not to mention winning an Emmy and a Golden Globe for the HBO film The Burning Season, which was released a month before his death. But a couple months after Julia's passing, his final big-screen performance hit theaters: the dopey video-game flick Street Fighter, in which he played the evil Bison. 
The film's writer and director, Steven de Souza, had no idea Julia had cancer until production got underway. "I got a phone call from our costume consultant," de Souza told The Guardian. "She'd gone ahead a day before us to meet Raul and she said, 'We have a problem. He looks ghastly; he's like a skeleton.' We thought, 'Oh god, what are we going to do? We can't put him on camera.' We decided to push all of Raul's scenes to the end of the movie, so he could gain weight." The movie, by all accounts, was a nightmare, but Julia was the consummate professional, despite the clear pain he was in. Not that he didn't manage to squeeze a little fun in as well. "He used to sneak out at night like a tomcat," co-star Roshan Seth said in the same article. "He would go off gambling with a big Havana cigar clenched between his teeth. I thought that was terrifically romantic."
Heath Ledger, The Imaginarium of Doctor Parnassus (2009)
When Ledger died in January 2008, moviegoers' shock and sadness was combined with intense industry speculation about what his tragic passing might mean for The Dark Knight, one of that summer's most highly anticipated films. You know what happened next: His Joker performance became legendary, winning him a posthumous Oscar. Only 28, Ledger left behind an impressive collection of films, including Brokeback Mountain and I'm Not There. But The Dark Knight wasn't his final movie — that distinction goes to the ambitious but ultimately disappointing The Imaginarium of Doctor Parnassus, which Ledger was in the midst of filming when he suffered his fatal overdose. 
At the time, it was easy to root for the movie, directed by Terry Gilliam, which found an inventive way to handle Ledger's death: The Brazil auteur recruited Johnny Depp, Colin Farrell and Jude Law to play alternate versions of Ledger's character as he enters fantastical other realms. Imaginarium had an extra layer of poignancy because of that creative choice — it was a way for Ledger's fellow actors to pay tribute to him by completing the role he couldn't finish — but the movie's disjointed, overly whimsical tone doesn't fully work. By no means a disaster, Imaginarium is mostly a shame because of the hints of Ledger's great performance we see in the margins. It makes his death sting all over again.
Robin Williams, Absolutely Anything (2017)
The last few years of Williams' life were sad ones: Even though he was as busy professionally as ever, his health was deteriorating. Shawn Levy, who directed him in 2014's Night at the Museum: Secret of the Tomb, which came out a few months after the Oscar-winner's suicide, observed, "I would say a month into the shoot, it was clear to me — it was clear to all of us on that set — that something was going on with Robin. We saw that Robin was struggling in a way that he hadn't before to remember lines and to combine the right words with the performance." 
Williams' death shined a new light on mental illness, as well as Lewy body dementia, and it inspired fans to reminisce about his decades of terrific comedic and dramatic performances. A few years later, U.S. viewers got one last Robin Williams film in the form of Absolutely Anything, a sci-fi comedy in which aliens decide to see what would happen if an ordinary human was given the power to do, well, absolutely anything. Simon Pegg played the human, Williams voiced his talking dog, and the surviving members of Monty Python all played a hand in the film's creation. But what should have been a comedic summit ended up being a bomb: The movie opened in the U.K. in 2015, finally arriving Stateside in 2017, with critics ripping it to shreds. Williams deserves to be remembered for anything other than Absolutely Anything — which is good considering, honestly, you'd probably never heard of it until just now.