Lucas Peterson is a columnist for the Los Angeles Times who covers food and culture and is noted for his controversial opinions on French fries and the, er, nascent New York City dining scene. Peterson grew up in Illinois, but in recent years, he's been traveling the country to explore regional foods for Eater's popular "Dining on a Dime" series. He is the third in a series of men we've interviewed about the dishes which — either through nostalgia or comfort — fill the soul.
I grew up in Oak Park, Illinois. It's a suburb right on the western boundary of Chicago, and right across the border is Elmwood Park, where there's a place called Johnnie's Beef that I love. I used to do musicals a lot when I was a kid, and I remember one summer there was a girl in the same play as me who lived really close, and we'd just walk over there. I always got the Juicy Combo, hot, meaning hot peppers. It's basically an Italian beef sandwich, which is just this greasy, sloppy concoction where the bread becomes, like, a yoga mat for sliced beef and oily, spicy giardiniera.
It's already fantastic that way. But the way they do it at Johnnie's is they put an Italian sausage, which is grilled over coal, right into the sandwich. You get the textural variety of thinly sliced beef, which is soaked with the broth that gets into the bread, alongside this chewy, snappy sausage with a char on the outside. It's a lot of meat, but it's not really about the meat. It's about this amalgam of textures.
All through my teen years, the Juicy Combo was a stop on the way home from the airport. So it sort of became strongly associated with coming back. We ate all kinds of food growing up — my mom is Chinese and grew up in L.A., and she was a really wonderful cook for the family. But there was also a lot of shame about food and heritage for me growing up. I was a fat little kid, and growing up Chinese American in a town where there really weren't any Asians, maybe just one or two in my class, that was weird. Kids are shitty and you get picked on a lot for who you are, because what you look like is so immediate. But, you know, it was a pretty good life looking back. I'm happy to call it my home, and this sandwich reminds me of a very particular time of that life.
Nowadays my great shame and guilt is because of the fact I don't cook very much — despite writing about food all the time. So I've never thought to recreate the Juicy Combo at home. My girlfriend, Sarah, actually very sweetly made it for my birthday last year and did an exceptional job. The one thing that was hard was that we couldn't get the right bread. Another reason why we need more Chicago specialities in L.A.
* * * * *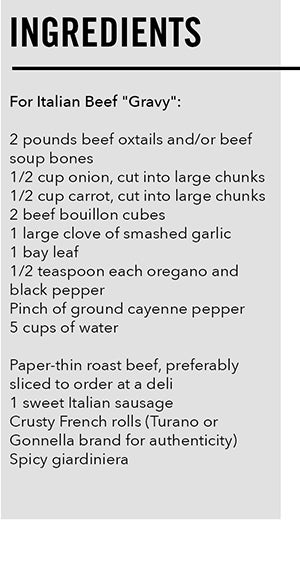 Note: There are a lot of "Italian beef" recipes out there, but we rejected all "pot-roast" style shredded-beef versions. Instead, we're blending the recipes from Serious Eats and The Food Hacker, which both recommend store-bought roast beef.
The most intensive part of this recipe is making the beef jus. Place a medium-sized pot over medium-high heat and add a tablespoon of neutral oil (vegetable, canola, etc.). When the oil is shimmering, add the oxtails/beef bones and sauté them until they brown on all sides. After a few minutes, add the vegetables, garlic and seasonings, continuing to sauté. When the vegetables have darkened slightly, add the water and bouillon. Cover and simmer as long as you can stand (ideally about three hours). Skim the top of the gravy as it cooks to remove scum. When it's done cooking, pour through a mesh strainer and into a clean pot, discarding the vegetables.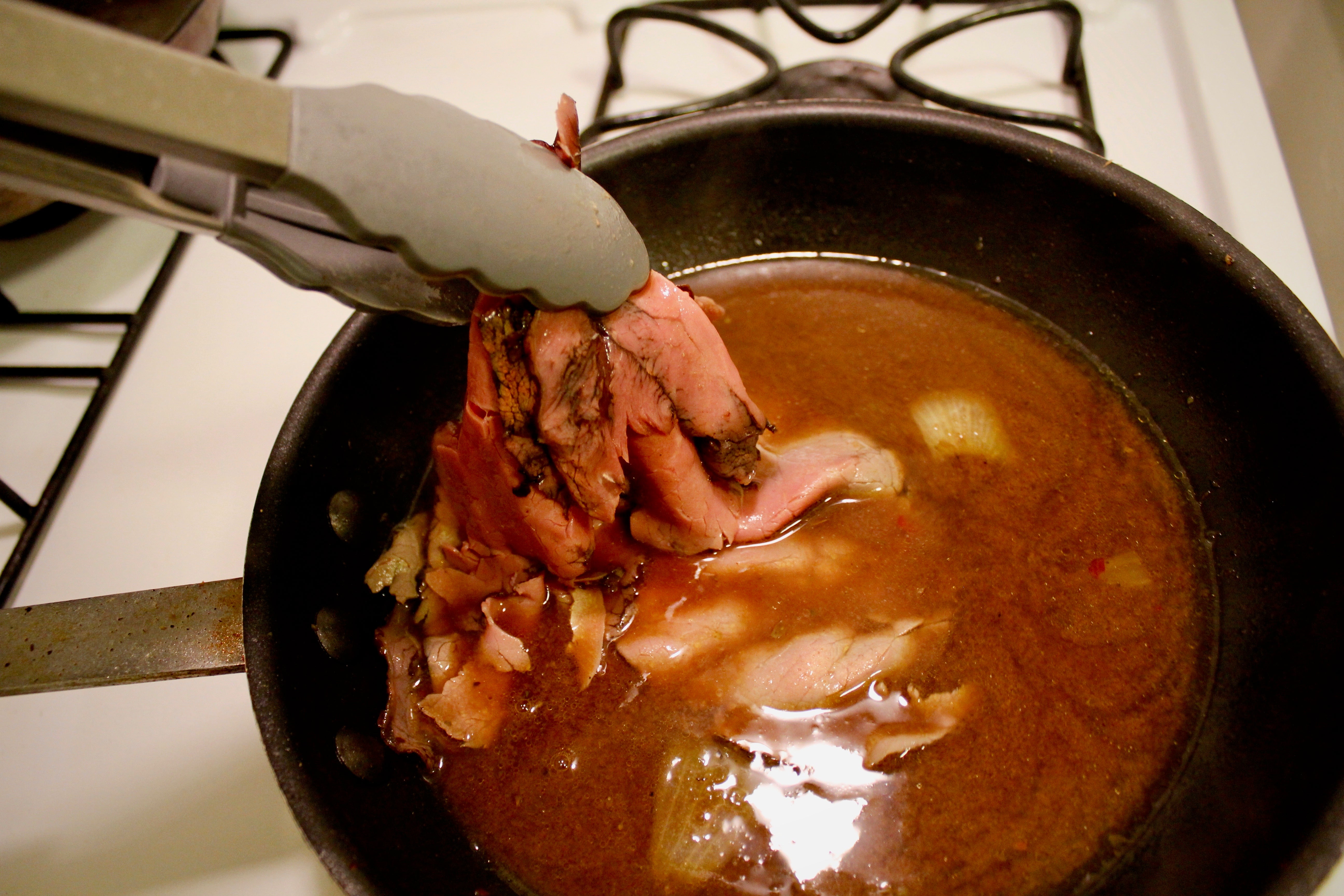 About 15 minutes before assembling the sandwiches, gently poach the raw sausage in a shallow pan of simmering water for five minutes until it's cooked through. Then quickly sear it to a crisp in a pan over high heat, or preferably, a ripping-hot charcoal grill. Set aside.
Put your rolls into a preheated 400-degree oven or a toaster oven, just to heat through. While they're warming, take out your sliced roast beef and gently place it in the hot broth, simmering until the beef starts to soften and fall apart. Remove the warm bread, add the sausage and surround it with beef. Soak the bread to your taste with more gravy. Top with spicy giardiniera.