Javier Cabral is a food writer born and raised in East L.A. He worked as the late food critic Jonathan Gold's restaurant scout and is currently associate editor of L.A. Taco and associate producer of a new Netflix show, Las Crónicas Del Taco. He's the fifth in a series of men we've interviewed about the dishes that — either through nostalgia or comfort — fill the soul.
As soon as you step out of the airport in Hermosillo, it smells like cow shit. It's essentially the birthplace and the cradle of carne asada. They take their beef real serious. And when I say they take it seriously, I mean like, millennial Mexican hipsters get tattoos of the state of Sonora, but in the form of a ribeye steak. It's crazy.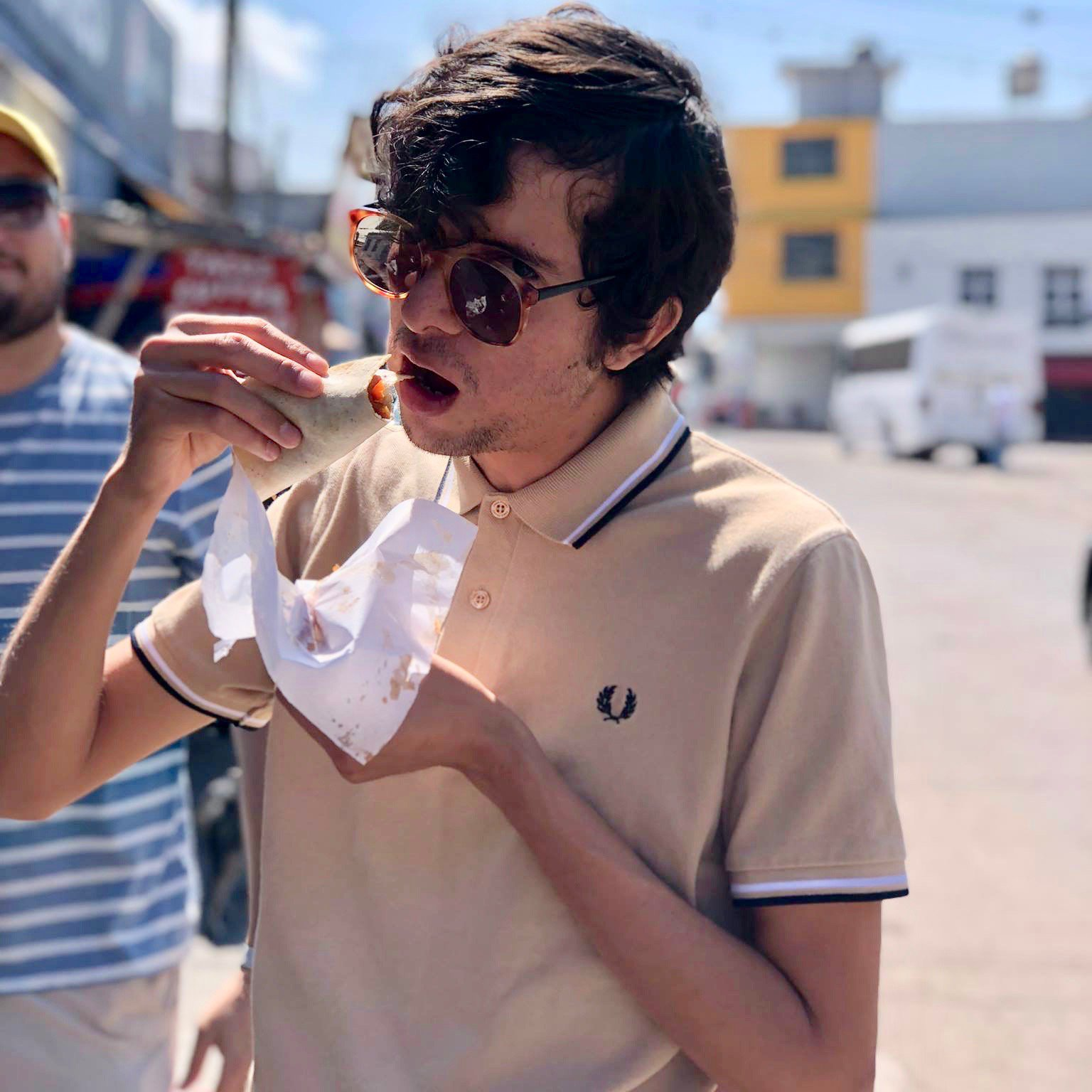 I was just there, and it was my first time in Hermosillo. I was on the job for Las Crónicas Del Taco. My task was to travel all over Mexico finding the best tacos imaginable — and the great stories and little Easter eggs around them. I'm talking 15 stops in a 24-hour span. It's a job that's obviously too good to be true. But Hermosillo was the city that made me kind of realize, "Wow, I'm living a dream that I told myself I was going to live when I decided to be a quote-unquote food writer for a living." 
So this carne asada. You know, that term in the U.S. applies to the entry-level taco that everyone gets. Even in L.A., a lot of people don't even look at the rest of the meats available. Basically, carne asada has become this cheap filler food — I mean, how many times have you ordered it and the meat is gristly and not even grilled? That's what a lot of Americans — and even people in central Mexico — are used to seeing as carne asada. But in northern Mexico, in Hermosillo, if you don't smell mesquite smoke, it's not real carne asada. 
The other thing is that people in Hermosillo understand good beef has to be expensive. Most of the carne asada tacos there are three or four bucks. That's crazy for Mexico. But it is what it is. People don't eat it every day. Whenever they do, though, the standard is fucking amazing. 
Another difference: Shredded cabbage is important, and there's a special salsa. Northern Mexico has a big Chinese influence in its history, because of all the railroad workers who fled there during America's Chinese Exclusion Act. So there's this soy-sauce-based salsa that has Mexican lime, charred onion, charred yellow chile and chipotle pepper. It tells a story about the region's history.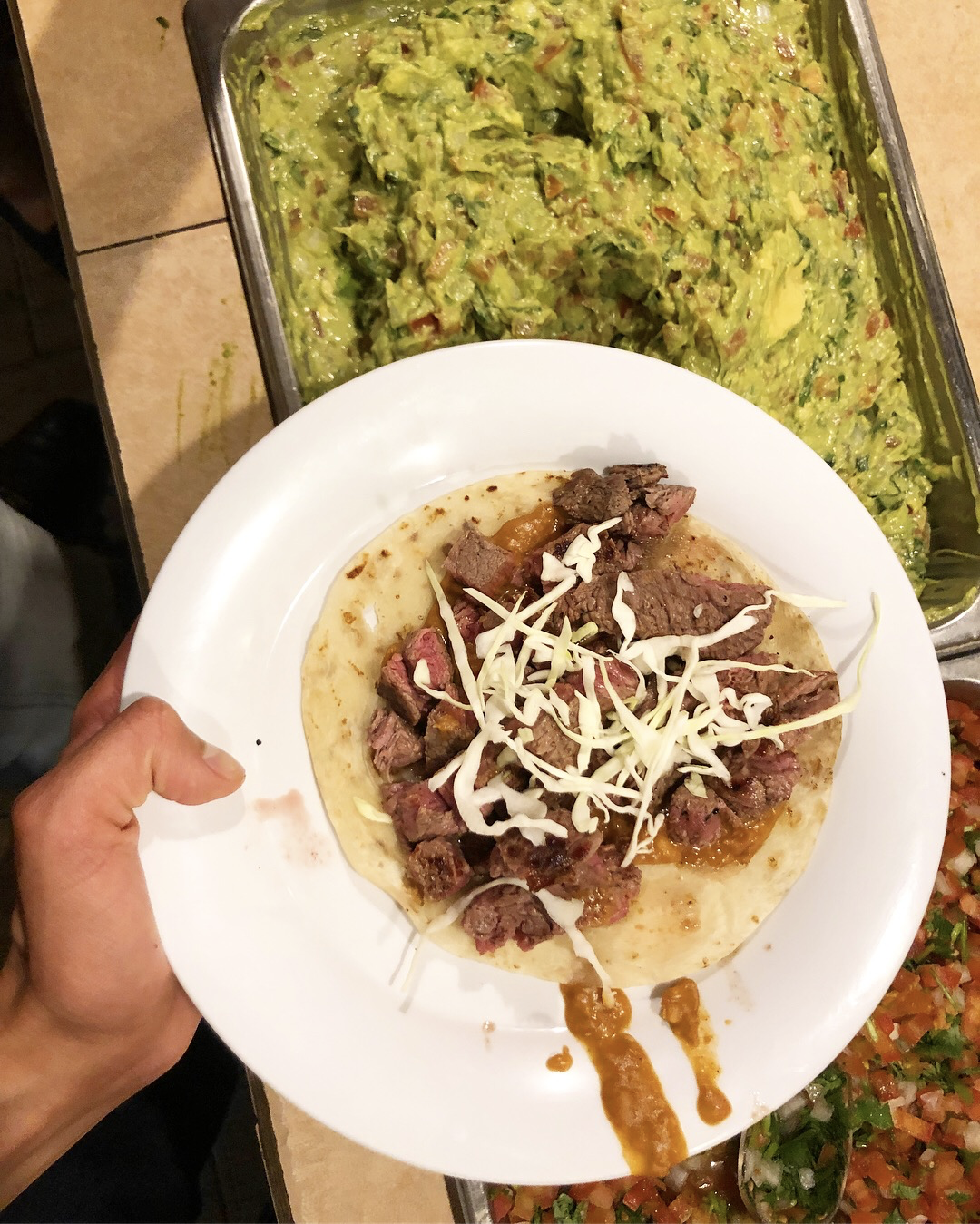 If you can believe it, I used to be a really, really picky eater who grew up on getting fast food five days a week — Jack in the Box tacos, Popeyes and Pizza Hut. I wouldn't even eat my mom's food. But I would eat carne asada. To my parents, it became a food I could love. Who doesn't like grilled meat? So in Hermosillo, I reflected on coming full circle with my inner child, that picky eater who drove his mom crazy. It was like a fever dream, because it's so fucking hot there, like 108 degrees going up to 116. It's this Hell-like place full of glorious tacos and all the chunky guacamole you want and Asian-inspired soy sauce salsa.
Honestly, I got real emotional there, taking it all in. I worked hard in a journalism industry that's in such flux. I've been laid off before. I've had my stories killed because of a lack of resources in the past. So standing there, taking my first bite of that taco and washing it down with some ice-cold dark Mexican beer, I just thought, You know, it's going to be okay. 
* * * * *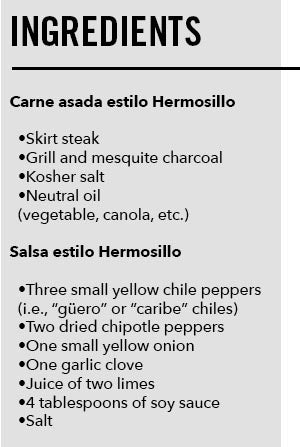 As much as we'd like to stay true to the original dish, it's really hard to make thin, flaky, chewy flour tortillas without the special wheat flour produced in Sonora. Food wizard Samin Nosrat tried recreating it with regular ol' all-purpose flour from the U.S., and you're welcome to try her labor-intensive recipe. But it's probably best to just get some tortillas from the store. 
In terms of the meat, fire up the charcoal, preferably with a method that doesn't use lighter fluid (e.g., a chimney). Whatever method you choose, arrange the coals in a single pile in the middle of the grill. When the coals are glowing white-hot, rub the steaks with oil and sprinkle them generously with salt on both sides. Lay the steaks on the grill and cook, turning frequently. 
Cook to medium/medium-well — the meat should have a firm bounce to it when pressed with a finger or fork, or you can just use a thermometer and pull it at 155 to 160 degrees. Let rest for 10 minutes before cubing the meat into half-inch chunks. Serve garnished with shredded cabbage.
For the salsa, rehydrate the chipotle peppers in a cup of boiling water. Let sit until the peppers turn soft, and reserve the liquid. Char the yellow chile and onion in a heavy pan over medium heat, turning frequently until all sides are starting to blister and turn black. Add the garlic near the end, toasting it until fragrant. Add the ingredients into a blender or food processor with the lime juice, soy sauce, chipotles and their liquid. Pureé, adjusting the consistency with more water until the mix is thick but flows off a spoon. Season with salt to taste.