Who is the artist known as "Drake?" Is he the Canadian former Degrassi star who happened to pivot into a successful rap career? Is he a "Certified Lover Boy," as his most recent album name suggests? Is he the type of fella to tap the glass at the tiger exhibit at the zoo and say, "Here, kitty kitty!" or to shout "Geronimo!" as he holds his nose and cannonballs into the pool? Does he have fumes coming out of his ears when he's an angry boy?
These are the specific questions people of Twitter, Instagram and TikTok are attempting to answer in meme format, trying both literally and cartoonishly to address who exactly Drake is. But as the absurdity of the questions suggest, Drake is likely none of these things — and we'll never know any more than that.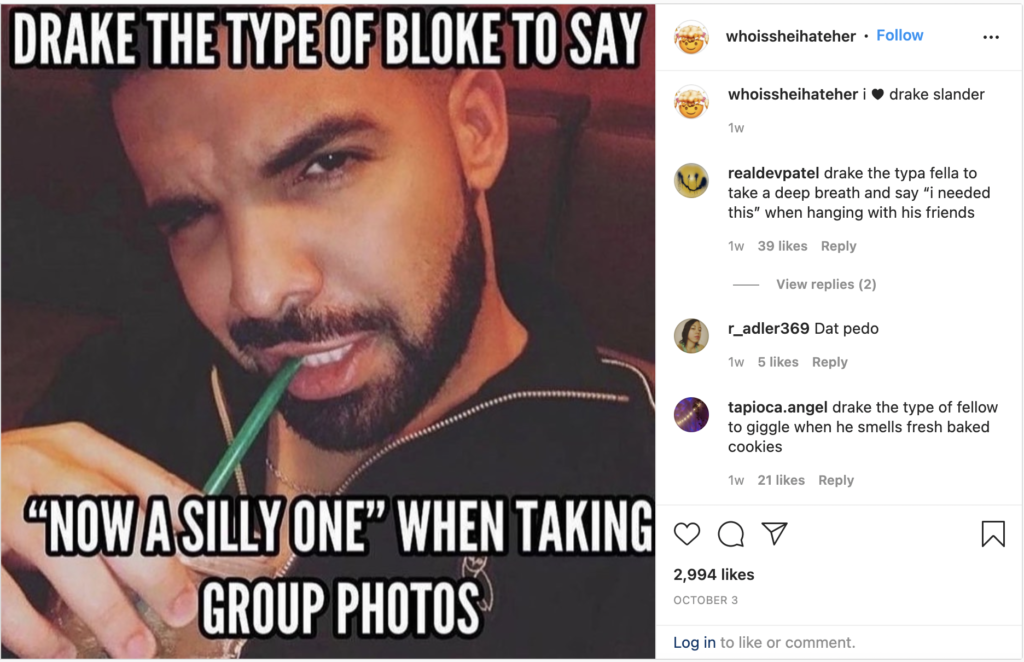 The meme started a decade ago on Twitter. According to Know Your Meme, it was conceived in an April 2011 tweet stating that Drake was the type of dude to "let his woman propose." For the next two years, statements following a similar format flourished online. Most commonly, they characterized Drake as being overly effeminate or emotional, and often linked to the depressed former lover image he'd built for himself following the release of his 2011 album Take Care.
At the time, the memes felt almost like plausible descriptions of Drake, identifying him as the type of guy to run a bubble bath and stare at photos of his ex, or as someone who would steal your girl, feel bad about it and help you win her back. Quickly, though, it branched further into parody, suggesting he'd do things like bake cupcakes for his male friends as an apology for an argument or send you a thank you card for coming to his birthday party. Above all, these memes never actually made Drake look like a bad person, just a sensitive one. In fact, they made him seem like a good, albeit overly earnest, friend.
The latest inception of the meme plays off the same concept. It's unclear exactly when it began to resurge, but Google Trends shows a rise in interest in late September and a current all-time high in October of this year. Many of the memes continue that cheesy perception of Drake — as one tweet from October 1st by @jedwill1999 reads, "Drake a dude who, mid conversation, whilst laughing with friends, looks around at all of them and says, 'I needed this.'"
It's obviously funny to joke about this type of person, especially when we imagine it to be a celebrity like Drake. But at the same time, it's not necessarily descriptive of a negative quality. People who wear their heart on their sleeve like this are perhaps annoying or corny, but at the very least, they're honest about their emotions in a way that defies many of the expectations of traditional masculinity. They also likely don't have many of the petty and egotistical attributes that Drake brazenly affirms in his later albums.
This is perhaps why the meme has veered once again, this time from saccharine and sincere to full-blown cartoon character. In under two weeks from its initial revival, the jokes now center around the idea of Drake behaving like he's on Tom and Jerry. "Drake the type of guy to run through a wall leaving a hole shaped like him when he's scared," a tweet from @FuckMeVega reads. "Drake is the type of guy to say 'mi mi mi mi mi mi mi' when he snores," writes @GOKEEGANGO.
In its current form, the meme gets down to the core of what it means to be a celebrity: Someone like Drake might as well be a guy in an episode of Scooby Doo, because everything we know about him is probably written and contrived just the same. As we've grown familiar with his public image and persona, we're inclined to think we know him.
Over the last few months, the term "parasocial relationships" has also reached its zenith. Once a niche term coined in the 1950s by media sociologists to describe the one-sided relationship people form with the media they consume, it's recently become part of the pop-culture vocab list to describe how we revere celebrities we don't actually know. But now that the concept has been fully inserted into the language of social media, we seem to be further dissecting exactly how we interpret our relationships with these public figures.
"Drake the type of guy" memes are a fun way to guess at what Drake is really like, but they all still point to the reality that we have absolutely no fucking clue what he's about. Drake might as well be the kind of guy who has birds fly around his head after having an anvil fall on him — our understanding of him will remain a caricature just the same.