Nguyen Tran puts on his banana suit like everyone else: one limb at a time. He tugs the material down past his waist to his knees, making sure to keep the lines smooth. He slips a green headband over the tip of the banana and works it down around his forehead. Two fuzzy green-and-white bands slip over his fingers and onto his wrists.
The six-foot-high suit, with Tran inside, first appeared on the sidewalks of downtown Los Angeles five years ago. He'd leap out at passersby, his eager-to-please brown eyes beaming out from beneath the yellow felt of the headpiece: "Try my balls!" he would urge. "Please enjoy our balls in yoooo mouth!"
If the balls in question weren't so delicious, someone might have called the cops.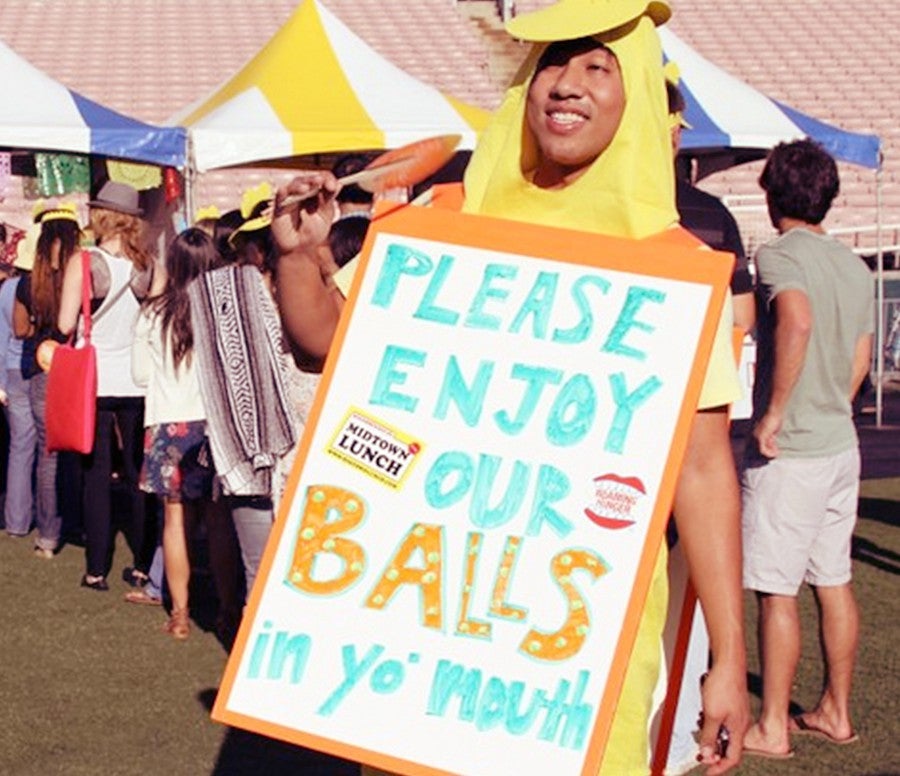 The spiky, crisp green tofu balls were specialty of the house at Starry Kitchen, the informal restaurant he'd started with his wife, Thi Tran, on the back patio of their North Hollywood apartment seven years ago, featuring a small menu of sumptuous but simple dishes native to Southeast Asia. Within a year, the tiny, no-seats operation in a suburban high-rise became the No. 1-rated Asian fusion eatery on Yelp Los Angeles by serving $5 plates from its patio door.
Unfortunately, no amount of fried green tofu — and not even the fuzzy yellow banana suit — could keep the restaurant afloat. Thus began a nomadic lifestyle of moving from one temporary kitchen to another as a pop-up.
Last year, when they closed the doors on the third location iteration of the restaurant, Tran wondered whether he'd have to hang up his banana suit for good.
Yet here it is again, in all its familiar yellow-felt glory.
Nguyen and Thi Tran birthed Starry Kitchen as an illegal apartment restaurant in 2009.
But as Nguyen soon discovered, city officials have Yelp, too. The county health department soon shuttered the unlicensed operation.
Emboldened by the success — or maybe you could say the 32-year-old son of Vietnamese immigrants came from the type of tough stock that wasn't well known for surrender — Nguyen convinced Thi to take another chance. This time, he promised, they'd go legit.
Starry Kitchen re-emerged in 2010 on the ground floor of a corporate plaza in Bunker Hill, in the heart of Downtown L.A. Thi supervised the kitchen, serving up the much-loved crispy tofu balls and pandan chicken from the back. Nguyen marketed the business, oversaw finances and, on occasion, donned his banana suit. He particularly enjoyed working the sidewalk outside the place. "It's better than aerobics," he would joke to the curious who stopped to hear about his balls.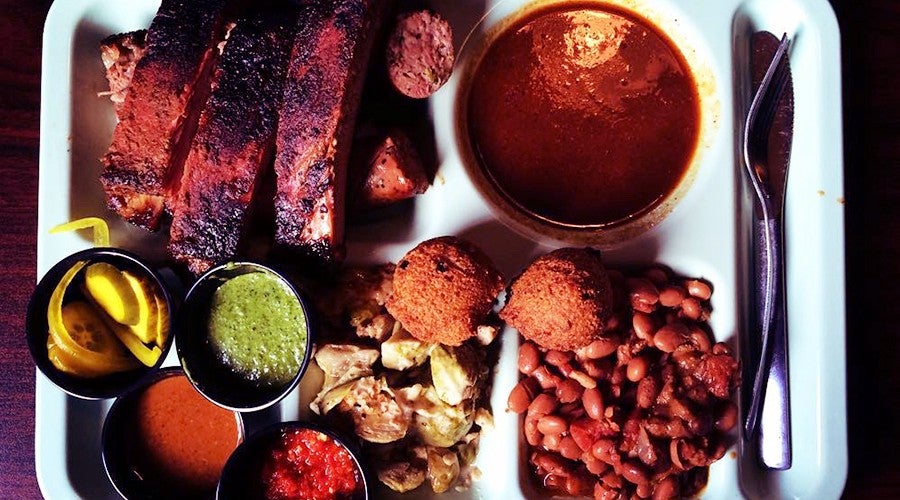 As first-time restaurateurs, the duo struggled with money management at the Bunker Hill locale. They found themselves making hard choices — between paying their staff or buying food, fixing infrastructure or paying taxes.
When the Bunker Hill location closed, the Trans opened a dinner-only iteration of Starry Kitchen a short distance away in a small local bistro, but once again struggled with finances. Next they moved to a spot inside a vintage Chinatown jazz club. At each stop, the act of cultivating relationships and trust with diners, new and old, recharged Nguyen.
"That look on people's faces, when you can open up their world, is so beautiful," he says. "Maybe you do like tofu. Maybe you like, I dunno, fucking dark meat chicken. The look on the face of a person who has just tasted something delicious is beyond compare."
When it came time to fund a second brick-and-mortar location, goodwill was harder to come by. Nguyen went to meeting after meeting with prospective investors, but because of his somewhat obnoxious energy, or maybe because of the past failures of the restaurant, he couldn't find the amount of money he required.
After opening and closing two pop-up restaurants in downtown and Chinatown locations — all of which received rave reviews, making his process all the more frustrating — even Nguyen was beginning to run out of energy and optimism.
Finally, in early 2015, Nguyen laid down a personal ultimatum: Either they would raise $500,000 on Kickstarter to pay for a bona-fide brick-and-mortar shop or they would give up the dream for good.
"I told myself: It's all or nothing," Nguyen says.
The final tally for the #SaveOurBalls campaign: $114,000.
"It's scary. I don't know what we're going to do. But we tried," Nguyen said in February, his usual confident air deflated.
Tran was born in 1977 in Fairfax, Virginia. His parents had fled Vietnam when they were teenagers. Soon after his birth, the family moved to Dallas, lured by tales of cheap real estate, a booming engineering industry and a hot and humid climate that reminded them of home. There, Tran began finding his identity as an eccentric, fast-talking kid with a fitting nickname: "Motormouth."
Tran remembers learning much of his early English through television — he particularly liked Mork and Mindy and Dan Rather. At school, he was constantly teased for being "Chinese." At home, his parents — who worked long hours as managers of a 7–11 — prodded him toward Vietnamese language lessons, which he refused.
"I was a typical diaspora child," Tran says. "I totally rejected my heritage. I couldn't understand. I was thinking, Why are we living this lifestyle when we're in America now?"
Late in high school, a trip to Vietnam would show him otherwise. "All of those things you reject when you're young, seeing all these people share that in common with you, is so powerful," he says. "That's when I was like, maybe I am proud to be Vietnamese. I started to eat the food and I thought 'Holy shit, this is amazing.'"
As an undergrad at the University of Texas, Dallas, Tran tried pre-med before jumping to computer science. Always outgoing, a people person to the extreme, he ran for vice president of the student body and won.
UT also was where Tran began dating Thi. As she tells it, sparks hardly flew at first: "I thought he talked too much." In time, however, she discovered that behind his eccentric demeanor was a fun-loving, caring man who "talks a lot but doesn't B.S."
After college, Tran joined a tech firm and helped develop a barcode scanner that opened up webpages (a sort of predecessor of modern QR codes). When the dotcom bubble burst, Tran moved into television syndication, selling popular shows like Casper the Friendly Ghost and The Lone Ranger.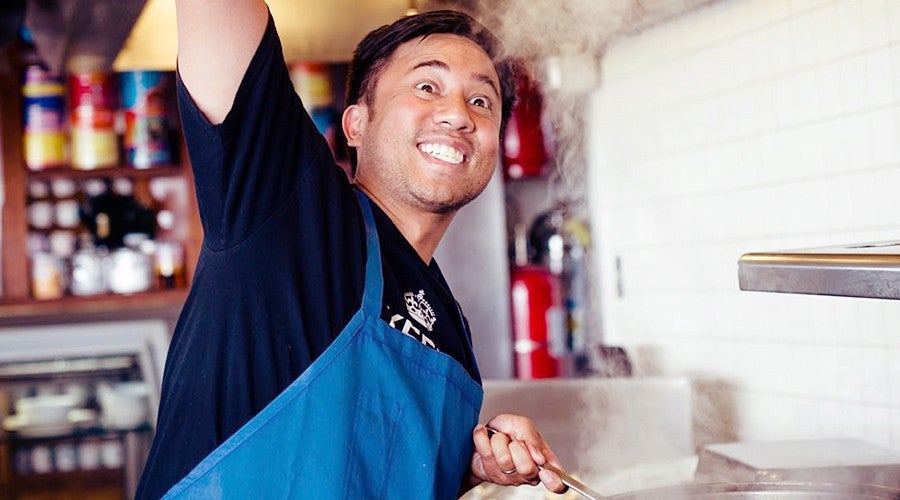 Two years later, Tran landed an assistant job at the William Morris Agency, and two years after that, he left to work for himself, producing and selling films, mostly for Asian-American audiences. Titles like the Vietnamese martial arts film The Rebel and 2009 comedy White on Rice found some success, but then the economy tumbled.
After that, Nguyen and Thi Tran took a break, dipping into their savings for a time and choosing to host friends and cook for them in their home. Before they knew it, the word had spread. Friends brought acquaintances, and acquaintances brought strangers, and strangers brought more strangers. Soon they found themselves charging for meals, and making a small profit. Starry Kitchen was born. They ended up on Yelp.
"Missing out on Starry Kitchen at this level is like missing out on a special time in a legendary restaurant's early history," one Yelp reviewer remarked.
Another diner added a touch more hyperbole: "Talk about a mouthgasm! It's like eating sunshine and rainbows and pure happiness."
And so it was that the Trans were in a new line of work.
As it happened, after the failure of their Kickstarter campaign, Tran couldn't quite fathom the possibility of letting his baby die. And it didn't: Within a few months, a contract for a memoir-slash-recipe book landed in his lap. Then came a pitch meeting with Uber's fledgling UberEats program, a food-delivery partnership with local restaurants. Tran won over the execs, and on Starry Kitchen's debut this summer, the high volume of orders for Malaysian chicken curry and fried tofu balls crashed Uber's servers.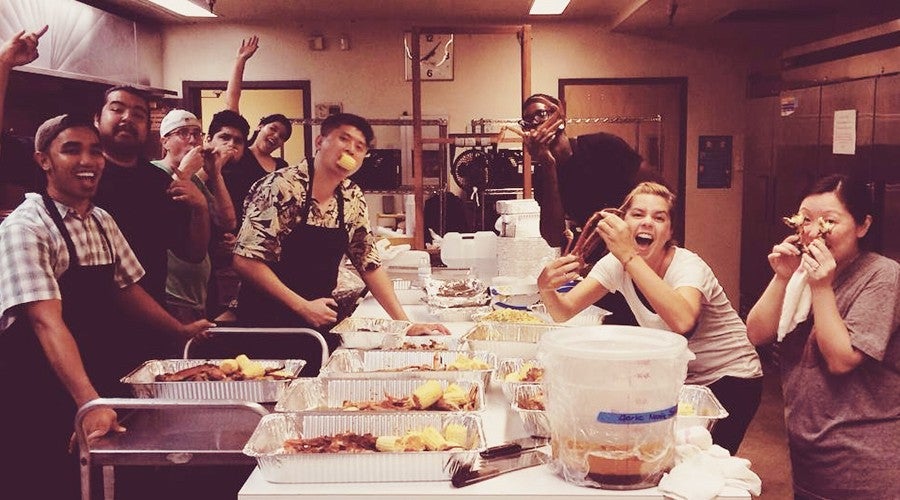 Buoyed by the success, Nguyen recently debuted a "permanent" version of Starry Kitchen's menu in a new Echo Park bar-arcade, Button Mash.
Which means that he has reason, once again, to don his well-worn banana suit and stare down strangers on the sidewalk:
"Try my bawwwwwwwls!"
Eddie Kim is a senior reporter at Los Angeles Downtown News. His work also has appeared in The Hollywood Reporter, Variety and the Chicago Tribune.
For more MEL, follow us on Medium or subscribe to the newsletter.