It was an instant hit for Saturday Night Live. The October 22, 2016 sketch was entitled "Haunted Elevator," and it featured a couple going on a theme park ride that promised "100 floors of frights." After a couple of straightforward scares, the elevator doors opened to reveal something downright confusing: Tom Hanks grinning like an idiot, wearing a bold suit with pumpkins all over it. He introduced himself as "David Pumpkins" and promised to scare the hell out of the couple. What evolved from there was a hilariously confusing series of jokes about David Pumpkins as the couple tries to make sense of the completely not-scary character.
The next day, Twitter went crazy for David S. Pumpkins — yes, he has a middle initial — and the character became an incredibly popular Halloween costume. The credit goes, of course, to Hanks' bizarre performance and the SNL writers behind the piece, but a not insignificant part of the sketch's success undoubtedly belongs to the company that made David Pumpkins' jack-o-lantern suit.
As Vulture's oral history on the sketch explained, with SNL's quick turnaround, the wardrobe department was a bit worried about creating the David S. Pumpkins costume from scratch, as the script called for a suit covered with pumpkins. Fortunately, one of the staff members knew about a company named OppoSuits, which specializes in suits with bold and often ridiculous patterns — one of which was covered in pumpkins. So they located the suit, put it on Hanks and a great SNL character was born.
In short order, OppoSuits' pumpkin suits began flying off the shelves, but Jelle van der Zwet, the company's co-founder, tells me that he was as surprised by David Pumpkins' success as everyone else was.
Did you guys know about David S. Pumpkins beforehand, or did you find out about him with the rest of the country?
It was a surprise to us! We actually have a really good relationship now with the costumes team of Saturday Night Live — just a few weeks ago, one of their characters was wearing a silver suit we supplied them with — but David Pumpkins was back in 2016 and I believe that they just bought a suit somewhere. It could have been at Spirit Halloween, I'm not sure.
I was honestly surprised that the sketch became such a big deal. It's hilarious, but I didn't expect it to become an actual Halloween character the way it did. Also, we're originally a Dutch company, and this didn't end up being a big thing back home. In the U.S., though, it began selling out really quickly.
How did OppoSuits make it to the U.S. to begin with?
I'm from Amsterdam originally — as you can tell by the name — and I began OppoSuits with my two friends, Jasper Castelein and Guus Bakker, in the summer of 2012. The first thing we did was design these bright orange suits for Dutch soccer fans. Soccer is massive in Europe and orange is kind of the national color in the Netherlands. So we put some money into creating 2,000 orange suits for the big European championships, and we sold them all in two or three weeks' time. At that point, we knew we were on to something, so we all quit our jobs by the end of that year and began making suits with all sorts of prints and colors.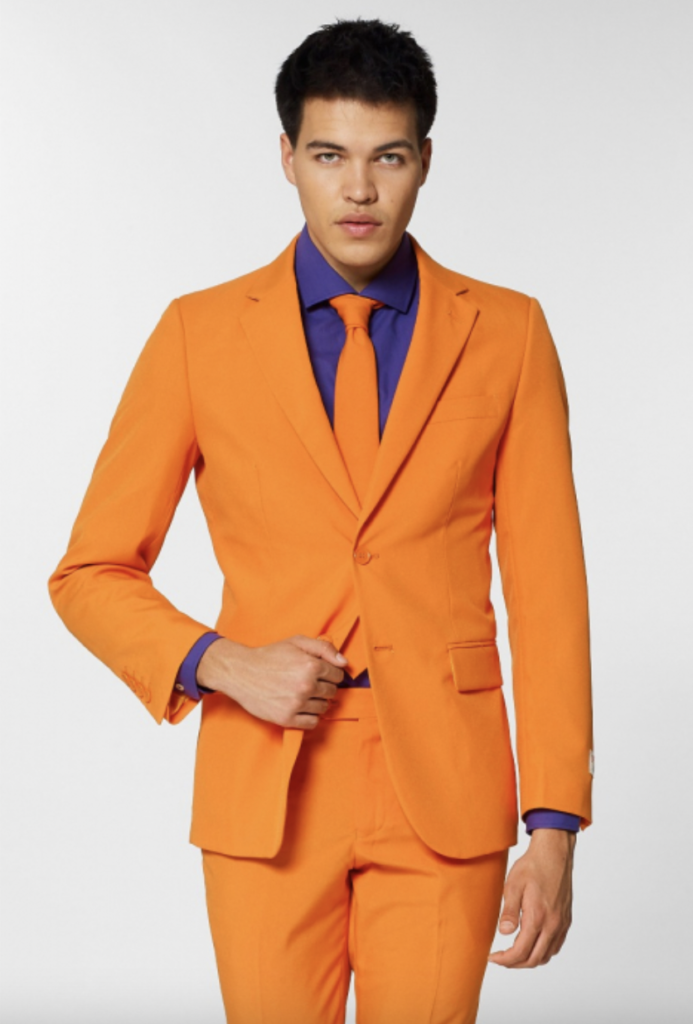 When did you start making patterns like the David S. Pumpkins suit?
We got into patterns very soon after we began. The first was a suit of the Union Jack flag. I was living in London at the time and the Olympics were going on so that's what inspired that one. Then we began selling a flower-print suit and one with hearts for bachelor parties and things like that. It really kicked off when we started doing Christmas patterns. We did something called The Rudolph, which is still one of our best performing styles. That's when it exploded in the U.S. for us because no one had done the ugly Christmas sweater theme in a full suit before.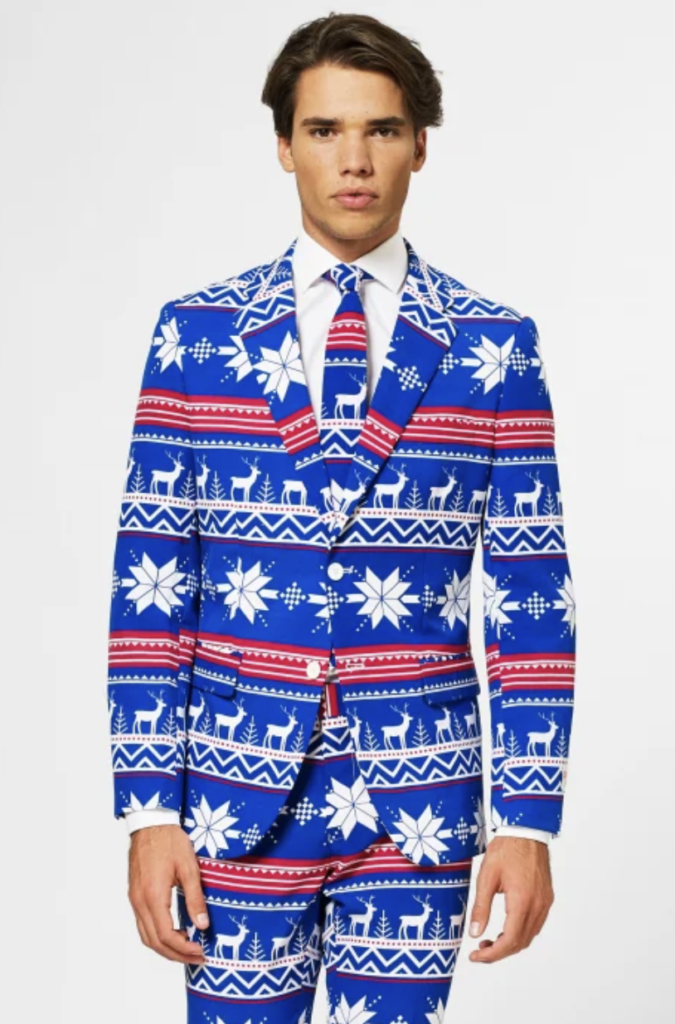 After that, in 2014, we started to go to Halloween trade shows. That's where we met the buyers of Spirit Halloween. We made a deal with them to carry our suits in their stores during Halloween starting in 2014. Then we began pushing the products in department stores following the success we'd had around Christmas suits. During Christmas 2015, we began to be sold in all Macy's stores. Those were our two big breakthrough moments in the U.S. After that, all the other department stores soon followed.
What has OppoSuits done since then?
Retro prints have become big for us, we did a Pac-Man suit that became one of our biggest sellers — also Tetris and Super Mario. Retro stuff has done really well for us. Also character-focused stuff is important for us, especially for Halloween. We have a license with Warner Bros. for The Joker and The Riddler. Those characters that actually wear a suit — those are really important for us to cover, especially during Halloween.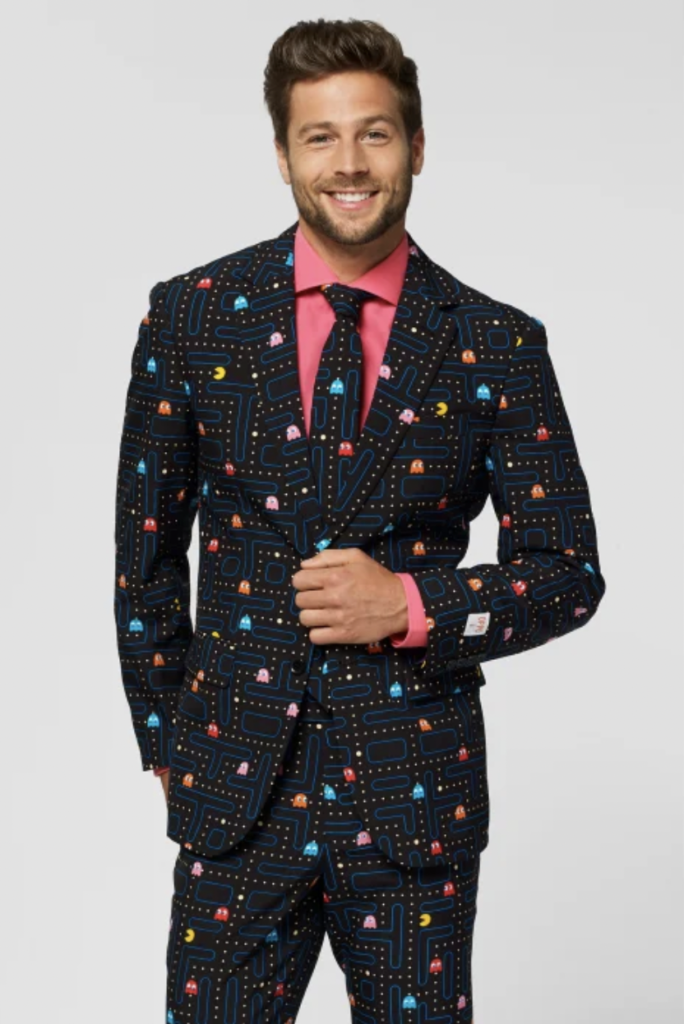 Over the last two years, COVID has really impacted us, particularly because people aren't going places for Halloween and Christmas. Hopefully that changes this year. We've used that timing to go back to the drawing board and work on our strategy. We've decided to broaden our category, so, in addition to suits, we're doing dress shirts, button-down shirts, Hawaiian shirts and a few other categories.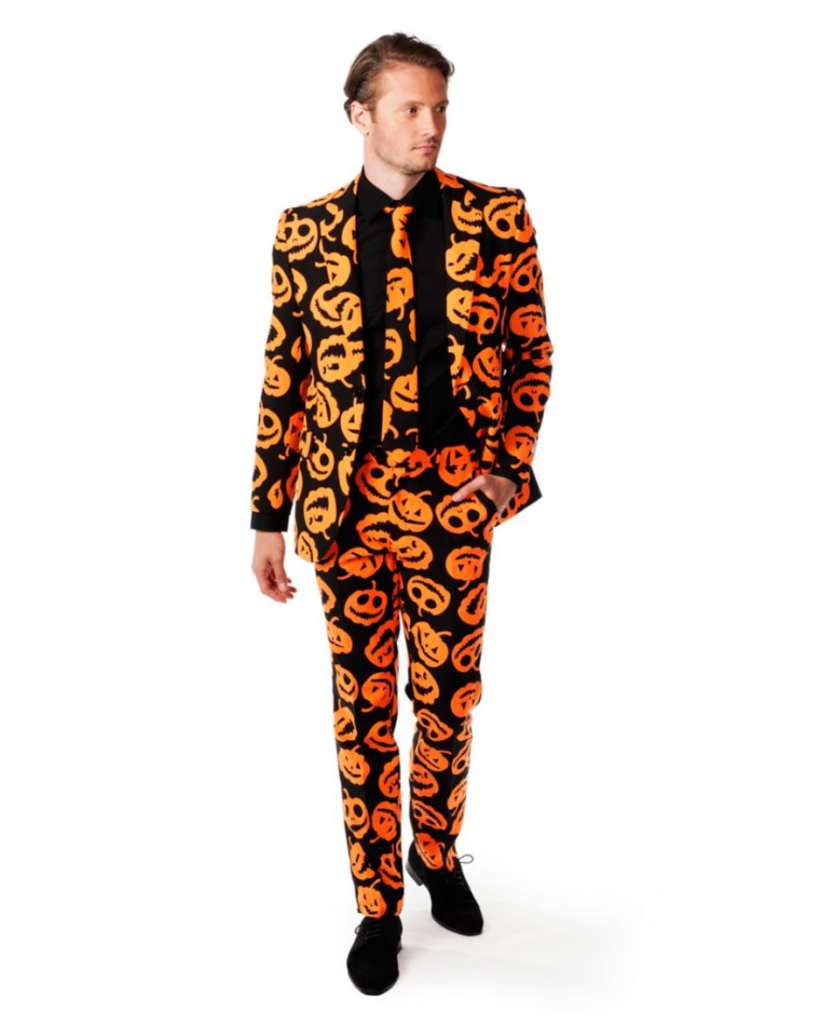 Most importantly, where can I get myself a David S. Pumpkins suit?
You can get it at any Spirit Halloween, it's an exclusive for them. There's an interesting story with this though: The design was created by our team, but because Tom Hanks wore it in that sketch, the David S. Pumpkins character was born. Following that sketch, we had communications with Universal as they wanted to licence the character out to sell the official David S. Pumpkins suit. They offered the license to us, but some of our retail partners weren't interested in carrying "the official" David S. Pumpkins suit because it would increase the cost. They didn't think it was worth it to charge more, just so it could say "David S. Pumpkins" on it, especially since it was already the actual suit Tom Hanks wore.
Our suit is the actual suit in the sketch, but Saturday Night Live ended up licensing out the character to another company. That company had to create their own design for the suit because we own that design. So, where we actually sell the suit that Tom Hanks was wearing, there's another company selling the copycat version labeled as the "official" David S. Pumpkins suit.
It's an unusual story for a design that, for us, was kind of a generic design that just randomly turned into the David S. Pumpkins suit. Which I guess makes sense for the character, because everything about David. S. Pumpkins is really random anyway.