A couple of weeks ago, former President Barack Obama was spotted wearing a pair of straight-leg dark blue jeans. The look was hailed as a momentous fashion statement — GQ wrote it was his best defense during the wiretap allegations — if only because it was such a clear departure from Obama's signature casual look: Dad jeans.
According to Urban Dictionary, dad jeans "are typically worn by aging men with salt and pepper hair who are in denial that they are no longer hip, have children and drive a station wagon or SUV."
You know—they're those thick, ill-fitting, slightly stonewashed things, the hem of which commonly flounders atop a dorky white athletic sneaker, and which convey a sense that the jean is wearing the man rather than the other way around.
The term originated with the Obama presidency. Or, at least, it gained popularity after Obama wore his most famous pair while throwing out the first pitch at the 2009 MLB All-Star Game:
In the ensuing years, the jeans' popularity would grow, alongside the "normcore" aesthetic, with high-end retailers like Acne, A.P.C. and Supreme soon offering up their own versions. But as with most trends — good or bad — the truth is that dad jeans were a thing long before they got a name that stuck and a president to put them on one leg at a time like everyone else.
Dad jean-ology. The technical origins of dad jeans — typically a medium-blue washed denim, with a looser fit and higher waist — can be traced back to the 1950s and a textile manufacturing process that gave newly manufactured jeans a worn-in (or worn-out) look. While they weren't relentlessly goofed on at the time, it's fair to say they didn't exactly capture the spirit of the denim of yore. "[Early denim] was the kind of clothing that represented the American West and this sort of magical thing," says Lynn Downey, archivist and historian at Levi Strauss & Co.
Nor did they capture the brooding machismo of their birth decade: "If you were a 15-year-old boy in 1953, you wanted to be Marlon Brando," says Downey, pointing out that once Brando wore denim in The Wild One and James Dean in Rebel Without A Cause, it became a symbol of rebellion. Thus, back then: "Hollywood costume designers put all the bad boys in denim."
It should be noted, however, that not a single stitch of that denim was stonewashed. And that's not all the black-and-white photography talking either:
Early dad-jean adopters. Skinny jeans may have inspired a Kramer storyline on Seinfeld:
But Jerry Seinfeld himself preferred dad jeans, even if his most notable contribution to the fashion lexicon was the "puffy shirt."
Seinfeld stood alone in his dad jeans until 2005, when renowned sweater enthusiast Drake sported a pair of similar loose, stone-washed jeans at the Teen Choice Awards — a style move that received its fair share of ridicule on Twitter: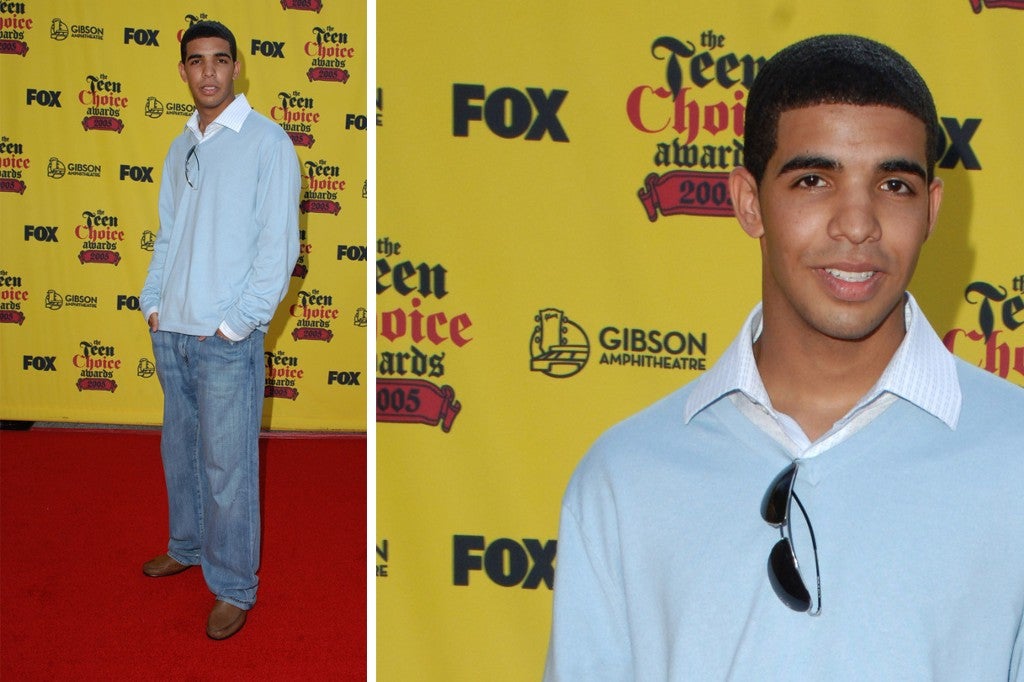 Around this time, then-Senator Obama also broke out his dad jeans in public for the first time. Again, it was at a baseball game and for a ceremonial first pitch. This particular one: a 2005 American League Championship Series game between his hometown Chicago White Sox and the Los Angeles Angels of Anaheim.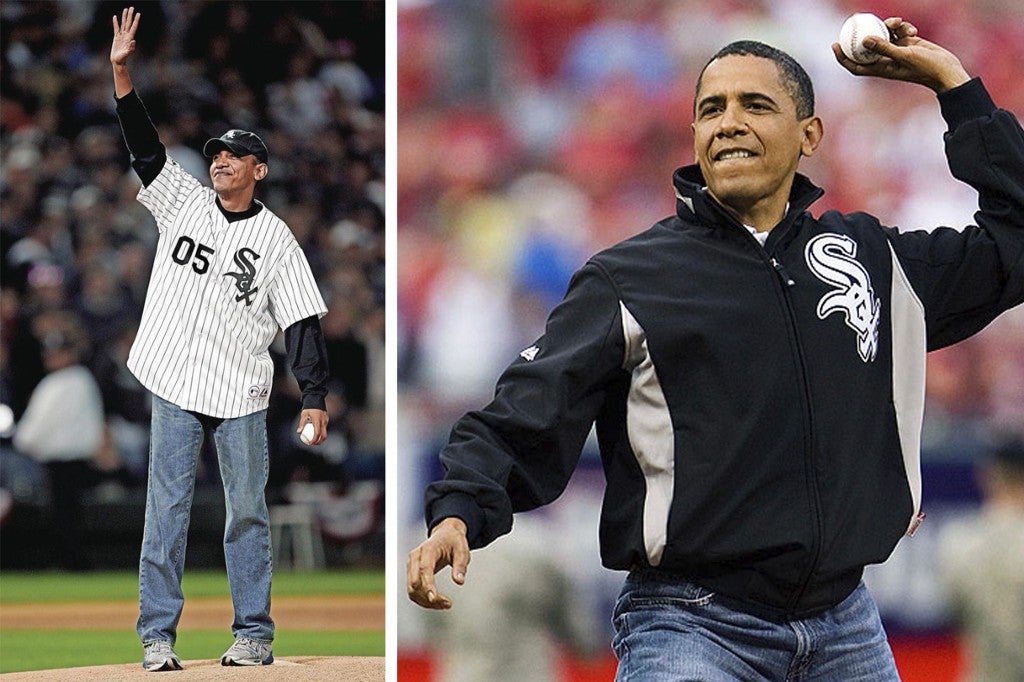 The jeans were mostly ignored. Or, at least, it was not nearly as big of a deal as when he did so at the 2009 All-Star Game (but by then, of course, he was president). The 2009 iteration got so much attention, a few days later Obama was forced to jokingly defend it on the Today Show (which incorrectly termed the pants "mom jeans"):
In fairness to Obama, most politicians are guilty of dad jean misdemeanors. Which brings us to…
The 2012 election, a contest measured in dad jeans. Obama's opponent, Mitt Romney, doubled down on the daddy denim on the campaign trail. But unfortunately for him, his "culmination of de-invention," didn't do enough to convince the American people that he should run the country. If anything, it backfired on him, with Fox News' Shepard Smith calling him out for wearing "mom jeans" during a stump speech in Ohio:
Jean-zus. A few months after the election, in February 2013, Buzzfeed ridiculed self-proclaimed fashion icon Kanye West for wearing "edgy dad jeans" to Anthony Vaccarello's fashion in Paris. It seems he'd been interested in them as far back as this 2011 performance with Jay-Z: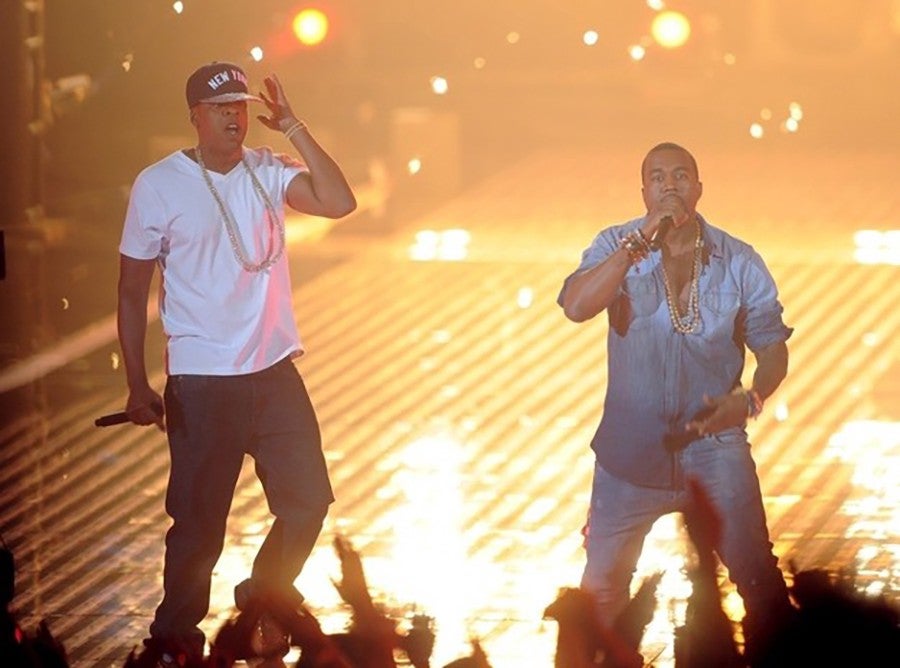 The New York Times clearly disagreed with BuzzFeed's assessment, however, declaring that dad jeans were back shortly thereafter. For his part, Obama claimed that Michelle Obama had officially retired his:
Still, a whole slew of other famous men — from Tiger Woods to Matthew McConaughey—went full dad jeans around this time. In 2015, Kid Cudi offered a new variation on dad jeans, tighter-fitting and torn-up:
The post-Obama dad jeans legacy. Strangely enough, the man who received a life-size dad jeans statue a few months ago was former Green Bay Packer quarterback Brett Favre, not President Obama.
Then again, maybe Obama wasn't joking about leaving his dad jeans phase behind him.
God help us all.
https://twitter.com/DukeOfZamunda/status/838640887517298688