Debbie, 56, calls herself a "unicorn in this whole driver-courier thing, hustling along with all these young guys." But she keeps up. For the past four years, 100 percent of her income has come from delivering food for Postmates, DoorDash, UberEats and Grubhub, sometimes up to 12 hours a day.
"Forgive me for being worried," Debbie tells me, "but I pay all my bills with these driving apps. If I get sick, living in L.A., there's no money coming in." 
Postmates, DoorDash, UberEats and Grubhub have addressed the ways COVID-19, the novel coronavirus, might affect their drivers. Each company responded to my inquiries with statements regarding their concerns and measures taken to protect the safety of their gig-economy workers.
Debbie worries it's not enough — and she's not the only one feeling anxious and isolated. "The only thing I've received are those typical suggestions that they probably copy-and-pasted about washing your hands," she says. NYC-based driver Pete says only DoorDash sent him general tips, including "stay home if you feel sick."
It's left their community of drivers scrambling for answers and protection. They've turned to Reddit, Debbie says, "because the drivers are like, 'Okay, I guess we have to look out for each other and figure out for ourselves what this means and how we'll process it.'" 
"As delivery drivers and independent contractors, we're pretty much on our own right now," Pete says. "I worry every day about this entire situation, and the apps have given almost no guidance. Their non-response is remarkable given that we delivery drivers are what make the app tick. We're on the front lines. Without us, they'd collapse."
Out of Their Hands
Drivers say the apps' solutions might look good on paper, but they're simply not realistic.
One example: The four delivery apps have a new "no contact" option for customers. Couriers can leave food at customers' doors, avoiding a direct handoff and potential contamination. A no-contact drop-off sounds good in theory, Debbie says, but not so much in practice: "The option to leave food on the porch has to come from the customer. Drivers can't choose that option, and even if they could, they'd be worried about being blamed for the food being stolen. Customers probably won't either, out of that same worry."
Paul, a driver in California, concurs. Despite seeing an uptick in orders in his city as more people are working from home, he says he's "been surprised by the fact that customers have been picking up their food personally at the door. So far, no one has utilized the contactless delivery option."
Compensation Confusion
Another issue on drivers' minds: pay.
DoorDash and Uber are compensating drivers forced to miss work due to coronavirus. The thing is, they have to actually be "diagnosed with COVID-19 or put under quarantine by a public health agency" to receive pay, a DoorDash representative tells MEL. "This program will provide up to two weeks of assistance to Dashers and Caviar couriers who are diagnosed with COVID-19 or who are subject to quarantine at the direction of public health officials."
Around 900 people in the United States have been officially diagnosed by public health officials so far. However, due to delays in testing, experts have said the official count is "wrong … a subtle form of misinformation," and "almost certainly too small to reflect the full extent of the disease's spread in the U.S.," reports the Atlantic.
Delivery apps' coronavirus policy doesn't do much to quell the fears of their employees, multiple drivers tell MEL. One driver took to the r/DoorDash subreddit to speak up. "Maybe I'll only get cold-like symptoms — which would be no big deal — but it's not just about me. I have a family member who is in the vulnerable demographic," she writes. "I don't want to spread it to them [or] anyone else. But I need to pay my bills." She says she plans to keep driving until there's news of coronavirus in her area. "Then I'm staying home."
The same goes for Sally, whose main source of income comes from delivering for Grubhub in Northeast Oklahoma. As of Wednesday, Sally says, there have been two confirmed cases of the virus in her county, and because she's immunocompromised, she's been forced to stay home. "Luckily my tax refund arrived right when it hit and bought me a couple weeks of financial peace," she tells MEL.
But now, she says, that money is gone. "The hardest thing is affording doctor's visits for my newborn and, of course, the medication that comes with it — like my insulin, which has a $100 copay," she says. "It typically takes me several, several nights to make enough to afford it while driving, and I'm down to my last, now-expired vial."
Sally doesn't know what another month of quarantine will mean for her and her family. Her husband is able to cover their bills "for now," but she knows they'll need supplemental income soon. "I'll probably be back on the road by May regardless," Sally says. "I can't afford much longer than that, and I know I'm very lucky to be able to take off that long."
Debbie says Sally's story is common in the driver forums she frequents. "There's a lot of discussion among drivers about how safe it is for us, because drivers are under the impression that everything being reported from the higher-ups is just hot air," she says. The apps are "just hoping to show the public they'll take care of their drivers, but they don't care."
Every New Order Is a Risk
What happens if — or when — a driver does get sick?
"I saw an article about UberEats offering two weeks' pay," Debbie says. "But what is two weeks' pay? The crap wages you've been giving us? So you're gonna give a person that's quarantined, what, $200? That's not gonna cover my car payment."
I reached out to Uber for clarity. "In the event a driver or delivery person is quarantined or tests positive for COVID-19, the pay is determined by an average of their previous earnings on Uber," a spokesperson responded. (Uber asked for this information to be off the record but sent the email before we reached an agreement. It is, in fact, on the record.) Neither Uber nor Doordash reps could comment on the process drivers would need to go through to receive two weeks' pay.
For Debbie, who delivers full-time, that would total about $1,000. The 56-year-old says if she does get sick, her best option is to start a GoFundMe. "It's better to do a community thing where drivers help other drivers, because we all look out for each other."
As for now, Debbie is taking her own precautions. She's seen an uptick in DoorDash grocery deliveries full of hand sanitizer, cold medicines and assorted pandemic goodies. "People are wanting the drivers to do all their shopping so they can stay home, but if an order comes through for cough syrup, Theraflu, anything like that, I'll decline it. Same goes if I get an order to be delivered to a hospital or nursing home.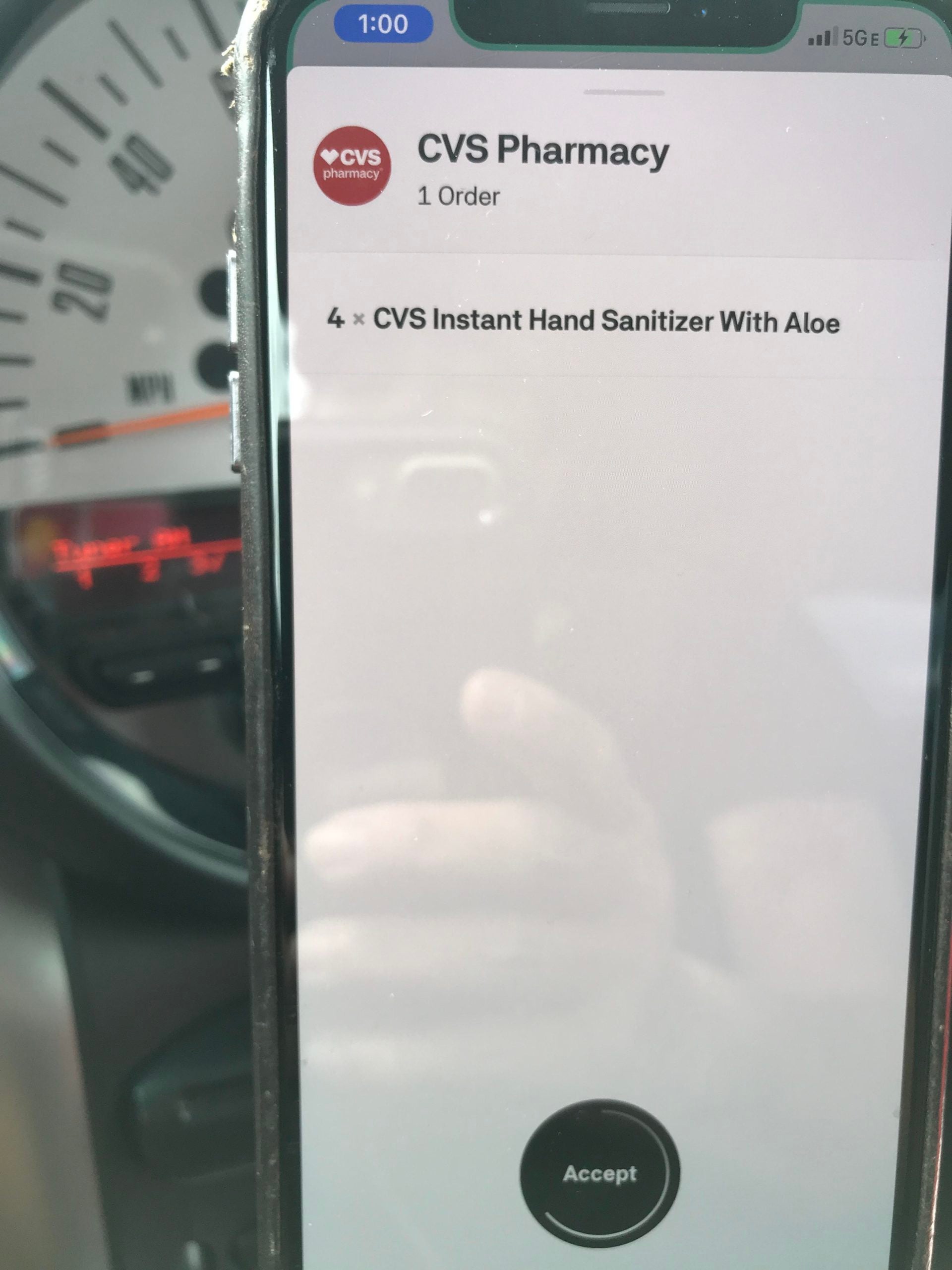 "You just don't know who's gonna open the door," she continues. "I've delivered to plenty of customers this week who answer the door and look sick. What if they're under quarantine? What if they're self-quarantined? Every time you make a delivery, you're putting yourself at risk, but there's no way around it. You're just gonna have to deal with it. You either want to work or you don't."