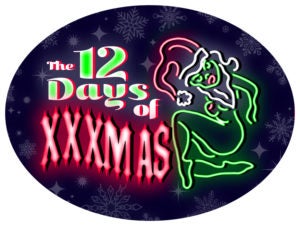 This year, we're swapping out the typical 12 days of Christmas for something even better: 12 days of sex workers who should absolutely be on your radar. Whether they're breaking new ground on OnlyFans, using their platform to call attention to issues like racism and immigration or shattering our ideas of who's "allowed" to make porn, sex workers are both reimagining what sex work can be and changing the world — one swingin', phalloplastic dick at a time.
The year is 2018. Lady Gaga is scream-singing in A Star Is Born, J.K. Rowling hasn't yet dipped her toe into frigid, TERF-y waters and porn actresses Rebecca More and Sophie Anderson are skyrocketing to meme superstardom after releasing a now-canonical Twitter video. The shaky iPhone clip features More and Anderson, a pair of platinum blondes with thick London accents, smoky eyes and the kind of busty, silicone-based glamour that might make a 15-year-old boy's tongue fall out of his mouth Looney Toons-style. "Do you know what we are?" moans More, gazing into the camera and pursing her impossibly plump, raspberry-colored lips. "We're fucking cock destroyers, aren't we, babe?" She looks to Anderson, whose bowling ball-sized boobs are liable to put someone's eye out. 
"Cock-fucking-destroyers," Anderson replies before the pair gleefully rub their tongues together, cackling into the camera. They go on to explain that they're on the hunt for "six more dicks" to "despunk" during an upcoming gang bang. "Fuck our holes, fuck our faces, spunk all over us and even star in a porn video," More purrs. 
A compelling pitch, to be sure.
The video spread like smutty margarine. Today, it has more than 983,000 views, nearly 4,000 retweets and about 10,800 likes, stats that firmly root the Cock Destroyers in internet lore. That cult status helped them land their current gig as the hosts of Slag Wars: The Next Destroyer, a reality show currently streaming through gay porn site MEN.com. As the first-ever relatively SFW reality show starring sex workers, Slag Wars follows young, queer contestants as they compete in porn-inspired challenges (dancing, posing, shooting viral videos, etc.) in an effort to become "the next Cock Destroyer." 
The show has garnered praise from outlets like Vulture, where writer Tim Forster posited that Slag Wars "could mark a new subgenre of queer reality shows, with a thoughtful depiction of queer agency and sexuality that's extraordinarily fresh." But to understand the appeal of Slag Wars, you need to understand exactly what makes a Cock Destroyer — who they are, where they came from and what they mean for the porn industry.
Speaking of, Anderson arrives on our Zoom call first, clad in pink sweats and a black T-shirt that simply reads "DADDY." "Hi, boo!," she coos, explaining that she's tucked up at home with her cat, Buzz. More enters a few moments later, radiating a calm, assertive energy that complements Anderson's bubbly chatter. Despite obvious physical similarities, More and Anderson represent two different sides of the same porn-y coin — More, the shrewd businesswoman, and Anderson, the cheery show-woman and instant confidante to all she meets. These differences are the driving force behind their friendship, which Anderson says is a product of mutual admiration. 
"The first time I ever saw Rebecca, I was actually on her OnlyFans," Anderson says. "I was like, 'This woman is absolutely amazing.'" Soon after, they met at a U.K. porn awards show. "Then Rebecca invited me over to shoot a film with a group," Anderson continues. "It was about a burglar at a [bachelorette] party, and we were both dirty talking — and I remember Rebecca saying, 'You were great — I shut up for a minute and just listened to you.'" 
The rest was history — history that culminated in their 2018 viral smash, after which the pair had to figure out how to keep their friendship strong while forging a business amid the fires of the notoriously fraught porn realm. "In the industry, there can be elements of [cattiness]," More says. "But Sophie and I have aligned ourselves with like-minded people, and it does become a massive sisterhood." 
More is quick to point out this sisterhood includes trans women — one of the marginalized sex worker communities she and Anderson are passionate about including, protecting and amplifying on Slag Wars. "We really, really wanted to focus on the queer community with this being our first show," More tells me. "We have nonbinary performers who came up on OnlyFans. We've got a beautiful trans woman who's very open and funny. And it was such a privilege to see them sharing their experiences." 
Both More and Anderson identify as queer — Anderson is pansexual, and More explains that she's "very open to having relationships with women" even though she doesn't identify as strictly gay or bisexual; instead, she tells me she's "both an ally and a member of the community." (It's also important to note that, as reported by Know Your Meme, the Cock Destroyers' memedom began on Gay Twitter.) But despite their intentional amplification of the queer community, More and Anderson have been met with criticism from fans and even fellow porn veterans who, according to More, seem to resent their viral success. "When we met, we were like two naughty children going on a sex bender," she says. "We didn't think we'd end up where we are now. People in the industry have gone, 'Where did that come from?'"
The skepticism may have something to do with the way More and Anderson present themselves, all pouty lips and waxed beavs and boobs that are jarringly reminiscent of cartoon extraterrestrial eyes flopping around on a thin stalk. More says that some industry players question the Destroyers' place in the queer community, positing that the whole thing — their friendship, their queerness — is part of an ongoing performance. "We do get some people saying that it's surprising when we do girl-on-girl, because we have a history of doing lots of boy-girl," she says. "Don't get me wrong, me and Sophie love getting cock together, but [during the pandemic] we've kept ourselves busy without having any male performers."
It's true that the Cock Destroyers exude the kind of bimbofication that's a hallmark of traditional porn, which is often marketed strictly toward the male gaze. But More and Anderson don't exist to serve the desires of anyone but themselves. On their joint OnlyFans account, you can find such classics as "Finger My Fucking Arsehole," or my personal favorite, "Rebecca Rabbit and Her Carrot Dick," a Who Framed Roger Rabbit spinoff that culminates in More dressed as Roger Rabbit fucking Anderson with a fleshy carrot-shaped dildo. It's the kind of imaginative, goofy porn you'd never see from mainstream porn studios, and it's niche enough to prove that the Destroyers are firmly in control of their own image regardless of demands from fickle consumers. 
Performances like these transcend the Destroyers' bimbo status in a way that feels undeniably confident, oozing unadulterated camp. And you can't have camp without queer.
That confidence seeps into every element of Slag Wars, which features a beautifully queer cast of up-and-coming performers hailing from all corners of the industry including OnlyFans, Instagram and even the Vegas drag scene. Like More and Anderson, the show's cast members are loud, proud and confident, unafraid of getting candid about their experiences. This theme starts to emerge in the show's second episode, when queer OnlyFans personality Cameron Smith takes a break from finding his angles to share his painful coming-out story steeped in religious trauma. "There's a lot of the community that would relate to what Cameron has said," More tells me. "I've heard it many times. We're in 2020, and families are still rejecting their children for something they don't understand, and that's really sad." 
Both More and Anderson are single mothers, and they're both committed to raising confident, affirmed children. "My son's 14 now, and I first started to talk to him about my job when he started secondary school," Anderson says. "And yeah, the conversation was a hard one. But now, we're very, very open, which I think you have to be. He comes to me for anything, because I'm always telling him, 'This life is yours.' You be who you want to be, and that's such a big thing for being a Cock Destroyer." 
More's experience with her children is a bit less rosy. She tells me that she doesn't speak to her 22-year-old son, who she describes as "quite a cruel person" after being indoctrinated against sex work by his father. "It's heartbreaking," she says. "I mean, it's hard to talk about, because it's so painful. But I don't believe in beating yourself up about it. He's a 22-year-old man now, and hopefully one day he'll change." Fortunately, her relationship with her daughter is one of mutual respect and support. "I'm so lucky," More tells me. "She is my absolute everything." 
And although Anderson has a good relationship with her teen son, both acknowledge that raising sons while working in the porn industry is uniquely challenging. "When you have boys in our industry, it's difficult," More says. Anderson agrees, explaining that she doesn't set foot in her son's school to protect him from the stigma associated with the industry. "He gets the benefit of the monetary side of things," she says. "But unfortunately, it's very rare that we go out together now because of that judgment that comes from looking the way we do. You'll be in [British supermarket] Sainsbury's, and people will just shout out, 'Slut!' down the aisles."
That stigma disappears on Slag Wars, where the name of the game is positivity. "We've both lived in the shadows to protect ourselves," More says. "Now that we have this platform, we need to help others and show people it's nothing to be ashamed of. We're on a crusade, Sophie and I." The show also seeks to give sex workers more of a voice outside of the industry. "It's insane that we've got these people in Parliament making decisions that they know nothing about, so there's a lot of work to be done actually," More says, citing a recent Labour Party proposal that aims to criminalize purchasing sex and decriminalize selling sex. 
While Labour Party members claim that the new law would protect sex workers, industry veterans think it's just another way to harm an already vulnerable population. No one knows this more than More and Anderson who, before rising to viral meme status, toiled in the deep, often dangerous trenches of escort work. "I remember all the times where I had to hide away, when I felt so depressed over what I did for a living," Anderson says. "I've definitely been in situations when I first started that were dangerous, and you need to know how to get yourself out of those situations." 
Anderson hopes that the show can protect sex workers in a few ways — by educating the public, by spotlighting young sex workers and performers, and perhaps most importantly, by recontextualizing sex work and thrusting it (sorry, pun unavoidable) into the mainstream. Truthfully, everything about the Cock Destroyers represents a fascinating crossover from the shadowy world of porn to the realm of meme-able, safe-for-work internet chatter. When you're a Cock Destroyer, porn is a job like any other — but it's also a meme, a creative comedy outlet, a form of high camp and, now, the subject of a relatively safe-for-work reality show. 
"We want sex work to be more supported, to be associated with positivity, and that's exactly what Slag Wars and being a Cock Destroyer represents," Anderson says. "Being a Cock Destroyer is being yourself — positive and happy with yourself — and standing up for yourself and what you believe in." 
Whether they're despunking cocks or uplifting industry newcomers, More and Anderson won't be hiding in the shadows ever again.