Mickey Lukens Jr., a 27-year-old corporate media specialist from Orlando, was confused. Chubbies, a menswear brand known for American Flag prints and frat-bro-approved short shorts, had recently launched a line of rainbow-painted LGBTQ-themed clothing for Pride Month.
It's expected that companies donate a portion of their Pride collection proceeds to LGBTQ organizations, but Lukens couldn't find Chubbies' donation pledge. He tweeted at the company, but got no response.
Independently, 13 Reasons Why actor Tommy Dorfman, who identifies as gay and nonbinary, called out Chubbies in an Instagram story, asking why the brand didn't have a donation component attached to its Pride campaign. The actor brought more attention to the criticism, and only then did Chubbies respond.
In a 14-tweet thread, Chubbies admitted that it never planned to donate. A representative apologized for the brand's failure to create a collection in a "more thoughtful and inclusive manner." The brand promised to retroactively funnel all current and future net profits from its Pride campaign to the Trevor Project, a suicide-prevention nonprofit for LGBTQ youth. They also vowed to "do the leg work" to better involve "our amazing LGBTQ+ team and community members in the preparation of any future Pride launches." Chubbies then announced it would remove the entire 2019 Pride collection: "We need to be accountable to, and welcomed by, the LGBTQ+ community in order to responsibly sell this merchandise."
It was a swift act of damage control, but the flub still ruffled some feathers in a Pride Month largely defined by a growing resentment of brands trying to profit off gay rights throughout June only to ghost the community on July 1st.
What's more, as of July 1st, Chubbies' Pride purge wasn't complete. On Monday morning, I noticed a pair of Chubbies Pride shorts (called the Pride Parades) were still available for purchase on ChubbiesShorts.com. I reached out to Dorfman, who declined to comment but contacted to Chubbies co-founder and chief marketing officer Tom Montgomery. By the afternoon, the Pride Parades shorts were gone. Montgomery tells MEL it was "just a simple oversight. … Right when [Dorfman] brought it to our attention, we took it down."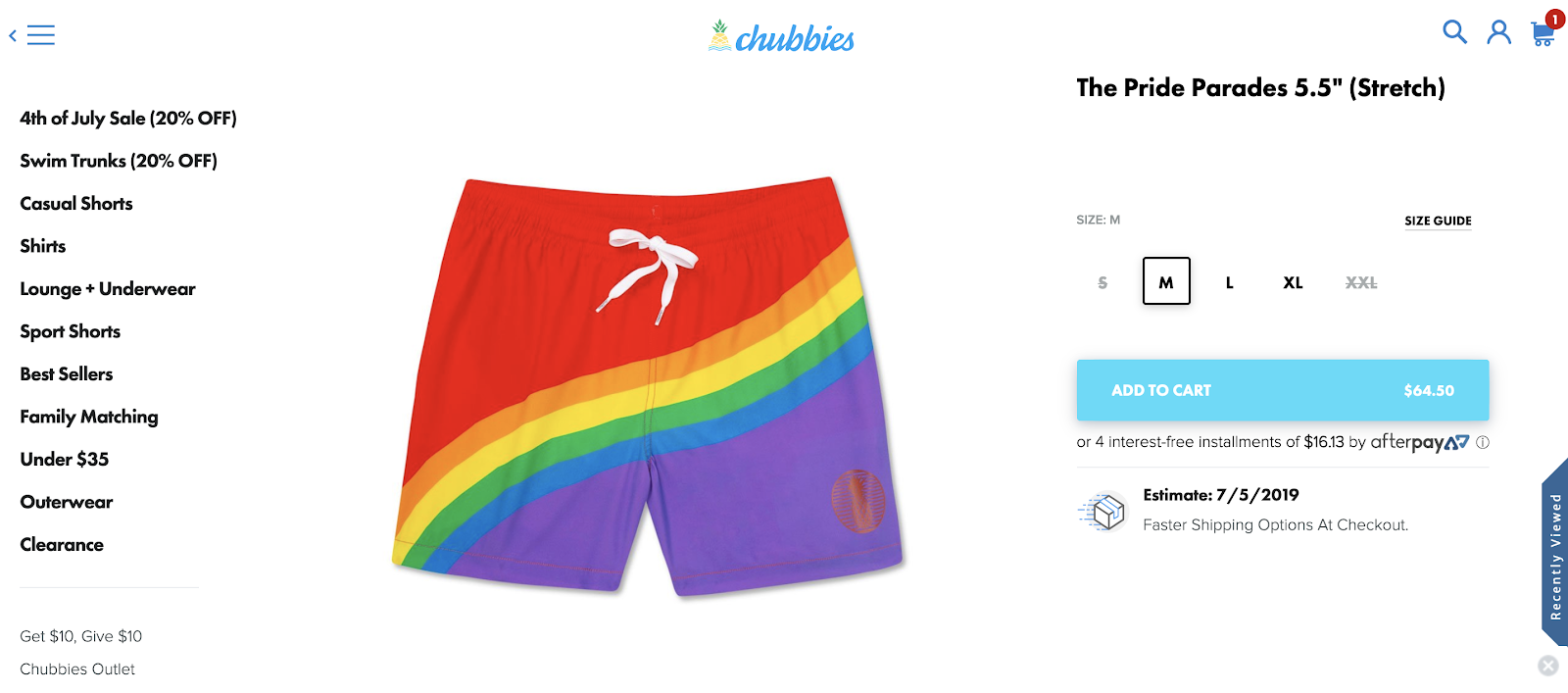 For Lukens, who sparked the Chubbies drama, the damage was done. He'd previously thanked Chubbies for planning to forgo its for-profit collection and committing to "responsibly support and celebrate" the LGBTQ+ community." Today, he feels differently about the brand's pledge after it failed to hold up its end of the deal: "It's bullshit, and I won't believe a thing from them (or any company) until I see action," he tells MEL.
Visibility vs. Vitality
Pride Month 2019 was a strange combination of aggressive brand campaigns and a call for authenticity — and accountability — amid late capitalism. Large corporations like T-Mobile and Wells Fargo adorned themselves with rainbow Pride products and LGBTQ celebrity endorsements. IKEA sold a limited-edition rainbow version of its iconic blue shopping bag. Belvedere Vodka partnered with Janelle Monae. YouTube promoted its LGBT creators — only to refuse to intervene on rampant homophobic harassment on its platform. 
This quickly led to a larger debate over who stands to profit off the commodification of the LGBTQ community. In New York on Sunday, June 30th, two separate Pride events occurred simultaneously, with wildly different perspectives on corporate affiliations. Nonprofit Heritage of Pride hosted the NYC Pride March, featuring 107 corporate or media sponsors. Thousands of people attended the parade and watched Bravo (owned by NBCUniversal) trot out a cadre of beloved Real Housewives while Wendy Williams stood atop the Pepsi float.
Several blocks north, the newly created Reclaim Pride Coalition held its first Queer Liberation March, where another few thousand marchers retraced the steps on the original Christopher Street Liberation Day March of 1970. They disavowed an active police presence (though police still patrolled for safety) to shed light on the historic and ongoing police brutality of LGBTQ citizens. 
Jonathan Lovitz, senior VP at the National LGBT Chamber of Commerce, told NBC News in late June that corporate support can be "life-changing." "It's all about visibility," Lovitz said. "For the kid out there who comes to the big city, walks through Times Square or Rockefeller Center and sees that, it's changing, if not saving, a life."
But Reclaim Pride co-founder Natalie James tells MEL her organization also declined any corporate sponsors. Accepting one, she says, would go against their call to stop companies from profiting off the backs of the LGBTQ community. "We're not looking for acceptance here," James says. "We are not looking for being incorporated into accessibility in regards to corporate marketing. What we're looking for is queer liberation, and that means social and economic justice."
She's not surprised Chubbies was pushing Pride gear without any pledge to support. "That's a very widespread problem," she says, "but this seems like one particularly obvious and flagrant example of it."
Falling Short
In early June, Chubbies launched its 2019 Pride collection through widespread email ads and sponsored posts on Instagram to a variety of their targeted customer groups. Patrick Moran, a 23-year-old baker from Providence, Rhode Island, was one of the many LGBT users to spot the Instagram campaign.
After clicking on the sponsored post featuring the Pride Parades shorts, he read comments from users asking why Chubbies was only uploading targeted ads and not posting about its Pride campaign publicly on its Instagram feed. There wasn't an official Pride-themed Instagram post at any point in June. 
I asked Montgomery, the co-founder and CMO, why that was. "I'm not sure I have a great answer to that," he says. The brand had scheduled a Pride post for June 26th, he says, but it was canceled after people started asking about the donation pledge that day.
What bothers Moran isn't the apparel, it's the ad targeting. Effectively, the collection was advertised only to queer users. "They know their main consumer base is generally conservative and probably less accepting of that than anyone else," Moran says of Chubbies, which launched in 2011 by emailing fraternities across the country. It's hard for Moran not to see the brand's Pride campaign as anything but pandering to the LGBTQ community. "They didn't do it right, and they didn't listen to the actual queer people telling them they were doing something wrong."
Moran is also frustrated it took outreach from someone famous like Dorfman before Chubbies acknowledged regular people's concerns with the campaign. He and Lukens reached out to the brand on June 26th asking about the lack of donation information. Neither received a response until Dorfman posted his Instagram story.
"The whole point of Pride month is visibility for all the queer people," Moran says. "It shows me there is no intention in all to change anything because [brands are] just trying to cover themselves up."
Montgomery admits he's "not sure" why Chubbies' customer experience team didn't respond more rapidly or publicly. "You're right, it totally looks secretive. It doesn't look above board," he says.
"We are an inclusive business," the CMO emphasizes. "We really want to make that clear." Chubbies has LGBTQ staffers, family members and customers, he notes. And he knows Chubbies may have lost trust with many gay customers. "We are definitely realizing the mistake here, and we're not trying to hide that. We're trying to make it right."
The Problem of Pinkwashing
Pandering to the LGBTQ community is called pinkwashing. The term, also applied to corporate breast-cancer-awareness campaigns, refers to when companies present themselves as gay-friendly to downplay negative behavior. Some recent examples:
Natalie James mentions another example: the world's largest defense contractor, Lockheed Martin, marching in the 2017 Atlanta Pride Parade even though its weaponry is used by militaries across the globe, indirectly contributing to oppressive military actions against LGBTQ people. "That's using the queer identity and the queer activists before us to raise up really bad actors in terms of our society," James says.
James suggests corporations that genuinely care about LGBTQ equality should show their support year-round and provide financial help "without strings attached."
To that end, Chubbies' Tom Montgomery has verbally committed to MEL that the brand will "absolutely" run another campaign with an LGBTQ donation component this year. He says the company is considering an August or September launch. "Our ignorance just led to us participating in just the same way kind of a lot of brands participate," he says.
I ask Montgomery if the brand had profited off previous Pride campaigns, and he says it had. "I realized we need to donate … all of the proceeds [from] all of the historical launches," he says. "We're going to basically put through a spot donation right now to do that." He tells me he's messaging his team on Slack during our phone call, and a few hours later, he confirms Chubbies will donate an additional $3,000 to the Trevor Project for net profits from previous Pride lines. This brings Chubbies' total to $13,000 in donations over the last week.
In previous years, Lukens admits the Chubbies controversy might not have heavily bothered him when he believed Pride to be solely about visual and vocal support. But today, citing Trump's anti-LGBTQ rhetoric, he's more focused on impact. "More the technical, political support of our community — that's what Pride means more to me now," he says.
So this weekend while in New York for WorldPride weekend, he walked in the Heritage of Pride parade alongside a friend with the New York City Council float and frequented gay bars and clubs, like Barracuda Lounge. He allowed himself a moment to not worry about Chubbies or the overbearing presence of corporate Pride. "At least for a weekend, I wanted to focus on celebrating and being in the moment of excitement," he says, "rather than calling out brands."