Vic Lloyd is hunched over a bowl of Special K in the West Loop flagship store of his streetwear brand Fat Tiger Workshop.
The Chicago club scene fixture and designer of the Sensei clothing line is on a strict health kick as he tries to get back to his fighting weight for 2017. That means no Henny or Harold's fried chicken, a new workout regimen and a sudden interest in his diet from photographer and longtime friend, Nolis Anderson. "It don't count if you eat three bowls of that shit!" Anderson tells Lloyd, snatching the box of cereal away from him.
The shop's atmosphere is both relaxed and bustling, an elegant space glowing with a pink neon sign proclaiming "Made in a Chicago Hood" and soundtracked with late-model trap-pop songs: Lil Uzi Vert, Dat Way and Gucci and Lil Boat's supremely weird Minnie Riperton riff.
The store's four partners live up to the sign's motto. Vic Lloyd and Desmond Owusu are from the South Side, and King Rello and Joe Freshgoods grew up together out west — parts of the city that get national media attention for gun violence and police brutality more often than they garner coverage of their creative output and significant cultural influence.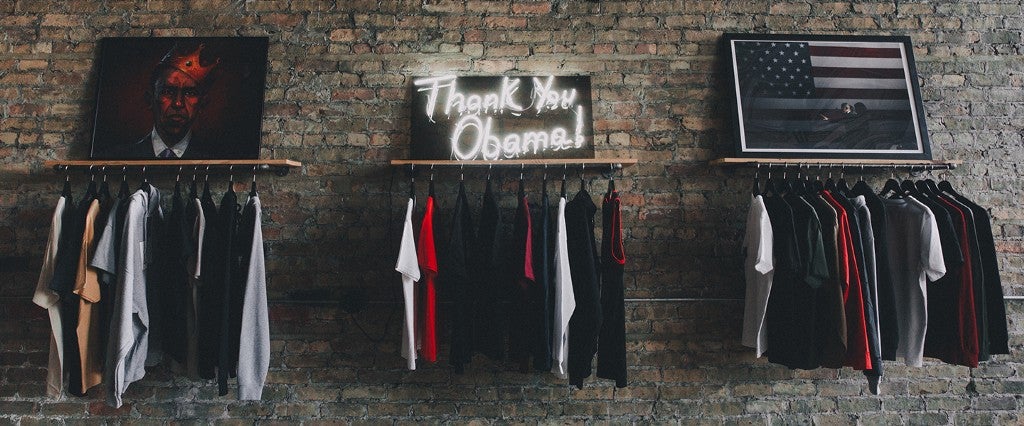 The team works together to create opportunities for young men of color in a city where very few exist, and to elevate Chicago to the level of cities like Paris and London in the worldwide consciousness, one lookbook at a time.
The shop sells nothing but their own in-house clothing lines; you might cop a trucker cap on sale for $10, or drop $175 on an elaborately embroidered velvet jacket. Many of the clothes hew close to traditional streetwear — with plentiful t-shirts and hoodies — but side projects include unusual items like onesies and cut-and-sew towel coats inspired by an album cover by the '90s Chicago hip-hop group Crucial Conflict.
Joe Freshgoods, creative director for FTW and his own brand DBM, is the organization's jetsetter, flying from coast to coast for meetings with the big dogs of streetwear. "I'm a big fan of staying in your hometown and making it happen, but sometimes you gotta be in L.A. and NY just to shake hands."
He balances managing ascendant rapper Lucki (formerly known as Lucki Eck$) with running the store, raising his daughter (who has already starred in her first modeling campaign) and "fake DJing." He's careful to note he doesn't do it all alone; "I'm at the point now, I can hire a team to do anything."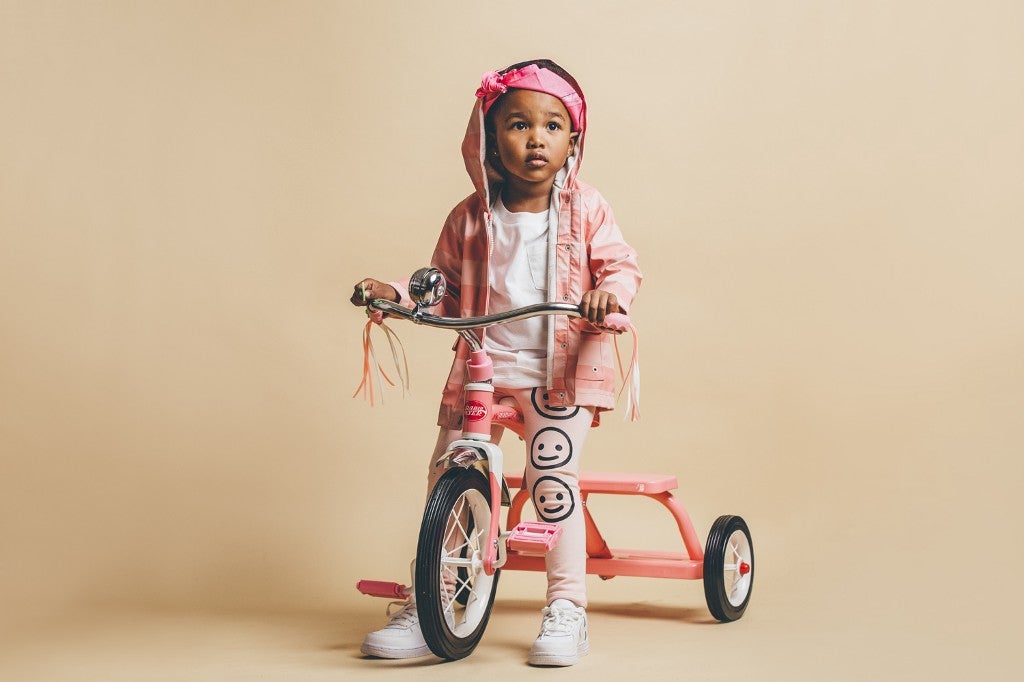 "I think people try to celebritize Joe out of all of us, and make it seem like Joe is like this, or like that," notes King Rello, who runs the store's in-house brand VITA.
Freshgoods agrees. "That's the biggest misconception. I hate that I get all the credit sometimes for stuff. I'm just a placement person. I work with my best friends."
The core group of four founders all work in the store, no matter how busy they get. But when they need help assisting customers and shipping out online purchases, they make a point to hire young men coming from circumstances similar to their own rather than simply selecting the resume with the most prestigious accomplishments.
"The youth is everything," Freshgoods stresses. "As we get older in the store, I have to keep the energy. I gotta know the slang, I gotta know how these kids want to dress, who the new hot people is. You don't really need to be a genius to work at my stores, just have a good personality. I try to hire people who could potentially be family."
Once you're in, you're family forever. "Some people ask, 'Where's Max and Brandon?' They still tigers but, you know, they graduated," Lloyd explains, referring to two FTW alumni currently working on their own projects (like a nascent modeling career) in what he refers to as their "Post Tiger Program."
FTW's design aesthetic draws on current events in sports, music and politics to make merch that's all the more brilliant for its lack of authorization. Recent stunts included street teams selling proudly bootleg shirts outside Kanye's St Pablo tour and a line honoring Barack Obama's presidency. Upcoming plans include pop-ups in Houston for the Super Bowl and in New Orleans for the NBA All Star Weekend as well as starting an online radio station for exclusive mixes and drops from rappers in the wider Tiger family.
Sometimes the homages skirt the edges of legality, like the hoodie with the Champion logo flipped in mirror image, or the infamous I WANNA f*ck RIHANNA hat that sold 20,000 its first day and landed the shop a lucrative wholesale deal that allowed them to open their first storefront.
Freshgoods ignores the cease-and-desists and stays focused on the shop's next move, determined from the start not to be an online-only brand that rides one wave and never has another idea. From its inception, Fat Tiger Workshop was destined to be something more, built on the friendship among four young men — and their desire to help younger guys from their community come up, too.
In 2005, Rello and Freshgoods had just graduated high school and were developing their DBM and VITA clothing lines. They hung around the two major streetwear stores in Chicago at the time, LDRS and the shuttered Fashion Geek, to learn from the pros. When the pair began interning at LDRS the next year, they were taken under the wing of Lloyd, a veteran employee.
During this time, photographer and artist Desmond Owusu (who designs FTW's Squad line) was away at college. But he had already discovered the LDRS back in high school while hunting down a pair of Greedy Genius sneakers; he hung around to learn the game from Lloyd and other LDRS employees.
"I remember when Kids These Days was performing inside, a lot of cool pop up shops or whatever," Owuwu reminisces, while looking over a prototype of a Squad-branded jacket with embroidered patches on each breast. "I could tell that these guys actually understand what was going on, and I wanted to learn more." LDRS agreed to let Owusu host pop-up shops for his defunct brand Nerdy, and he soon became VITA's second-ever intern.
With Freshgoods, Rello, Lloyd and Owusu all working together, collaboration became inevitable. After their first viral success — a sweatshirt blazoned with MONEY HOES CARS & CLOTHES that amassed thousands of Tumblr reposts — they realized they might have the ability to make fashion their full-time jobs.
Back at the store, Rello is setting up a tablet for Leo Lillard IV, a 19-year-old photographer who studies Graphic Design at College of Dupage and works part-time at the store. Lillard pulls up an image of Stewie from Family Guy and begins copying it on the tablet freehand; his version is dark-skinned and the words "Fuck Off" bubble from the scowling lips.
Rello leans over to inspect it. "Wow. It doesn't say that in the picture, does it? You can send it to yourself as a vector."
Young apprentices welcomed into the fold gain real-world experience to apply to their schooling and adopt a tight-knit crew to help them with whatever their goals are. Their education isn't limited to skills needed in the narrow world of streetwear, like designing logos and fulfilling orders. Asked what he's learned during his tenure at the store, Lillard says, "They're always just giving me advice on how to be a better person; for myself, for the future. I'm always getting good advice. They're all like the big homies, so I can come to them with whatever and they can help me out."
Lloyd stresses that they're there to help their employees become better people, not just teach them how to build their own streetwear brands. "We do a good job of helping people realize they potential. Not the thing that I want you to be good at, the thing you can really really truly be good at and shine at on your own."
Individuality and a fierce pride in Chicago's African American communities fuel the brand's creativity. All four founders have their own clothing lines, but FTW has a collective cohesive vision build on their common maxim, "Strength and Honor."
"We all different people; different people have different experiences," Owusu says. "I think each of us, we all have our own sets of strengths, our own sets of talents, and we each express those differently."
Working with outside brands and wholesalers has allowed them to maintain financial solvency throughout two years of operating a physical storefront, but they've stayed true to their own vision. At a time when so many streetwear shops depend on a coastal presence to make their mark — and on selling coveted items like Yeezy sneakers to make their money — Fat Tiger Workshop is doing something different, and they're doing it in a way that honors the place where they were raised.
All the customers have been helped and all the online orders have been shipped, so it's time to flick off the neon and split; maybe for drinks at the nearby bar Moneygun (at least for those who aren't attempting stints on the sobriety wagon). Any last parting advice from Rello?
"You do not have to be a female to be a bad bitch. You just remember that."