A pile of Google Chromebooks sits near the door of the meeting room inside Chattanooga, Tennessee's Second Baptist Church. The old church sits on 3rd Avenue, across the parking lot from a KFC and Ronnie's Bar and Grill, a neighborhood joint where older men drink cans of Coors Banquet and the bartender only accepts cash. Just before 4 PM on a Thursday in September, a dozen or students — mostly African American women, 45 years old and older — begin looking for the computer labeled with their name in black permanent marker, before settling into their desks. At the front of the room, a shorter woman wearing an assortment of rings and necklaces and a constant smile begins to address the class.
"Last week's class we learned how to shut down, log off and power on," Lynette Ramsey reminds her students. "You should be met with the welcome screen when you get your tablets on. When you do, type in the password that you created last week and hit the enter key."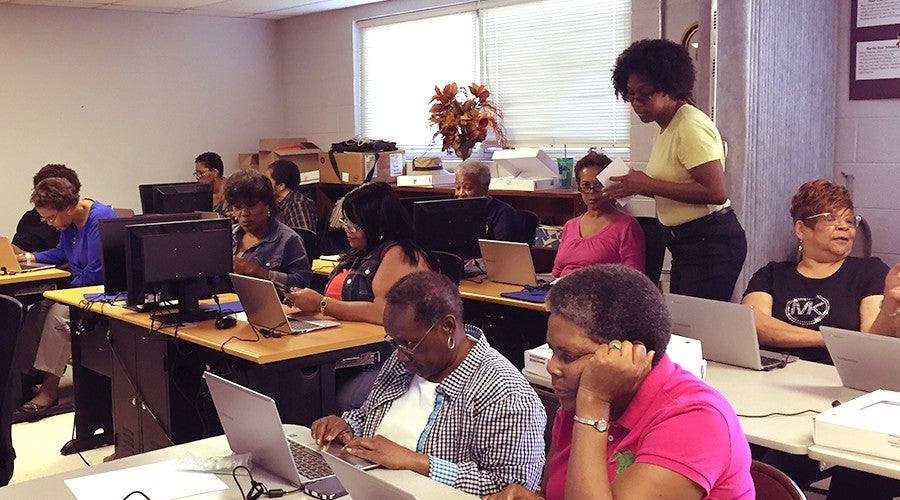 Long fingernails begin to slowly click-clack the keyboards as the students peer at their screens over reading glasses, squinting and craning their necks to read before looking back down again to the keyboard. "Some of them have never touched a computer," says Kelly McCarthy, director of the non-profit Tech Goes Home Chattanooga that administers the class. "Our folks who are retired and have been out of the work force for a while — computers were never a factor in their daily lives." Students start with the very basics — turning a computer on, creating an e-mail address, sharing documents — as part of a 15-hour online-based digital literacy curriculum that takes anywhere from seven to nine weeks to complete. The goal is to get people comfortable with using the internet, "to understand why it's relevant in their day-to-day lives," says McCarthy, "why the things [we do there] are important, what it can help them with."
While digital literacy is an essential part of economic survival no matter what city you live in, that's the case nowhere more so than Chattanooga: Tennesse's fourth largest city that's been at the forefront of the digital economy since 201o, thanks to the arrival of "the Gig," the nation's fastest internet with 1-gigabit-per-second download times. But as entrepreneurs began descending on Chattanooga in droves, the digital divide between the connected and the disconnected is only widening. In neighborhoods like East Chattanooga, where this church is, and similar low income neighborhoods including Alton Park and East Lake, thousands of families have no internet at all. The ones that do, often have some of the slower speeds (whereas the city's wealthiest neighborhoods have the fastest). Though the new digital economy tends to not bring many jobs to people without college degrees, those without basic internet skills are increasingly excluded from even more basic activities, like managing a household budget or Skyping your granddaughter from across the country.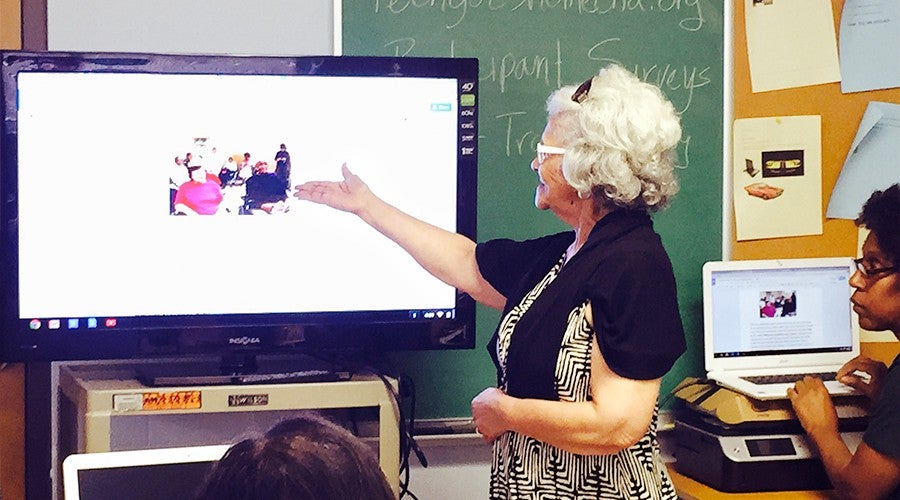 Often, new internet users just want help with the stuff that makes life a bit more fun. Ramsey directs her students' attention to a series of icons on their screens. The last one is a red box with a white triangle inside of it.
"This icon will take you to YouTube," she says, "a great place to learn about … well, anything."
A slight giggle can be heard from the back of the room. One of the students raises her hand and is called on.
"Isn't YouTube how Usher found Justin Bieber?" she asks.
"Yes, I believe that is correct," Ms. Lynnette says. "Justin Bieber's mother was posting videos of him singing with his guitar and Usher saw it right on here."
The class watches as Ramsey types "justin bieber" in the search bar and after hitting enter, hundreds of thousands of videos pop up in a nano-second. Eyes widen as the sheer volume of Bieber results pour in, about 50 times more quickly than in the average American home.
How fast is the internet in "Gig City," exactly? Whereas a two-hour, high-definition movie would take about 30 seconds to download in Chattanooga, the same video would need 30 minutes on an average high-speed broadband connection. More important than the speed, is the Gig's reliability: even minutes of downtime can be crippling for a business, but unreliable servers at the whim of weather and overload is something Chattanooga businesses will never have to deal with, thanks to the city's recently upgraded smart grid.
Chattanooga's transformation into a high-speed hub goes back to the recovery after the financial crisis, when the city's municipally-owned electric company, Electric Power Board of Chattanooga (EPB) was awarded $111 million in federal recovery funds to update their aging electricity network. A "smart grid," as it's called, generates power more efficiently and is less likely to go down than traditional hub-and-spoke networks. With another $169 million in bonds, EPB was able to help the city lay more than 6,000 miles of fibre-optic cable — and saw an opportunity to provide municipally-owned high-speed internet access, which has the added advantage of keeping money in the community.
"The role we see ourselves playing is to provide a critical infrastructure and world-class service that this community needs to thrive and compete from a development standpoint," says Danna Bailey, VP of Communications at EPB. "That critical infrastructure ultimately results in quality of life. That's our mission now and it's been our mission for a pretty long time."
The Gig has made an economic impact on the people already living here, facilitating the creation of thousands of new jobs, but has also attracted many newcomers, including innovators and developers. In August of 2014, The Guardian reported that Chattanooga went from "close to zero venture capital in 2009 to more than five organized funds with investable capital over $50m in 2014."
"What the Gig provides is not only speed but bandwidth and latency," says Tia Capps of CO.LAB, a local startup accelerator. She points to the handful of 3D-printing startups who have relocated to Chattnooga after the arrival of the Gig, including 3DOPS and Feetz. And it doesn't hurt that Chattanooga has a much lower cost of living than Silicon Valley and other big city tech hubs.
But not all communities in Chattanooga are feeling the power of The Gig, mostly because they can't afford to use it. The most basic service offered costs $69.99 per month* for just internet, no cable. Discounts for low-income people can bring the prices much lower, but a Tennessee law prevents a municipal provider from offering services below cost to allow for healthy competition from the private sector. In September, EPB launched NetBridge, a new discount program that provides 100-megabit service for $27-per-month* to families with children on free or reduced lunch. "It is not reduced speed, it's reduced price," Bailey says.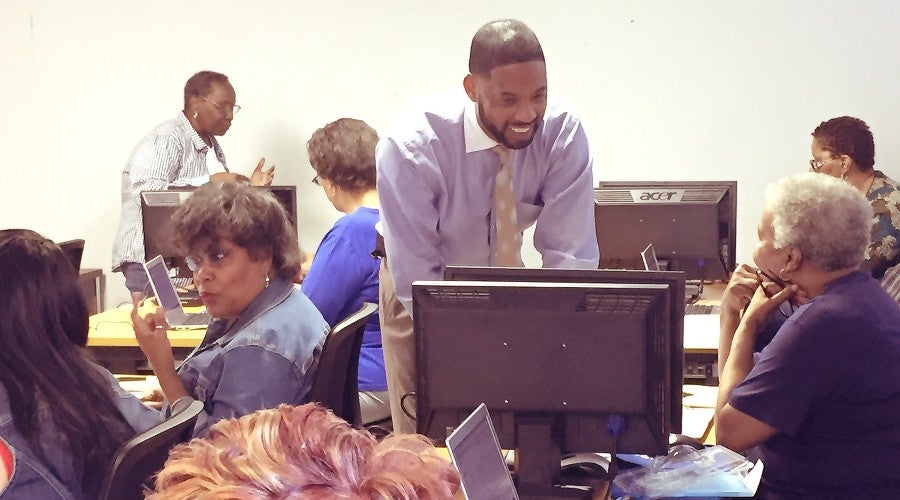 So far, the residents that have signed up for Tech Goes Home Chattanooga since its inception a year ago range from 3 to 83-years-old. With funding from Hamilton County, the City of Chattanooga and the Benwood Foundation (one of the largest and oldest foundations in town), the pilot program included three divisions (school, community and early childhood) at six sites, taught completely by volunteers and graduating 72 people. The following summer, they added four new sites and around 55 more graduates. Now in their third installment, the classes have 22 total sites.
Once students complete the first course on digital literacy, they're able to enroll in more advanced training. Upon graduation, students can then purchase the Google-made Chromebook laptop that they used for a semester (or an iPad Mini) for a majorly reduced price of $50. The third and final piece of the program's is connectivity, which means getting those families set up with in-home wireless Internet at EPB or NetBridge's discounted prices.
Before taking the class, approximately 61 percent of households in the pilot program had some sort of internet access at home. After taking the class, surveys showed 68 percent of households had Internet access, with another 12% still intending to sign up. "We're trying to bring everyone up to a higher level where they're not so far behind, to give them more opportunities whether that be education for their kids, education for themselves, getting a new job, finding better housing," says McCarthy. "There are so many things that are impossible to do without Internet connectivity or access to a device or without the knowledge of how to do that."
Back in class, Geraldine Donahue, a retired certified nursing assistant, is here to learn. She's tried ordering books on Amazon, but couldn't quite get the hang of it. She also wants to learn how to research a new plant she just bought, to check her bank account online before the statement comes in the mail and to update her Facebook profile picture.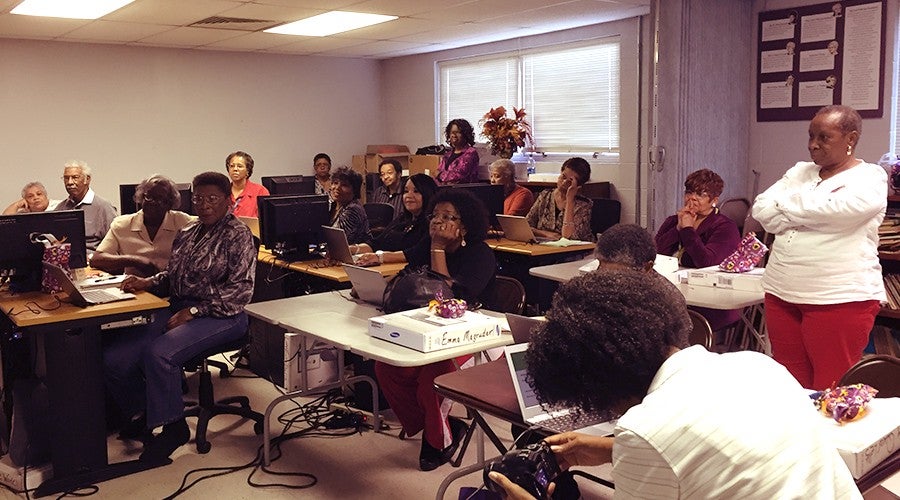 Today, she uses the Internet casually. Just to check e-mails, mostly. She's used YouTube twice: once, to look up a dance routine she and her church friends wanted to learn and the other time was to hear a song a friend recommended. Another student, Mary Quarles, hopes to use the class's offerings to help her day-to-day operations as the church's secretary. She knows how to take calls and text on her smartphone, email a cousin and says that she's successfully shared a photo with a friend twice, maybe three times.
"I thought it was wonderful that we could get the tablet for the [discounted] price and would be able to learn things about Google Docs, Publisher and Gmail. I want to be a part of working on the [community bulletin board] here at the church. To learn things that would help me with my job."
For the remainder of the class, the students learn about Google Drive, HDMI ports, and Gmail. To make things easier to learn, they are told that e-mails are like memos — the keyboard is just an updated typewriter and (in case they have any additional questions) the "Get Help" section is in the bottom left.
At which point, someone whispers loudly to her desk-mate: "I'm gonna be spending a lot of time there."
*An earlier version misstated the internet prices offered by EPB.