The 2019 college basketball season kicked off with an instant classic when Stephen F. Austin University, a tiny, unranked mid-major team from Nacogdoches, Texas, upset the No. 1-ranked Duke Blue Devils on November 26th. But when highlights of the monumental buzzer-beating layup by the Lumberjack's Nathan Bain made their way around the globe, people didn't seem to focus as much on the fact that it was Duke's first non-conference home loss in 19 years. They focused instead on the largely unknown broadcaster who spared no excitement in meeting the moment. "BAAAAIIIIIN," the voice rang. "YES! THE LUMBERJACKS HAVE DONE IT!"
The voice belonged to Eric Collins, a 51-year-old from Ohio who had spent the previous decade bouncing around broadcast odd jobs, calling everything from minor league baseball to the World Cup of Softball.
Just four days later, Collins called another epic buzzer beater on Fox Sports Southeast as the voice of the Charlotte Hornets. "OHHH NO!" he bellowed from the broadcast booth as the Chicago Bulls wrangled the ball away from the Hornets and hit a three to win with .08 seconds remaining. "YOU'RE KIDDING!" he screamed.
For many, this represented Collins announcing his arrival among the broadcast greats (e.g., Dick Vitale and Gus Johnson), but for Hornets fans who'd been watching him call games for four years, this was nothing new. Collins is a "national fucking treasure," they maintain. "He makes every single game feel like Game Seven of the Finals." 
It wasn't always that way, though. When Collins began broadcasting Hornets games, many bristled at his style, particularly how much it contrasted with Steve Martin, the incredibly even-keeled man he replaced. But over the years, his fan base in Charlotte grew as more and more people started to enjoy how much enthusiasm he brought to the otherwise piss-poor basketball taking place on the court before him.
For instance, that Hornets-Bulls tilt was between two very bad teams, an otherwise forgettable game in an otherwise forgettable season. Not for Collins, though. Halfway through the fourth quarter, Hornets point guard Terry Rozier passed to fellow guard Malik Monk for an alley-oop that put the Hornets up by 11. Listening to Collins, you have thought it was the basketball equivalent of Michelangelo's David. "Here comes Rozier and Monk," he starts, before building to a scream, "YEEEEESSSSSS!" 
Collins is an excellent proxy for fans at home, too, especially when shouting "OH NO!" whenever someone like 6-foot-8 Bismack Biyombo shoots a three: 
Or when making a knowing face after inadvertently uttering "Jordan Clarkson almost came in my lap": 
Normally, you wouldn't expect the announcer for a humdrum NBA team to gain any interest outside of their local audience. But thanks to NBA League Pass (and fans who find NBA streams to watch online), it's common for clips of local broadcasters exploding with excitement to go viral, allowing them to gain a national following their predecessors never would have dreamed of. As such, whenever fans on the NBA subreddit see a clip of Rozier dunking on Kevin Durant paired with Collins erupting with, "OH MY GOODNESS. TERRY ROZIER. HOW DO YOU DO? FLYING THROUGH THE AIR WITH THE GREATEST OF EASE! FILTHY!" Charlotte fans are quick to flood the comments, welcoming a fresh new wave of Collins stans to their ranks.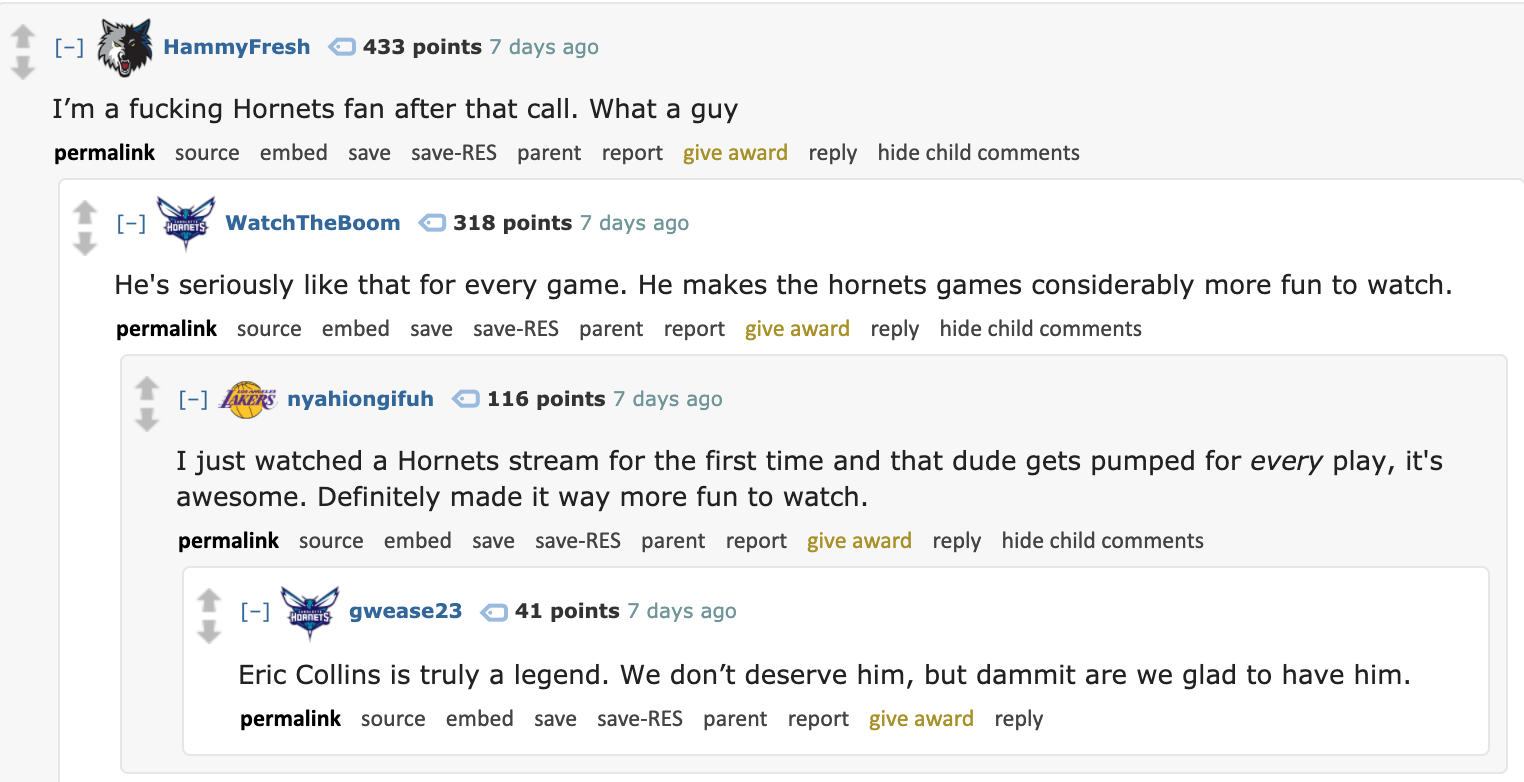 "I'm not a Hornets fan, nor do I watch much of Collins, but when my favorite teams play the Hornets on League Pass, I definitely tune into the broadcast more than I would any other matchup," says Adam, a 31-year-old Dallas Mavericks fan. "I just love his energy and the emotion he puts into calls. You can tell he loves the game and is invested in every single play." 
Like a growing number of fans, Adam says Collins should get a shot at calling nationally broadcasted games on ESPN or TNT. "He'd be a step up from Marv [Albert]," Adam argues. 
In yet another pandemic season, it can be admittedly tough to get into watching NBA games, the huge empty stadiums serving as a painful reminder of the state of the world. But that's really where Collins is at his finest. Maybe the game is a blowout, maybe there's nary a fan in the stands, maybe the game doesn't matter because neither team has a future. None of it will matter a bit to Collins. He will still be there, his passion always unbridled and his "HOW DO YOU DOOOooOOOOO?!" always perfectly timed.