In 2013, Vine star Michael LoPriore lay on the floor of his girlfriend's house, bored out of his gourd and staring at the ceiling. He couldn't help but notice something staring back down at him: a bowl-shaped light fixture, held flush to the ceiling by a small button.
Instantly, a muse whispered a tune into his ear. LoPriore sat up, found a catchy R&B-style background track on YouTube and free-styled an off-the-cuff ditty for a six-second Vine video.
He couldn't have known that his song would alter the path of internet history, rip the wool from society's eyes and reveal something we'd all ignored. It doesn't matter if you're in a hotel room, a rural living room or a tiny bedroom in a sprawling metropolis — no one escapes the "ceiling titty."
Over the last six years, LoPriore's Vine has given a name to virtually everyone's bedroom light. On Instagram, there are more than 1,200 #ceilingtitty posts as people identify the boob-shaped lamp in the background of their photos — and record their own covers. (LoPriore's six-second track is a true earworm.) On TikTok, users remix LoPriore's video, adding their own #ceilingtitty to a long chain of musical light fixtures.
"Why is this the standard design for every lighting fixture in most homes?" LoPriore asks MEL today. "I'd love to know the artist behind it, or when it was made. I always just figured it was some Art Deco concave thing. I never really thought about it again. I separated myself from the titty."
Alas, I could not. For the past few months, I've attempted to find the presumed sexual deviant behind the now-ubiquitous ceiling lamp design. Surely there must be one master of chaos behind it all.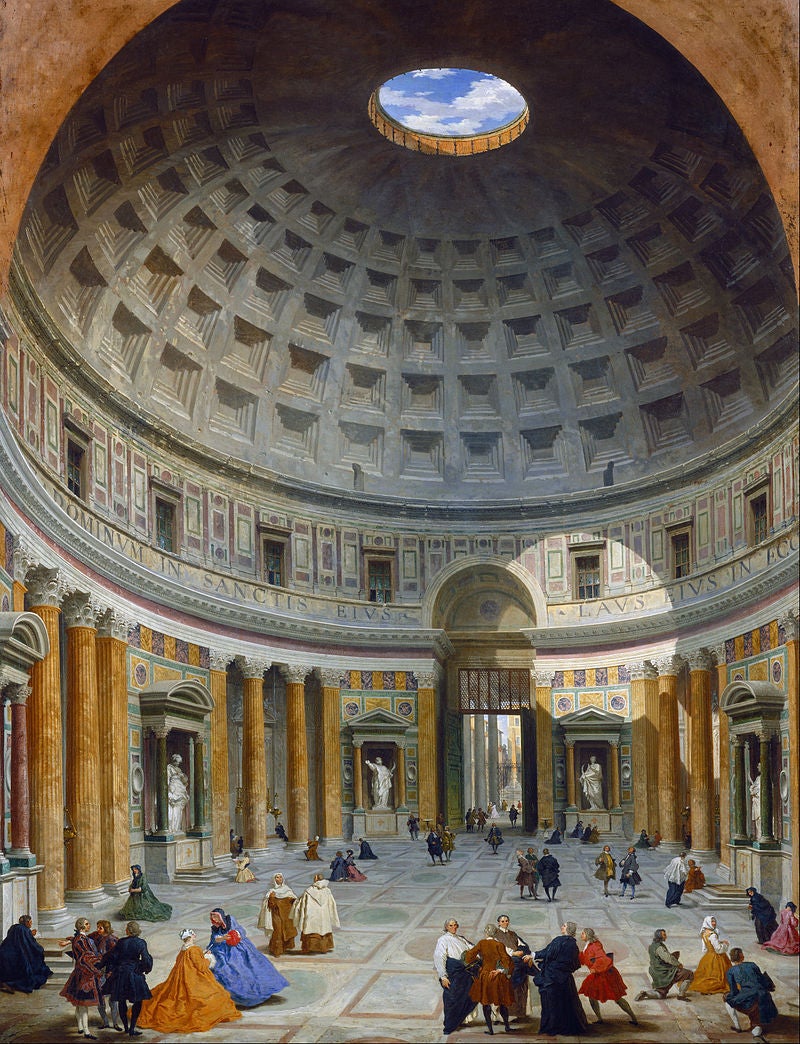 The first ceiling titty is undoubtedly Rome's Pantheon, a 2,000-year-old former temple with a dome-shaped ceiling and an open hole at the top to maximize sunlight. The boob lamp's modern origins, however, are more of a mystery.
First I reached out to the American Society of Interior Designers. "We do not keep archive information on such materials," says a representative.
Then I tried Hampton Bay, Maxim Lighting and HistoryofLamps.com; no response. I couldn't help but feel there was a conspiracy afoot. Why would the institutional gatekeepers of interior design not keep any record of a style so popular? And why would a light manufacturer have no canned excuse for a design like this?
After all, it's not just perverts and wisecracking Instagram goons obsessed with the light — families love it too, and they deserve answers. "Our baby LOVES boob/nipple lights," writes one redditor in the r/HomeImprovement subreddit. "It's saved us during many a screaming session in his first few months. He takes notice of them and immediately calms down as he calmly studies the ceiling boob and wonders how it got there." Other parenting forums are filled with stories like this.
But this reporter is no baby. I couldn't let myself get lulled into complacency by the power of Big Lamp and its mesmerizing oculus. So I contacted designer and architectural historian Bo Sullivan.
"The flush dome look, with and without the 'button,' actually goes back at least to the 1890s and was originally used in situations where a low ceiling height prevented longer fixtures, including in theaters and train cars," Sullivan explains. He mentions an early buttonless fixture in the 1892-1894 Heurich House in Washington, D.C., also known as the Brewmaster's Castle: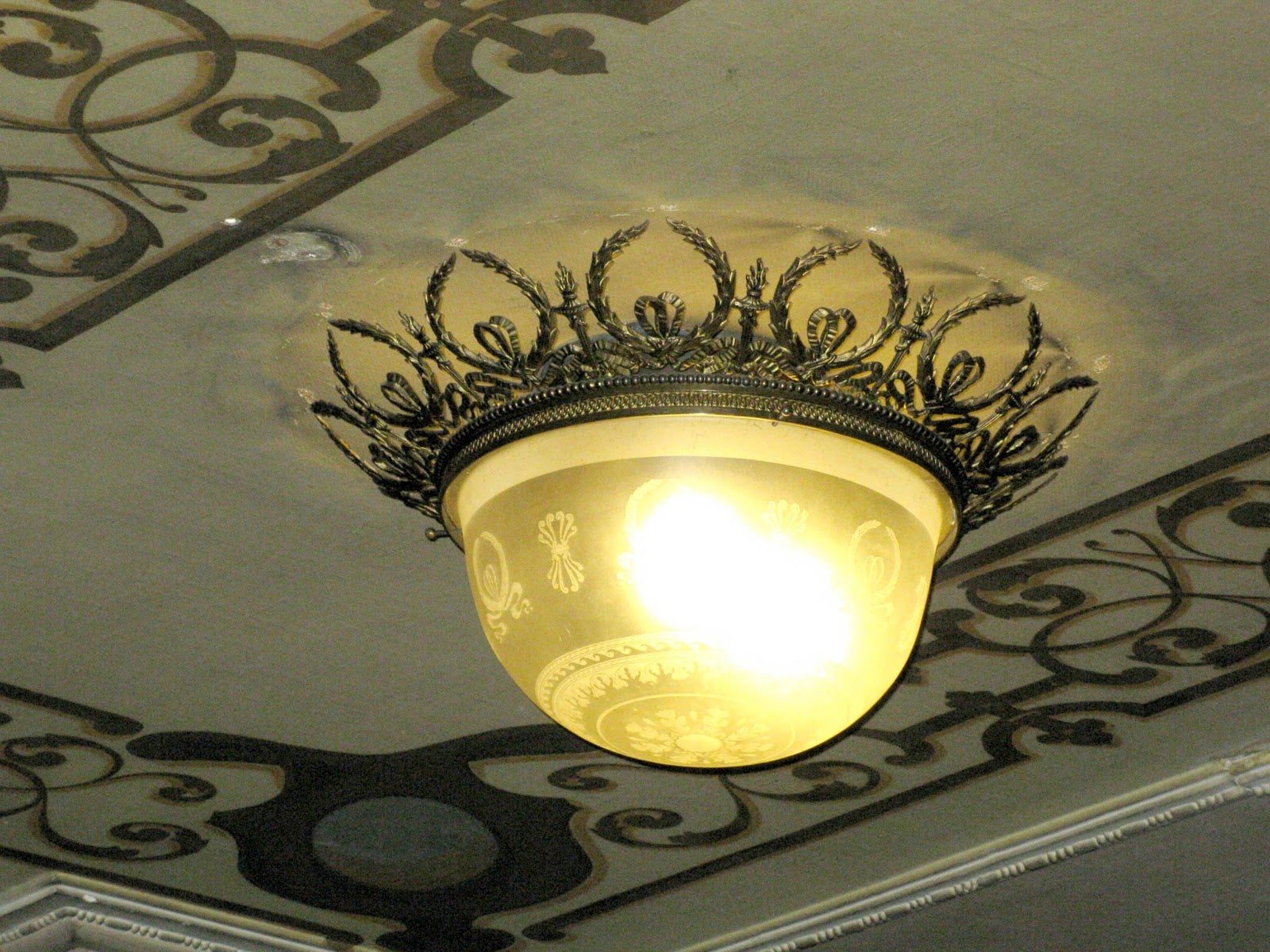 Looking closely at the above, "you can see that the lipped drop-in glass is held in place by screws," Sullivan says. This could be where the "nipple" style was born. By the way, it's not a nipple, Sullivan says — it's officially called a "finial," which sits at the end of a threaded stem to hold the glass onto the base. "Same fixture look," he says, "different assembly approach."
Here is an example of the flush dome ceiling lamp with a finial, dated to around the turn of the century, Sullivan says:

But this method of assembly wasn't the only reason the modern ceiling titty came about. The other factor was lightbulb technology, Sullivan says. "Early carbon filament bulbs, before around 1910 when drawn tungsten was commercially viable, were dim and hot. So enclosing them in semi-opaque glass close to the ceiling wasn't always a great idea … functionally or for safety reasons."
So those early glass bowls had to be transparent to allow light to diffuse out properly. "After 1910, there is a shift to frosted and semi-opaque glass, because the new bulbs were much brighter and the light could diffuse through more decorative types of glass," Sullivan says. "I would say it is around this time that the [ceiling titty] look becomes more standardized."
Sullivan points to a 1909 catalog featuring more-opaque ceiling lamps: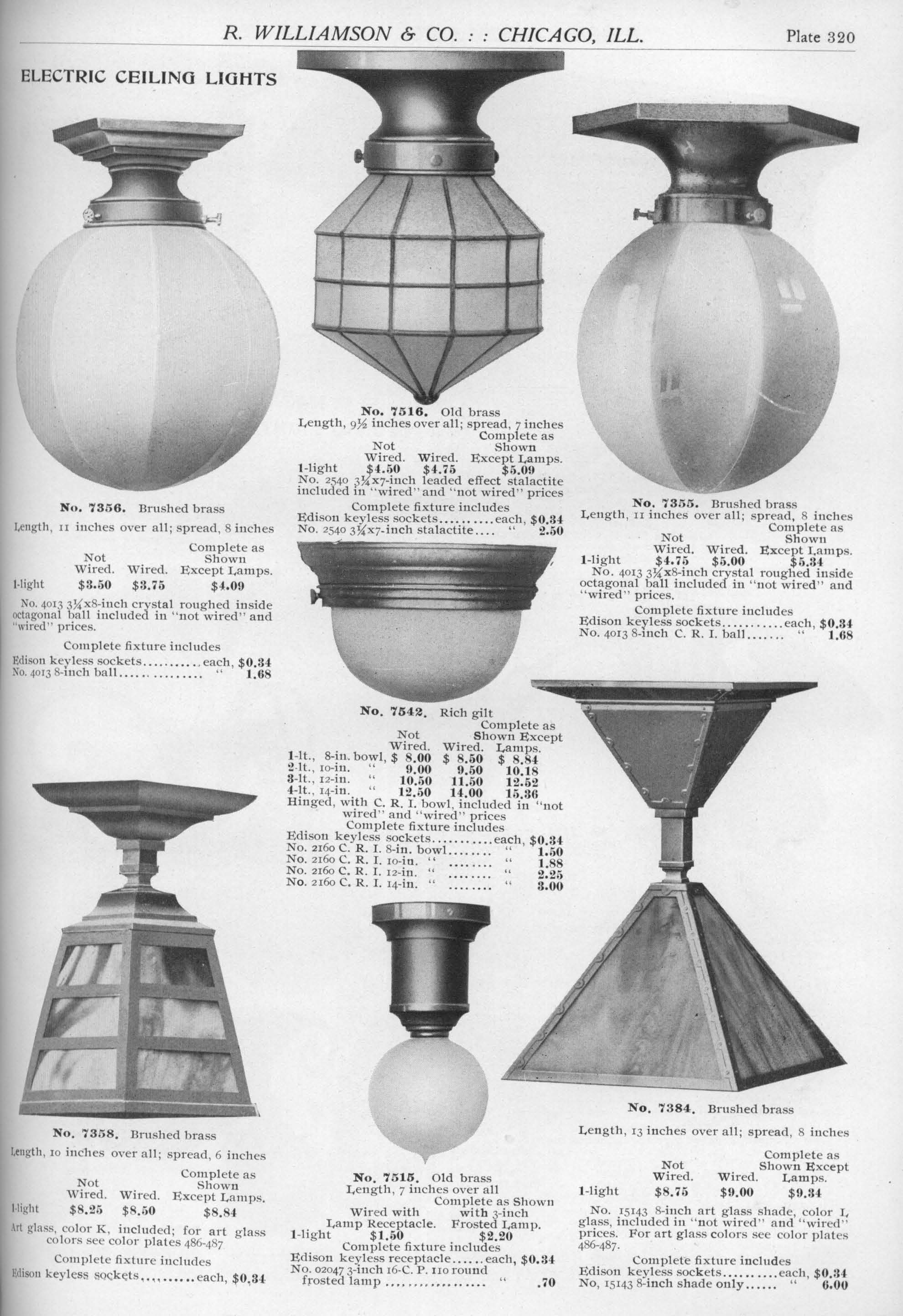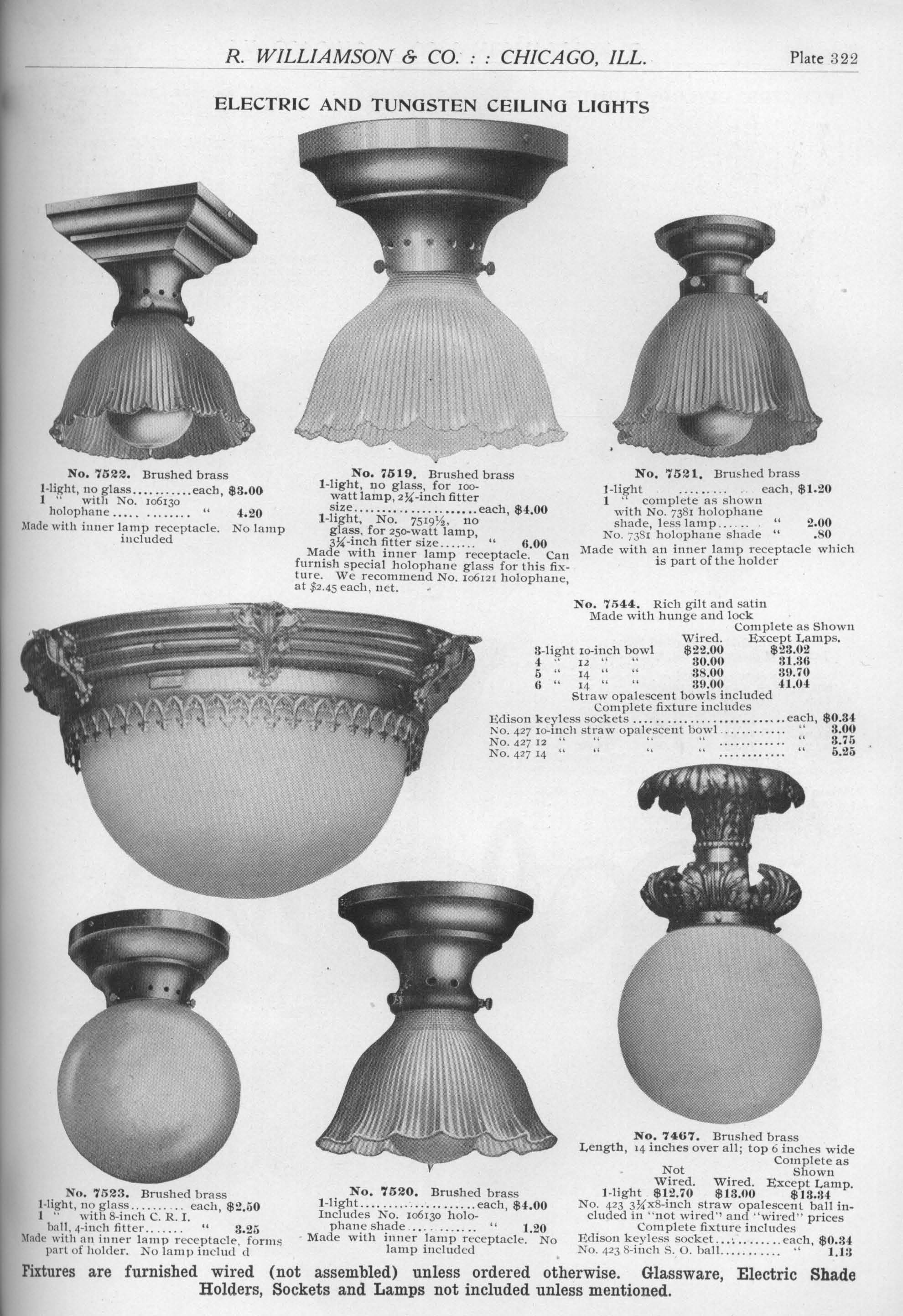 So somewhere between Apollodorus of Damascus (the ancient Roman architect believed to have built the Pantheon) and 1910, an unknown industrial designer, toiling away in the basement of an early-20th-century lamp factory, put the finishing touches on the contemporary ceiling titty. We may never know their name.
Lighting-design companies might not be eager to speak about their product, but their own employees have known the truth for years. One former Home Depot employee, who asked to remain anonymous, says he and his coworker used to call them "illuminated walltits." They'd display these lamps so they didn't stand out… "other than for their obvious design."
On Reddit, another former Home Depot employee describes making the mistake of displaying his lamps too heavily. "I actually made a display for these lights on an end cap," the redditor explains. "There were boob [sic] coming out of the wall for about eight months. We left it for that long because it was hilarious watching everyone stop, double-take, then stare and question us if we did it on purpose."
Yet somehow millions were sold. Phil, a former electrician in New Jersey, believes the housing crisis could be the reason so many homes across America feature the boob lights.
"Before the housing market crash, I did tract home construction, and every single house had them," he tells me. "Three- to five-thousand-square-foot McMansions were full of them, on every floor. Basically, if they didn't pay us to install recessed lights (an upgraded package), they got the builders' grade boob lights. I installed thousands of those things. Literally."
According to Phil, when tons of people were building and buying 99 percent finished cookie-cutter homes, people looked for ease of installation and price. Ceiling titties come cheap. "If I remember correctly, I'd buy them for roughly $8 to $12 each," he says. "I remember being like, 'Hey, Jim, can you pick me up a case of boobs on your way back to the site?'"
The recession ended Phil's career in electric, so he's "been out of the game for 10 years now." Still, he says, boob lights aren't going anywhere; they're recession-proof. "I still see them on the shelves, so I imagine they're still being installed daily. As always, cheap is going to be the way to go."
One such lamp made its way to LoPriore's girlfriend's room. "I was just like, 'That looks like a huge tit,' and it made her laugh, which was usually my test for a good Vine," LoPriore explains. "If she laughed, I figured it'd be good."
He tried making a Vine of that same joke, but it felt off. He took it down. It wasn't funny or catchy, he says. Then, alone in that same room after his girlfriend left for work, he gave it another shot. "I went on YouTube and typed in, like, 'Pop Instrumentals,'" he explains. "Essentially, I just found the catchiest-sounding thing. And it just came out of me, dude! It's so weird. The next thing I know, my girlfriend is like, 'Dude, you have like 200,000 likes on your video yesterday.' I was like, 'Holy fuck.'"
And then it really blew up. "I literally got thousands and thousands and thousands and thousands of pictures of people tagging me in ceiling titty pictures and letting me know that they had one too," says LoPriore, who now hosts a popular Twitch stream. "I just didn't realize the power of how relatable that was to people. Honestly it seems like 80 percent of the world has a ceiling titty in their house, no matter how or where they live. I had people from Brazil sing it in Portuguese to me. I was like, Oh my god, this is the awakening of every little perv."
LoPriore stresses that he didn't rehearse the video or try multiple attempts like his peers on Vine often did. "Everyone asks me, and … I did not practice it. It took me one take. Some Viners all take it serious and do several takes. We were all perfectionists. But I never really took it serious. I didn't care about quality as long as it was funny."
Overall, LoPriore says, the ceiling titty changed his life for the better. "Not to get too profound talking about ceiling titties, but the one thing I wanted to do before I left the world was bring joy to people, and I did that with that stupid Vine," he says. "I never knew something so dumb could make people so happy. So I'm happy."