"The energy of Watts, this specific neighborhood, is on the block," Roy Choi told L.A. Times restaurant critic Jonathan Gold amidst the flurry of publicity for his new restaurant LocoL, which opened last Monday to massive lines, a DJ outside and a block party spilling into the street. As customers waited for more than an hour for their first taste of a $4 fried chicken 'burg' (LocoL-ese for 'sandwich'), a $6 tofu bowl or a $1 iced coffee, LocoL employees plied their new customers with free granola bars and bottled water. A TV news producer demanded to know where everyone was from (a predictable mix of locals and visitors). Teens cruised through on hoverboards. Choi posed for photos with Mayor Eric Garcetti and Lena Dunham. A handful of neighbors stood on the opposite side of the street, looking on with amusement at the hoard of people gathered on a corner that has probably never hosted a celebrity-studded restaurant opening.
"Tyrese just left," says Carnisha Coleman, a 30-year-old employee in LocoL's kitchen. She checked off the project's early accomplishments: "Food good. Area good. Good vibe. And we've been partying in there." Coleman, who grew up in the Jordan Downs housing projects down the street, says LocoL has already positively impacted her neighborhood: "It gave opportunities to get jobs. It gave rich people and family people a reason to come to Watts."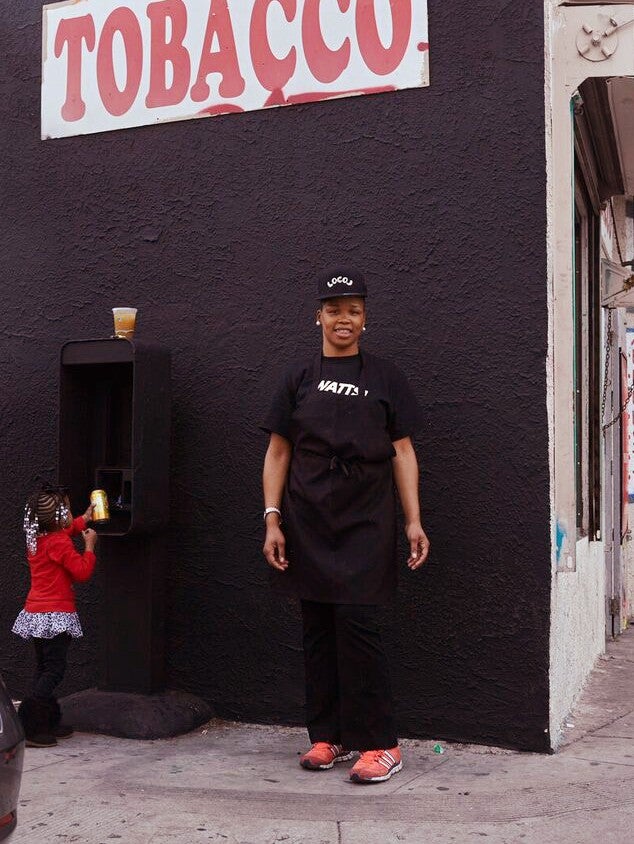 Creating such a feeding frenzy in unexpected places is a Choi trademark. His Kogi trucks, which introduced the Korean taco to the world, could move the Yelping masses with a simple tweet — to seemingly anywhere in Southern California. His brick-and-mortar follow-ups have been harbingers of gentrification, bringing a stream of visitors into up-and-coming neighborhoods (Culver City via A-Frame, Chinatown via Chego, and Koreatown via the Line Hotel, where Choi is a partner and operates Pot and Commissary). Choi fanboys and rich people alone probably could sustain Locol financially. It's cheap and tasty and is already popular (e.g., the hour-long lines are pretty much a daily thing). So not surprisingly, new locations are planned for Oakland, San Francisco and elsewhere in Watts. "We want to be the next fast food," one LocoL investor told the L.A. Times.
But in addition to global domination of the fast food industry, LocoL also strives for a social mission: to transform eating for low-income, urban America with food that's fast, cheap and good (good as in both "tastes good" and "good for you"). If successful, it would be a billion-dollar idea, seeing as fast food restaurants have never been very good at making meals that aren't terrible for us. There are, of course, many fast-and-good options: lunch places that quickly turn around $16 salads, sushi and sandwiches. But these are neither affordable nor available in areas most in need of new options for fresh food.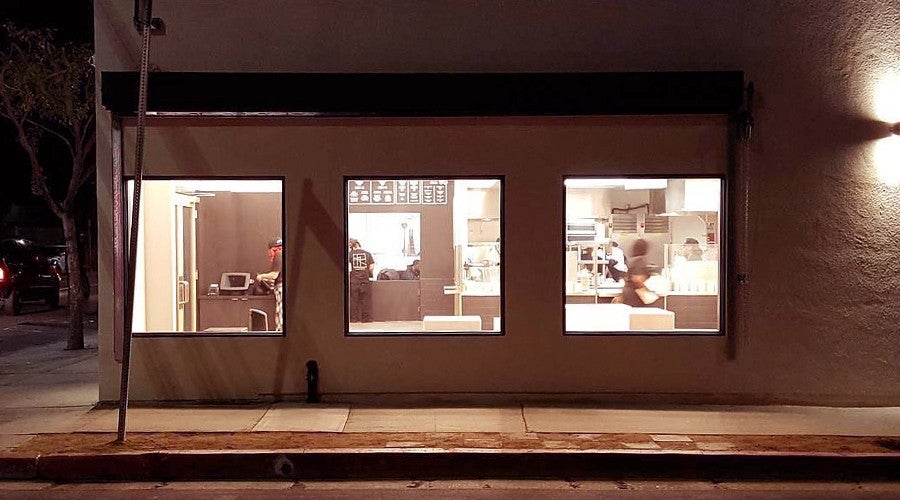 Watts is what the government calls a "food desert": a neighborhood that lacks access to fresh food, where many people end up getting too many of their calories quickly and cheaply from McDonald's and the like. The rise of the food movement over the last decade has brought a variety of solutions to this problem — urban gardens, school lunch reform and a ban on new fast food restaurants in South Los Angeles (an area which includes Watts), to name just a few — without much impact on the relevant stats. Obesity still impacts one-third of Americans (and an even larger percentage of people of color) and billions of dollars still subsidize corn-based foods like soda and burgers, effectively enforcing the status quo. In other words: If you can't afford to shop at Whole Foods, it's unlikely you're benefiting from the sudden popularity of kale (even though McDonald's now sells a kale bowl).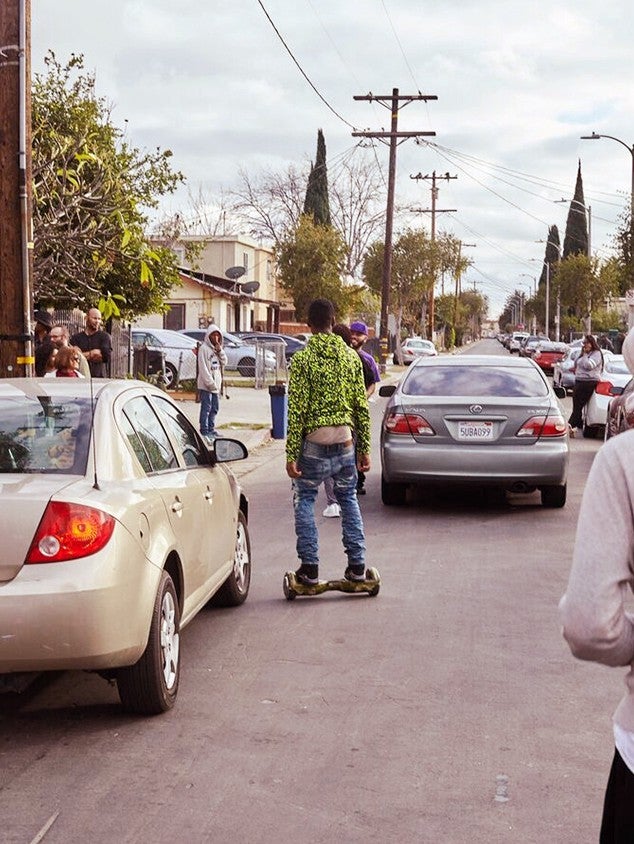 LocoL is very much a product of the food movement's elite. The concept was born at a conference in Copenhagen hosted by Rene Redzepi, whose restaurant, Noma, is often called the world's best, with a menu packaging locally-foraged kelp and berries into a $250 prix fixe menu. There, Choi spoke about the potential for celebrity chefs to pull investment money into new restaurants in underserved neighborhoods, inspiring Daniel Patterson — the Michelin-decorated San Francisco chef who runs a nonprofit for teaching kids to cook — to reach out to Choi and eventually become a co-founder of LocoL.
Choi's buy-in for the project extends to the Watts grassroots level as well. LocoL recruited locally to fill jobs and invited neighbors over for a taste of the menu before the official opening. Their building is owned by Aqeela Sherrills, an activist who works against gang violence and famously brokered a truce between warring Watts factions in 1992 — including the Grape Street Crips, whose turf neighbors LocoL.
Choi is cognizant of operating in that symbolic space and has kept the aesthetics inviting: glass is swapped out in favor of mesh screens in the windows and doors, filtering in the energy of the street with a welcoming vibe, kind of like your grandmother's porch. Hip hop plays, like it does at his other restaurants. The menu aims for crowd pleasers, covertly tucking quinoa filler amidst beef patties and lowering the prices of health-food staples like green juice to a startling $2. An item like the BBQ Turkey 'foldie' (a.k.a. taco) appears ready to join Kogi's kimchee quesadilla in Choi's pantheon of multicultural, charming, cheap and weird dishes. The name LocoL is typical Choi fusion, loco for crazy meets local, the food movement's most sacred word.
But it's yet to be seen how loco (as in, revolutionary) or local (as in, feeding the neighborhood) the project will really be. It's hardly crazy to think that burgers, sundaes and chicken nuggets as cheap and delicious as these wouldn't draw crowds. But will they actually make people healthier? And will they feed the community quickly enough to take on the McDonald's with the drive-thru down the road?
Maybe. In the week since opening, LocoL has been a (minor) victim of its own success, so cheap and so good that items are selling out and the hours have been scaled back. If you want a 'burg' on Monday, when LocoL is now closed until further notice, you'll have to wait until Tuesday. Or go to Burger King.
Which means LocoL isn't exactly achieving the 'fast' of fast food just yet.